Shelf appearance is no longer the only priority of the beauty and personal care industry as it pivots to meet customers rising expectations for more sustainable products.
The global beauty and personal care market continues to show strong growth potential. Consultancy Research and Markets valued the sector at USD 422.72 billion in 2020, with a forecast to reach USD 558.12 billion in 2026 – a staggering increase of USD 135.4 billion in just six years, growing with a CAGR of 4.82 percent. 
However, as consumers emerge from Covid-19 confinement, the relationship with their surroundings has shifted significantly, moving their purchasing priorities towards eco-ethical considerations. Sustainability and efficacy now go hand-in-hand.
'Sustainability is a definite driver for this market,' says Chrissy Betsa, product manager for conformable films at Avery Dennison, Label and Packaging Materials. 'Brands are setting higher sustainability goals and looking for more options to meet them. The label is a big contributor here as consumers are also looking for brands that provide sustainable options.'
This is echoed by Springfield Solutions, a UK-based one-stop-shop for brand management, digital print and interactive media which is heavily involved in beauty and personal care sector projects.
'Sustainability is one of the significant factors both driving and influencing this segment,' says the company's Lauryn Hall. 'Be that through eco-friendly packaging or cruelty-free products, consumers in every market are demanding eco-friendly products as well as sustainable, recyclable or reusable packaging. This will drive other brands to switch to more environmentally friendly packaging components in the future, appealing to these consumer needs.'
'It's clear that there is a growing request for recyclable packaging and sustainable materials both on the container itself and on the label,' agrees Simone Baldin, business unit manager for labels in Europe at Taghleef Industries, one of the largest global producers of the BoPP films so heavily used in beauty and personal care packaging. 'The trend is towards using a certain percentage of recycled or biobased material with the aim of reducing the carbon footprint.'
UPM Raflatac's Eliisa Laurikainen, business development manager responsible for consumer goods in the EMEIA region, says sustainability is now built in from the earliest stages of product development. 'Starting from the product ingredients, through the use of the product, to packaging, it's crucial to think about the circularity of the packaging and end-of-life considerations. Labels can actually have a huge part to play here; they can contribute to the plastic packaging recycling yield and quality,' she says.
The sudden shift in customer behavior and priorities fueled by the pandemic has been quickly picked up by companies in the health and beauty space, leading to a re-evaluation of all levels of packaging, from primary to secondary and tertiary.
A compelling example is Colgate-Palmolive's new Elixir line toothpaste in PET packaging launched in the European market in June 2021. The clear bottle with a transparent cap achieves a stylish look while being more eco-friendly than the traditional toothpaste tube made of plastic and aluminum laminates which are not recyclable. 
As an additional sustainability benefit, this new pack format allows the toothpaste to be fully dispensed.
'Colgate Elixir's unique packaging technology is recyclable and designed to allow people to enjoy the toothpaste to the last drop,' states Liz Mellone, director of oral care packaging at Colgate-Palmolive Co. 'Moving into a rigid format enabled us to achieve a counter-worthy appearance throughout the entire usage cycle of the product.'
Achieving more sustainable packaging requires more than just changing pack formats, however. It requires suppliers all along the supply chain implementing their own sustainability programs. 

'Brands and retailers need to work with suppliers that are taking sustainability seriously and set realistic targets that the supply chain can achieve,' says Susan Ellison, joint managing director of OPM (Labels & Packaging) Group based in the UK. 'This isn't about just making a pack or label recyclable – it's about ensuring their entire supply chain is sustainable. At OPM, we print using water-washable flexographic plates, for example, which reduces our overall carbon footprint. We operate a fully digital workflow to minimize carbon-costly journeys and utilize LED lighting systems to reduce our energy output. These are all relatively simple measures but they reflect our commitment to sustainable operations, not just products. We also only work with suppliers that take their sustainability objectives seriously too.'
What is sustainable?
The proliferation of recyclable films, biodegradable and compostable materials can create confusion for brand owners as to which is the most sustainable route.
'It's not easy for a packaging designer to think, nor to compare all the possible viable options there are. You should really have all the information to help you tell what the most sustainable packaging solution for the environment is,' comments UPM Raflatac's Eliisa Laurikainen. 'For global brands, there's even more complexity in this picture since there are different regional guidelines, and recycling infrastructures are not the same everywhere. For label materials, we've tried to make it easy for brands to understand the impact of their label material choices with our Label Life by UPM Raflatac lifecycle assessment (LCA) tool. This tool provides users with a concrete measurement of how to reduce the footprint of packaging.'
Sustainability initiatives in the personal care space have focused not just on recyclable materials but also refillable and reusable containers. Refillable is an effective and efficient system with the store able to buy products in bulk, while reusable containers can be collected cleaned, filled with a new product, and sent back to stores. 
The overall goal of all these initiatives is zero waste.
'Zero waste sounds very challenging, but we must be brave enough to aspire to this and start taking steps towards that goal,' says UPM Raflatac's Eliisa Laurikainen. 'Enhancing recyclability is a must, and we need to keep the materials in the loop. Supporting the circular economy should be the target for everyone working in the packaging value chain. Although they're a small part of the final packaging, labels can have a huge impact and support packaging circularity in many ways. Reusable containers can use washable or dissolvable labels to carry the product information. Furthermore, wash-off labels on PET containers have already been on the market a long time. With HDPE and PP packaging, we recommend recycling-compatible labels.'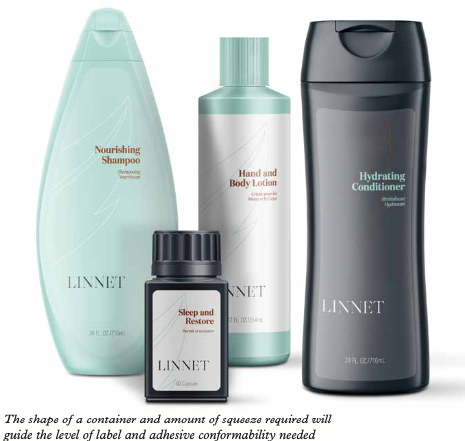 The use of refillable and reusable containers reduces manufacturing costs and waste, but the success of this system relies on multiple factors. This may include acceptance from the public, additional costs incurred on the supply chain, and availability of the right kind of containers in large quantities.
'Reusables are a great way to bring your brand sustainability story to light,' says Adam Moffitt, UPM Raflatac's business development manager responsible for food and beverage for the Americas region. 'Choosing the right package for your product and utilizing labels to give actionable instructions to the consumer is crucial. Removable or wash-off capable labels are ideal in this environment. You can easily change the look of your brand while using the same base container. We've seen quite a bit of growth in this area and it's showing no sign of stopping.'
Unilever is expanding its refillable packaging trials across the UK, including its first 'return on the go' refill trial in selected Asda supermarkets and Co-op convenience stores. This move comes after the successful launch of its largest refill trial in Europe – in Asda's sustainability store in Leeds, UK, in 2020. Unilever's new trials will be the first of their kind at this scale in the UK.

'To tackle plastic pollution with the speed and urgency needed, we are committed to creating scalable solutions which make it as easy as possible for people to make sustainable choices,' says Sebastian Munden, Unilever UK and Ireland general manager and executive vice president. 'We believe refills could be a gamechanger in our ambitions to halve our use of virgin plastic by 2025. However, unlocking the full potential of the reuse economy would require a significant shift in how people shop. Using our well-known and trusted brands while working closely with retailers, we're testing different refill models on a large scale to continue building upon our understanding of how to bring about a significant change most effectively.'
Insights from the Unilever trial, as well as research commissioned by the company, found that 94 percent of UK consumers are more likely to invest in refills vs. buying new products in store if available, and 89 percent are likely to buy a product because its packaging can be reused. 
Coating trends
Coatings function not only to protect products but also to add tactile effects – particularly important in the cosmetics market.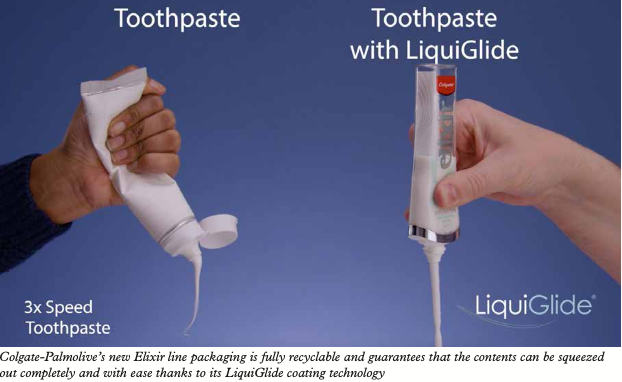 'With e-commerce driving sales of beauty products, resistance to damage in transit is a key factor to consider when choosing the right finish,' says Sarah Harriman, marketing and communications manager at Pulse Roll Label Products. 'As well as product protection, print finishing in the personal care and cosmetics sector is used for aesthetic appeal and embellishment is becoming increasingly more sophisticated as brands continue to look for a premium and luxury look to stand out on the shelf or screen. For example, with our PureFinish gloss varnish, impressive eye-catching effects to attract the consumer's attention can be achieved using casting and curing as part of the decorative finishing process. It's also a cost-effective and sustainable solution as the casting film can be reused.'
As well as embellishment for visual appeal, tactile effects can be used to encourage greater consumer interaction. 
'We've seen this first-hand with unprecedented interest in our new PureFX Soft Touch Varnish launched in August,' says Harriman. 'This product innovation was driven by demand from converters and end-users for a UV soft-touch coating. Many printers use a soft touch lamination film as it's hard to replicate the same high-quality results with a UV coating due to the very nature of UV free radical curing. Our R&D team challenged themselves to come up with a high-performance UV alternative that possessed both the soft touch and high resistance properties required to protect product packaging from scuffs, rubs and chemicals. The result is a lower cost and more sustainable option for achieving a high quality "soft" touch and feel.'
Intelligence and interaction
Avery Dennison's Chrissy Betsa sees growth in the premium care segment coming from consumers buying fewer, but higher quality items. 'Consumers are willing to pay more for products that save them time and bring them joy and excitement. Technology in packaging is on the rise as consumers seek security, information, emotional engagement, entertainment and convenience – QR codes for information on the product or RFID technology.'
Neil Percy, brand management production manager at Springfield Solutions, says designers are thinking more about interactive packaging and tactile finishes because the shelf standout is no longer as important as it once was. 'The focus has now moved to how the product looks and performs in the home because of the significant increase in e-commerce. Innovative packaging is all about engaging and interacting with the consumer and finding new ways to do so. This may be through QR codes, augmented reality, eye-catching packaging featuring foiling and tactile finishes and even eco-friendly label materials.'
Adds Susan Ellison: 'Enabling consumers to find out more information, deliver video or guidance via QR codes linked to websites and personalizing the entire experience can be powerful. With consumers having embraced QR codes more during the pandemic, integrating apps into packaging is certainly moving packaging up in the marketing mix for brands.'

But Ellison points out that QR codes are not the only way to add functionality to packs. 'We know brands in the beauty and personal care market are under pressure to cram as much information onto packs so they can meet today's demanding regulatory requirements. Interactive packaging can help somewhat toward this need. However, clever packaging and labeling design can also be an attractive alternative to interactive technology. We've developed the Multi Dex Label – a multi-layered, multi-indexed, multi-substrate, multi-colored, peel and read label. It enables brands to maintain eye-catching shelf appeal using color on multilayers while providing a functional label that yields extra space for brand information. It has an adhesive hinge that can be placed anywhere within the label allowing the pages to be peeled back to reveal additional printed layers, which can then be resealed repeatedly once read. From language requirements to regulatory information that can make a label too "noisy", it's a great solution.'
Circular economy
Avery Dennison's Chrissy Betsa thinks there will continue to be a big focus on sustainability in packaging and the idea of achieving circularity. 'It will be interesting to see if this will continue down the path of recycled content/enabling recycling or exploring the zero-waste category. Also, I believe the focus on personal wellness and self-care will continue to be a trend. The millennial generation finds importance in what they put in and on their bodies for health and wellness. Their wellbeing from skincare to nutraceuticals will continue to lead as a focus in the beauty and personal care segment.'
Springfield Solutions' Neil Percy adds: 'I think we'll see an increase of sustainability in packaging over the next five years. Instead of buying new every time, we'll change to refillable packaging. We are increasingly conscious of our carbon footprint, and I think this will be a big move forward with packaging that will be able to make a difference. I also think we will change our buying habits from buying products individually to subscription services.'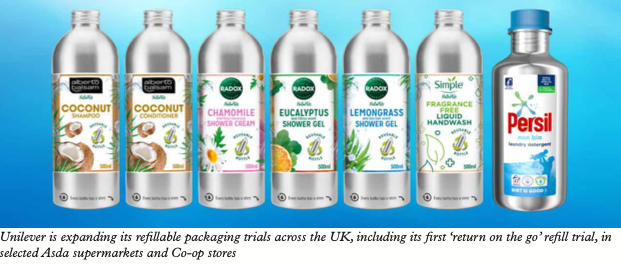 Susan Ellison stresses that while consumers still want to see a breadth of choice and new products, 'these ranges will meet several environmentally positive objectives; they will either be made of recycled materials, designed for the recycling infrastructure with single materials, or utilize a refillable and reusable strategy.'
Duncan Wilkinson expects the market will be transformed in five years. 'Who would have expected to see so many Tesla cars on the roads as we do now? I expect the packaging industry will be equally transformed. Not only by governments making legislation, but I also think the consumer movement will have an impact, as individuals actively choose to purchase more eco-friendly products.' 
---