Read later
Hexxa Flexible Packaging prepares for growth
UAE-based Hexxa Flexible Packaging plans to invest in a new facility next year, following an expected 25 percent jump in sales in 2021 thanks to the installation of a new rotogravure press. 
It was in the year 2006 that label and flexible packaging converter Hexxa Flexible Packaging started its operations from a rented warehouse in UAE's Jebel Ali free zone. In 2010 the company invested in a factory of its own in the Emirate of Ras Al Khaimah in UAE.
Raja Kumar Gandhi, managing director at Hexxa Flexible Packaging, says that 2021 marks the fifteenth year of the company's production in rotogravure and narrow web UV flexo printing.
'We've had an excellent journey so far as we have continuously grown over the years after investing in the new factory in 2010. Every year we make a new investment in machinery and technology, except for last year due to Covid.'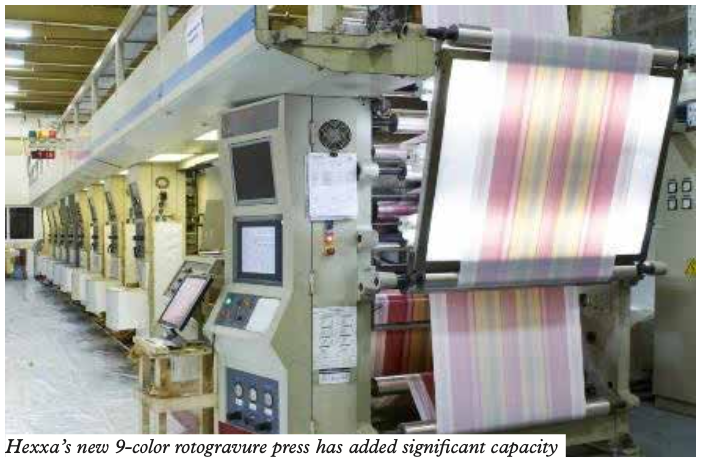 Hexxa invested approximately 2 million USD (7.3 million AED) to construct the factory back in 2010.
Gandhi says that the current state of label and flexible packaging market in the Middle East is 'decent and growing'. However, with travel restrictions the consumption of packaged food has reduced from 2019 levels, impacting the packaging sector. But he is optimistic about an increase in business of this segment once tourism in the region reopens.
The company's fastest selling product is traditional laminates, mainly used for food packaging. 
'20 OPP and 20 BOPP laminates are used by the snacking industries and PET + PE films are used by the meat industry,' he says. 'Both substrates are fast-selling for the company. A lot of mineral water companies use wraparound and shrink sleeve labels, which again are fast-selling products for us.' 
He sees a shift in UAE's label industry: the market is demanding shorter runs as FMCG companies are launching multiple variants in their product segments to attract consumers. 'The number of SKU's are increasing rapidly, and the average run of printing jobs is getting shorter. We are gearing ourselves for that.'

There is an increasing demand for flexible packaging, labels, stand-up pouches, PVC shrink labels, and OPP wraparound labels in the UAE market.
Gandhi encourages the industry to adopt a mix of different technologies to cater for all these business segments. 'At Hexxa, we produce long, medium and short printing runs so we cater to all the segments of the market.'
Hexxa Flexibles has recently installed a 9-color rotogravure printing press from China-based Lida in its factory in UAE.
Pandemic impact 
Hexxa Flexibles did not see any significant drop in its sales due to the pandemic last year. However, there was no upswing in sales either.  
'We did go through a hit in our profitability levels. Even though sales were consistent, gross profit fell in 2020. This year is comparatively better than last year. The issue that we saw in 2020 was the tumbling down of profitability. We are trying to enhance that and get back to 2019 levels,' says Gandhi. 'We are trying to be more efficient by looking at pre-press and post-press costings and by taking a better grip of our factory production.'
The hike in raw material prices from March impacted Hexxa Flexibles' gross profit level but the company was able to transfer some of these increased costs to its customers and will bear the other half for the remaining quarters of this year.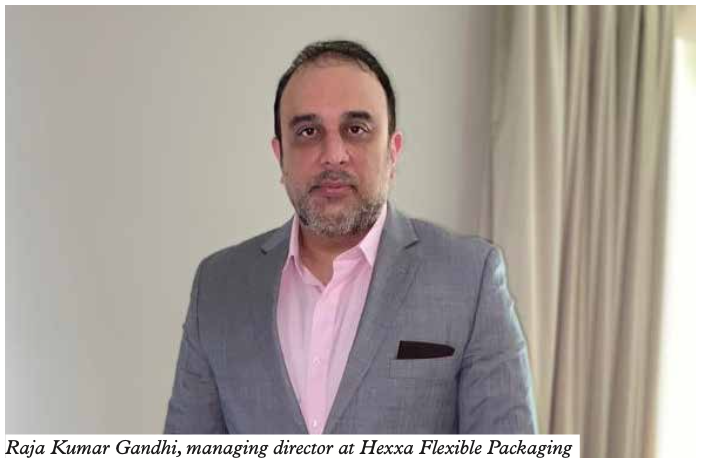 Gandhi explains that the marketing of Hexxa's products and services is both through its own sales team and agents. Currently Hexxa Flexibles operates in the ME region with a dedicated sales team that travels to nearby countries like Oman, Saudi Arabia, Kuwait, and many east and west African countries. The converter is also looking at agents in countries like Jordan, Ethiopia, and Nigeria to connect directly with local customers.
'Hexxa Flexibles will target social media platforms to reach out to its potential customers. We believe that through social media we can increase and expand our business.'
The company's website is under development and will be ready soon. 'Once the website is ready, we will spend on SEO and digital marketing. We have hired an expert consultant in this field who will be helping us with activities on digital platforms.
'This year we are eyeing a 25 percent jump in sales as our 9-color rotogravure machine has started functioning from May. Now we have extra capacity with less lead time which will help us generate the sales. Our focus will be to get business for our recently installed machine.'
Inside the 30,000 sq ft factory Gandhi has installed pouching machines, center seal machines, zipper insertion machines, three side seal machines and PVC shrink sleeve forming machines. 
The company also has an MPS 10-color narrow web UV flexo press dedicated to label printing, 8-color rotogravure printing machines from Long New in Taiwan, the new Lida 9-color rotogravure printing from China and a range of converting and finishing equipment. 'We also have two lamination machines from Italy,' shares Gandhi.
Gandhi explains that these presses print on a variety of substrates. 'On our rotogravure machine we print on BOPP films, PET films, LDP films, paper and PVC shrink films. On our narrow web UV flexo we print labelstock, BOPP, polyester films and LDPE.'
The company has plans to establish a new factory in 2022. 'Our factory area is not sufficient for the business growth and expansion plans that we have,' says Gandhi.
He adds that the company will invest in a digital printing press and flat bottom pouching machine for the new factory which it will open in 2022. 'We will also be investing in multiple print defect detection systems.' 
Other than this, the company is looking at producing breathable films for fresh and organic fruits and vegetables market. 
Temporary challenges 
Gandhi says that because of the pandemic, banks in UAE are less prepared to lend for investment in new machinery, working capital and construction finance. 'Banks have their own reservations at this point in time, so we are looking to increase our profitability, have a healthy balance sheet where we can sit with our banker for any needs-based finance we require next year.'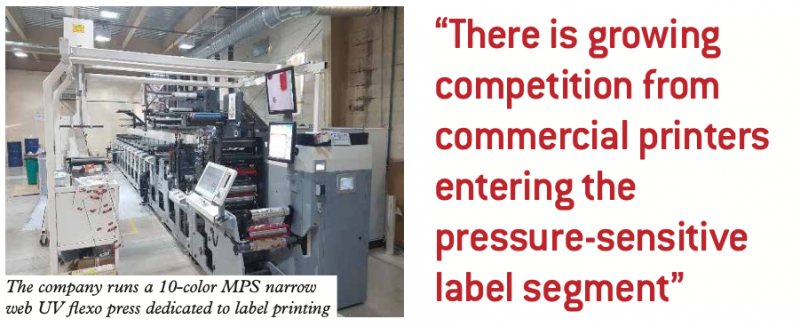 Other challenges include growing competition from commercial printers entering the pressure-sensitive label segment. 'It is increasing the competition among label converters which puts the pressure on price, and one does stand a chance to lose clients as there are multiple new options to choose from, especially if new entrants provide their service at lower prices.'
Competition has also increased in UAE among established label converters, who are all investing in the latest technology. 'We are on our toes all the time. Investments are happening and we have seen many narrow web and UV flexo presses being installed in UAE in 2020 and 2021. Companies are making investments to stay on top. This influences the business of converters as we all try to stay ahead of our competition, which further influences our purchase decisions as well.'
Because of travel restrictions, converters in UAE are not able to call on machine operators and other workers from India, Pakistan, Nepal and Sri Lanka, which is impacting the team strength at the factories. 'We want to hire more people, but we cannot because of the pandemic,' admits Gandhi.
Key strengths 
Gandhi believes that Hexxa's strength stands on three pillars, one of which is fifteen years of goodwill created by providing quality service to regional and local brands in UAE. 'Our investment in the latest technologies is the second pillar of strength of the company. Thirdly, we also have an efficient marketing and production team.'
UAE's premium brands in the food, beverages, cosmetic and toiletries sectors are among Hexxa's key clients – Alacozeti, Lacnor juices, Emirate's water, OSS, Masafi to name a few.
Gandhi  says that a major percentage of Hexxa's sales come from UAE, but other important countries include Oman, Saudi Arabia, Bahrain, Kuwait and Qatar. Gandhi targets a strong grip on those markets too.
---