Read later
HP Indigo demonstrates V12 digital press
When HP Indigo announced the V12 press two years ago there was a huge buzz of excitement. The V12 uses a new press architecture to achieve print speeds up to 120m/min on a 340mm-wide web, replacing the LEP imaging system which has powered all HP Indigo label presses to date.
The LEP imaging engine found in the 6k-series press transfers up to seven colors sequentially onto a sensitized semi-rotary drum imaged by a laser writing head. This allows speeds of 30m/min using four colors. The greater the number of colors, the slower the print speed. 
The new LEPx technology, by contrast, consists of six imaging engines which simultaneously deposit their own color separations onto a 6 meter-long blanket belt. The registered image is applied from the blanket belt to the substrate in one shot.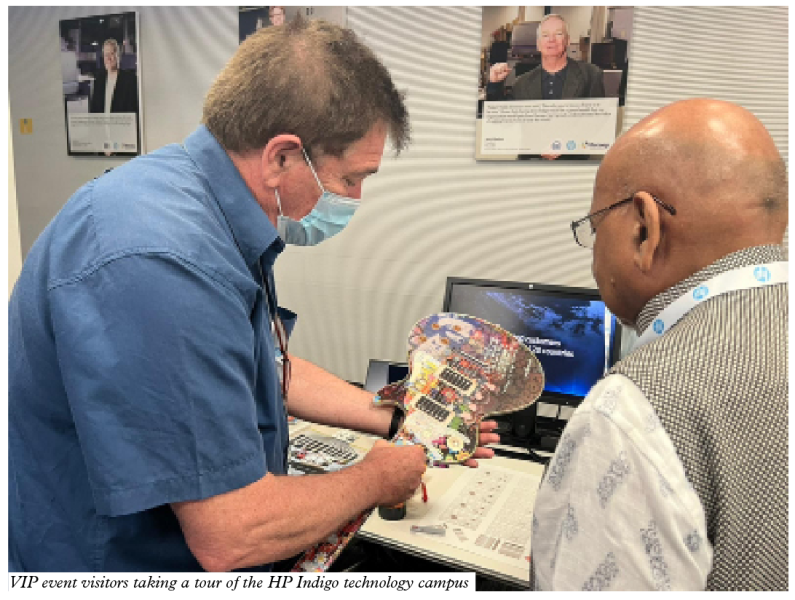 Each separation is generated by an LEPx writing head consisting of an LED array, a photo imaging drum (PID) and two switchable HP Electroink sources. Six LEPx imaging engines work simultaneously to apply each color separation and create a complete image on the blanket belt. 
The V12 press incorporates a new design of photo imaging drum (PID), while the new LED writing heads consist of thousands of LEDs which compose an image as an electrostatic field at 1,600 DPI resolution. An integrated in-line priming unit runs at full press speed. 
Up to six colors can be printed at full press speed, requiring one rotation of the banket belt. If more than six colors are used the blanket requires a second rotation, halving the speed to 60m/min. Each color station can switch between two different inks on the fly.

An alpha version of the V12 press was originally to have been shown at drupa, but with the pandemic wreaking havoc on the global printing show calendar the recent VIP event held at the HP Indigo technology campus in Israel was the first chance converters and journalists had to see the press in action.
Step change
Eli Mahal, head of Labels & Packaging marketing at HP Indigo, said the V12 represents a major step change in digital printing. 'Today flexo represents 95 percent of label print volume and digital just 5 percent. Out of that 5 percent, 65 percent is HP Indigo and we are still seeing 12-15 percent growth per year in print volume for our presses. But we believe our customers can continue outgrowing the market if they print more using our technology.'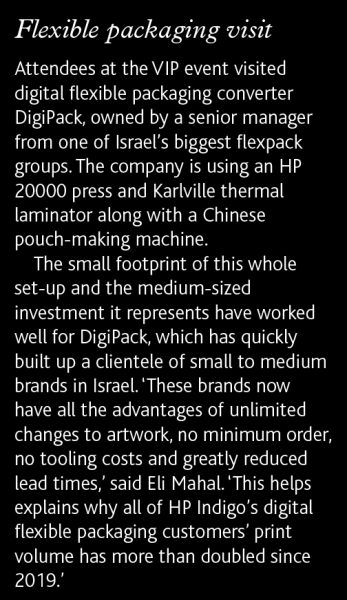 The demonstration on the V12 was a 4-color PS paper label job running at 120m/min. Commented Mahal, 'In practice 70 percent of jobs are 4-colors or below and 5 percent require 7 colors and above, so the press will usually run at full speed with an additional white for clear film. However, having the 7-12 color option does give great flexibility in the number of colors and in the order of separations. For example if you want some colors doubled or to change the order of the white from first to last down for reverse printing.'
The press can run a wide range of material thicknesses from 0.5 to 18pt. Currently only PS materials have been qualified for the press, but other materials such as shrink sleeve labels will be qualified before the press is commercially released.
To cater for the longer runs the press is expected to perform, the ink containers are now bigger, with most stations including two stations with an automatic revolver, increasing the interval between replacements.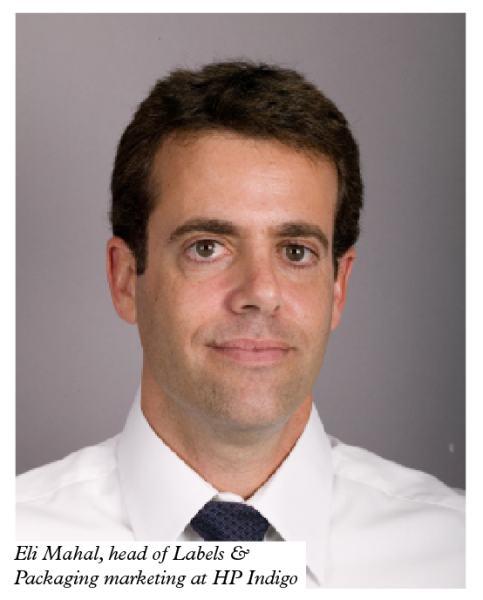 The new imaging architecture means a different schedule for replacing press consumables. 'The new digital plate, for example, is a once a month replacement, while the blanket will need replacing every few days,' explained Mahal.
Looking at future changes from the Alpha version V12, there is likely to be an optional butt splicer and turret rewinder to allow nonstop winding.
In terms of commercial availability, the press at the HP Indigo technology campus is currently at Alpha level. Beta presses are now in production and the first beta-testing contract has been signed with a major European converting group, with the press due for installation this autumn. 
Converting end
A B Graphic has a Digicon converting line under development for the V12, built to promote high levels of speed and automation. Key elements include an auto die-cassette system capable of holding up to ten die plates with automated loading and pre-positioning of the die-cut, along with 100 percent print inspection, non-stop turret rewinding and non-stop waste handling. JDF/JMF implementation will allow for advanced integration with the press and workflow. Barcodes are printed between jobs and read with scanners on the Digicon to enable automated makeready of new jobs with minimal operator intervention.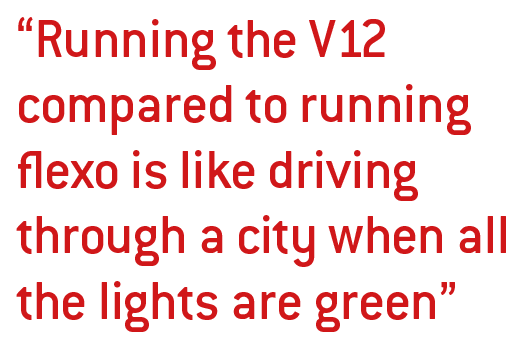 The Digicon line will be configurable either in-line, with an integrated buffer, or near-line. Eli Mahal believes near-line will be the most common configuration. 'Around 98 percent of our presses currently run with near-line finishing, and we expect the same with the V12. Once you have in-line operation you work at the speed of the slowest element, and there's no way you will get a 120m/min converting speed for all jobs.
'If you had dedicated work for a major customer, you could see how in-line would make sense. But our customers most commonly serve multiple verticals and are changing materials four or five times a day.'
V12 vs flexography
A key question is how far the V12 will encroach onto mid- or even long-run flexo territory. 
Mahal said running the V12 compared to running flexo 'is like driving through a city when all the lights are green'.
'It's all about makeready time and waste,' continued Mahal. 'Since not all converters are using pitstop working, typical makeready for a 5-6 color flexo job is one hour with around 400m waste. With the V12 makeready takes minutes with 90 percent less waste.'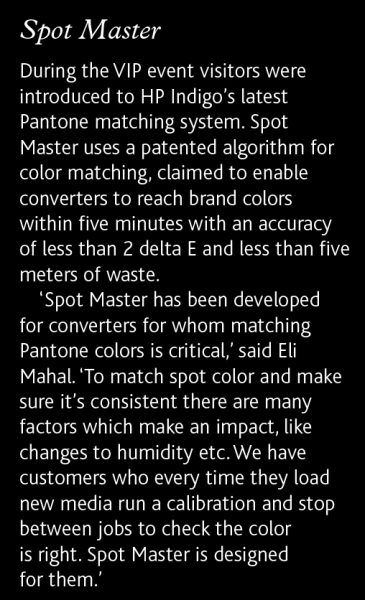 'A typical V12 might run 10 jobs a day with a sweet spot between 2-7 linear kilometers per job. If the average job is 3km, total daily waste on ten jobs would be around 400m. The equivalent flexo press runs on average at 60-100m/min and produces 4km waste a day over ten jobs. So the V12 will print these ten jobs in less than half the time and cut makeready waste by around 90 percent. And all this is before we start talking about limited editions, variable data and so on.' 
Mahal also sees a V12 with near-line finishing as a better configuration for most label converters than a hybrid (flexo + digital) press.
'The market share of hybrid is small – I see them at large customers who can allocate large volumes of the same job day in and day out. Only if you are setting up for spot varnish, relam/delam etc on the same media with the same die-cut can you enjoy the full productivity of the hybrid line.'