Eshuis Etiketten sets standard for digital labels
HP hosted an open house at the Dutch label converter Eshuis Etiketten to highlight its 20-year partnership and provide inspiration for digital labels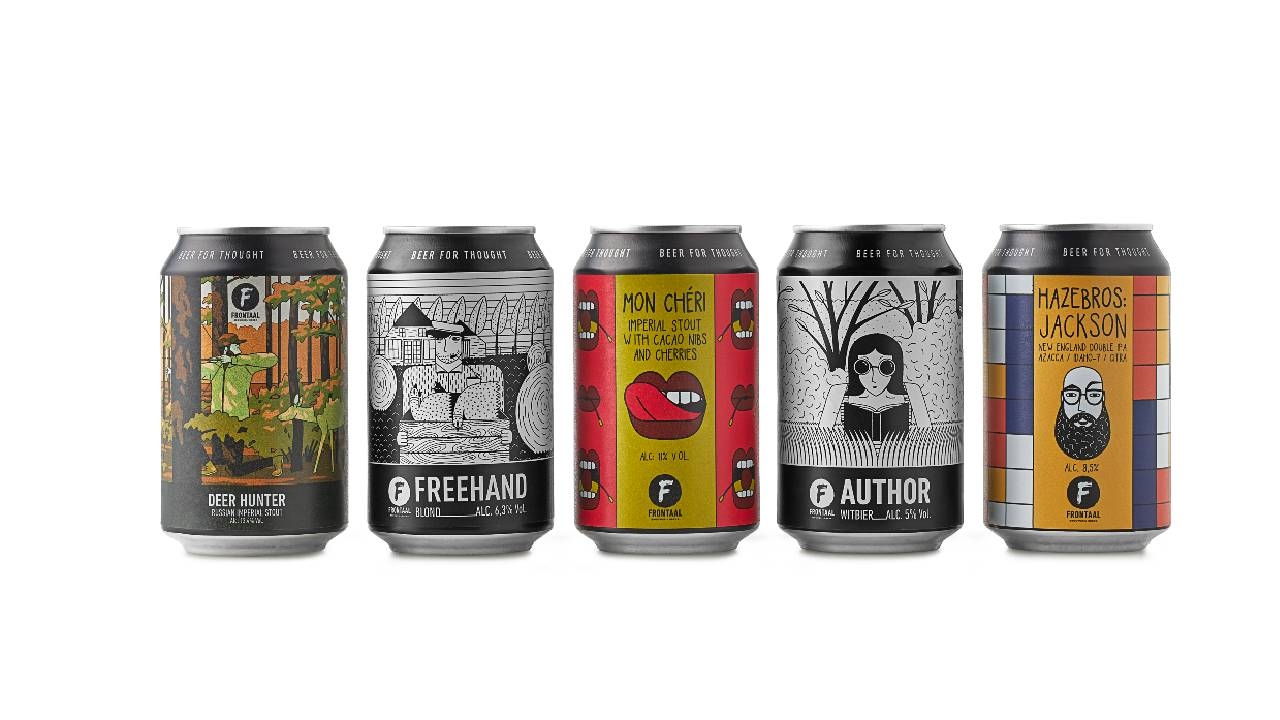 HP hosted a two-day open house in Dalfsen, the Netherlands, inviting label converters from across Europe to understand the post-pandemic industry challenges, how to seize opportunities, and how to convince brand owners of the value digital print brings to retail goods supply chains.  
In addition to seminars with senior HP staff, the open house included a visit to Eshuis Etiketten, a label converter with 20 years of HP Indigo digital printing experience.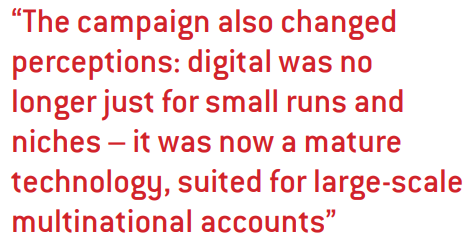 Based in Dalfsen, Netherlands, the label, sleeve and flexible packaging converter Eshuis has become a standard-setter for digital printing performance, innovation and campaign planning worldwide. Founded in 1891, the company sells into the food and beverage, cosmetics, chemicals and sustainable products markets.  
Innovation has led them to some groundbreaking digital projects, like 'My Heineken' where consumers could personalize a bottle of beer and order it, and the groundbreaking 'Share-A-Coke' campaign, where in many countries they made Coca-Cola labels with the most common names on them. The 'Share-A-Coke' label campaign printed on Eshuis's three HP Indigo WS6800 presses, was arguably a milestone, proving digital as a technology suited for large-scale multinational campaigns.  
The 'Share-A-Coke' campaign, which Eshuis has executed for Coca-Cola for five years now on its HP Indigo 6800 presses, has been a turning point for the company's digital printing strategy.  
Overbeek says: 'Share-A-Coke changed the way the market looked at consumer engagement. You see copycat campaigns, as brands recognize that when you use the names of people, the product comes very personal. The campaign also changed perceptions: digital was no longer just for small runs and niches – it was now a mature technology, suited for large-scale multinational accounts.' 
Growing demand for digitally produced labels led Eshuis to install two HP Indigo 8K presses, in 2021 and at the start of 2022.  
'Eighty percent of all jobs at Eshuis are digital, which makes up around one-third of total output, and the remainder is printed by flexo and offset,' says Peter Overbeek, CEO, Eshuis. 'All printed material is finished in a dedicated hall with sophisticated converting equipment from AB Graphic, among others. The collective set-up allows us to offer the widest range of products, fast and flexibly – from very short to very long runs.'  
Scaling up digital output 
The HP Indigo 8K digital press, introduced in 2020, provides a higher-output alternative to  HP's Series 3 (6X00 numbered) label presses, by incorporating two printing engines HP Indigo WS6800 digital presses inline, with control advances.  
The printing engines are based on a master-slave concept, where the second engine repeats everything the first engine prints. The first engine prints one frame, leaving a gap that the second engine fills in exactly at the right point. The buffer control unit synchronizes web guidance and engine speeds, while synchronization marks at the side of the substrate ensure repeat precision. Maximum speeds are 80m/min in EPM or 60m/min in CMYK - twice the speed of the 6800 presses. 
The 315mm-wide press features the same 'one-shot' technology as in HP Series 3 presses: separations are transferred simultaneously to the blanket in one pass, achieving gravure-matching quality, and color-to-color registration of +/-38 micron. 
Jobs on Eshuis's HP Indigo 8K presses are anywhere between 100m and 25000m. The presses account for 80 percent of all digital output, which has now reached 420,000m a week.  

Combining runs by substrate for best uptime 
'To maintain optimum productivity we schedule jobs with all the same materials together, and make those combined run lengths as long as we can,' Overbeek says. 'Individual job length isn't important, so long as you can create batches efficiently without changing reel size or width. So, with the right planning, great efficiencies are possible.' 
Overbeek estimates production uptime on the HP Indigo 8K presses to be about 65 percent. Weekly maintenance accounts for seven hours, while makeready is no more than 10 minutes per reel, including substrate change and color calibration. Material waste is little more than the 30m web path. Otherwise, apart from reel-change, the machines run continuously. 
Longer runs on the 8K 
One of the longest jobs on Eshuis's HP Indigo 8K is a 25,000m run for 'mask printing' of the square frames on Polaroid instant films, a campaign for the iconic camera brand that was revived in 2017. A high-speed digital press was the only choice, as the high-volume print run comprises a series of different colors and special edition designs. The press's enhanced web guidance also makes it the preferred choice, because of the PET film's sensitivity. 
Digital printing means a big dataflow increase – and as digital machines become faster and the volume grows, this creates a challenge in planning and fulfillment in finishing. Eshuis is working with ERP provider Cerm on an automated Cloud-based solution, scheduling batches in reverse order, to be introduced soon. 
Last-minute order confirmation has been the norm at Eshuis for many years.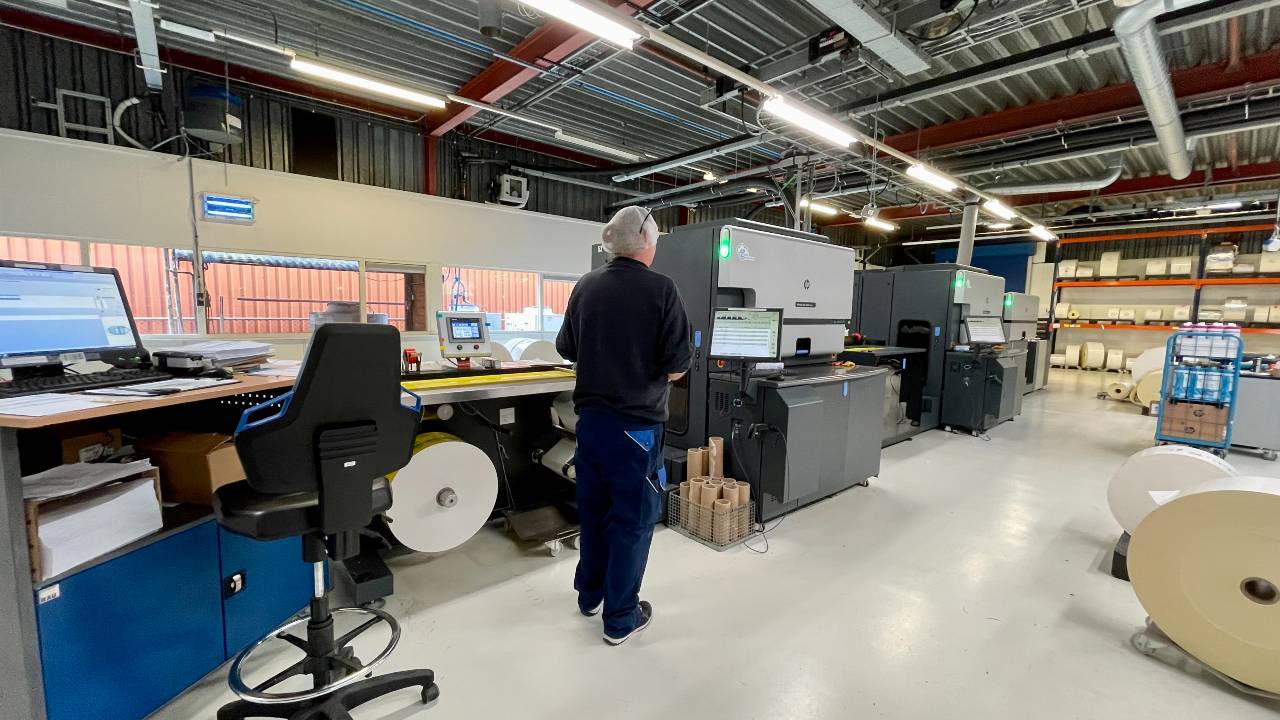 Overbeek comments: 'A customer can place a job order a day before printing, and this is already what we have done for many years. We have multiple customers, who order 500 SKUs per week, and we have a fixed lead time of five days. We already know we have material and capacity available, and it runs very smoothly.  
'HP plays a big role in our strategy, which is focused on customer intimacy,' Overbeek says. 'That means working very closely with customers to listen to what they need and then organizing in the best way, so they can rely on us to get their material on time. And with that performance, that we also measure, we know that we can grow with them.' 
Supply chain 
Visitors to the open house heard from Bram Desmet, CEO of Solventure, a supply chain consultancy to retail and global businesses based in Ghent, Belgium. He argues that supply chains today are more critical than ever to overall corporate performance, and procurement is more concerned about supplier reliability than ever before. 
According to Desmet, the challenge of providing extra services to customers without increasing costs and cash – the supply chain triangle – was a struggle even long before the pandemic.  
Sourcing goods from East Asia was cheaper but means longer lead times, transit risks and higher inventories. Brand variations are great for topline sales and consumer choice, but more, less frequently selling products, raises makeready times, as well as stocks. And while cutting frees up cash, it raises the risk of firefighting to close the service gap. 
All these vulnerabilities left suppliers exposed as post-pandemic demand exceeded expectations. Paper shortages in particular meant exposing frailties in the traditional supply chain model – and not many expect a return to pre-Covid normality anytime soon. 
In some ways, this has helped companies like Eshuis, who see opportunities among the challenges. 
'We have three big new customers that purchased abroad but were without labels. So, they decided to buy locally – and for them, the price is less important than the assurance of continual supply,' he says. 'These brands have contracts with retailers, which kills them if they don't supply in time. No material is totally unacceptable.' 
It's been nearly 20 years since Eshuis started its digital journey with HP. 'It doesn't work anymore to accept orders in an old-fashioned way and tell the customer they'll have to wait two weeks for the work,' Overbeek says. 'You need to make sure you are prepared internally to deliver on demand. And this is why we have created flexibility in the routing of jobs through the company and trained people to be exchangeable between processes so that we can use them on different machines.' 
There is plenty of work for Eshuis' existing 6 Series HP Indigo presses – but again, it is not so simple to define the job profile by run-lengths: 'Normally we exchange many substrates between the 6 Series and 8 Series presses, but the small volumes of rare substrates will stay on the HP Indigo 6800 and the faster jobs will go on the 8K for maximum efficiency. Each time you change substrate you need to do calibrations, so the number of substrate changes is critical – and we schedule to limit these as much as possible.' 
Eshuis's ability to maintain continuous 24/7 production for three months on its six-series presses – only stopping for maintenance and hitting 86 percent uptime – helped prove the point. 
Stay up to date
Subscribe to the free Label News newsletter and receive the latest content every week. We'll never share your email address.