Labelexpo India review: dies, tooling & ancillary equipment
Visitors at the show saw latest technology in dies, tooling and ancillary equipment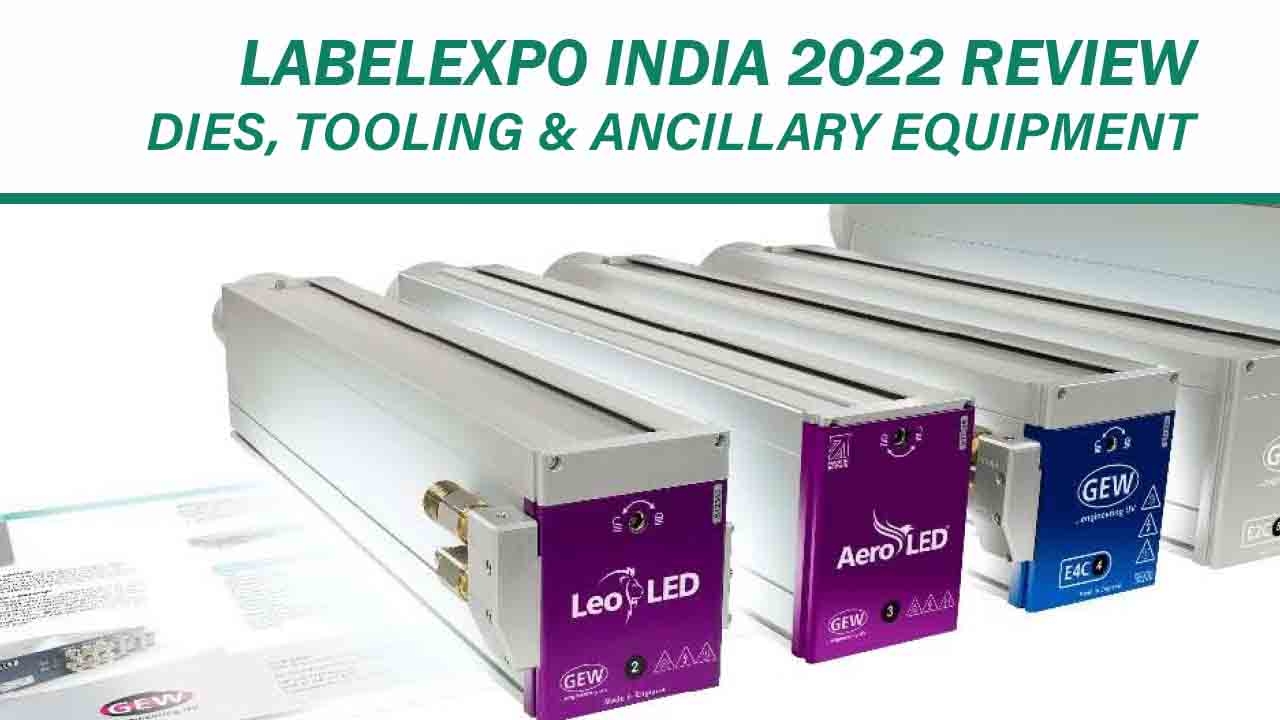 Academi a. promoted Flexo Concepts USA's polymer
doctor blades.
Acme Rolltech launched its ACE (Advance Channel Engraving) roll/sleeve engraving technology. The manufacturer showcased special ATAC rolls used
for Screen-type raised effects and AHDW for high-density
white. The company promoted its cleaning solutions and
refurbishment program.
Apex International showed GTT anilox technology and
explained its Flexokite knowledge center.
Spilker Germany joined its partner Weldon Celloplast at the show. Spilker covers the entire tooling spectrum from flexible dies, a wide range of rotary tools, magnetic cylinders, print cylinders, sleeves, hot stamping/embossing/punching dies and complex rotary machines with integrated automation technology for labels
and packaging.
The UFlex Printing Cylinders business division displayed its
range of products including flexo plates, elastomer plates, and photopolymer plates.
Vintex Rubber Industries launched plate mounting equipment and laser engraved sleeves. On display were rubber rollers, plate mounting sleeves, laser engraved elastomer plate, polymer plate and ink chamber seals.
Ancillary equipment
Academi a. promoted Polymount, Netherlands (self-adhesive sleeves, film cleaning system), Troika Systems, UK (QC devices - AniCAM HD and FlexoCAM [new]), Alphasonics, UK (advance ultrasonic cleaning systems) and ALE, UK (laser engraving systems).
Eltech showed a new corona treater for flexographic printing
machine, along with static eliminators and ionizers.
Atik Chauhan, director, technical and sales at Eltech, says: 'Most label producers now understand the importance of corona treater requirements on their presses. Narrow web corona treater is the most economical technique to increase the surface energy of any substrate for better bonding of ink with the substrate. Ink bonding with the surface is a serious problem during printing the label, and thus, inline corona treatment is an effective and economical solution for increasing the surface energy of the base substrate
prior to printing.'
IEEC promoted its corona treatment systems that ensure
that ink is anchored to substrates irrespective of the type of face material. The company displayed its double-sided compact corona treatment system to enable front and back-side treatment of the substrates in a single pass.
The company also launched Ozonash, which neutralizes toxic ozone gas using a metal oxide catalyst. Ozone is a by-product of the corona treatment process and this unit can be retrofitted on existing corona treatment systems.
Maxcess promoted its new fully automated RotoMetrics
AccuAdjust Dual Adjust anvil control and FIFE-500 Max web
guiding system.
New player in the Indian market, Vetaphone, had several corona treatment units on display and announced at the show that it will partner with Indian narrow web flexo press manufacturer UV Graphics. At the show, UV Graphics Technologies showcased two Vetaphone VE-A 520 models on its narrow web Ultraflex flexo line, and two VE-A 460 models on its Ultraflex hybrid line, where the digital element is powered by Domino.
On display at the BST booth was its Tube Scan Eagle View
inspection camera for 100 percent print inspection and detailed viewing. The AI learning camera can reduce false error reports and works on reflective material.
Erhardt+Leimer promoted its Smartscan 200 percent inspection system for narrow web printing and finishing machines. The inspection system detects print defects, damage to the material and missing labels. The company also highlighted Smartscan MIS2 Generation II inspection system.
EyeC ProofRunner in-line inspection system was also promoted at the E+L stand.
GEW emphasized its latest LED-UV curing system, AeroLED for full cure printing, coating and converting applications. It works by the air being extracted by a single centralized fan sited away from the press. There is no need for integrated fans or electronics in the individual lampheads.
Stay up to date
Subscribe to the free Label News newsletter and receive the latest content every week. We'll never share your email address.