Accu-Label installs Durst Tau RSCi
Accu-Label has added a Durst Tau RSCi to its fleet, the first installation of Durst Group's digital press in the North American market.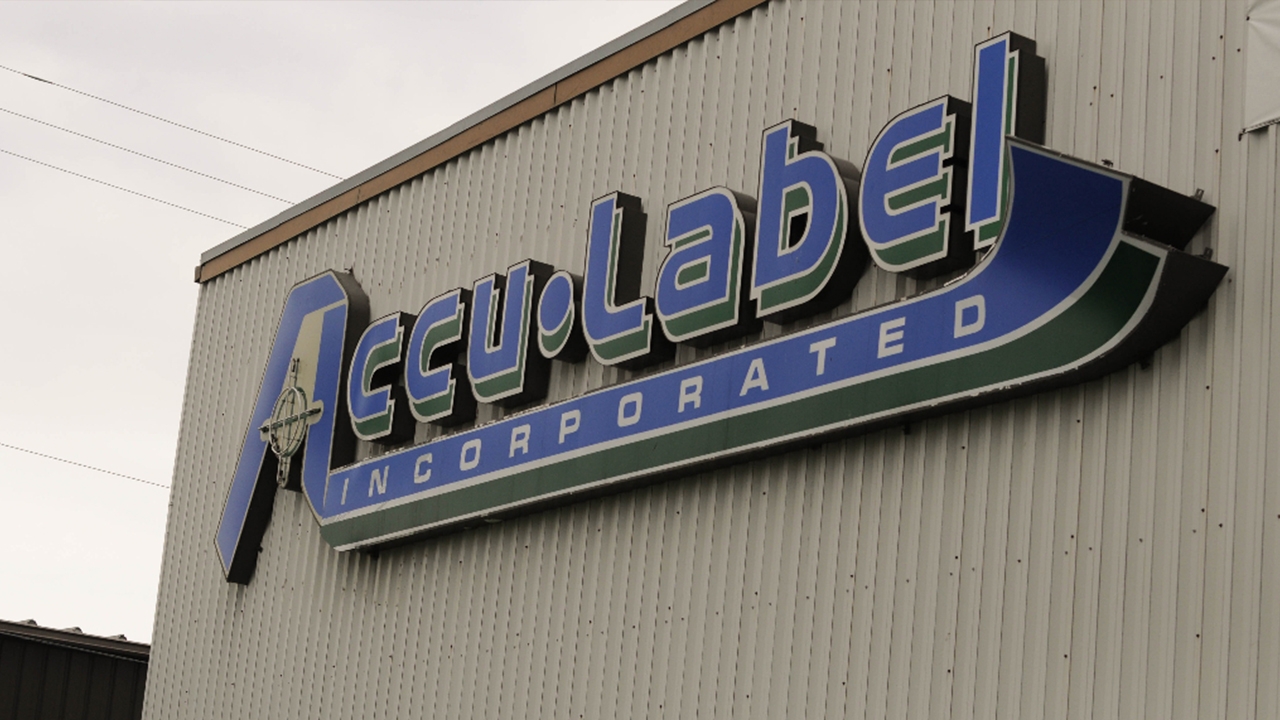 Accu-Label, a custom pressure‑sensitive label converter based in Fort Wayne, Indiana, is a relatively new entrant in the digital arena, making its first installation in 2014 with a Xeikon 3500 digital press. Not long after that installation, the company saw roughly 40 percent of its volume move from flexo to digital.
In just a year, Accu-Label was ready for its second digital press, a Xeikon CX3, becoming the first installation in North America and one of three pilot sites worldwide to have the press installed in its facilities.
Now, in a push to drive its digital transformation further forward, Accu-Label has become another first in the North American digital market.
In mid-2021, the company became Durst Group's first North American label converter using the Tau RSCi digital press.
During Covid, while revenue was up for many companies across the globe, there were many other problems concerning workforce and supplies, and as the pandemic continued, many of these issues were exacerbated.
The Tau RSCi press itself is really quite good, basically does everything we need, it's been a really good fit for us
At Accu-Label, the installation of Durst's digital press came during a time when the company was going through some difficulties, causing internal struggles across Accu-Label to the point where the company wasn't sure it would be able to keep its doors open if things continued down the path it was ambling toward.
'The Tau RSCi press itself is really quite good, it basically does everything we need, it's been a really good fit for us,' says Catie Manning-Ewald, creative and marketing director at Accu-Label, adding that the company may not have been able to survive Covid without the installation of the Durst press.
Currently, Durst Tau RSCi is available in 12in, 16in and 20in versions. Accu-Label opted for the 20in model to maximize label production productivity. Manning-Ewald says it allows the company to use the press for whatever jobs may come its way. The Tau RSCi is capable of print speeds up to 100m/min (80m/min at full resolution) with a resolution of up to 1,200 DPI.
After the Tau RSCi installation, which happened in a relatively short amount of time, the company was able to bounce back in no time, says Manning-Ewald.
Due in part to the speed, some jobs that traditionally ran on flexo at Accu-Label, have now transitioned to run on the Durst digital press because, according to Manning-Ewald, 'we've been seeing so much turnover with art, and if somebody is running reruns with art and they have changes, you just can't keep up with that on flexo.'
For the company, pressure-sensitive labels have been its bread and butter, covering everything from blank labels, to one- or two-color labels and highly decorated and complex jobs with added finishes. Much of these, especially the simpler labels, would traditionally be run on one of the company's Mark Andy flexo presses, but the addition of the Tau RSCi has somewhat changed its business and the way the company approaches its use of the digital press.
There has been a significant shift in the company's digital‑to‑flexo ratio, where before the installation, it was around a 50/50 split between both systems. However, the Tau RSCi pushed digital well ahead of flexo bringing the ratio to around a 75/25 split, according to Manning-Ewald.
She adds that, as Accu-Label is still learning about its new digital press, the ratio could continue to fall heavier on the digital side.
This shift is partially due to the high speeds of the Durst digital press, but the choice to go with the Tau RSCi was not made solely on the speeds and resolution of the press. One of the main factors Accu-Label based its decision was the support from the machine manufacturer. Though Durst Group is headquartered in Brixen, Italy, the company has spent several years expanding its global reach, and its accessibility in the US was one of the reasons that drove Accu-Label's decision to partner with Durst.
'Service is a big thing in making sure our presses are up and running,' says Manning-Ewald. 'And with Durst's growing client base in the US, the team was very attentive and really guided us through what could've been a difficult learning experience.'
When it comes to a new installation of a machine a converter hasn't touched before, service doesn't just mean fixing something when or if it breaks down, it means helping the company – operators in particular – get accustomed with the new press, and learn the ins and outs of how the press works.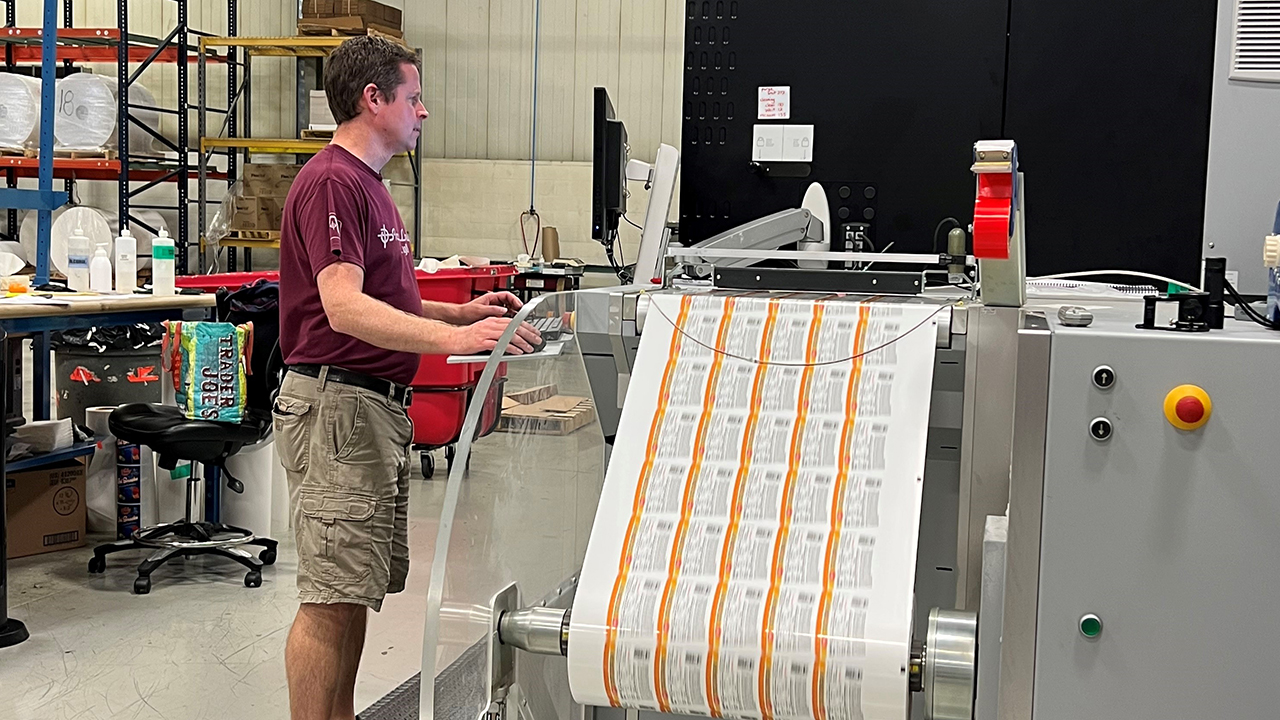 Now, in comparison to flexo presses, the learning curve for a digital system is relatively lower, but on the graphics and pre-press side, ensuring the digital press is set up correctly is key.
For Accu-Label, Durst sent a representative for a week to ensure that everyone from its pre-press department to its press operators knew exactly how to manage the Tau RSCi press. He explained the technology and how to troubleshoot common and complex problems if they do arise. Accu-Label found, especially in transitioning some work from flexo to digital, that it was a relatively easy change.
'Taking a flexo file and transferring over some of the concepts to digital is somewhat of a trip, but it was very easy to get there. With flexo you have to burn the plates before you can even run tests, sometimes having to go back and make changes, it becomes a labor-intensive process, but obviously, being a digital press, the Tau doesn't have this problem which has made things much easier for us,' says Manning-Ewald.
Maintaining a vision
Since the business was founded in the garage of Accu-Label president, Dave Manning, in 1987 with a 7in Allied Gear press, the company has developed a vision of being family-centered and dedicated to surpassing the expectations of its customers.
In 1989, as the ambition of the founders and the work being done could no longer be supported in the garage space, the company moved to a larger facility, added another press, and hired more employees.
And in 1996, the company moved to its current 38,000sqft facility, where that Allied Gear press is still chugging along and printing jobs that make sense to run on the press.
Accu-Label still holds the family-first vision. Four of Manning's children work at Accu-Label in some capacity, with cousins, nieces and nephews coming in and working as well. Accu-Label operates as a true family business.
'We have a really great dynamic that works out in our favor,' says Manning-Ewald. 'We're in kind of a unique situation, I think, where we even have cousins who come and work for the summer and help. I think we're really fortunate in that regard.'
With roughly 25 employees working at Accu-Label today, the company operates with a swath of both digital and flexographic presses.
On the digital end, the company runs both the Xeikon CX3 and Durst Tau RSCi at full capacity, but it also runs flexo on the Allied Gear press, a Mark Andy Performance Series P7, a Mark Andy 2200 and a Mark Andy 4150.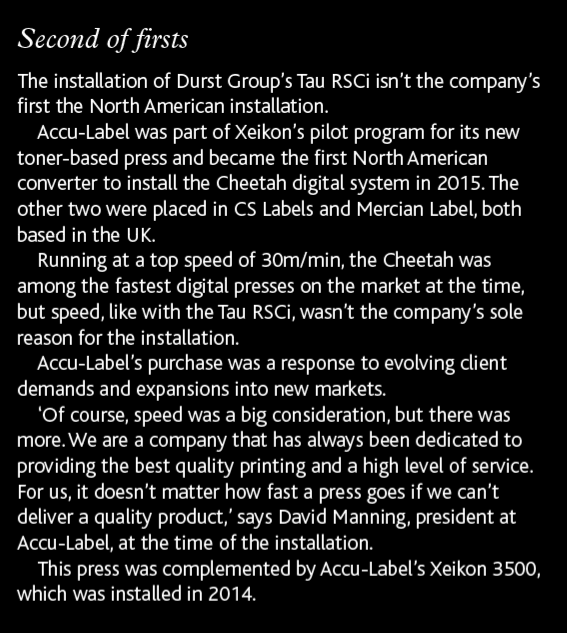 The company also operates converting equipment from AB Graphic International and Grafisk Maskinfabrik.
Accu-Label runs a very tight fleet, only adding to it when it makes sense.
'Our success doesn't just come from adding a new press, and if you look at the scope of any company's success, it's really determined on how well it knows what it needs. My dad, my brother and sister are very keen on knowing what our company exactly needs,' says Manning-Ewald.
At Accu-Label, there are multiple questions the Manning family asks itself before making a capital investment.
For one, it needs to know whether there are benefits to investing in new equipment. Will a new piece of machinery add anything to its shop floor? Will it make its operators' jobs easier, or will it be more difficult to run? And finally, will it add anything for its customers, or will the quality be compromised in the long run?
We have a really great dynamic that works out in our favor. We're in kind of a unique situation, I think, where we even have cousins who come and work for the summer and help. I think we're really fortunate in that regard
And while Accu-Label's purchase of the Durst press was made at a time when the company was looking to retire other systems on its shop floor, it was not made on a whim. The company did its due diligence, talking with peers, and conducting extensive research beforehand to make sure that the Durst press was the right fit not only the for the company, but what it can provide to its customers, and whether the press will allow Accu-Label to be more efficient.
'We knew that we needed stability on our digital end,' says Manning-Ewald.
She adds that due to the Xeikon toner-based digital presses it already had, Accu-Label was ready to start its search on the inkjet side of the digital press business.
'We also wanted to know if it can get jobs done right and efficiently because, at the end of the day, that is what's important.'
---
For more information on Accu-Label, visit www.acculabel.com
Stay up to date
Subscribe to the free Label News newsletter and receive the latest content every week. We'll never share your email address.