Beyond speeds growth with digital strategy
Beyond Label has spent five years upgrading from traditional printing equipment to an all-digital print operation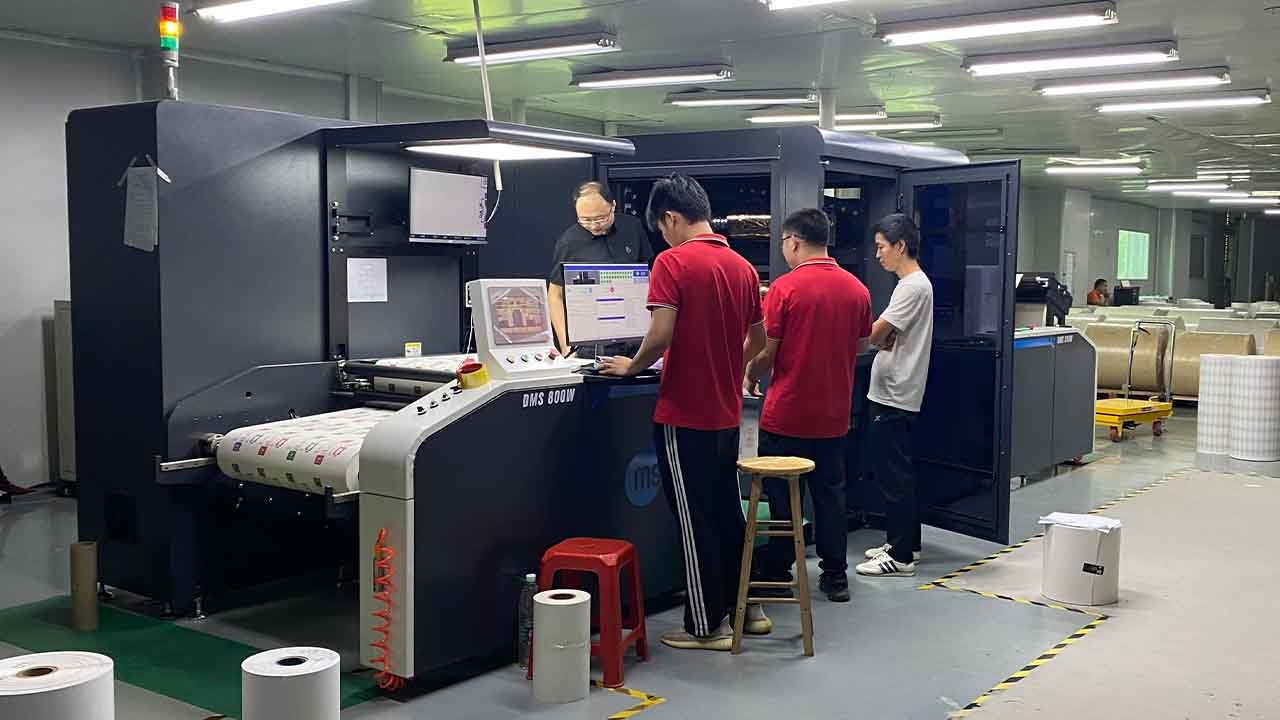 Beyond Label, located in Heyuan Hi-Tech Development Zone, Guangdong Province, has been focused on the production and manufacturing of short-run, personalized label orders for nine years. At present, the company has a fleet of HP Indigo digital presses: a 6900, 6K and 25K. The company's machine park is rounded out with several Reborn digital die-cutting machines, a DMS digital foiling unit and the recently installed Esko pre-press software suite. These investments will equip Beyond Label to become a digital one-stop service platform.
Beyond Label's annual turnover now exceeds 50m RMB (6.98m USD), and the company credits digital printing technology as the key to its success.
From conventional to digital
Beyond Label officially entered the package printing field in 2008 when it established a factory in Dongguan, Guangdong Province. At that time, it mainly used sheet offset presses for folding cartons. The company moved into label production in 2013.
Zhang Yu'an, general manager of Beyond Label, explains why: 'When serving our customers, we gradually found that the label printing industry is growing very fast in the Chinese market, although compared to the folding carton sector the overall market volume of labels is much smaller. So, considering the future development of the company, we chose to transform and focus on providing customized, small-run label printing services.'
Beyond Label invested in four Weigang intermittent offset
printing presses, a Nickel letterpress printing machine and
additional finishing equipment. In 2017, Beyond Label invested in its first digital press, a pre-owned HP Indigo WS4500.
'To be honest, we did not know much about digital printing at that time, so the WS4500 press did not play a major role in our operations. We only used it for some proofing jobs,' says Zhang Yu.
'But through using this equipment, we got first-hand knowledge about how digital technology works.'
When its original plant became too small for further expansion, Beyond Label set up a new factory in Heyuan in 2019 and registered as Heyuan Beyond Label.
The converter had a long-term plan to upgrade all the equipment in the new factory, gradually expanding its digital printing business while reducing the volume of conventional printing equipment.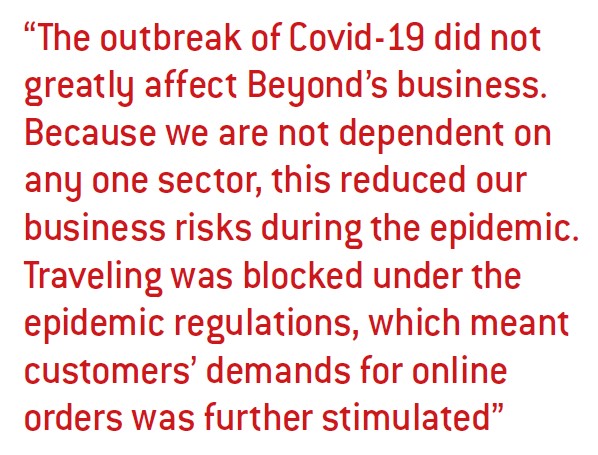 Beyond Label had already eliminated two intermittent offset
presses and the pre-owned HP Indigo WS4500 before purchasing a new HP Indigo WS6900. In 2021, the company acquired an HP Indigo 6K and eliminated its remaining conventional printing equipment. In 2022, it invested in an HP Indigo 25K digital press.
In addition, Beyond Label invested in Reborn, Vorey, Ritu and other digital die-cutting machines, as well as a DMS 800W UV digital foil machine.
'By upgrading from conventional to digital production
equipment, Beyond Label aims to improve its production strength and flexibility and to adapt to the market needs of personalized, short runs with rapid order turnaround,' says Zhang Yu 'an.
Beyond Label officially changed its name to Beyond Digital
Application Technology Co in 2022.
Business digitization
Digitization is a wider trend across all manufacturing sectors and is now profoundly impacting the development of the label printing industry, especially for Beyond.
'Digitalization has always been the goal of our investment
strategy,' says Zhang Yu'an. 'Our orders are mainly concentrated in the area of short and medium runs, and these customers are very scattered and have diversified needs. In the process of completing such orders, we have to spend much time understanding our customers' needs, and then move quickly to file processing, preparation of materials and arranging logistics, all in addition to the print production part of the order. Our customer relationship managers need to contact our clients every day and often
more than once a day to fully understand their requirements. This meant we urgently needed digital management systems to improve our service efficiency, to save time and personnel costs, and to support future
business expansion.'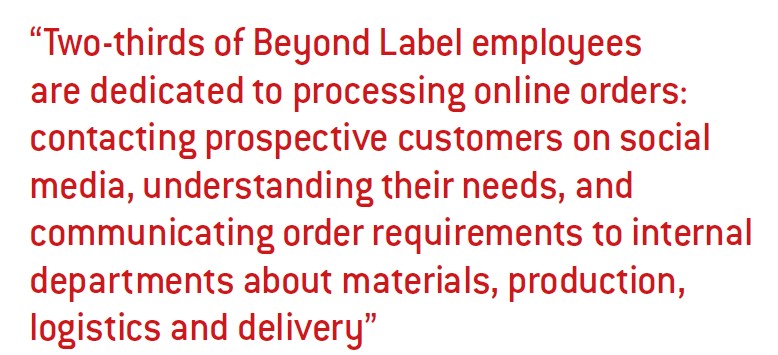 Based on this consideration, Beyond introduced a full Esko software suite, including automated pre-press file processing and layout design. The company also invested in an ERP software suite for production and operations management across the whole company.

Standardization is the foundation when implementing digitalization.
'Our company has already implemented standardization across many aspects of our operations,' Zhang adds. 'For example, our technicians have analyzed our existing equipment capabilities and order characteristics and set up a fully automated order handling process and internal color
standards, which can also be used for exploring new business opportunities.'
Zhang continues: 'At this stage, Beyond has basically realized a fully digitized production, operations and management environment, which is our direction of travel
and the goal we are trying to achieve.'
Accelerating the 'Internet +' track
Internet technology has become the main accelerator for the development of many industries. So how can the label converting industry use this powerful tool to seek new
development opportunities?
Beyond is already a long way ahead of its industry peers in making online platforms the main source of new orders.
At present, the company has 120 employees, of which 80 - two-thirds of the total - are dedicated to processing online orders. They are mainly responsible for contacting prospective customers on different social media platforms,
understanding their needs, and communicating their order requirements to internal departments about materials,
production, logistics and delivery.
Beyond's online business now accounts for 70-80 percent of total business volume, with tens of thousands of orders processed each month.
'Piecemeal, short run and fast delivery times are the main characteristics of online orders. This requires us to be good
communicators and apply our professional knowledge while handling them, not only fully understanding the specific
requirements of each order, but also knowing about material properties and printing and finishing processes, so as to
give a reasonable quotation and contract delivery time,' Zhang explains.
Beyond implements a standard hierarchical workflow for its online orders, which takes in order quotation, the ordering process, delivery time and other factors. The company classifies orders according to common material and process
requirements, allowing Beyond to optimize its whole production chain and improve overall efficiency and service levels.
The outbreak of Covid-19 did not greatly affect Beyond's business.
'The main reason was that we were operating across different markets,' Zhang adds. 'Because we are not dependent on any one sector, this reduced our business
risks during the epidemic. And traveling was blocked under the epidemic regulations, which meant customers' demands for online orders were further stimulated. Therefore, Beyond has achieved steady growth even while the rest of the industry is slowing down.'
Looking to the future, Beyond will continue to develop its use of internet technology to build a digital - and digitized
- one-stop printing service platform.
Stay up to date
Subscribe to the free Label News newsletter and receive the latest content every week. We'll never share your email address.