Conservation and connectivity in e-commerce
Consumer shopping habits have evolved since the pandemic, playing strongly in favor of e-commerce. Conservation and
connectivity have become more crucial than ever to sustain the e-commerce packaging industry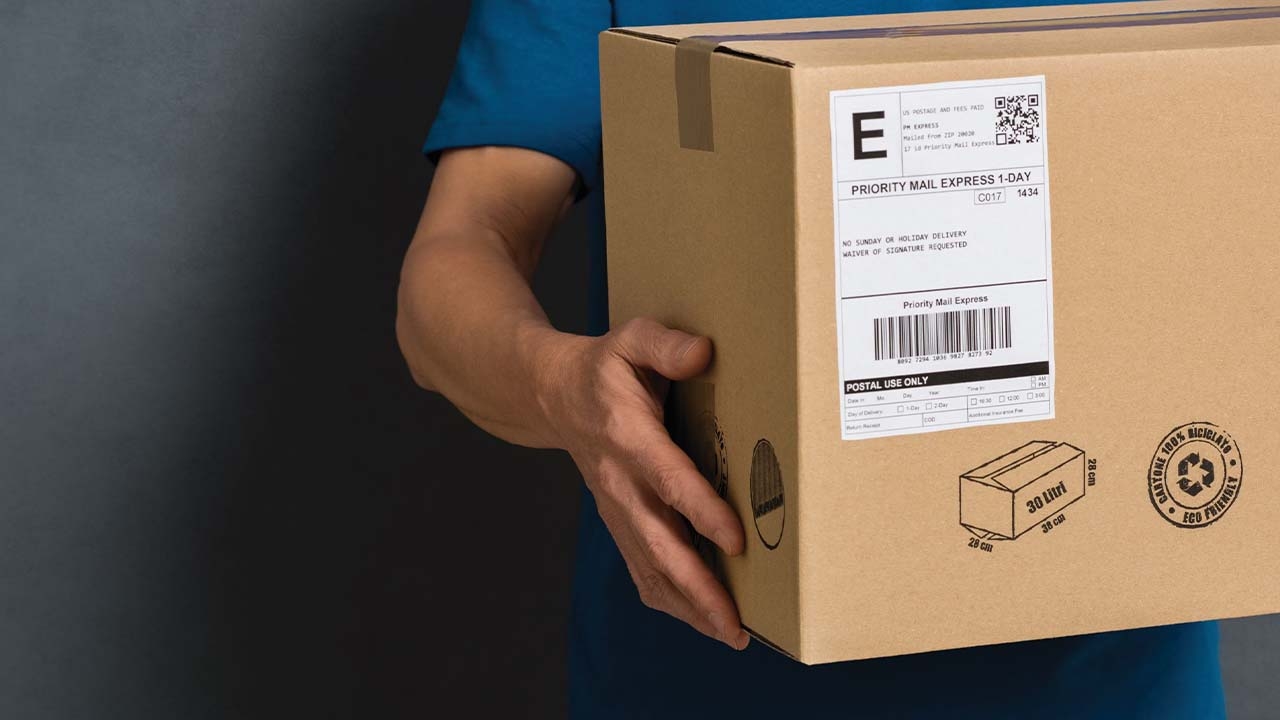 According to a survey by United Nations Conference on Trade and Development (UNCTAD) conducted on approximately 3,700 consumers across nine economies, the
pandemic has brought about lasting changes in online shopping habits. The survey examined the impact of the
pandemic on consumer behavior in countries such as Brazil, China, Germany, Italy, South Korea, Russia, South Africa, Switzerland and Turkey.
The results revealed that over half of the respondents now shop online more frequently.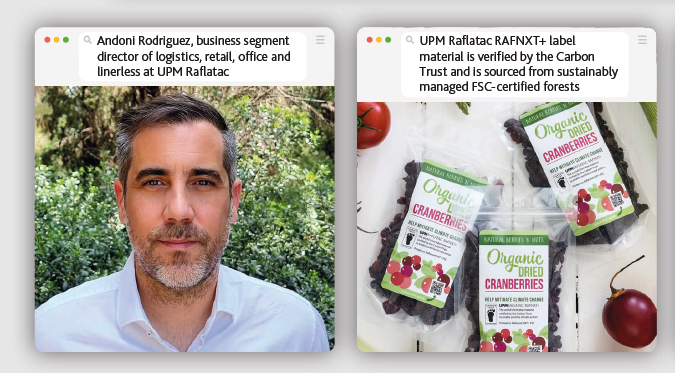 Even though life across the world has gone back to what it was before the pandemic, consumers seem to be satisfied with their online experience and are shopping online more than before the pandemic. UNCTAD reports that worldwide e-commerce was 17.9 percent of total retail sales in 2020. This figure grew to 19 percent in 2021 and 20.3 percent in 2022.
Naturally, the consumption of e-commerce and logistics labels and packaging multiplied.
Yara Ghoussoub, strategic project manager, paper, at Avery Dennison, says that in recent years, the demand for e-commerce and logistics labels has increased, driven by a range of factors. 'The pandemic has changed online shopping behavior forever. More consumers have shifted to online retail due to the convenience to shop online and return merchandise when needed.'
Improving the recyclability and therefore the sustainability of packaging within the e-commerce and logistics sector is only going to grow in importance in the coming years, as the world of e-commerce is only going to grow
James Orford, global product manager digital printing at Domino, agrees: 'E-commerce was the saving grace for many brands during the Covid-19 pandemic, with more people than ever before opting to order consumer goods on
the internet. The effect was far-reaching, with everyone – from small e-commerce startups to big players such as Amazon – feeling the effects. The explosion in e-commerce naturally led to a huge growth in demand for e-commerce
and logistics labels, and Domino saw significant growth in our e-commerce labels business, as well as logistics and
reverse logistics (return labels), during this period.'
Conservation
Such large-volume e-commerce activities are leading to the accumulation of significant amounts of discarded packaging and labels, creating a significant impact as the industry eyes more sustainable initiatives.
Oceana, an organization advocating for the restoration of biodiversity in the world's oceans, found that Amazon generated 599 million pounds of plastic packaging waste in 2020. This is a 29 percent increase over Oceana's 2019 estimate of 465 million pounds.
However, consumers are not oblivious to multiplying e-commerce waste. A DHL survey in Europe reveals that more than half (53 percent) of e-commerce shoppers expressed a desire for online retailers to prioritize sustainability in their operations, including delivery and packaging.
Furthermore, over 20 percent of Swedish shoppers stated that they are willing to pay a higher price for eco-friendly deliveries.
Additionally, the survey observes that 58 percent of European shoppers are willing to wait longer for their deliveries if it means supporting more sustainable practices, even when same-day or next-day delivery options are available.
Consequently, brands are actively moving to more sustainable means of packaging in their e-commerce activities. Online fashion and cosmetics retailer ASOS has modified its black and white flexible packaging mailer bags by reducing their thickness by 10 to 20 microns. The brand has also integrated a closed-loop system with its packaging manufacturer Pregis Performance Flexibles to gather all the returned packaging and roll them back into making new mailing bags.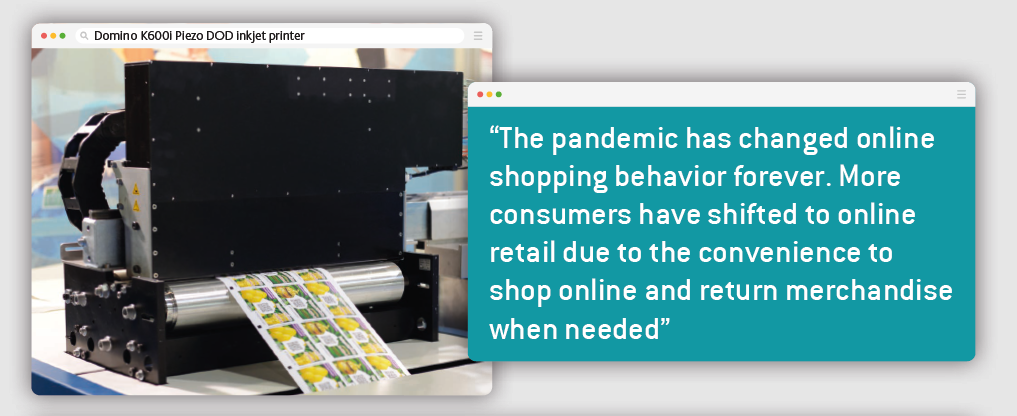 Leading Indian fashion e-commerce brand Myntra has shifted to eco-friendly recycled paper shreds to replace bubble wrap and air-filled plastic packing pouches for the packaging of products. All the other plastic that it cannot avoid using, it recycles. The brand's Myntra for Earth products also get delivered in outer packaging made of paper for its eco-conscious shoppers.
Fashion brand H&M Group has developed a multi-brand packaging system with bags made of forest-certified
paper. Once opened, the bags are recyclable.
The new branding labels now allow H&M brands to be more relevant with messaging, while the bags have a cleaner
look. This in turn prevents packages from having outdated messages on them, preventing another waste risk.
Easier said than done
Andoni Rodriguez, business segment director of logistics, retail, office and linerless at UPM Raflatac, says the e-commerce sector must be more focused on helping deliver sustainability.
'This is easier said than done as the sector has to deal with challenges such as deploying more logistical solutions to meet enhanced demand, producing more packaging to ensure products are delivered to customers safely, and the
challenge of dealing with returned goods and packages. In short, driven by global consumption, today's e-commerce and logistics industries are changing the way we package, label and ship products.'
Rodriguez adds: 'We work together with e-commerce players to fulfill their targets in using recycled content packaging materials and help them to promote the circular economy. We have brought to market a wide range of labeling solutions that follow the principles of reduce, recycle, renew and reuse.
The solutions have been proving popular with printers and converters, as they help brands meet virgin-material reduction targets, reducing the pressure on using such feedstocks and combatting climate change.'
Sustainability considerations have significantly influenced the purchasing decisions of e-commerce and logistics
businesses when it comes to label materials. Label manufacturers are facing both new challenges and opportunities to meet the ever-changing needs of the logistics space.
Avery Dennison's Ghoussoub says that label manufacturers are developing labeling products that use recycled materials, offer biobased options, or reduce waste during production. Linerless also offers sustainability benefits via waste reduction, resource conservation and lower carbon footprint.
Avery Dennison has launched a carbon footprinting tool created in collaboration with the Carbon Trust to continue its drive towards transparency and continuous improvement in environmental impact measurement and reporting on label
products. The footprinting tool is intended to provide information on the greenhouse gas and water footprint of an expanding array of Avery Dennison's label and packaging materials products globally including faces, liners and adhesives.
'Improving the recyclability and therefore the sustainability of packaging within the e-commerce and logistics sector is only going to grow in importance in the coming years, as the world of e-commerce is only going to grow,' Rodriguez says.
'As a result, it's important to remember that the power of the label extends far beyond functionality and can directly affect the sustainability of a product.'
Rodriguez concludes: 'Through our products and services, including our RAFNXT+ product range, RafCycle recycling service and Direct Thermal (DT) OptiCut linerless labels, we are well positioned to help our customers choose the right label for their logistics needs that maintains scanning and traceability.'
New developments
UPM RAFNXT+ label material is verified by the Carbon Trust and is sourced from sustainably managed FSC-certified forests. UPM also has CarbonNeutral certified RAFNXT+ options.
Its DT OptiCutLinerless Label portfolio is customized for
different applications. These include retail and weigh scales;
logistics for transport and warehousing; to-go orders for hospitality; and cold environments for industrial food.
UPM DT OptiCut Linerless products reduce the need for roll changes and lower storage and transportation costs due to 50 percent more labels per roll.
The RafCycle recycling service uses liner waste to create new label materials, with UPM arranging pickup from its customers.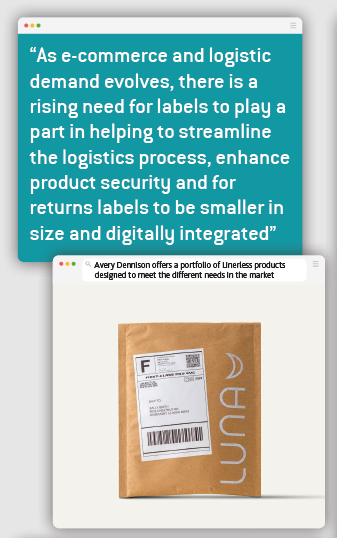 In North America, Avery Dennison has launched a family of recycled non-top-coated and top-coated FSC-certified direct thermal papers containing 15 percent recycled content. The new rDT portfolio not only provides a facestock made with recycled content but is paired with its C4500 hot melt adhesive, which contains 45 percent renewable content and is a USDA-Certified Biobased product.
The company's Eco Portfolio products TTC Eco and DT Eco are claimed to offer 33 percent more labels per roll than standard thermal papers, 33 percent less freight costs with more material in one truckload and about 40 percent landfill waste reduction from liner waste.
Avery Dennison Direct Thermal BOPP film portfolio has been recognized by the Association of Plastic Recyclers for PE Film recycling.
Connectivity
In the era of e-commerce, consumers have become increasingly mindful about the products they purchase. The convenience of online shopping has empowered them to seek more information about the origin, sourcing, shipping and credibility of the items they buy.
The demand for variable data continues to grow, as brand owners are seeing the huge benefit of adding more granular information to everyday products to allow for brand protection, consumer loyalty programs and engagement campaigns, and product traceability through supply chains.
'While in the past, the cost associated with adding variable data may have stood as a barrier to adoption, options are now increasingly available at lower price points. As such, we are now seeing variable data used on a whole range of consumer goods, including everyday household products, and not just high-value luxury items,' says Domino's Orford.
Domino sees a move towards the more general use of 2D codes, including QR codes – these are much more robust than standard linear barcodes and can hold more data in a smaller footprint.
'As 2D codes are typically quite small in size, they can be easily added to packaging, and provide a good option for brands looking to explore short-run customer engagement campaigns,' Orford explains. 'We are also seeing some brands look to move towards more complex and encoded 2D code formats, for brand protection and anti-counterfeit applications. These are typically more secure and can be read and activated by smartphone devices.'
Additionally, Radio Frequency Identification (RFID) and the Internet of Things (IoT) are bringing about a revolution in e-commerce logistics: the ability to 'see' a product at every stage of the journey — from source to recipient.
Driving efficiency across the supply chain, intelligent labels (pressure‑sensitive materials embedded with RFID tags) are doing everything from helping manufacturers work in greater lockstep with suppliers, to helping shippers optimize truckloads, to helping customers be confident in the authenticity and safety of the products they buy.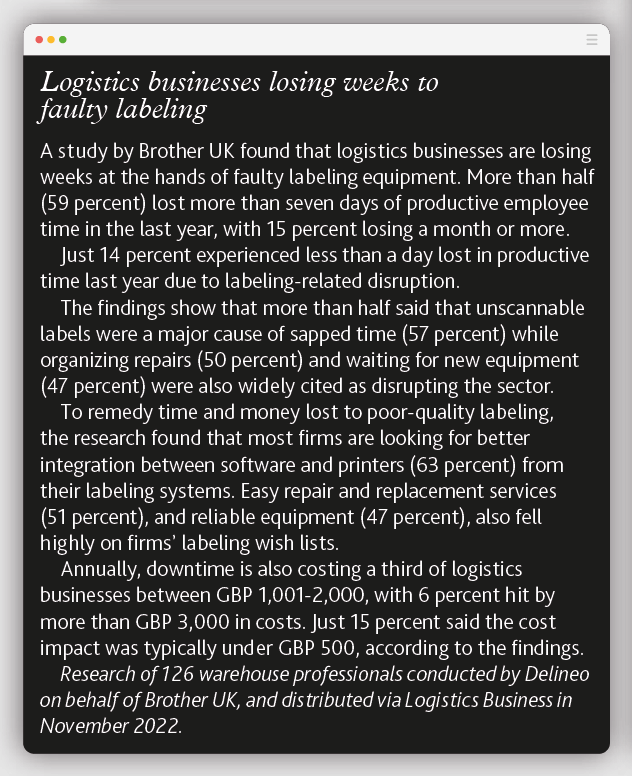 Domino has a wide range of high-resolution printing technologies, including both color and monochrome options, that can be integrated into existing converting and finishing lines. This means that variable data can be added to existing analog printing equipment. It has also developed vision technology to ensure the correct information and variable data are printed and validated before being released into the supply chain.
The demand for automation and efficiency in e-commerce and logistics operations will continue to grow. Avery Dennison is offering linerless products that are compatible with automated application systems to help improve productivity and efficiency. Avery Dennison is also collaborating with printer manufacturers to develop integrated labeling and tracking technology and
explore advancement in equipment.
Durability ensures authenticity
Logistics and e-commerce labels are prone to significant wear and tear during their lifespan. Labels can also experience fluctuations in temperature and humidity when stored both indoors and outdoors. Over time, such conditions can damage the label and make them unreadable.
Therefore, Rodriguez, of UPM Raflatac, emphasizes selecting the right label material is crucial to protecting the information and keeping the package flowing efficiently along the chain until the destination, as well as reducing the impact that package has on the environment.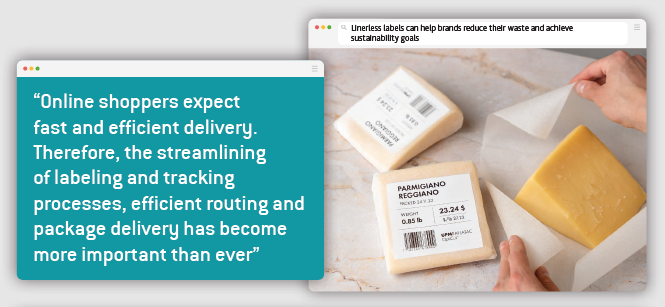 'As e-commerce and logistic demand evolves, there is a
rising need for labels to play a part in helping to streamline the logistics process, enhance product security and for returns labels to be smaller in size and digitally integrated,' Rodriguez says. 'In addition, labels not only secure the packaging's performance but also bring the supply chain better functionality.'
Technological advancements have played a crucial role in shaping the demand for logistics labels. For example, the adoption of linerless technology is increasing, leading to more efficient labeling application processes, adds Avery Dennison's Ghoussoub.
'Online shoppers expect fast and efficient delivery,' Ghoussoub says. 'Therefore, the streamlining of labeling and tracking processes, efficient routing and package delivery have become more important than ever. To further improve operational efficiency, Avery Dennison is leveraging linerless technology to boost productivity and reduce downtime allowing logistics operations to maintain uninterrupted processes.'
Effective tracking and identification of packages in e-commerce require label durability and legibility throughout the supply chain. Material selection plays a crucial role in ensuring label durability. For example, topcoats can be used on direct thermal labels to enhance durability and increase the resilience of label materials.
Avery Dennison offers a portfolio of linerless products designed to meet the different needs in the market. Specifically, its AT-20 adhesive is purposefully designed to perform in extreme temperature conditions.
Lab testing and validation are also key. Before full-scale production, Avery Dennison conducts thorough testing of print quality and adhesion under different environmental conditions (temperature, humidity, pressure) to ensure the quality and durability of its materials.
UPM Raflatac offers DT OptiCut Linerless products that combine repositionability with adhesion properties including resistance to high temperatures, moisture, and extreme cold. Its RH9L hotmelt adhesive, part of the RAFNXT+ range, is specifically designed for challenging logistics applications. It offers adhesion, even on challenging cardboard and fiber-based packages, and provides efficiency due to less bleeding and good cuttability.
As we navigate the challenges of increased waste and environmental concerns, there is hope in the industry's dedication to sustainable practices and innovation. The industry is actively working towards minimizing its impact on the planet. The industry also has a unique opportunity in developing robust connectivity throughout the supply chain for higher consumer confidence in e-commerce.
Stay up to date
Subscribe to the free Label News newsletter and receive the latest content every week. We'll never share your email address.