Japanese group invests in North China converter
When Chinese label converter Weihai Yanfeng (OSPWH) was acquired by Japanese group OSP Holdings in 2020, it was the start of a major transformation for both equipment and working processes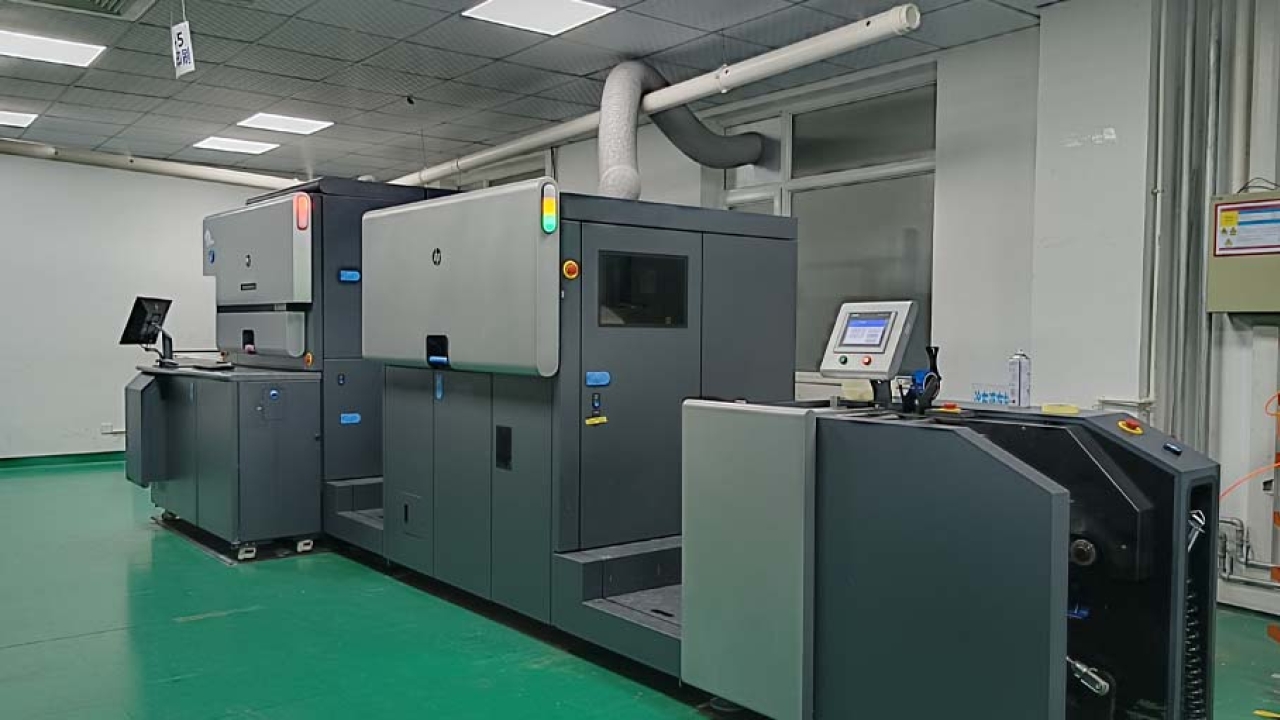 Registered in 2002, Weihai Yanfeng (OSPWH) is located in Weihai Economic Development Zone, Shandong Province, China. With a production space of nearly 4,000 sqm, the company has 70 employees and an annual turnover of 20 million RMB (2.79 million USD) in 2021.
In its 20-year journey from private enterprise to the acquisition by Japan-based OSP Holdings, Weihai Yanfeng has transformed its operations by upgrading both its hardware and software.
Entering the China market
OSP Holdings was founded in 1927. Its main business is in food labels. The company's strategy is to provide a one-stop packaging service, and through the years OSP Group has gradually expanded into unsupported film products
and folding boxes in addition to its original label business.
As its business developed, OSP Group began to actively explore overseas markets. China was one of the markets where it planned to invest.
In 2006, OSP Group established the OSPSZ company in Suzhou, Jiangsu Province, China.
Fujita Hirokazu, who is in charge of production in OSPSZ, tells Labels & Labeling: 'Before formally investing in the
Chinese market, OSP Group carried out very detailed research. This showed that whereas in Japan per capita label consumption is around 11 sqm per year, in China it is only 2-3 sqm per year, so we are very optimistic about the future development potential of the Chinese label market.'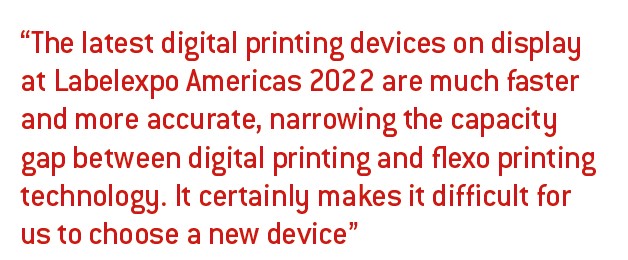 Fujita Hirokazu continues: 'It took us nearly two years to prepare the plant, including site selection, equipment
selection, installation, staffing to production. We started production at OSPSZ in 2008. OSP group always adheres
to rigorous quality standards, and it has strong obligations not only to brand owners and customers but also to the company and its employees.'
Currently, OSPSZ employs 230 people, and its main business is food labels that are widely used in convenience stores, supermarkets and logistics. The company has also set up branches in Beijing, Qingdao and Shanghai.
'With the development of OSP Group's business in the Chinese market, production volume at the Suzhou plant increasingly could not meet the volume of customer orders,' says Fujita. 'The acquisition of Weihai Yanfeng was based on the OSPSZ Group's decision to set up a new production
base in North China.'
After many field trips and much research, OSP Group acquired Weihai Yanfeng on July 1, 2020, which started a new chapter in the Japan-based group's investment in the
Chinese market.
Update and upgrade
Why did they choose Weihai Yanfeng? Hirokazu Fujita, the current general manager of Weihai Yanfeng says, 'We
did different comparisons and examined trade-offs between building a new plant and acquisition. Compared with the Suzhou factory, which was built from scratch, we considered that Weihai Yanfeng's production equipment and technical personnel were more mature, and the company had accumulated a strong customer base and
reputation, so that could quickly meet the business needs of our company in the North China market.'

At the early stage of the acquisition, OSPWH (Weihai Yanfeng) was equipped with an HP Indigo WS4500, in-line flexo printing equipment, intermittent letterpress and offset presses, die-cutting machines and automatic quality inspection equipment. OSP Group had a clear strategic plan for further development after the acquisition and set a goal of three years to achieve profitability.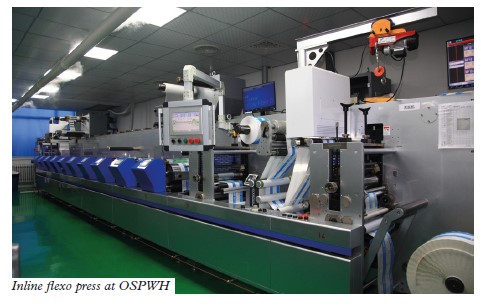 During this period, they planned to analyze the existing customer base and the company's production processes and personnel, followed by investment in new software and hardware.
At the end of 2021, OSPWH retired its WS4500 digital press and purchased an HP Indigo 6K. 'In addition to recognized excellence of HP digital printing equipment and services, we also took into account the characteristics of the main products ordered by our customers and the experience and skills of the company's technical staff and operators,' Fujita adds.
Although this new equipment has been installed for less than a year, digital printing orders are already expected to account for around 30 percent of total business volume this year.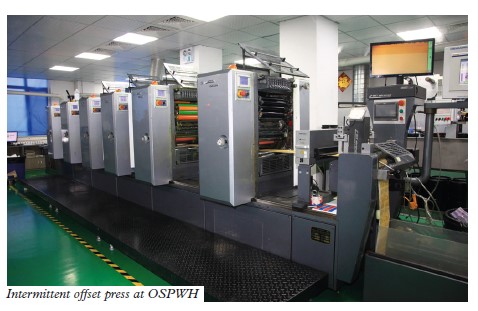 In addition to enhancing the company's hardware, OSPWH
has streamlined the production process, quality monitoring and personnel management. For example, adhering to the quality management system of the wider OSP Group, OSPWH now implements strict quality control within the factory from raw material, production, storage, and delivery.
The company has standardized the production process and set up repair and maintenance processes for each machine to improve production efficiency.
Through regular internal training and assessment, the company has continuously improved the professional knowledge of its staff. The result was the achievement of ISO9001 quality control certification and ISO14001 environmental system certification in 2021.
OSPWH weathered all kinds of issues after the acquisition.
Now its internal production and personnel processes have been streamlined and organized, the company has gradually begun to make profits.
Future development
Spearheading the group's operations in the North China market, OPSWH mainly produces PS labels for marine-based health products, such as fish oil. As one of the first of China's coastal regions to open up to the world, Weihai boasts a coastline of 968 kilometers, accounting for 1/18 of the entire length of China's coast. Annual production of seafood in Weihai exceeded three million tons in 2021.
'The impact of Covid-19 on our business is not that big,' Fujita says. 'On the one hand, at present, the products of OSPWH are mainly for the domestic market, and the export is not much. On the other hand, as people become more aware of their health after the epidemic, the market demand for healthcare products has increased.'
Now OSPWH is ready for the next stage of development. The company plans to invest in new printing equipment by the end of 2022 or early 2023 to boost production capacity, but it is still considering whether to choose conventional or digital printing equipment.
'Overall, there are advantages and markets for both printing
technologies,' Fujita explains, 'But the cost of digital printing
technology is still relatively high. In addition to the cost of the equipment itself - as well as ongoing operational costs –digital printing is a closed ecosystem, and you are closely tied to a supplier. In the future, we do believe, however, that with the development of digital printing technology, its operating cost will be greatly reduced.
'Another point of interest is that the latest digital printing
devices on display at Labelexpo Americas 2022 are much faster and more accurate, narrowing the productivity gap between digital and flexo printing technologies. It certainly makes it difficult for us to choose a new device.'
In addition, the company is looking at the development of smart tag technology.
'At present, the high cost of smart labels restricts its application in the field of the food market,' says Fujita. 'We do anticipate breakthroughs in the development of chip technology which will bring down the unit cost.'
Fujita concludes, 'In the future, changing end consumer
requirements will require more and more of label products. As a label converter, OSPWH will rely on its years of technical strength and business networks to meet these future challenges and opportunities for the label industry.'
Stay up to date
Subscribe to the free Label News newsletter and receive the latest content every week. We'll never share your email address.