Validated labeling processes play a crucial role in patient safety, and machine vision systems are leading the way in eliminating the risks of human error. 
In the life sciences and pharmaceutical industries companies throughout the entire supply chain must ensure packaging and labels show the correct content, are legible and meet mandated quality requirements. 

Validation impacts every process and component of pharmaceutical production, including machines, systems, equipment and computer systems. The printed label is a key element in the validation process in today's supply chain, and with regulatory complexity increasing and an industry-wide movement towards last-minute production processes, vailidation at the labeling stage is a critical component of the process. 
In 2018, nine percent of all medical device recall events – and the return of over a million units – were due to labeling issues, with printing errors undoubtedly a factor. It only takes one stray label, printing error, or simply a faulty print ribbon leading to missing, unreadable, or misinterpreted content to cause a product recall. 
It's an expensive business, with organizations known to spend as much as USD 350,000 for every global label change. And yet, despite opportunities to de-risk the process through automated technologies, many persist with archaic methodologies that leave them vulnerable to human error. 
When the error goes undetected and products reach the supply chain, patient safety is put at risk. Moreover, with an increasing shift towards just-in-time production processes, organizations need to ensure robust mechanisms to ensure batch integrity.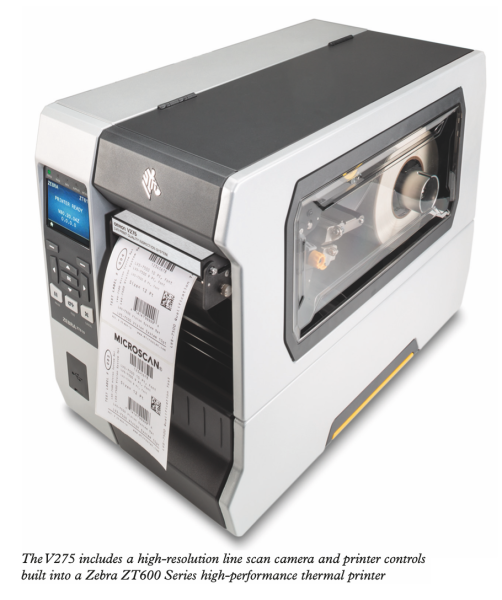 For PCI Pharma Services, a drug development and clinical trial specialist, the challenge was identifying an electronic inspection system to assist with its in-house label printing and inspection processes. Historically, all PCI's San Diego branch labels went through a '500 percent' manual visual inspection process. Multiple employees performed 100 percent manual visual inspections during the label printing process, during the production packaging process, and during the final distribution process before completing shipments for clinical trials. 
'For us, the 500 percent manual inspection was effective while we were growing as an organization,' says Derek Truninger, director of quality operations at PCI Pharma Services. 'As multiple employees reviewed the labels at various stages throughout the manufacturing process, we were confident any potential print-related discrepancy would get flagged before distributing the materials for our clinical trial clients.'
Truninger mentions that as the company began to grow and increase its label production output, it became apparent it could not reasonably continue to rely on manual inspection. The company started searching for a vendor to support 100 percent in-line electronic verification of printed labels.
'We leaned on our previous relationship with US Automation and asked for recommendations on applications which would meet our needs,' states Truninger. 'Based on the feedback from our US Automation partner, we selected Omron. It quickly became apparent Omron had the technical knowledge and service offering to meet our desired configuration.'
Omron, one of the global leaders in end-to-end automation, suggested its recently launched V275 Series printer with an integrated label inspection and barcode verification system.
The system reduces the number of manual inspections by implementing 100 percent electronic verification. It can assess multiple print defects and compare variable data against a source document. 
'This ability to ensure variable data is aligned to the source document is invaluable to our organization as we continue to grow and increase our client base,' adds Truninger. 'By continuing to invest in technological advancements, we can build quality into the process, versus inspecting for quality after the printing process completes.'
The V275 can grade 1D and 2D barcodes to ISO 15415, ISO 15416, and GS1 standards while inspecting human-readable content for accuracy and print quality using optical character recognition (OCR), optical character verification (OCV) and blemish detection tools. This complete label verification occurs while printing at normal speeds. 
The software allows for automated inspection of barcode content to expected values and data formats for both the machine-readable and human-readable information on each label. In the event of a label quality error, the system automatically stops the printer and alerts the operator via an output to a light tower.
The V275 includes a high-resolution line scan camera and printer controls built into a Zebra ZT600 Series high-performance thermal printer. The web-based user interface runs on Ethernet-based communications from the V275 to the customer's PC or server. It offers label inspection template design, real-time label quality monitoring, template and inspection results data archiving. It can work with the ZT610 (4-in labels) and ZT620 (6-in labels) for 300 and 600 DPI resolution printer models.
'From an integration perspective, overall, the system is very user-focused,' explains Truninger. 'The screens are easy for operators to use and understand, and the system is intuitive. We partnered with Omron to facilitate the installation and qualification activities, which allowed the company's representatives to be onsite at our facility. We were able to receive hands-on training, which was vital to the launch of the system.'  
By identifying an electronic vision system, PCI was able to significantly decrease the number of manual verifications and provide higher-level quality control through the utilization of electronic technology. By providing highly accurate automated inspection, the V275 supports traceability throughout the supply chain of finished goods and labeled production materials and dramatically reduces the risk of incorrect or poor-quality labels making it to market.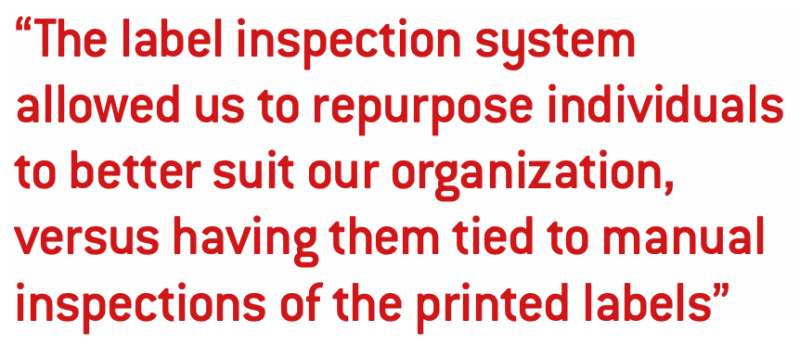 'We were able to streamline our inspection processes, reduce the total number of manual verifications required to ensure the labels were correct before application onto the final units, and increase our overall quality level as each label is going through 100 percent electronic verifications,' says Truninger. 'From a regulatory standpoint, 100 percent electronic verification is always the preferred method for any type of inspection, and the V275 provides the perfect solution for our organization.'
According to Truninger, with the addition of the label inspection system, the company could also transfer employees away from the label room and have them directly support profit-generating activities. 
'The label inspection system allowed us to repurpose individuals to better suit our organization, versus having them tied to manual inspections of the printed labels,' concludes Truninger.
---
For further info: 
For more information about Omron V275 go to: industrial.omron.eu/en/products/v275