With in-mold labels, there's no trade-off between recyclability and shelf appeal, says Nico van de Walle, product and circular economy manager at MCC Verstraete.
Setting business goals that have sustainability at their core is increasingly becoming the norm across most industry sectors, and MCC Verstraete is no exception. As we strive to enhance our position as a responsible leader and pioneer in the rigid packaging market, we are continually facing new challenges that we see as opportunities to sustainably evolve our business.
Focusing on developing innovative solutions that deliver recyclable, reusable or compostable IML packaging for our clients is therefore top of our agenda. 
Yet navigating the complex and fragmented regulation, tax and infrastructure landscape requires continually broadening our range of products. There is no one-solution-solves-all and we are regularly diversifying our product innovation accordingly.
As they stand, the current Design for Recyclability guidelines appear to be a trade-off between marketing departments and those in charge of recycling. Ask any recycler and they will opt for minimal packaging design,while the marketing teams will be focusing on creating on-shelf standout.

The reality is there doesn't need to be a trade-off between these important stakeholders. Well thought-through packaging and IML label design can in fact resolve both issues. But first we need to cut through the disruptive noise around reducing plastic that often does little to advance the circular economy and, in many cases, clouds the real issues.
The numerous pledges to reduce the use of plastic packaging materials, fueled by consumers' belief that paper or cardboard packaging is 'greener', often results in what I coin 'regrettable substitutions'. 
These alternatives often include blends of plastic and cardboard that make the pack difficult if not impossible to recycle, resulting in it generally ending up in landfill or incineration. 
Worse still, in some countries organizations are being rewarded either via reduced EPR fees or exclusion of plastic taxes for using these types of hybrid packaging. There is absolutely no rationale for using less plastic if the alternative materials don't get recycled.
Certainly, we all need to work towards lightening plastic packaging and we are continually researching improved IML solutions that can facilitate this objective, but our current key focus is on mono-material IML packaging that is fully recyclable. In fact, it is now possible to have a decorated mono-material IML pack that is also best in class when it comes to recycling.
To achieve this, we are fine-tuning cutting-edge technology to design intelligent in-mold labels that are poised to play a crucial role in sorting. Combining this latest innovative IML solution with the state-of-the-art recycling and decontamination process developed by Nextek, we will soon be able to demonstrate how a fully decorated PP IML pack can be recycled into food-grade rPP that can be turned back into new food IML packaging.
This is a major milestone in our quest to increase the availability of affordable high-quality food-grade mechanically recycled PP. 
Breakthrough
We play an active role in a number of cross-value chain organizations and initiatives to continue boosting the circular economy. One such project, spearheaded by Nextek, is NextLoopp, which provides us with the opportunity to find a real breakthrough into a sustainable circular economy for food-grade PP packaging. NextLoopp's combination of efficient sorting and the cleaning and decontamination of polypropylene packaging to food safety standards is precisely what we are looking for. 
Meshing our disruptive innovations in packaging and IML label design with NextLoopp's groundbreaking technology will enable us to play a crucial role in driving the circular economy for PP packaging.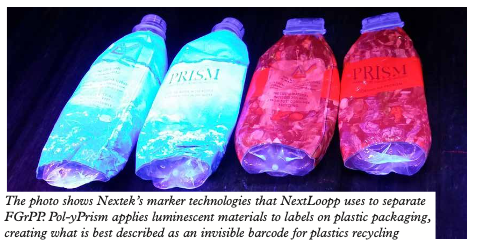 And NextLoopp is certainly accelerating through the barriers of sorting and decontamination. It recently dispatched PPristine recycled PP prototype resins from post-consumer food packaging to 43 participants for further trials. These trials will endorse the suitability of recycled plastics to be a drop-in replacement for virgin PP plastics. This is particularly timely as forthcoming legislation will impose the use of rPP in every single food or non-food packaging.
On a final note, I believe the European Recycling Industry needs to step up their support for all packaging stakeholders, from the producers, designers, decoration providers to the brand owners that are developing new innovative solutions in order to optimize packaging recyclability. 
To turn plastic packaging back into the valuable material it has the potential to be, we need to combine all the most efficient disruptive technologies available across the entire packaging ecosystem, from recycling processes and packaging to label design.