In 2014, this magazine reported on the installation of UK-based manufacturer JM Heaford's FTS plate mounter by two leading label converters in Argentina. They represented two of the first three installations of the system in Latin America, which had been launched the year before and was selling strongly in Europe and the US.
'The FTS allows us to achieve plate-mounting with precision,' Carlos Totxo, pre-press technician at Buenos Aires-based converter Achernar, said at the time. 'It also allows the plates to be positioned correctly with respect to the cylinders, which means that the pre-registration system can be used correctly and that the amount of material wasted is reduced.
'The amount of short-run work we produce means that the time lost during set-up accumulates over the course of a month. This technology has provided us with an effective tool to minimize this lost time and, fundamentally, to reduce our material waste.'
JM Heaford had long had a strong presence in the region, selling plate-mounting equipment in Latin America since its inception in 1983 and, at the time of the article, estimating that more than 10 percent of its 4,000-plus global installations had taken place at companies in that part of the world. It was testament to the quality of the manufacturer's equipment, and to the experience of its Spanish- and Portuguese-speaking Latin American sales manager, Nick Vindel.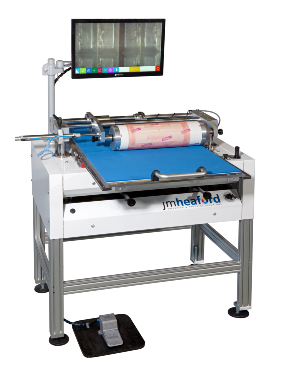 But these early FTS installations were still regarded as something of a coup. The FTS was more expensive than alternative plate-mounting systems, and Latin America was on the whole a price-sensitive market. Top tier converters might be keen, but deeper market penetration would be a challenge.
But greater recognition of the potential return on investment in high quality equipment, coupled with a desire for increased automation, has seen the FTS adopted by both smaller converters and multinational printing groups alike. Argentine converters have continued to invest in the system, while JM Heaford has also sold it to companies in Chile, Colombia, Dominican Republic, Ecuador, El Salvador, Guatemala and Mexico. Perhaps most impressively, it has installed ten machines in Brazil – traditionally a difficult market for European narrow web equipment due to punitive import taxes and cheaper local alternatives – in the last three years.
Integral
'Converters in Brazil are looking at higher quality equipment,' confirms Nick Vindel. 'Our mounter is more expensive, and when you add import duties it can increase the cost by a further 60 percent. So the purchasing decision takes on a different aspect, particularly on a product which people didn't used to see as important. But business owners are beginning to realize that automated mounting equipment is worth the investment. You can have the best printing technology in the world, but if the mounting is not working properly, then it's a problem.
'The initial cost might be high, but return on investment is fast. If you don't mount properly, what comes out of the press is not of commercial value – remounting is an expensive thing to have to do. Increasingly it is seen as an integral part of the pre-press process.'
Among the adopters in Brazil is Flexo Print, whose five facilities in Brazil and site in Paraguay all use the FTS plate mounter, as well as Albea, Grafimax, Index Label and Soft Color.
"If you don't mount properly, what comes out of the press is not of commercial value. Increasingly it is seen as an integral part of the pre-press process"
The FTS is also installed in Nilpeter's demo center in São Paulo and used for mounting plates during customer trials. 'We have used several different plate mounters in the past, from both European and Brazilian suppliers, and none is as easy to operate as the FTS,' reports Rubens Wilmers, managing director of Nilpeter Brazil. 'Our customers are very interested in the technology. We can demonstrate how fast and easy it is to mount a set of plates, as well as the mounting accuracy in terms of pre-register and register when running a job on our press.
'As you don't touch the cameras, you don't move them out of position. This is one of the industry's biggest problems – to move the cameras in a standard plate mounter, you have to move them manually to the position required. With the FTS, you can slide the camera without touching it, avoiding potential misalignment and the problems that result from that.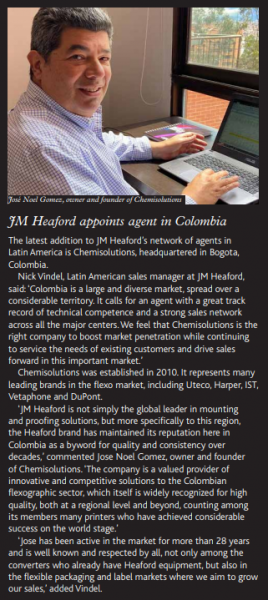 'The FTS is easy to operate and mounts the plates extremely quickly and accurately.'
As Vindel points out: 'When the major press manufacturers are endorsing your product, there's a reason for it.' As well as Nilpeter, in its Brazil and Denmark operations, both Gallus and MPS run FTS plate mounters at their demo centers. Edale and A B Graphic have also installed the systems in the past. 'We get a lot of indirect sales through the press manufacturers,' says Vindel.
The FTS mounter features a user-friendly design and laser guides to help position and mount the plate quickly and accurately. It uses high-magnification cameras situated below a cushioned table to line up the register marks through a viewing slot on the table. Once the plate is positioned on the table and alignment verified, the action of sliding the table back and forth takes over the mounting process, this reduces the risk of plate damage, eliminates RSI from manual rolling and prevents human error.
'The mounter's database can save more than 100,000 jobs, so the quicker set up can save a lot of time,' says Vindel. 'In flexo printing, time is extremely important. So a faster mounter is highly valued.
'The increase in extended gamut printing in narrow web has also had an impact: it necessitates better registration, and therefore higher quality plate-mounting.'
JM Heaford has installed more than 40 FTS plate mounters in Latin America over the past five years. This regional success has been replicated globally – the company claims it is the best-selling mounter in the world. It has been adopted by many of the major converting groups, including All4Labels, CCL, Coveris, Multi-Color Corporation and Sato Group. Two leading label converters have installed more than 20 FTS plate mounters each across different sites worldwide.
Wider systems
Further reflective of another key industry trend, JM Heaford launched a wider 900mm version of its FTS mounter five years ago, moving it into the mid-web market. 'There is lots of overlap between the traditional narrow web converters and wider web printers. The lines are blurring – wider web converters are moving into narrow web; narrow web converters are looking to go wider,' says Vindel. 'In mid web, you are mounting two plates rather than one. So you need motorized cameras which automatically go to the mounting position. This allows you to put all coordinates into the mounter, so repeat jobs can easily be recalled. This wider system gave us the platform to supply press manufacturers operating in this market, such as Comexi and Uteco.
"There is lots of overlap between the traditional narrow web converters and wider web printers. The lines are blurring – wider web converters are moving into narrow web; narrow web converters are looking to go wider"
'The mid web market is increasingly moving towards shorter print runs. This means more job changeovers and therefore more plate mounts.'
Last year, the company went a step further, launching a 1,500mm width version to cover most wide web presses. The development 'was very much customer-led', reports Vindel.