Read later
Nanography: the next big thing may be very small
Let's set the stage: the year is 2012, hundreds of people cram into a small auditorium and nestle into their seats just as the lights begin to dim. Dancers start to perform to dramatic music and voice-over as the audience watches, enrapt. Then, Benny Landa, founder of Indigo (acquired by Hewlett-Packard in 2002), emerges from the dark stage. The lights focus on him and he begins to paint a fantastic picture of Landa's new technology that is set to revolutionize the printing industry. That was nearly a decade ago – now it is time to break down what he promised and what has been delivered.
With nanography, ink is printed onto a conveyer belt style blanket and forms a dry film that is then transferred onto any type of paper with crisp clarity. According to Benny Landa, that is the key distinction that sets apart nanoprinting as a method.
'The fundamental difference between inkjet and nanography is that with inkjet there is ink-paper interaction. Wet ink contacts the paper. With nanography, wet ink never contacts the paper so there is no ink-paper interaction,' said Benny Landa during the 2012 drupa presentation.
Part of that clarity is also due to the ink used – NanoInk. During his 2016 drupa presentation, Landa explained: 'NanoInk images can be transferred to sheets or webs or any ordinary coated or uncoated paper without any kind of pre-treatment. Since NanoInk images are already dry, they can be coated in-line with conventional UV or water-based coatings and printed goods can be immediately processed right out of the process, even in the most aggressive finishing equipment.'
According to his 2016 presentation, NanoInk has zero light scatter and just '4-color nanography covers more colors than 6-color offset printing'. Seven-color nanography is claimed to 'cover almost all of the world's leading brand colors'. The high-color payoff of NanoInk is a crucial part of the innovation of nanographic printing as a whole.
"The printed results from the Landa are indistinguishable from offset. If I don't tell you, and you don't go out of your way to scrutinize the work, you wouldn't know the difference"
The printing method and the ink work hand in hand to create the Landa nanographic printing process and open a new field of printing options. As Landa points out, 'Because different papers absorb ink at different rates, inkjet is totally substrate dependent. That means every kind of paper produces a different quality of image.' With Landa nanoprinting, the water-based NanoInk can bond to any substrate, paper or plastic.
Landa claims that the presses promise high speed, a broad color gamut, high optical density, sharp edges, low energy consumption, and low cost per page. In his 2012 presentation. Landa says nanographic printing was designed to cover run lengths between 1,000 and 10,000 that fall in the 'profitability gap' between digital and offset.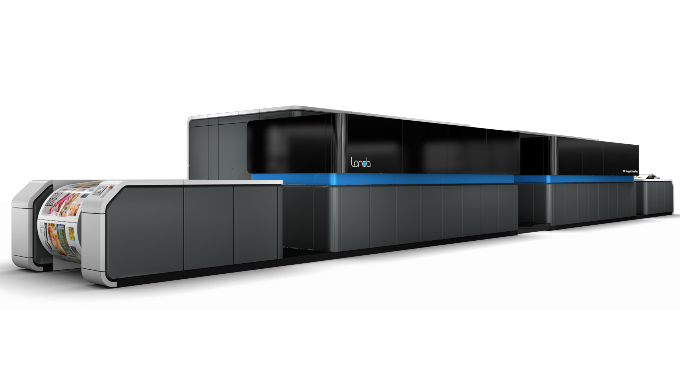 While six print models were introduced in the 2012 presentation (see boxout), by 2016 only four were presented (S10, S10P, W10, W10P), and by 2021 only two are in serial production (S10 and S10P).
K-1 Packaging Group
While the world will have to wait a little longer for the W10 models, several S10 and S10P presses have already been installed. L&L spoke to two companies to get their feedback on the presses. First is K-1 Packaging Group, based in California, USA, which finalized its purchasing agreement with Landa at the end of 2019.
'We had already adopted digital printing for our pressure-sensitive label division. We purchased our first HP Indigo WS6000 back in 2011, and we quickly realized the benefit of digital printing,' says Mike Tsai, CEO of K-1. 'We were convinced digital printing would revolutionize the packaging industry, however, at the time there was no suitable platform for folding carton. We learned about the Landa S10 nanographic press and of course we were intrigued.' Part of the intrigue was the drastically reduced set-up time – from 45 minutes on a traditional press to around 15 on the Landa.
Tsai explains the installation timeline: 'We finalized the purchase agreement at the end of 2019, and we were supposed to begin installation around Q1 of 2020. Because of the pandemic, that put a delay in the schedule. Installation didn't begin until June 2020 and everything was completed around mid to late July. We did not encounter any hiccups and Landa sent a huge team to our site. At one point we had roughly twelve service engineers on site. K1 is one of the first few with a Landa press, so they certainly threw a lot of resources our way.'
However, transitioning to a new technology was not easy, as Tsai explains: 'There is a significant learning curve. The Landa platform does utilize a lot of similar mechanics that are found on conventional presses. All the mechanics for the sheet transport, starting from feeding the individual sheets into the press, the side guiding mechanism, and after printing the delivery – that is all common with the traditional offset press. However, beyond that everything else is totally different. What we have remaining is the print engine and the printing process, the way the ink is deposited, the way it is dried, that is completely different from conventional offset printing. Learning that portion of the operation represented a significant learning curve.
'The training Landa provides is very comprehensive. Even before the installation started, maybe a month out, we started receiving pre-recorded, online instructions covering everything from the theory of how it works, the pre-press operation – as that is a little different – and maintenance.'
Landa continues to have a support presence with K-1. 'After the press is installed, the Landa service engineer stays with us. Because we are one of the first installations in the US, and because Landa is still in the process of building its support infrastructure, the support engineer has been with us the entire time since installation last summer.'
In terms of the work done on the Landa press, K1 Packaging Group exclusively prints packaging. Within that, there are several business divisions. 'The one that adopted digital printing first was our flexographic narrow web division, the division that prints pressure-sensitive labels and flexible packaging. The Landa was acquired under the folding carton division,' explains Tsai. 'We do 100 percent folding carton work on the Landa.'
"Some of our customers are already printing labels on their S10, but we have no plan to launch a dedicated narrow web nanographic press for labels alone"
The average run length on the Landa is between 2,500 and 7,500 sheets. 'If we come across a job during the planning process that is a short run, it automatically is considered to run on the Landa,' says Tsai. 'However, just because a job is short run, that doesn't mean it will come out looking good on the Landa. Certain designs, such as if it calls for huge coverage of solids, are not ideal and you may see certain artifacts when you print it on the Landa. Certain substrates may not be suitable on the Landa either, if they are super thick. We print up to 32 point paper board.'
But, Tsai says the printed results from the Landa 'are indistinguishable from offset'. 'If I don't tell you, and you don't go out of your way to scrutinize the work, you wouldn't know the difference.'

The Landa has benefited our operation, increased our throughput, and reduced waste,' Tsai continues. 'The press is a very nice addition to our collection of manufacturing equipment. It cannot do everything for you, though. You cannot expect to have a Landa press and eliminate your conventional offset press.'
Tsai concludes: 'The press delivers the quality and result that we need for the kind of customers we serve, but it took us a lot of work to get to where we are. You definitely have to be committed.'
Bluetree Group
Bluetree Group, located in Wath Upon Deane, Yorkshire, purchased the first Landa press in the UK – an S10P model. Sarah Kilcoyne-Guilliam, head of sales and integration, says: 'We were first introduced to the Landa at drupa 2012 and were blown away with its capabilities. At the time, we were looking to bridge the gap between litho and digital printing. The Landa was the perfect solution. So, we travelled to Israel for a closer look and the chance to speak to their team, and we found that their company values aligned with our own. It was an easy decision to make after that.
'As with any new machine, especially new technology, there was a warming-up period while the Landa S10P settled into our factory. We had ongoing support from the Landa team at all times, particularly when it came to merging the workflow with our existing MIS.'
"With nanography, wet ink never contacts the paper so there is no ink-paper interaction"
Bluetree Group had a shorter transition and installation period between purchase and being up and running independently. 'As soon as the press arrived, things moved very quickly. This was largely thanks to the support we had from Landa's team to assemble it. In fact, we had our first sheet printed on the S10P within just a few weeks of the press arriving,' says Kilcoyne-Guilliam.
'Currently, our Landa S10P produces short to mid runs of flat and folded work. This allows us to keep up with the shift from print-to-warehouse orders to a print-on-demand service.' Kilcoyne-Guilliam says that their customers are looking for top-notch quality for smaller runs with faster turnaround times and the Landa enables them to meet those demands.
'We've been very happy with our investment,' she concludes. 'The S10P runs very well and fits perfectly within our factory's workflow. Our customers were particularly interested in the Landa's color quality and it has comfortably met that demand. Not only is the press operating well, we have had unrivalled support while working with the Landa team.'
"We have significant interest from converters around the world who recognize the benefits that the W10 represents"
Q&A with Landa's Manuel Schrutt
L&L spoke to Manuel Schrutt, general manager EMEA at Landa, to discuss the feedback received on the presses already installed, as well as any plans to expand on nanographic technology.
L&L: What has been the feedback from the presses that are already installed?
Schrutt: Our customers who have our presses installed report that their Landa press is a real game changer for them and provides a significant competitive edge. For example, some of our customers are producing serialized packaging to support high end logistics with tracking features they couldn't produce before. Others are printing packaging with high-end graphics on low-cost recycled stock that they couldn't print with offset. What's more, we have a customer who retired two offset presses and replaced it with one Landa S10, gaining much higher efficiency, higher productivity and a full digital workflow.
In short, they all report that high productivity, printing on B1 format, implementing variable data, media flexibility and a very wide color gamut as being key attributes that make their Landa press so powerful for them.
L&L: What is the average set-up time for a press from purchase to running it independently?
Schrutt: Our typical lead time for a Landa press is 6-12 months, depending on configuration. Installation takes 4-5 weeks, which is followed by onsite training provided by Landa's global support team. Right after training, the press is operated independently by the customer's team. In addition, each Landa press is connected to our cloud-based remote support infrastructure, Landa InSight, which enables us to support every customer. Furthermore, every installation is also assigned a dedicated local field support engineer too.
L&L: What operator training is needed for the press and how long does it take?
Schrutt: The Landa operator training program is an integral part of the ramp up and consists of understanding the press, its structure and operation. Theoretical learning is combined with hands-on learning in the production environment, implementing the practical side of the training immediately. Our training tools are state-of-the-art. For example, we use a virtual training room to increase memory retention and immersive learning. The program is flexible and adapted to each customer's needs. The transfer of knowledge regarding technical aspects, troubleshooting and service tools is fast and efficient, and ensures operators are quickly set up to run the press independently on their factory floor.
L&L: At drupa in 2012, Landa introduced several other press models, the S5, S7, W5, and W50 – why were these never brought to market?
Schrutt: At drupa 2012, we launched the smaller format nanographic concept press and used the show to gather market research. This feedback directed us firmly towards the B1 format for converting existing analogue jobs, and this is now our mission. Nanography, deployed via the Landa S10 for the packaging and POP markets and the Landa S10P for mainstream commercial applications, is proving to deliver exactly what the industry needs. With the current installation base around the world, we are delighted to have our B1 format decision validated by our customers and the wider market.
L&L: Are there still plans to produce these presses in the future?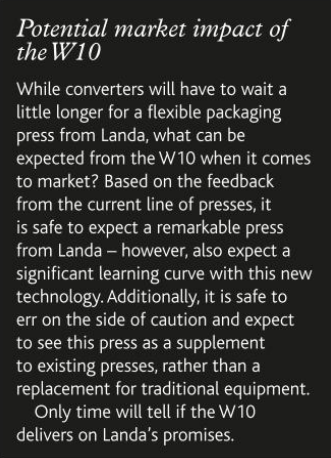 Schrutt: The beauty of nanography is that it can support any format and it is extremely scalable. So, it is possible to deliver a smaller format in the future as necessary – but for now, our focus remains on B1 solutions and our current portfolio.
L&L: If a W10 pre-beta installation is planned for 2021, what is your timeline for beta installations and full market availability?
Schrutt: While it's a little too early to announce the date for when the Landa W10 nanographic printing press will enter into the beta program, what I can say is that we have significant interest from converters around the world who recognize the benefits that the W10 represents. They are all wanting a time-efficient and cost-effective, on demand, short-run printing solution for mainstream flexible packaging applications on any standard plastics, and they believe that the W10 is poised to deliver it.
L&L: Does Landa have plans to produce label presses in the future?
Schrutt: Some of our customers are already printing labels on their S10. However, we have no plan to launch a dedicated narrow web nanographic press for labels alone in the near future.