Mighty Titon
At its latest Print Café event, Xeikon unveiled a new press and Titon toner system optimized for printing on paper-based flexible packaging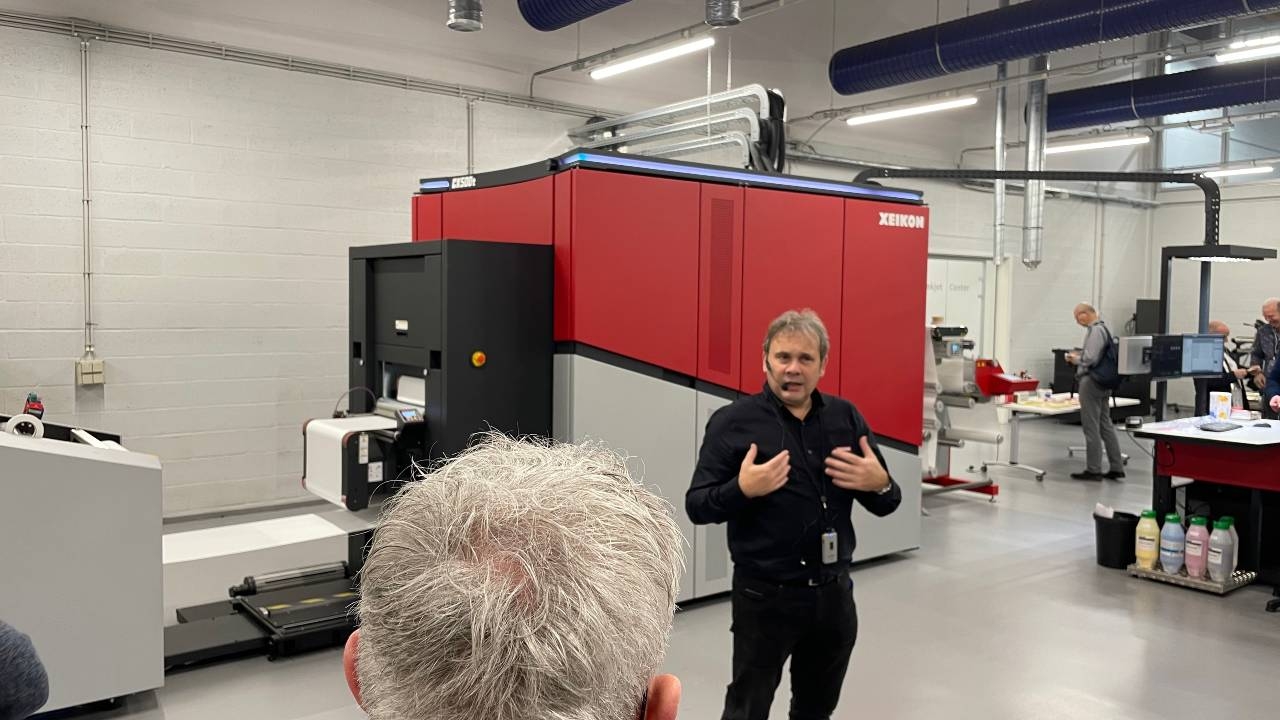 Xeikon has revealed details of its Titon toner technology program, complete with a new press, the CX500t, and the first beta installation at flexible packaging specialist ACM in Italy.  
First previewed at Labelexpo Americas 2022, Titon is a new class of dry toner technology. It is resistant to heat, chemicals and mechanical (scratch/scuff) resistance without the need for additional varnishes or lamination, while remaining food compliant and odorless.  
'This all leads to higher OEE and less waste compared to a standard print and varnish/laminate workflow,' says Frank Jacobs, senior product manager at Xeikon. 
The key to Xeikon's Titon technology is a high molecular weight resin and a very low concentration of a solid initiator system used to make the dry toner, and an extra inline LED-UV curing stage after the toner has been fused to the substrate. The LED-UV radiation cross-links the polyester-based toner particles to form the final, extremely tough Titon toner layer. Because of the additional heat generated by the curing process there is a cooling roller on the LED-UV curing station.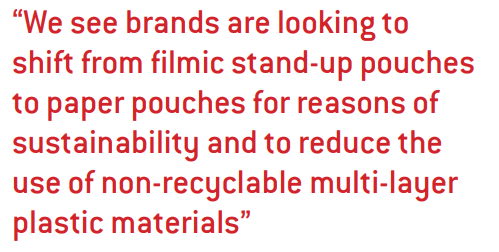 'This is the best of both worlds, combining our toner and LED-UV inkjet technologies,' says Jacobs.  
In order for the cross-linking process between polymer chains to work, the fused toners must remain at a high enough temperature to make the crosslinking happen. This is why the LED-UV curing stage has to be in-line on the new CX500t press – and why the curing station cannot be supplied as a retrofittable bolt-on unit.   
Xeikon sees paper-based flexible packaging – typically stand-up pouches and sachets - as the key opportunity for the Titon toner system.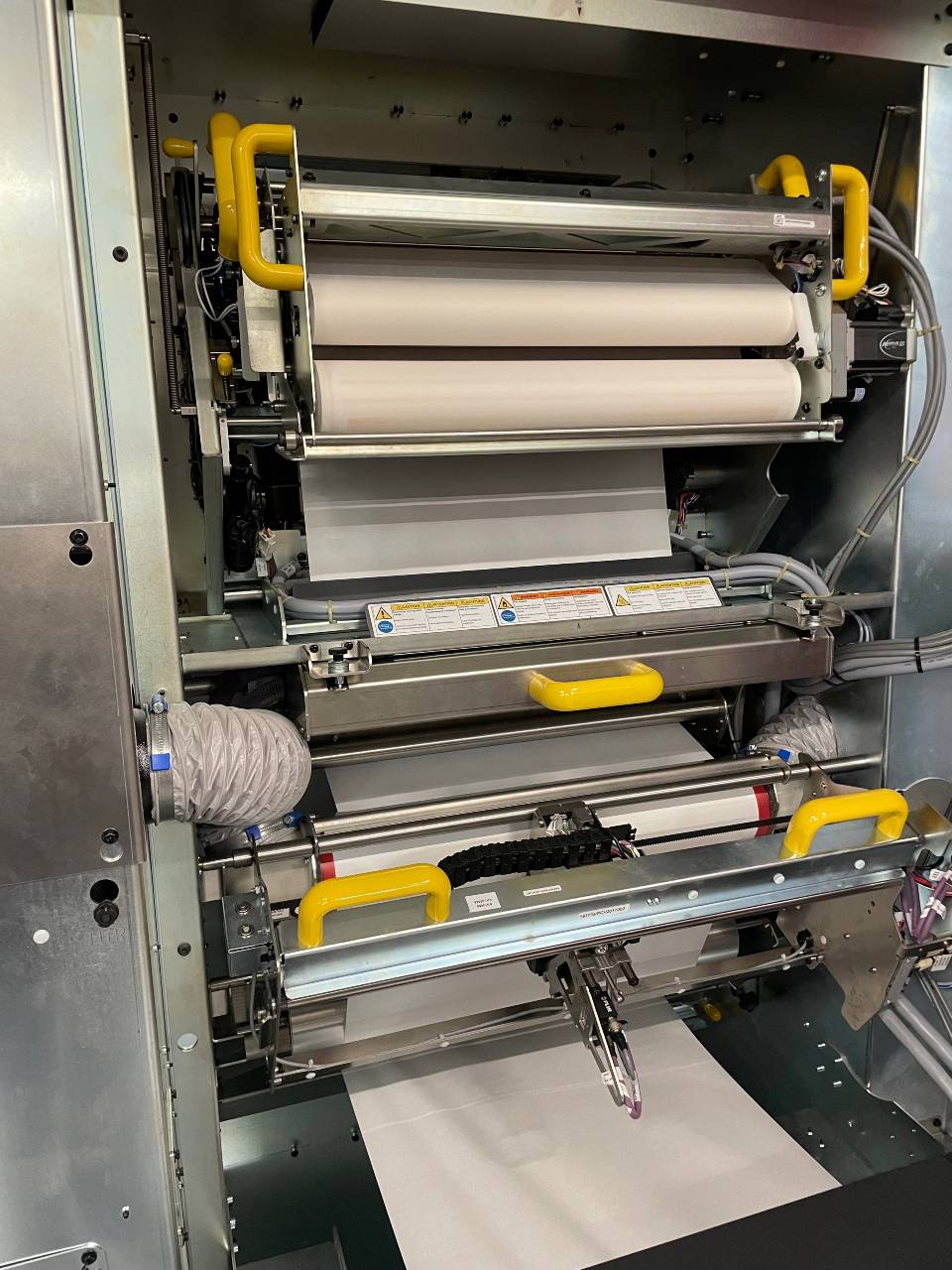 'We see brands are looking to shift from filmic stand-up pouches to paper pouches for reasons of sustainability and to reduce the use of non-recyclable multi-layer plastic materials,' says Jacobs. 'Paper packaging printed with Titon toners is fully recyclable.' 
Specialty paper mills are meanwhile busy researching new grades of barrier-coated technical papers optimized for flexible packaging.  
The high level of mechanical resistance in the Titon toner prevents damage to the print on the pack processing line. Titon's heat resistance is critical during the heat-sealing process — Xeikon's previous dry toner systems would simply have melted during the heat-sealing process.  
These pre-Titon toners were also vulnerable to chemical attack, as was demonstrated at the Café event by removing them with nail polish remover. The new Titon toners were fully resistant. 
Jacobs says competitive digital technologies have challenges printing on paper flexible packaging, requiring different combinations of primer, water-based varnish or lamination. The challenges are not just in terms of potential ink component migration, but also in terms of the heat-sealing stage of pouch and sachet production.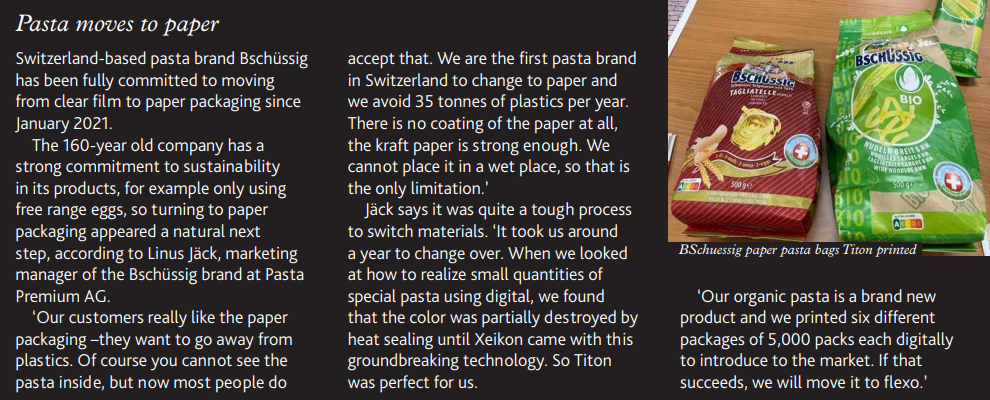 Migration resistance 
Titon toners are compliant with all key regulations including Nestlé Standard on Printing Inks for Food Packaging, EuPIA Exclusion Policy, Swiss Ordinance and German Ink Ordinance. The toners have been successfully migration tested by specialized external labs and a Statement of Composition (SoC) is available. 
It is important to note that the heat sealable layer in a pouch or sachet – the thermal coating or PE layer – does not act as a migration barrier to normal UV inkjet inks. A functional barrier is only provided by a laminated foil layer. As a result, a foil layer is needed for inks with a high migration risk.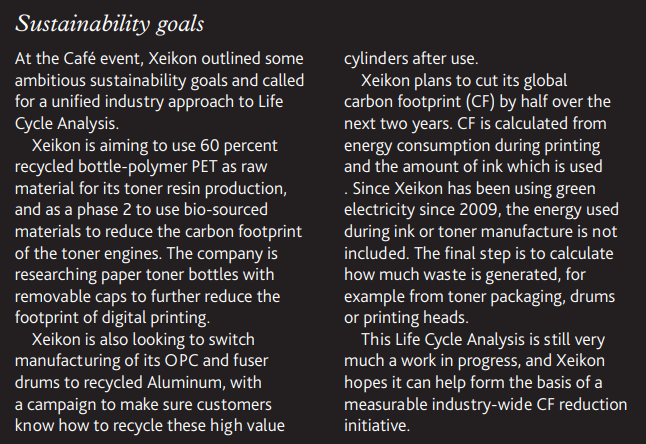 At first glance, the addition of UV technology to the Titon toner would appear to increase the danger of migration. But Jacobs points out that the situation is completely different from curing UV inkjet inks.  
'The amount of photo-initiator needed for Titon toner is substantially less than for UV inkjet, and furthermore it is of a different kind. The toner particle itself consists of large molecules (polymers), even when it is uncured. Our toners are encapsulated in polyester, ensuring the migration potential is already extremely low. For UV inkjet ink it is completely the opposite: the uncured molecules have to be small to be jettable at high frequency resulting in a high risk of migration.' 
Other applications for Titon toner could include labels that currently require varnish or lamination, lids, paper cups, blister and baking cups, offering the converter interesting opportunities for diversification. 
Beta installation 
The first beta installation for the new CX500t press with Titon toner is at ACM in Italy. ACM specializes in the production of very small batches of bags, stand-up pouches and film trays, all with a high degree of personalization – what the converter calls 'personalized micro batches'. Delivery is guaranteed within two weeks of receiving an order and the minimum order size is 50Kg 
The company runs both a flexo operation, with two Omet 8-color presses running low migration LED-UV inks, and a digital plant equipped with HP Indigo 25k and the new Xeikon CX500t press. There is also a solventless lamination facility. 

'We can satisfy all our customers using Titon toner that it is compliant with food safety standards and paper recycling processes,' said Massimo Rafaele, general manager of ACM. 
'We use the Xeikon Titon toner for our paper-based pouches, which is a fast–growing market for us. Especially when people order through our e-commerce site, they want recyclable paper.'  
Rafaele said the typical breakeven point between flexo and digital is between 1,500-2,000m.
The CX500t and Titon toner system will be demonstrated live at Labelexpo Europe 2023 on September 11-14.
Stay up to date
Subscribe to the free Label News newsletter and receive the latest content every week. We'll never share your email address.