IML is seeing growth rates of up to 8 percent as new molding technologies open up short run possibilities and buyers see sustainability and performance advantages. 
The in-mold label (IML) sector represents around 2-3 percent of total global label production and is growing at a healthy rate as end users recognize the technology's functional and sustainability benefits.
In-mold labels can be applied to injection molded, blow molded or thermoformed plastic containers. The IML process involves placing a pre-printed paper, synthetic paper or filmic label inside a container mold before the plastic is blown, injected or thermo-formed to produce a plastic bottle or tub. The label becomes an integral part of the container without any label edge visible and there is no subsequent requirement for a secondary label application process. 
Most IML applications, around 40-45 percent, are in the food and beverage market, particularly injection-molded cheese, yoghurt, ice cream and yellow fats containers. Other important end use sectors are industrial (paint, detergent, powders), household (storage containers, lunch boxes), cosmetics (creams, lotions), gardening (flower seeds, fertilizer), pet food, confectionary and toys. 
Growth profile
In-mold decoration (IMD) grew globally at a healthy average of 4.5 percent in 2020, with the market worth around 3.23bn USD. Europe accounts for more than 60 percent of the total IMD market, a long way ahead of North America at 22 percent and Asia-Pacific at 11 percent). 
Different continents have focused on different IMD technologies. In Europe, some 80 percent of IML is for injection molded or thermoformed tubs, while in the US, IM labeling of blow-molded containers dominates. 
But there is a growing demand in the US for injection IML, and this is driving overall market growth to upwards of 8 percent compared with 4-6 percent in Europe. This growth has attracted converters skilled in injection IM to enter the US market. 
One interesting example is Verstraete IML, one of Europe's leading injection molding IML specialists. The company was sold by Constantia to Multi-Color Company in 2017 and a year later opened a US production plant in Batavia, Ohio. In Spring last year, Verstraete IML was fully integrated into the MCC operation with a new name, MCC Verstraete. 
Injection IML growth also featured in the decision of one of the US' leading sheet-fed label converters, Inland Packaging, to open a new manufacturing facility in La Crosse, Wisconsin, this year. The plant is focused on producing for both blow mold and injection mold processes for the major CPG customers Inland serves. The investment includes another offset press. 
Brand impact
IM labels provide excellent branding opportunities for end users. The labels follow the contours of the molded part and can extend over all sides of the container, opening up 360 degree decoration possibilities otherwise only possible with shrink sleeve labels. Depending on the material structure, these large-area labels can also act as a barrier layer that increases durability of the package contents.
An interesting development is double-side printed IM labels, allowing promotional campaigns or consumer protection information to be displayed on the reverse side of clear walled containers. Depending upon the injection machine, '3D' print tactile effects can also be added to the label. A wide range of specialty materials can be used to increase shelf impact such as lenticular and metalized films.
On curved or non-parallel surface plastic containers such as yellow fats tubs, IM labeling delivers higher quality decoration than direct decoration methods such as tampo/pad printing, which are limited to flat surfaces.
The sustainability benefits of IM labels are increasingly appreciated by end users faced with reuse and recyclability mandates. Where a polypropylene IM label is used on a PP container, the whole package can be recycled in a single process without having to remove the label. And, of course, compared to PS labels no release liner waste is generated and no adhesives are required.
IML has also taken some market share from shrink sleeve labels on sustainability grounds, for example shrink wrapped thermoformed containers replaced by thermoform IM containers specifically to increase recyclability and decrease costs.
In markets like India, IM labels have the proved effective as part of a brand protection strategy, since the label along with any anti-counterfeit elements cannot be removed from the pack.
IML can outperform PS labels where there is regular exposure to liquids such as chemicals and detergents. Shampoo bottles were one of the first packages to use (blow mold) IML because of the requirement for a high quality image, resistance to moisture and squeezability. 
IML is also ideal for FDA-approved direct food contact applications including decorated plates and cups. 
Ink and coating specification
Turning to the technology aspects of IMD, the first thing to note is that multiple elements through the supply chain need to be perfectly aligned to guarantee a successful outcome at the molding machine. 
One element is the ink selection. Injection, blow mold and thermoform IM each require ink with specific characteristics, including zero shrinkage and resistance to temperature, cracking, washout, discoloration and delamination during molding. The labels might also need to need to be stored in deep freeze environments. 
Low migration UV inks need to be specified for tubs which will contain foodstuffs, while many converters have invested in Electron Beam curing technology where there are no photo-initiators to migrate, less odor and better curing consistency than standard UV curing. It should be noted that IM labels have the same requirements for indirect food contact testing and approval as any other label technology.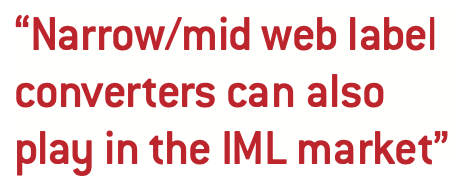 Correctly specified coatings are critical to the correct performance of the IM label throughout its life-cycle. A recent technical seminar from Actega Coatings, one of the leaders in the field, saw Andre Soterio, head of sales, Labels EMEA, and Frank Kamphuis, head of R&D, Water-based coatings & adhesives permeable substrates, discuss the technical features of IM label coatings in depth.
Coatings can be either water- or UV-based. When using water-based coating with the press infra-red dryer, airflow becomes an important factor as excessive heat can damage the IML substrate. After printing and coating, labels must rest for at least 24 hours or longer –  depending on the type of inks used – before the printed sheets or rolls can be converted to final labels. 
Similarly with UV coatings, converters are advised to wait at least 12 hours between printing and die-cutting, as humidity, shrinkage of the film and other factors can influence the flatness of the final IM labels.
Coatings also plays a key role during die-cutting, not only protecting the ink, but reducing the static charge for a faster die-cutting process. If the labels are punched, the coating will prevent the labels from blocking.
At the injection molder, the coatings have several functions. First, the labels must lie flat. This is achieved through the coating in combination with the substrate and the correct storage and acclimatization of the labels. Second, the labels should not generate any static during picking at the magazine, but at the same time, they must charge with electrostatic when placed inside the mold. 
During injection, the mold will be filled with hot plastic at more than 400 deg F (204 deg C) and a heat-resistant coating is needed. At the same time, there might be condensation inside the mold and the coating must be water-resistant as well.
After injection, the containers will be stacked and transported to the filling line. Again, coatings should labels should resist abrasion. And as most IML applications are for food products, the IML coatings must not migrate or transfer into foodstuffs.
For this reason IML coatings are extensively tested for migration, transfer and extraction into different types of foods.
At the filling line and packaging line, the coatings must again resist scratches during transport on the conveyor belts. Sometimes the packages are submitted to a pasteurization process or a hot water bath before filling – another resistance issue for the IML coatings. Some products are hot-filled. After the filling some products are stored in freezing temperatures, and some products are quite aggressive (for example detergents or cleaning products). The coatings should be resistant to all these substances.
Print processes
In-mold labels are mainly printed by sheet-fed offset or gravure, although there is a growing niche for narrow/mid-web roll-to-roll presses both conventional and digital. 
Sheet-fed IM labels have been gaining ground at the expense of gravure as advances in molding technology allow the label to be changed more quickly during production, creating a demand for shorter print runs. 

Frank Steigleder, senior global account manager for labels in Heidelberg's sheet-fed business unit, says: 'With the increasing demand for shorter runs, we are seeing a strong movement from gravure to offset due to the far lower cost of offset plates compared to gravure cylinders. Offset can more than match gravure quality and is more productive on short runs, particularly when used with rotary die-cutting.'
Sheet-fed presses require key modifications to reliably process thin films at high speeds. In 2020 Heidelberg, for example, developed a specific IML Performance Package for its Speedmaster XL-106 press, which includes modifications to the feeder and delivery, modified sheet transfer, and anti-static devices. An integrated corona unit improves the wettability of plastic materials for enhanced ink adherence.
The press can then reliably process 50 micron films at speeds of up to 14,000 sheets per hour (though 11,000sph is a more realistic speed for IML sheets). 
Heidelberg's DryStar UV LED curing system along with new low migration LED-curable inks brings additional benefits to IM label printing by taking away heat from the press.
Another part of the IML Performance Package is the XL 106-D rotary die-cutter, designed for die-cutting large and nested label shapes. Pressure can be adjusted in 1 micron increments with corrections both parallel and diagonal to the cylinder axis, allowing the rotary die-cutter to accurately cut these thin unsupported IM labels. 
Roll-to-roll production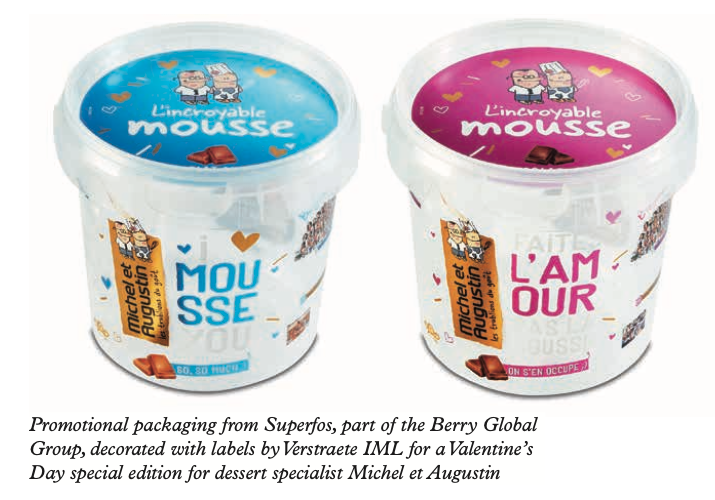 Narrow and mid web label converters can also play in the cut and stack magazine-fed IML sector using specialist off-line rotary die-cutting machines. This technique is optimal for smaller footprint labels, while the offset sheet printing process is advantageous for larger high grammage IM labels.
An example of these high spec converting lines is the Schober RSM-IML reel-fed cutting system, available in a range of configurations up to fully robotic stacking delivery with a bespoke antistatic device. 
In the roll IM label process, the material is printed and wound up, and after the recommended rest period the printed roll is fed into the roll cutting machine and cut to shape. The cut labels are separated directly after cutting and the waste matrix removed. The cut labels are stacked and counted as part of the same converting process.
Previously, nested impositions could only be printed on rotogravure presses, but the development of seamless printing plates for web offset and roll flexographic printing, allows a continuous printed motif on a web. 
Rotary die-cutting onto these thin unsupported materials must be precise. An irregular cutting clearance can lead to products getting stuck in the waste matrix or to blunt cutting tools, which subsequently leads to dust formation.
Cut-in-place
Narrow/mid web label converters can also operate in the IML market by sending printed rolls directly to molders equipped with their own rotary or guillotine cutting systems. Cut-in-place equipment at the molding machine reduces costs by allowing use of very thin films with little or no requirement for anti-static additives.
In the Cut-in-Place workflow, labels are pre-cut to shape at the converter, but a small tab is left which retains the label on the roll. The roll is then rewound and sent to the molder, where a robotic tool separates the labels on a vacuum table and places them directly into the mold.
This ability of molding machines to change label designs more quickly during production is also driving the adoption of more digital printing in the IM label sector.
This potentially allows IM labelled containers to be serialized, with individual barcode ID or individual security features in the graphics, or embedded digital watermarks which can act as web triggers. Track and trace functionality combined with IML permanence is effectively addressing the growing need for product safety.
IM label substrates
Initially, the blow mold IML process involved placing paper labels coated with a heat-seal
back layer into the mold before blowing. This layer must fuse to the bottle during the blow molding process. More recently, for recycling and performance purposes, synthetic paper materials have become more common. Synthetic paper shrinkages nearly match those of the container, which assists in eliminating defects. Furthermore, synthetics exhibit identical chemical characteristics as the polypropylene (PP) and high-density polyethylene (HDPE) packages and can be processed as one.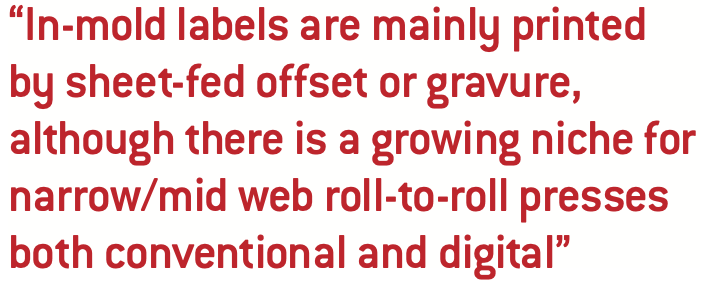 Moving to filmics, common choices for blow molding are HDPE, cast PP, or other co-polymers, which all are very heat sensitive. For injection molding, the preference is oriented polypropylene (OPP), which has better heat resistance features. OPP of course is an excellent medium for high resolution, photo-realistic image reproduction, and a wide range of options are available including matt or high-gloss, partially-transparent, smooth or textured surfaces. PP now accounts for just under half of IM label volume, with a growth rate of 5.7 percent 
We have seen a trend towards downgauging of IML substrates. A typical PP IM label today will be 50 micron thick, while the Coveris group recently claimed to be the first company to offer a 40 micron IML. This kind of downgauging has helped the development of lighter containers and reduced both transport costs and injection molding load times. Note that labels for blow molds will generally be slightly thicker.
Applications for IM labels with light, moisture and/or oxygen barriers continue to grow in food markets, particularly as consumers shift to internet purchasing. E-commerce-sourced products typically spend more time on the shelf in distribution centers before reaching the consumer. 
So the future for in-mold technology looks bright. It seems well positioned to take advantage of trends towards sustainability, both in terms of ease of recycling and reusability, while developments in molding technology have opened the door to shorter runs and the use of digital print and embellishment techniques.  
---