Read later
PowerDrop revolution comes to viscous coating
A new non-contact coating technology allows patterned or continuous jetting of viscous fluids – including metallics and hot melt adhesives – onto any substrate.
A webinar presented under the Finat technical education banner revealed an exciting new technology which for the first time enables viscous fluids to be jetted onto just about any material.
PowerDrop is a non-contact coating technology which, say its developers, could replace conventional spray and contact coating systems where precision deposition of viscous, industrial materials in clean, high volume manufacturing environments is required. 
PowerDrop can deposit virtually any viscous material with precision, making it applicable to a wide range of end user industries. 
For the label and package print industries, applications include any liquid with a high particle loading, from primers and UV coatings to white basecoat, metallics and hot melt adhesives. PowerDrop can even jet things like antimicrobial coatings onto flexible packaging. 
While PowerDrop is not based on any existing coating technology – inkjet or the more traditional coating technologies like spraying, screen, gravure or flexographic printing – its architecture delivers some of the advantages of both. 

'We asked the question – how do you jet materials that are viscous, particulate and sticky?' says Guy Newcombe, CEO of Cambridge, UK-based Archipelago Technology Group. 'Many manufacturing operations need to dispense precise, micro-liter, quantities of viscous liquids, and conventional metering systems can't deliver volumes that are sufficiently small. Inkjet systems cannot deliver viscous liquids. PowerDrop can do both. It provides precise, consistent, micro-liter dispensing of viscous liquids such as adhesives and tactile packaging.'
At the heart of the patented PowerDrop coating system is a continuously rotating temperature-controlled drum, into which a blower component has been inserted. The coating is fed onto the drum surface where it fills up tiny nozzles. When the rotating drum reaches the blower, the coating is ejected from the nozzles onto the substrate. The coating can be either continuous or patterned. 
Efficiency
PowerDrop has a high transfer efficiency. Figures presented by Newcombe show that for a 560mm wide coating swathe, coating a substrate moving at 200m/min, the deposition rate would be almost 350kg/hour.
The 200mm-wide proofing unit which Archipelago is offering has a coating speed up to 120m/min with a viscosity range typically between 100-1,000mPas. 
'The key advantages over gravure and flexo coating are you can vary the coating thickness without changing the drum/plate and you can get a much wider range of coating thicknesses, from 10-200um,' says Newcombe. 'You can use a wide range of coating rheologies, meaning we are getting a more even finish with metallics than contact processes. We can coat uneven surfaces and there is no transfer of material on the web back onto the drum. The web cannot be damaged by the drum meaning we can print even onto delicate webs.'
Newcombe says the coating materials should be no more expensive than those used for gravure or flexo coating.
The width of the PowerDrop Proofing unit is 200mm, but it is fully scalable, and Newcombe says there are plans to go out to at least 670mm. The system is also extendable to multi-layer coating.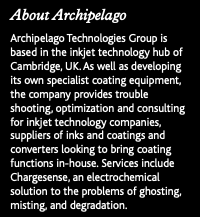 Archipelago Technology is offering the 200mm-wide PowerDrop Proofer to enable converters to develop and prove the coating process as it would be on a fully operational PowerDrop machine. The company quotes around 6 months from system specification to Powerdrop Proofing Machine build, training and installation, with three months of technical support following installation. 
---
Finat members can access the PowerDrop presentation at www.finat.com. Other presentations in the series include exciting new linerless technologies.