Read later
Prati launches fully automated finishing line
At its Open House event in Faenza, Italy, Prati demonstrated a finishing line incorporating inkjet varnishing, laser die cutting and turret rewind. 
Prati has unveiled a fully automated digital embellishment and converting line, running from inkjet varnish and digital cold foil application to laser die cutting, waste stripping and turret rewind for non-stop operation.
The company says such a configuration is ideal for label converters looking to start a fully digital web-to-labeling/ packaging/sticker business, as well as converters faced with the challenges of ultra-short run, personalized or highly customized finishing work - including intricate die cuts and micro-perforation.
The line is seen as ideal for short runs of promotional labels in the food and beverage, wine and spirits, cosmetics, personal care and home care sectors.
The DIGIFASTone is a fully modular finishing machine based on Prati's Futura Industry 4.0 open technology platform that allows Prati systems to be upgraded quickly and easily on-site rather than shipping back for a factory retrofit.
The DIGIFASTone demonstrated at the Open House event was fitted with a digital printing module capable of printing spot varnish and tactile effects and textures up to 130 microns high at speeds up to 50m/min.
The laser die cutting module is built by SEI Laser and operates at up to 100 linear meters/min, which would typically equal around 45m/min on a typical label job. Instantaneous job change is achieved by reading barcodes or QR-codes pre-printed on the digital press. There is no limit on label length, and substrates and liners of any thickness can be handled. The open house print sample was produced on cotton paper, which is difficult to die cut conventionally.
In S-D or D-S configurations, the DIGIFASTone can handle a wide variety of materials, including self-adhesive, clear-on-clear labels, wrap-around labels, shrink sleeves, plastic films, unsupported paper and plastic materials in a range of thicknesses from 12 to 350 microns.
The full range of DIGIFASTone modules now includes a buffer for direct connection to a digital press, rotary and semi-rotary flexo units, digital coating unit, cold foiling, registered rotary and semi-rotary die-cutting, laser die-cutting, hot foiling and embossing, 100 percent print inspection, longitudinal cutting with manual and automatic blade positioning and single, double and turret rewinding.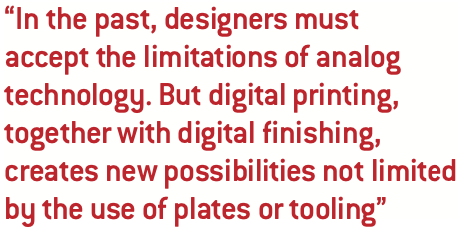 A 'digital screen' module capable of printing braille dots and Marburg Medium fonts for pharma products can be built with a single Xaar 2002 GS12 HL printhead for coating thicknesses of 250 microns at speeds up to 25m/min or with a double print bar for thicknesses up to 280 microns at a speed of 50m/min.
Company CEO and CSO Chiara Prati explained to L&L that the DIGIFASTone was designed for a new era in which designers, 'limited only by their imagination,' will drive the application of digital finishing technology.
'In the past, designers must accept the limitations of analog technology. But digital printing, together with digital finishing, creates new possibilities not limited by the use of plates or tooling.
Designers are best placed to take advantage of all the nuances of finishing in the various phases of doming, varnishing, cutting, curing, foiling and slitting. This technology favors freedom and imagination for the producers of labels and packaging. It is also ideal for a PDF to packaging workflow.'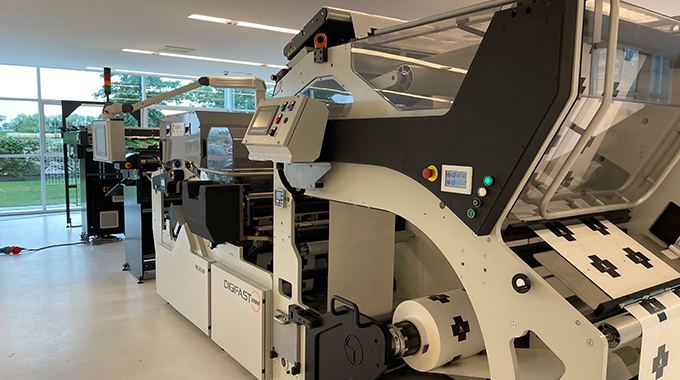 Chiara Prati also points to the high level of automation on the DIGIFASTone, which helps label converters faced with a shortage of skilled labor. A single semi-skilled operator can work the whole line. Also on display at the open house was a Digifast20000 carton converting line. This is an exciting development that allows users of HP Indigo's 20000/25k press to switch between flexible packaging and folding carton production on the same finishing machine. It can be placed near line or inline using a specially developed buffer.
The Digifast20000 can handle materials from 12 to 600 microns in either roll-to-roll or roll-to-sheet configuration. It is fitted with a dual UV/hot air drying flexo coating station to handle UV or water-based coatings for the food industry.
The sheeter section with vacuum belt and stacker can be disconnected from the Digifast20000 when starting film production. The whole line has a high degree of automation, with no manual setting involved.
Other machines shown at the open house included the compact Digicompact digital label finisher, available in roll-to-roll, roll-to-sheet and roll-to-stack configurations, and a Saturn Bidi inspection-rewinder dedicated to cosmetics and pharma label finishing.