Isidore Leiser is CEO of Status Packaging, one of Europe's leading label converting groups with six manufacturing facilities in France and a sales office in Switzerland. Producing a wide variety of self-adhesive label products, as well as sleeves and in-mold labels, it employs 313 people and had a turnover of more than 50 million euros in 2020. Leiser spent six years as a board member of Finat and will shortly return to the association's marketing committee. 
L&L: What has been the impact of the pandemic on the company over the past year?
IL: We adapted quickly. We were open all the time, so didn't lose even one day of production. We implemented social distancing and some staff worked from home. We broke up our shifts to allow cleaning of machines and to minimize as much as possible the risk to our employees. I am very proud that we kept everything open. We had an increase of sick staff at the beginning, but nothing we couldn't manage.
The cosmetics and automotive sectors were down, but this was compensated by food and healthcare products. Overall, 2020 was a good year for the business. We are a resilient company, and the fact that no customer represents more than 5 percent of our turnover means that we are very stable.
We like a challenge and we rose to it. We did better than in 2019, which was a year without such problems. We have to learn from the experience and take the lessons of what we did well into the future. So we had a good year and are grateful for this growth, because it has been a very challenging environment for our employees. I am very thankful to them.
L&L: How important is the return of trade shows for your business?
IL: Trade shows are very important. They allow you to get a lot of information in a very short time, to really see the machines in action and to get to know people from different companies. I have lots of good contacts and friends in the industry, and to be able to speak to lots of them, to understand their problems and how things are going, is very important. Without trade shows and industry events, communication is more like a video game than real life. If you are running a business, you cannot make mistakes. You need to see the products, see the people, see the companies you are buying from. It is easier to make mistakes if you are not doing these things in person. A trade show is a great way to gather information and save yourself a lot of time.
I truly believe that people are really eager to return to these events. We are in a business where people and personal relationships are very important – it is very hard to build personal relationships virtually.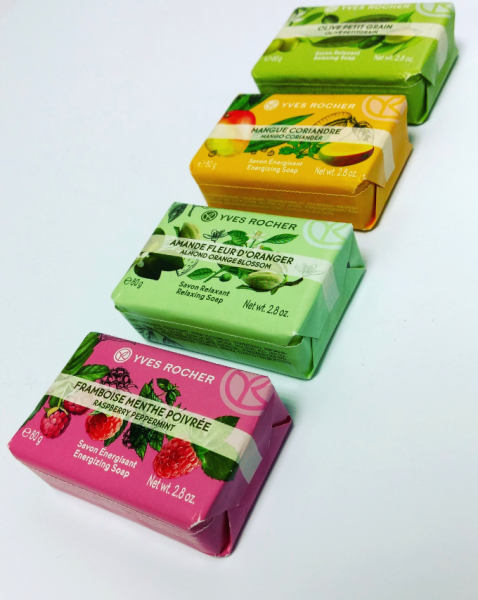 L&L: What technology have you invested in in recent years, and what new technology are you looking at for potential future investment?
IL: We have invested a lot in digital presses from HP, such as the latest 8000 and 20000 machines, because we are a strong believer in digital printing. But we still invest a lot also in flexo – the market will not only be digital: lots of work will still be produced by flexo for cost reasons.
Last year we installed multiple finishing systems from A B Graphic. We have also invested in a combination machine with both flexo and silkscreen. We are active in most of the end-use sectors in France, so we always try to invest in the latest technology. It's another reason why trade shows are so important: our suppliers are constantly evolving and producing new technology, so we have to stay up to date and see what the next thing is we should invest in.
We have invested in machines to insert RFID inlays into labels, for example. We have been producing RFID labels for some years but wanted to invest in more sophisticated equipment to allow greater precision and to produce better results for our customers.
We use all of the major print processes. Our strategy is to try to understand our customers' needs, for self-adhesive labels or sleeves or IML, and to find the right printing process which can fulfil their needs today and also for the future.
"I think for a company of our size to stay the same is quite dangerous – we have no choice but to grow. So we are looking to expand outside France"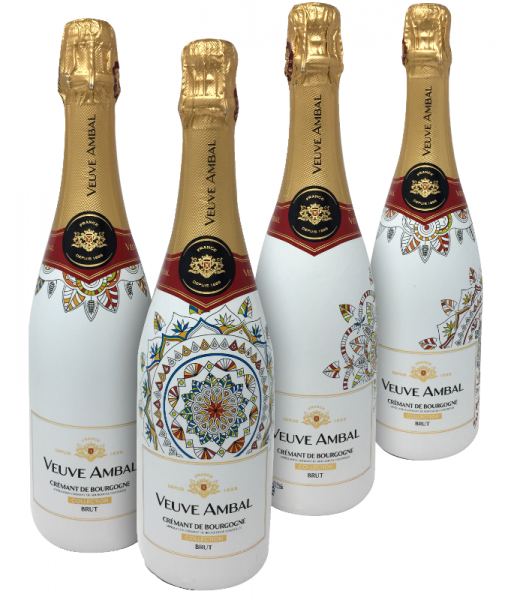 We are also investing heavily in the digitalization of pre-press, and are planning to install a new ERP system. To manage all those very small orders, you have to be organized and integrated. And because of the pandemic, with some people working from home, it is important to have systems in place which allow them to access information without being in the factory.
We will integrate our machines into the new ERP system, to allow our customers easy access to information about their orders. Increasingly, I believe we are a service company rather than a production company. The customer needs a lot of data. We need the information we gather from order intake, quality control and production to be precise and to be automated as much as possible. The fact that we have different factories with the same ERP system means that if there is a problem, we can move a job from one site to another very quickly, with the specifications immediately accessible without someone having to manually input a second order into the system.
The market is changing very quickly and we have to adapt: information is key in today's world.
"I truly believe that people are really eager to return to trade shows. We are in a business where people and personal relationships are very important – it is very hard to build personal relationships virtually"
L&L: What is the breakdown between your different areas of production, and which end user sectors are seeing most growth?
IL: Self-adhesive is the biggest part of the business, then IML is almost 10 percent and sleeves around 6-7 percent. We export around 20 percent of our turnover, mostly to customers who have factories in France and also in neighboring countries.
L&L: After multiple acquisitions in France over the years, do you envisage expanding your manufacturing capabilities abroad?
IL: Yes, we are looking to produce labels somewhere outside of France. We are actively looking to acquire converters in other countries. Last year we looked at 10 different companies and made three offers, but have not finalized anything yet. We need to grow. We are a 50 million EUR company, and still a family business. You can see there is consolidation in the market. But we cannot grow at the same speed as the private equity groups, who look for results in a few years and then sell – we can operate on a longer time frame. We are also much more integrated. Our companies really work together as a team, rather than separate businesses that we buy and sell. But we continue to look for acquisitions. We need to grow because our competition is growing and our customers are growing. They are asking for new products and we want to give them better service. We are still a family-owned business but more international groups are arriving in the French market. So the market is changing very quickly and we need to adapt. I think for a company of our size to stay the same is quite dangerous – we have no choice but to grow. So we are looking to expand outside France and to be able to offer our customers the same products, the same quality, the same service, the same label look in different regions of Europe.
L&L: When you look for an acquisition, what aspects of a company are the most important?
IL: The most important thing is that it be complementary, in terms of technology and sector, and also in terms of giving added value to our customers. It is also important to have a fit with the owners of the company also, because I am here for the long term – it is important to create something together and grow the company that we acquire, both for us and for them. That is why is also difficult for us to be in competition with private equity investors, who might only be there for three or four years: we have a different approach, a longer-term perspective. We are thinking about the added value both for our employees and for our customers.
L&L: What initiatives has the company undertaken to improve the environmental sustainability of its production?
IL: It is hugely important subject. We only have one planet. As an industry we have to face the fact that there are aspects of our production that are not environmentally sustainable. For example, we stopped using solvents a couple of years ago. We are certified to French environmental regulations. We have implemented many measures and have invested a lot. We promote our environmental initiatives and we offer each customer a more environmentally sustainable option compared to what they are using at the moment. We measure our waste and try to reduce it every year.
Two years ago we also began to collect liner waste from some customers at some of our sites, but progress is difficult because as an industry we don't really have a proper answer or initiative to solve this problem.
Customers are asking for sustainability, but they don't want to pay the extra price for it, which is really sad. This is the reality. Everyone is talking about sustainability but not so many people are doing a lot about it.
Our lean manufacturing programs have also helped to reduce waste as well as increase productivity. Lean manufacturing is a state of mind: everyone in the company is involved, not only machine operators. We all think about how we are working, how can we make things better. How can we also lower the risk of accidents. How can we minimize the production of poor quality labels, which can be a big waste. Everyone has to be involved, and our employees must feel able to give us ideas about their work space, about how we can improve it and make their work more efficient. We have to constantly try to progress and improve; to try things, even if there is a risk of failure. So this is the mentality that we try to implement in all of our factories.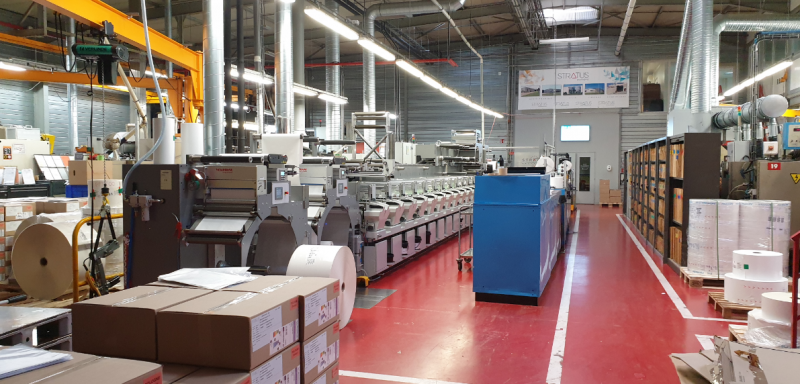 L&L: How does Status recruit new employees and invest in their development?
IL: To invest in and develop employees is one of the most critical aspects of business today. It is not easy – and I know from speaking to my peers across Europe that they say the same – to find good employees and to retain them. We train staff in-house, but also sometimes use an external training company which helps us. We use internal promotions to help create a career path.
We are in a profession that, in general, is not very well known. The industry needs to work on attracting young people, who perhaps do not know what a label printer is. It's a big challenge and very important. Anyone can buy a machine. You go to Labelexpo and you buy a flexo or a digital press. But good employees, who are motivated, who can stand out in a crisis and solve problems – this is much harder to find.
I think there is an image problem. I started my career in consulting, with KPMG. When I visited a company, everyone would listen to me because they saw me as the expert. But today, if I visit a company and say maybe you should change this or that, they think: you are the printer, you should do what I want. So there is a problem in the dynamic of this partnership. As an industry, some of our customers don't understand the potential of the solutions we can bring them – they only see the cost. This is something we need to work on, and it's why organizations such as Finat – where I was on the board, and shortly I will return to be on the marketing committee – are so important for the image of the industry, both to the companies within it and also to our customers outside it, who don't understand its complexity and the way we can help them.
L&L: How do you see the label industry evolving over the next decade?
IL: We have spoken about the environment – this will become more and more important. And also digitalization – not only for digital machines but also flexo presses. Everything will be more and more digitalized, from pre-press to the set-up of the machine, the invoicing; everything connected to the ERP. Robotization and automatization will also increase. R&D will produce more and more complex products: labels with RFID and enhanced functionality. Consolidation too is a continuing factor, because we are very fragmented as an industry.
L&L: You became CEO of Stratus in 2007. How has your leadership style evolved over the years?
IL: I joined Stratus from KPMG, which for me was a very good experience. But it was a wake-up call when I joined the label industry. Consulting is a beautiful business because you are always right. If you customer does well, then everything you told them was correct. If not, then they did not follow your advice correctly. But once you are running your own company, then you see real problems, problems I had not faced before: problems with personnel, with unions, with motivation. I loved consulting, but it is not your company. If you make a mistake, it is not the same thing. Stress levels are higher when it is your company.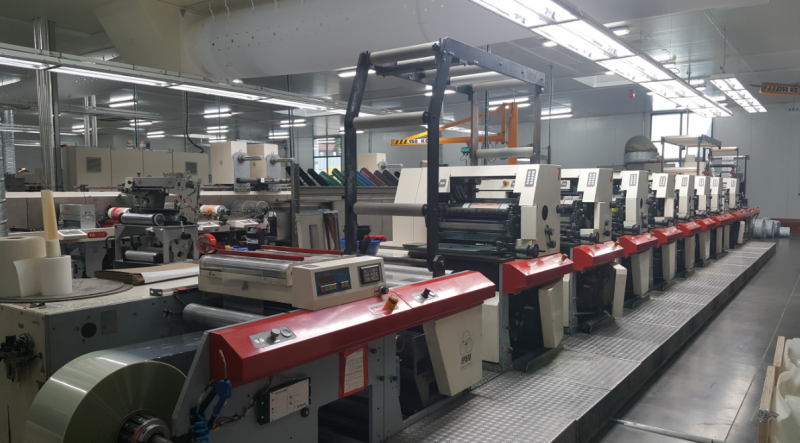 "The market is changing very quickly and we have to adapt: information is key in today's world"
It has been a learning experience. When you start a new career you have to learn, you have to make some mistakes. I am still learning. So it is a continuous evolution. We have to adapt, learn from our employees, and constantly evolve. Because the industry is changing, society is changing; there are always new challenges. But I think that is positive.
Every day is different; I do not have a regular routine. Because of Covid, I travel much less than before. I used to visit different factories on Monday to Wednesday – now I am running the business from behind my desk, through a screen. One has to adapt. But it's also a little scary – I hope that we can return to real life.
L&L: What are your interests outside of work?
IL: My biggest interest is sport. I don't play anything well, but I love running, swimming and cycling. Luckily, I was able to do most of these things during the lockdown. And I also love to help with Scouts organizations. I was a member when I was a child. During the lockdown, one of my sons was still running a Scouts group and a lot of benefit came out of that. We can speak about our problems due to the pandemic, but really the biggest problem has been for children. So to be able to think about something else was great for my son and it helped him, and it helped the other kids too.