Read later
Sigma Middle East Labels expands production
With its new investments, Sigma plans to increase production by 25 percent, save costs and enter new markets
The label industry in the Middle East was only partially affected by the pandemic. While some converters reported losses, others found growth opportunities. One such label converter, Ajman, UAE-based Sigma Middle East Labels Industries, grew by 30 percent in 2020 and has recently expanded its production capacity by 25 percent and invested in new premises. 
Jagannath Wagle, MD of Sigma Middle East Labels Industries, started the company in 2010 with just two employees while working full time at his day job. The company began as a liner business and with the help of his brothers and a small bank loan, Wagle purchased a second-hand Mark Andy 830 3-color flexo press and moved into self-adhesive label production.
As his business grew, Wagle quit his other role in 2011 to focus completely on his start-up. 'I was completely independent and free to do whatever I wanted to do,' he says. But soon after, Wagle's press operator met with an accident and Wagle had to run the machine and handle the business on his own for a number of months. 
'It was very tough,' he recalls. 'I had a lot of business at the time and had to manage every aspect of it myself, including production, sales, delivery and purchasing.'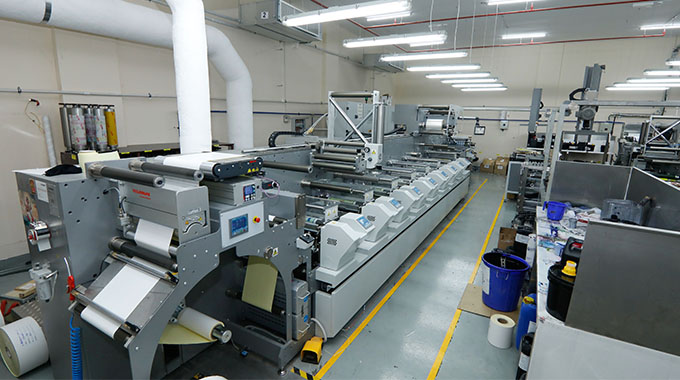 Within the next year, he managed to add more employees and a slitting machine to his production line and started printing small 2-3 color labels. That is when he realized the potential in the printing industry. 
In 2013, Wagle felt the need for another flexo press. 'I was searching for an affordable machine and bought it from Multitec in India. It was my first 8-color machine, which was a boost to my business. With support from a financial institution and paying a high rate of interest, I somehow entered the product label market. That's when my journey began to transform.' 
Rapid investment
Wagle saw a sudden growth spurt in his business and within two years he purchased a Gidue MX 370 – his first European machine. Continuing the streak of new investments, he invested in another Gidue in 2017. By that time, Sigma's staff had grown to 30 employees. 
'We even have in-house label designers. A label company doesn't need many designers, but we have four of them. We are providing complete concept design to final product printing to our customers. I am proud to say that we have an excellent design team.' 
However, Wagle says that the rapid investment program took its toll and he faced financial troubles. 'I faced difficulties, but I had good relations and a good reputation in the industry. My suppliers helped me during my bad phase as we developed good faith. From 2019 onwards, we have been doing very well and achieving our targets with consistent growth.
'We also won "Best in Class Print Awards 2019" by Prime 2019 Awards for Africa and the Middle East.'
To keep up with increasing demand, the converter has invested heavily in its production lines. In January 2021, Wagle purchased a Bobst M5 430mm full servo press, a Konica Minolta Accurio Label 230 digital press and a Brotech CDF330 slitter rewinder with one color flexo printing, lamination and cold foil, and semi-rotary and full rotary die-cutting. 
I am changing 20-22 jobs a day in flexo. The quantities are in the range of 10,000-20,000. There are few high-volume jobs left. That's why I invested in the Bobst M5 press
He also invested in a Chinese machine for liners to service his old customer who supported Sigma during its initial days.
Another recent addition has been a Grafotronic SR3 die-cutting machine with a turret rewinding system.
The company also moved into a new premises. From a humble 1,100 square feet in the beginning, the establishment now stands strong at 12,000 square feet. It supplies its products to Oman, Bahrain, Saudi Arabia, Africa and Pakistan. 
With the new investment and expansion, Wagle expects the business to grow: 'My three machines are running for 24 hours. I feel that I can increase my turnover by 25 percent more.'
Short-run demand 
Wagle says the Middle Eastern label market is evolving rapidly and moving towards short runs. 'There are not many long-run jobs in the region. Even big brands want short runs.' 
Explaining the reason behind it, he says that the local market is small. If a new customer enters the market, the job gets divided among the print suppliers in the region. 
'Apart from the high-end customers such as MNC brands, the volumes are shrinking in the market. That's the reason why I bought a Konica Minolta digital press. Even my high-volume customers sometimes ask for short runs and I cannot refuse them. Earlier, I had to shell out the plate-making charges from my pocket. The customer is not going to pay for the plates for short runs. At the time, those short-run jobs were a loss for me. Now I can shift those jobs to my digital press and earn something.' 
My team has grown with me and now they are like my family
Sigma also invested in Asahi Water Washable AWP2530 system and is the first to do so in the region. Asahi AWP will give the converter and its customers the advantage of processing a plate in 40 minutes and encourage others in the industry to adopt environment friendly 
practices by removing chemicals from the process. 
In addition, Sigma bought Esko Automated Pre-press and CDI Spark 2530 for digital flexo platemaking. 
Wagle explains that one of the bottlenecks in platemaking was plateprocessing time due to the use of solvents. He realized that with in-house platemaking capability, it could be automated, faster and of higher quality. 
With the new Esko platemaking machine, Wagle intends to save on platemaking costs as well. 'I am changing 20-22 jobs a day in flexo. The quantities are in the range of 10,000-20,000. There are few high-volume jobs left. That's why I invested in the Bobst M5 press. It is a fully automatic machine. Once you put in the plate cylinder, it registers automatically, and you don't waste time in that. Material wastage is also very much less.' 
Sigma plans to target shrink sleeve and BOPP film market with the new M5 machine. The company also invested in Esko workflow software for high accuracy.
Commenting on his new investments, he says that his technical team is happy with the new machines. In addition, the automation features in the new machines have eliminated the chances of manual errors that used to occur earlier. 
Wagle thinks that digital is the upcoming technology but is not immediately suitable for the MENA region. 'First reason is the cost,' he says. 'The production cost in digital is less but the investment is huge. Not to mention, the maintenance cost is also very high. That's why I did not go for inkjet. I was planning to do it for my short runs but considering the costs, I did not think it was smart to invest in an expensive machine. Recovering the cost of investment would have been difficult.' 
Sigma is closely monitoring digital developments and is considering it for its next investment in the coming years. 
FMCG – a growing label market 
Wagle says that the cosmetics and food industry are always good market segments for a label converter. 
'The packaging industry, in general, has grown in 2020. The best example I can give you is hand sanitizer. Millions of sanitizer labels were being printed in the Middle East. We supply to leading brands in FMCG, personal and home care. Some big brands in the Middle East get 100 percent of their labels from Sigma. We are very strong in food and cosmetics.'
Speaking about the state of the label market in the region, Wagle says that the overall market is doing well but it varies from company to company. 'There are companies that are going bankrupt. It depends on how you manage your business. It's profits and not sales that determine the company's growth. We are now concentrating on productivity with the new Bobst M5. So, that the customer doesn't have to look at another supplier for their label requirements.' 
Wagle prides himself on how far Sigma has come and says that despite being a small company, he is competing with big converters in the region. 'When you develop such good relations and faith with your customers and give them good support, service and prices, they will not look for another option and that is the key to success. Our team is very strong. I am proud to say I developed my team from the ground up. 
'My team has grown with me and now they are like my family. I take care of them and they take care of Sigma.'