Steinhauser expands its flexo fleet
Operating out of a 36,000 sqft facility in Newport, Kentucky, Steinhauser installed its second MPS press, an EFA 530 flexo machine, during the first weeks of 2022. It replaces a Comco Proglide MSP installed in 2005 – the company's first foray into flexo.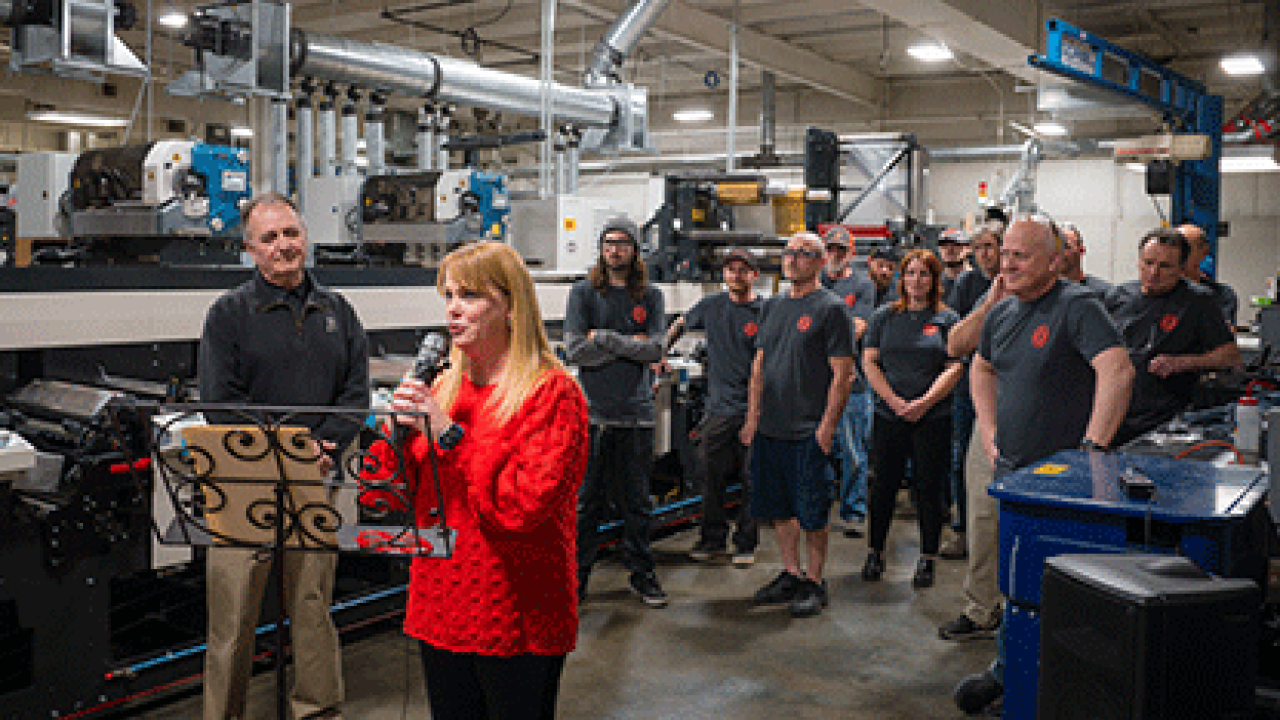 'The first time through with MPS, the team did their due diligence. Talking to industry leaders, press manufacturers, and did their research,' says Rod Baehner, vice president of operations at Steinhauser. 'The second press came along based on the performance of that first press. And naturally, there are synergies that go along with that, having the tooling in place and smaller cost of entry, but a lot of it was based on the performance of the press and the MPS's after-sale services.'
The press began operation just a few weeks after the installation. It features 12 flexo stations, two rotary screens, two die-cutting stations, cold foil and lamination stations, delam/relam stations, a turn bar for double-sided printing, a Martin Automatic rewinder, AVT Helios S inspection system with Workflow Link, and UV LED curing capabilities.

According to Steinhauser, the purchase and installation of its second MPS press come from its satisfaction with its first MPS installation in 2018. It also stems from the fact that all the tooling was already in place, along with the personnel training necessary to operate a flexo press.
With both machines now operating in tandem, the company's intention with the new press was to have a sister press that can share work wherever possible across the company's pressure-sensitive and shrink sleeve platforms. Both machines are primarily focused on work in the health and beauty, beverage and household end-user markets.
According to Steinhauser, the press has already helped the company remain a major player in end-user markets where many larger converters have a strong foothold. This is partly due to the fluidity of moving work from one press to the other.
'The MPS presses have allowed us to be more competitive in our turn times with the compatibility of both the presses,' says Erin Dickman, director of sales and marketing at Steinhauser. 'There was a time when we had two different presses, and once we installed the second MPS, the work became very fluid between the two.'
Along with the two MPS presses, the company utilizes an HP WS6800 digital press, an AB Graphic Digicon Series 2, and other equipment to continue offering short- and long-run services across the United States.
11 decades in business
Steinhauser was founded in 1905 by Albert Steinhauser from his garage in Cincinnati, Ohio, with a focus on printing government bonds. The company has operated as a family-owned business for 117 years, with Tara Halpin currently taking the lead as its fourth-generation owner and CEO.
In 2005, the company began shifting from an offset, lithographic commercial printing company to a label converter with the purchase of its first Comco Proglide in 2005. That purchase was made partly because of a major customer changing formats and Steinhauser wanting, as always, to ensure it fulfills its goal of keeping its customers satisfied. Because pivoting a business can be a major risk, the move required a level of trust from its employees.
'We had been litho printers for 100 years, and our largest customer had decided that they wanted to change label platforms from sheet-fed, in-mold to flexo PSL,' says Baehner. 'Tara's dad made the very courageous decision to make the investment off of a handshake and a conversation he had with the customer, and the team just jumped on the opportunity to do so.'
The investment paid off and led to the company purchasing a second Comco Proglide in 2008, shifting from its roots as a commercial printing business and rebranding as a label converter.
According to the company, being able to manage its success was not only built on Steinhauser's ability to gain new customers but the ability of its team to deliver exceptionally printed products, and a positive experience during both sales and service. All this ensures a continuing relationship and a returning customer.
'I think we offer a very unique blend of service and quality, and we've always been very consistent about that,' says Baehner. 'We service everything from short-run digital customers to those with national distribution. We always try to fit the needs of every customer, and we have shown that our quality and service are second to none. It's what we do and what we've always done.'
In the first quarter of 2017, the company tripled its profits. That same year, Steinhauser was honored as 'Best Workplace in the Americas' by Printing Industries of America. And in 2020, the company reported its highest revenue to date.
However, not all years can be that successful.
Supply chain issues and materials shortages led the company to stockpile materials – three-to-four times more than usual to ensure there would be enough to sustain its customer base. With price increases across the label and packaging industry, 2022 and beyond continues to be difficult.
'It certainly hasn't been easy in any aspect of the business,' says Baehner. 'We're facing the same challenges all converters or manufacturers are facing these days, but it's been our team's consistent effort to deliver on every little detail and their obsession with delivering for our customers that has kept us on track. To say it's been difficult the last couple of years is probably an understatement, but the effort put forth by everybody in this building has made it a little less rough sledding than it could've been.'
Finding success in culture
Halpin's father, Robert Steinhauser, was always walking the floor and checking up on everybody – from the front of the house to the warehouse – to make sure that each employee had what they needed and that business was running smoothly.
When Halpin took over the business, these were a few aspects of her father's leadership that she made sure to emulate.
Halpin makes sure that Steinhauser's employees know her door is open at any time, and each has a full understanding of the business and how it operates.

'I always tell people that [Halpin] always has her door open, and she walks the floor all the time. She's a very present owner,' says Dickman. 'Sometimes people say things that belittle being a women-owned company, but I always tell them, "No, she's actually here." She's involved in basically all parts of the business, walking the shop floor. It's a very unique thing for people to see.'
This emphasis on culture has trickled down and created an environment where people want to work, where many of the employees have relatives who also work at Steinhauser and a place where people are passionate about the work they are producing. It's not uncommon for employees to point out items on the store shelves and be proud of the work they created.
But it wasn't always this way. The company, for a time, struggled. Employee engagement was low, giving way to a higher turnover rate than the company had wanted. Planning and business operation was not up to par. 
Halpin knew a change needed to be made, and being more transparent and open with Steinhauser employees about the company was a solid start.
'It hasn't always been like this. There have been hard years where the engagement wasn't as great,' says Halpin. 'But now we have a strategic plan across the company, department strategies, and everybody has an individual action plan. So, everyone now knows what our vision is, what our mission is, where our values lie, what we're trying to accomplish, and why you come to work every day.'
And it doesn't stop at transparency. Steinhauser also provides its employees with many incentives, including Steiny Snax - a meeting where monthly results/successes are shared while providing snacks for all the employees. Steinhauser provides lunches, ice cream and chair massages monthly.  The company has launched a community outreach program called Steiny Smiles where donations and volunteer work is done with local organizations.
The team at Steinhauser, 48 employees, has maintained strong performance in a highly competitive market which, according to the company, is largely in part of its team's ability to stay focused and produce quality products across its customer base.
'Things are ever-changing,' says Halpin. 'We're a pressure-sensitive and shrink sleeve business; that is what we're great at, and that is what we're focused on. That has been a key to our success: having that focus and knowing what we're good at. And we're certainly open to other avenues for business, but first, we need to know if it's going to fit well with what we're doing right now and how we're doing it.'
Stay up to date
Subscribe to the free Label News newsletter and receive the latest content every week. We'll never share your email address.