Eticod is one of the most modern printers in Poland, heavily investing in new machines, expanding its offering and minimizing carbon footprint. 
Operating for over 27 years, Eticod has grown into a leading producer of self-adhesive labels with a highly diversified portfolio that includes labels printed on foil, paper, structured materials and – in an award-winning project – wood. 
Alongside two digital presses, today the company operates half a dozen flexo presses with a total of 46 printing stations allowing its team of 130 employees to quickly produce and develop complex projects.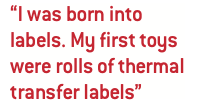 Thanks to its advanced technology, Eticod can print multicolored labels with various Pantone colors, varnishes, laminates as well as other refinements, and complex multi-layer labels such as peel-off or booklet. Eticod exports around 35 percent of its production, supplying some of the largest food and beverage, cosmetics, pharmaceutical and automotive brands in Europe, and even further afield to places like the Dominican Republic, Taiwan and Nigeria. 
The company was established in 1994 by Jacek Huć and his wife Iwona, who began by running a franchise of German packaging powerhouse Etimark. The company grew rapidly and so after a few years the owners decided to break away in order to focus on their own products, rebranding the business as Eticod.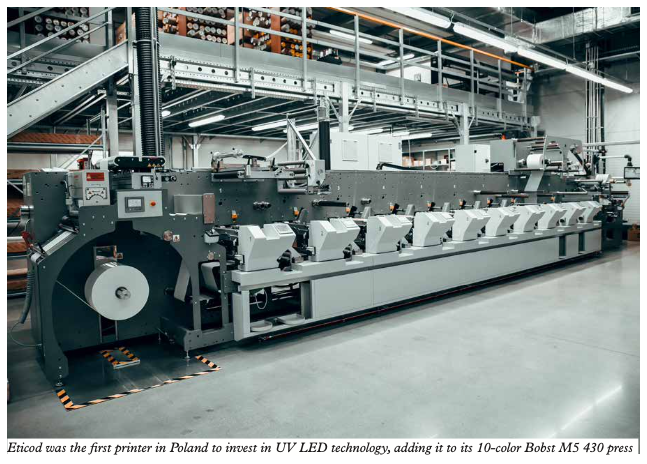 'I remember when my dad started the business back in the 1990s, we had one printing press and the company office comprised one desk in a little room,' recalls Aron Huć, son of Jacek, who helps run the business. 'I was a few years old at the time and I didn't quite comprehend it, but the truth is, I was born into labels. My first toys were rolls of thermal transfer labels.
'At the beginning, we focused mainly on Void labels, and at the end of the 1990s we were supplying all mobile phone networks in the country with tamper-evident labels. We sealed the first mobile phones that entered the market. I also played an important part in this process: as a child, I remember how many seals I got unstuck; I was the first Eticod tester.'
The first color label came out of Eticod's production line about 15 years ago. It was an order for the first Polish mobile phone network. 
'Today, it might not sound so special, but back then, it was really something,' remarks Aron. 'We were slowly learning our trade and my dad and I ran the entire company. We printed various labels for industrial and technical applications, and were often challenged by the tricky choice of special adhesives and primers. We had to think about how a given type of glue would behave on a particular surface, how to make it stick in difficult conditions, or how to make it detach in such situations. There was a lot of thinking – but that's how our know-how was attained. Such knowledge can only be gained by years of experience.'
Entering digital
In the past, Eticod used only flexo to satisfy demand for medium and high-volume production. However, when an increasing number of its customers began ordering smaller quantities of labels, but more frequently, Eticod decided it was the right time to invest in digital print technology to meet this short-run demand.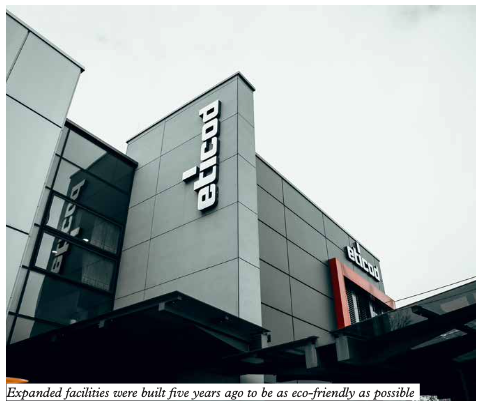 'The market forced some changes on us. For a long time, we were considering completing the machine park with digital technology,' notes Aron Huć. 'However, our main concern was print quality. It was still a new technology deviating from flexo. Only HP Indigo presses convinced us it was time to invest in the digital revolution.'
The company, persuaded by the high-quality performance of HP Indigo technology, installed its first 6800 series digital press in 2017. This investment opened a wide range of possibilities. As a result, Eticod was able to tap into new trends such as personalization and increased its ability to print thousands of unique labels for its customers.
'Our satisfaction with the HP device is proven by our recent purchase of a second HP Indigo machine, and who knows – maybe we'll buy a third soon,' says Aron. 'Digital printing provides many possibilities and complements our flexographic offer. Thanks to the use of HP presses, we can personalize printing in terms of text and graphics. We can print several thousand labels, each of which will be unique. An important feature that distinguishes HP is the ability to print on different substrates.'
Eticod quickly adapted printing on a wide range of substrates and took full advantage of this feature. As a result, the company won the overall EMEA Labels category at the Dscoop EMEA event in 2018 for its OX Ris Labels on Wood campaign. The labels were printed on Fasson cherry wood on a HP Indigo press to complement the oak-infused beer. In addition, the varied structure of the substrate made each of the 1,500 labels unique in appearance. 
'We received the international INKSpiration award for labels printed on wood. We were one of the first printing houses in the world to print labels on such a unique material,' says Aron Huć proudly. 'We have extensive experience in this field now, with many unique labels in our portfolio. Thanks to the investment in HP Indigo machines, we're constantly expanding the area of our activities.'
Sustainable label printing
Since its inception, the company's founders have been heavily focused on the sustainable production of labels and minimizing carbon emissions. So, when five years ago the company outgrew its headquarters and began constructing expanded facilities, the founders saw it as an opportunity to ensure the new building was as eco-friendly as possible. 

'We used an innovative heat exchange system when building the new production facility,' says Aron Huć. 'We made several surface drills under the factory, totaling around 2,500 meters. We installed several heat exchangers and covered the roofs with photovoltaic panels. HP Global has officially confirmed that Eticod is the only label producer in the world not using chillers when printing on Indigo machines.' 
Currently, Eticod runs six modern flexo presses and two digital HP Indigo printing machines. However, what you will not find at Eticod are chillers. Instead, the water is naturally cooled in the earth, fed into the highly efficient water supply of the factory, and thus used to cool the presses and the building during the summer.
To further reduce CO2 emissions and make production even more efficient, Eticod has decided to invest in UV LED technology for its 10-color Bobst M5 430, becoming the first printer in Poland to install UV LED technology on its production line. As a result, the machine consumes approximately 60 percent less electricity, which corresponds to an annual saving of around 50 kWh, translating into 200 tons of CO2.
'Phoseon UV LED ensures constant and efficient curing on all colors and at all speeds. The fact that we do not need any replacement lamps or any other spare parts, as well as the longevity of the Phoseon UV LED lamps with an achievable lifetime of over 60,000 operating hours, give us security and predictability in our production,' says Aron Huć. 'UV LED lamps do not emit any ozone, which means no extraction system had to be installed. Therefore, UV LED is not only good for the environment, but it also has a very positive effect on the finances, sustainability, and health and safety of our company.'
Health crisis turns into bright future
In 2020, the world was hit by one of the most unexpected health crises in years. As Covid-19 was spreading worldwide, businesses were faced with challenges on an unknown scale.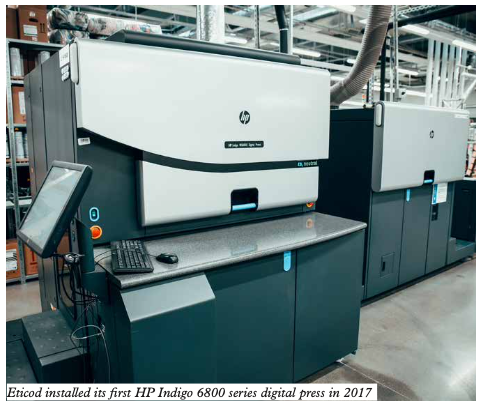 'We were quite scared. We feared the unknown, like many other companies in the world, I suppose,' recalls Aron Huć. 'We didn't know what was going to happen, how long it was going to take or how the health crisis was going to affect the entire supply chain. We only had questions, but we couldn't find answers.'
With the fear of the unknown also came the fear about the availability of materials. Eticod's clients were quick to react to mitigate possible supply chain disruption. The printer has quickly filled its order books from customers purchasing an unusually high stock of labels to accommodate future delays. 
'Almost instantly, we saw price hikes and longer delivery dates for the vast majority of materials. It was a typical avalanche effect. Printing houses, including ourselves, were ordering large quantities of ink, substrates and other materials. The first weeks were tough, however, March 2020 was our record month to date,' declares Aron Huć. 'It all slowed down, and the situation normalized itself in the summer, and then at the end of the year, we recorded another hectic period, which exceeded all our expectations. October, November and December were even better than March.' 
Overall, Eticod finished 2020 with a 20 percent increase in turnover, exceeding its best year to date. In addition, the company expanded its team by 30 people, installed six additional pieces of equipment, and began development of its ERP system. 
'We're going from strength to strength. We are going to keep developing the business and investing in innovative technologies. My parents are still managing the company. We're a typical family business, so as a worthy son I'm stepping up my game and taking some of the responsibilities off my parents' hands, but we are all working together. We are all involved in writing Eticod's history,' concludes Aron Huć. 
---