A label, ultimately, is meant to deliver information efficiently. And when it's attached to a product that's being jostled around on the shelves by curious consumers or thrown into a shipping container and delivered across the globe, the label needs to be durable to remain legible.
But what about a label going through an enclave burning at hundreds of degrees? Or a label attached to the outside of a snowcat plowing through a snowstorm in the harshest Alaskan winter? Or even a label attached to the outside of a spacecraft re-entering the atmosphere after floating through the cold depths of space?
How do material suppliers ensure their product is going to work in its intended way, and, following that notion, how can a label converter ensure that the label it provides its customers is going to stay adhered to the product and continue to be legible throughout its lifecycle?
'At the end of the day, it's a labeled product, and most companies think, "We just need to make sure it sticks," says Paul Purdef, director of marketing – durable label solutions at Avery Dennison. 'Whether the label is going on a car or appliance or there's some specific regulation, they just expect it to work. They don't want problems or to have to spend time figuring it out.'
The answer, for both the supplier and the converter, is extensive research, rigorous testing, and a trust in its partners that the standards and regulations in countries across the globe have been identified and considered when delivering the product.

Research and development
'We've been doing this for a long time,' says Purdef. 'We have a dedicated team supporting the durables and industrial label business, and they've been doing this for many years. Somewhere around five decades. Once we understand the requirements, the specifications from a product standpoint, that starts to give us the clarity we need to work out what we're trying to do from a development standpoint with the R&D team.'
A durable label and adhesive might experience a wide array of conditions. For example, a label attached to an HVAC unit will experience the wear and tear of the sun, rain, heat, cold and other intense weather conditions for years on end. A drum label may encounter a highly corrosive material or be submerged in salt water for a prolonged period.
At Avery Dennison's Innovation Center in Mentor, Ohio, research is conducted in a wide range of conditions, including accelerated aging in freezers reaching minus 40 degrees Fahrenheit and ovens reaching 392 degrees Fahrenheit; and accelerated weathering and durability testing, including salt spray and exposure to intense UV heat.
'From an R&D standpoint, we have a UL accredited client services lab, we have an analytical lab, and it's all ISO 17025 standard approved for automotive testing,' explains Purdef. 'We can provide a lot from the analytical standpoint, where we can bring a certain amount of data to help assist in some other things we're developing but also to provide data to support the products we're developing to show that it'll work as anticipated.'
Similar to Avery Dennison, 3M handles much of its research and development in-house, conducting everything from high and low-temperature testing to environmental cycling, where the company applies moisture or other potential outdoor hazards the label or adhesive may encounter during its lifecycle.
'R&D at 3M is our bread and butter,' says Sara Merritt, the company's global business manager. 'Everything that we do and what really drives us at 3M is our customers' needs. It's what we've done at the beginning of the company and what we continue to do today. We look at what our customers really need in terms of materials and technology to apply what we already know to real-life problems.'
According to 3M, 5.9 percent of its sales – 1.9 billion USD in 2019 – flows back into its R&D program, helping the company produce over 3,500 patents each year across its 51 technology platforms with over 8,000 scientists in 50 countries across the globe.
'We have a very strong research and development lab in IATD [industrial adhesives and tape division], and it's really a technology platform,' says Merritt. 'We have a very deep technology expertise in adhesives, materials and process technology that not only enables us to have great durable label products, but also other tapes, adhesives, and other products that go even beyond our division into other parts of 3M as well, giving us a further depth of science and materials expertise.'
At 3M, bringing a product to market is much more extensive than developing, testing, and launching. There are many steps the company takes before a product can finally leave the warehouse and be delivered to a converter.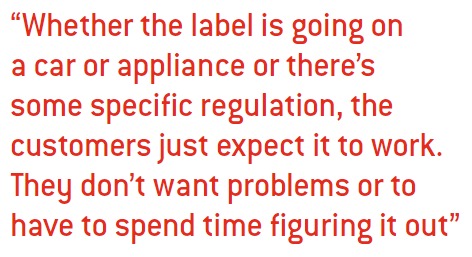 'We start by looking at our customer's needs and building a road map to go from there,' says Merritt. 'Once we get a good sense of that, we look at our current portfolio to see if we have the right adhesives, the right facestocks, topcoats, liners, and every other material necessary to build an industrial label. And once we've identified our gaps, we're finally ready to start the R&D process.'
Once in the R&D process, the company then begins developing a concept, prototyping the product, and getting feedback from customers to see if this is a product they would consider, thereby ensuring the development and manufacturing teams are on the right track.
Though crucial to the overall quality and build of a product, R&D and testing – for all that it can showcase the performance of the label or adhesive – can only go so far. At some point, a converter will have to get the product and prove the concept that the material supplier has been working to develop.
Plan into action
'We have a dedicated team that drives innovation [at Avery Dennison]. They work with our customers on the specific requirements they need to hit or, in some cases, on a product for which there's an unmet need in a market,' says Purdef. 'But at the end of the day, the product goes to our customers, and they're the ones who have to put that particular application into action.'
The processes of creating the durable or industrial label doesn't differ much from any other label.
Durables can be printed using conventional or digital methods. The difference is the products themselves: durable or industrial labels require certain specialty products that will only really be used for specific applications because, for one, these products wouldn't be cost prohibitive to either the converter or the end user, and secondly, many of these are very heavy duty and just don't fit other applications.
'For the most part, creating labels for industrial markets is the same as any other. We don't have any specific equipment that's focused on just durable labels,' says James Cirigliano, vice president of marketing at US converter Diversified Labeling Solutions. 'Where it differs are those unique situations where you have to make sure that all the materials match that application. Take a freezer, for example, where the label is going to be sitting in cold temperatures for a long time. You need special materials, specific adhesions, that will hold through frost.'
For a time, durables were screen printed, which more easily allowed for raised lettering and was more resistant to sun and regular wear and tear from outdoor elements. Thermal transfer continues to be a popular method as it can create a surface that tends to be much more resistant to scratches.
But methods have evolved to better enhance printing across the board, especially with digital technology.
'Typically, you would see more analog type methods like screen printing or flexographic printing, or even thermal transfer where you're physically taking ink and pushing it down into the surface. Historically, that gave a much more durable print,' says Merritt. 'Now, as digital print technology has evolved, it's now enabled converters to have a much more durable print with the right tap code and label material.'
For example, 3M's versatile label material was developed to ensure that, no matter which print method a customer may be using, it can be versatile across water-based and UV flexographic, UV inkjet, thermal transfer, screen and digital toner-based printing.
The material features a topcoated facestock which ensures that the label will be resistant to volatile chemicals and will hold even when encountering high temperatures.
And though suppliers give converters a large choice of products to use, how does a converter know which is the right one? First, it has to ask the right questions.
'You have to rely on your materials suppliers when you're looking to understand the products,' says Cirigliano. 'They typically have some really detailed specs on the materials, and we'll talk with the suppliers and learn about these materials ourselves. And if it's an application we've never done before, we'll go to our suppliers, and they'll tell you everything they have that can work.'
Many durable labels, depending on the application, are heavily regulated by different governing bodies to ensure these label products adhere to a certain standard.
This is somewhat of a blessing, as it sets up a goal post for the suppliers and converters to hit when creating the materials or labels themselves. It's also a curse, as these regulations, depending on the end-user sector, can be constantly shifting.
'There are a lot of challenges when developing the durable goods themselves,' says Merritt. 'There are a lot of changes, whether it's in the shifting printing trends or the regulations. We're constantly connecting with our colleagues around the world to have a pulse on how trends are changing and how it's going to affect our portfolio.'
This, on the converter end, can make things much easier. The testing has been done by the supplier, so the converter can trust the product will work. And it also allows the converter to stick to strict guidelines established by the governing body that will ensure the product will be good to go on the other end.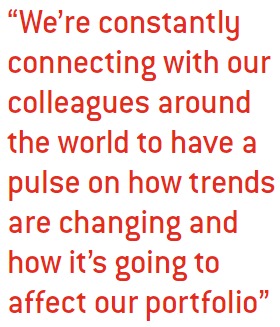 'There's a very strict testing process that goes on for GHS [Globally Harmonized System], for example,' says Cirigliano. 'So, for us, it's just a matter of sticking to those exact materials, so we know the product is going to perform well.'
Push it to the limit
What does it take to push a label to the limit? What would it ultimately take for a label to survive the exit of Earth's atmosphere, the cold vacuum of space, and the re-entry?
'I imagine it's a lot of shared knowledge because your customers are the ones using the final product, so if it doesn't work the ways it's intended to, they bounce that knowledge right back to you,' says Cirigliano. 'There are times when there's a material we're not sure about, we'll get some sample materials, and we'll run a few short runs and let the customer test them to see if they meet performance.'
Across the supply chain, from supplier to converter to end user, collaboration and shared knowledge are the basis for figuring out how to develop and utilize a product that will survive the extremes that a durable may encounter.
It's also a matter of looking at what's been done in the past and seeing if there's any overlap when it comes to the conditions the label may be enduring or the time it is meant to stay attached to a powdered drum, for example.
'I think the big thing is that it's a collaborative process, both internally at 3M where we work with teams and externally where we work with our business partners, end users and converters,' says Raymond J. Maskow, regional converter specialist at 3M Converter Markets.
'For most of us at 3M, we've not been to space yet. We don't know exactly what it's going to take to get up there, but there are a lot of engineers who have a generalized idea of what that's going to take, what parameters they'll need, they'll give out those specifications for it, and we'll work to select the materials that point most closely to what we're looking for.'