All4Labels' newly opened Center of Excellence in Salerno, Italy, will foster new ideas among the company's talent with a start-up-like drive for innovation. 
All4Labels has inaugurated its first-of-a-kind Center of Excellence (CoE) focused on fostering new ideas and knowledge among staff, customers, universities and start-ups. The opening ceremony took place on November 11, 2021, in Salerno, Italy, with representatives of the entire supply chain and the company's senior management in attendance.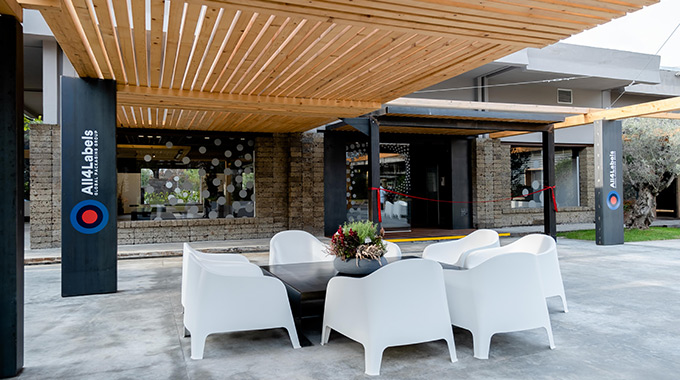 All4Labels, headquartered in Hamburg, is one of the leading global packaging groups with a network of 29 production sites, more than 3,000 employees, and over 60 digital presses. The company prints 60 billion labels a year for its 5,000 strong customer base worldwide, specializing in the home and personal care as well as the food and beverage markets.
The company provides pressure-sensitive, shrink sleeve and security labels as well as flexible packaging for major local and international companies in Europe, Latin America, Africa and China.
Step back in history
All4Labels was formed in 2016 when it became the world's third-largest label converting group with the merger of German companies Rako Group and X-Label and Brazil-based Baumgarten. In 2018, Nuceria joined the group with its four production plants across Italy. 
One year later, in 2019, private equity firm Triton, supporting the development of medium-sized companies headquartered in Europe, invested in All4Labels together with the current management, which continued to run the business.
And indeed, the company has delivered on its expansion promise. In 2020, the All4Labels Group expanded its portfolio with leading Italian shrink sleeve label converter Rotomet, the roll-fed activities of the GPS Group and label manufacturer Etichettificio Dany. A few days ago, the group announced its two latest additions – European online packaging players Labelprint24 and Packaging Warehouse.
Fostering global talent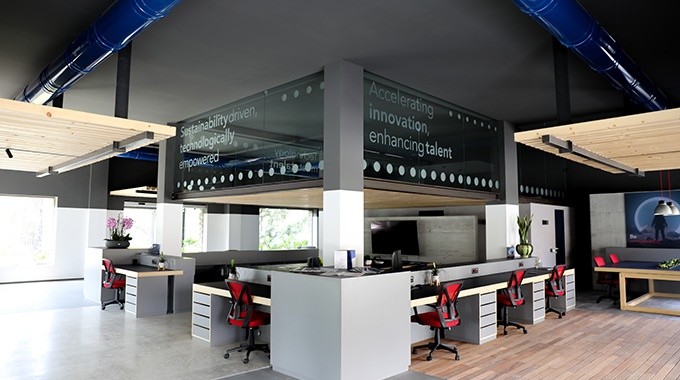 What sets the group apart from similarly consolidated converters on the market is cultivating the importance of a family-owned business culture. The significant advantage of this business model is that it nurtures a practically start-up-like culture – open to innovation and investing in human talent, focusing on critical growth areas for its customers. 
In his inauguration speech, Romeo Kreinberg, All4Labels' Chairman of the Board, referred to the colossal importance of the new center and the immediate need to work on sustainability and digitalization. He also compared the pandemic's start to lifting the bridges between people and highlighted that now, as the bridges are slowly being lowered down again, is the best time to collaborate across the entire supply chain to tackle the most pressing issues in the labeling and packaging industry.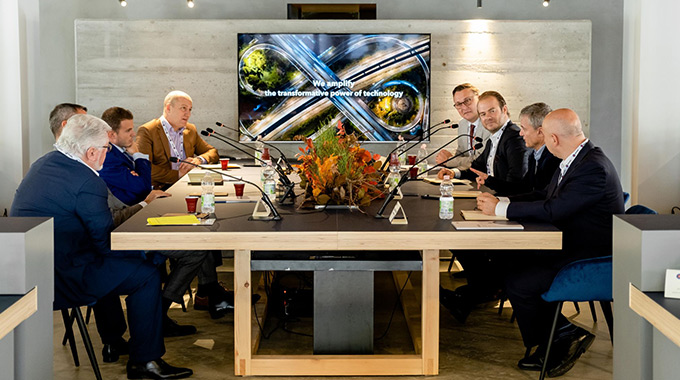 The opening ceremony gathered representatives of the entire supply chain and senior management of the company. It was followed by a round table discussion, which included Daniele Fraschetti, director of procurement for Europe, Africa, and Eurasia at Colgate Palmolive; well-known global innovator Marco Oliva, R&D director at Zobele Group; Burak Sahbaz, vice president of sales for labels and packaging materials for EMENA at Avery Dennison; Andrea Calcagni, a third-generation entrepreneur and current CFO at Omet; Adrian Tippehauer, CEO of All4Labels and a digital transformation ambassador; and Federico d'Annunzio, winner of the R. Stanton Avery Global Achievement Award for Innovation and founder of Traent, a fully Integrated blockchain collaboration platform connecting people and organizations.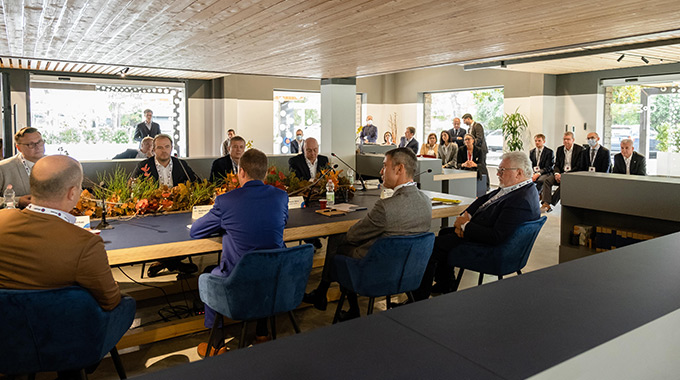 The discussion provided a remarkable opportunity to discuss current and future label and packaging trends from the point of view of a brand owner, brand management company, material supplier, machine manufacturer, converter and a visionary innovator. All agreed that sustainability is of the utmost importance, along with interactive technologies which will provide an additional layer of data to accompany physical and labels and packaging. All speakers agreed that big data is the future of the industry with its virtually limitless abilities for proving sustainable provenance and ecological impact but also creating new opportunities and ways to interact with consumers. 
Excellence of innovation
The Center of Excellence is a pioneering initiative established to become a new global hub, where the talent from across all the company's production sites will be able to collaborate with supply chain representatives, research centers, universities, and external partners to develop sustainable products and technologies as well as to share ideas and projects for Industry 4.0. Thanks to this cross-sector approach, the company will conceive, create, prototype and implement the most innovative and sustainable solutions for the industry and the environment.
The new CoE will undertake further R&D investments over the next five years and, with its estimated EUR 3 million investment each year, aims to become an open ecosystem designed to promote and support innovation both inside and outside of All4Labels, strengthening the company's leadership in the market and seeking to become a model of growth for all companies.
Reflecting the culture and values of All4Labels, the CoE will focus on personal development and growth – empowering the talents of its employees. It is intended that the new physical space will be managed by a high-level scientific and technical team, which will develop patents and ensure the protection of intellectual property.
AI, IoT and biomimetics will steer co-development for new interactive and functional packaging. The aim is also to achieve a higher level of digitization, leading to new business models that can inspire the labeling and packaging sectors worldwide.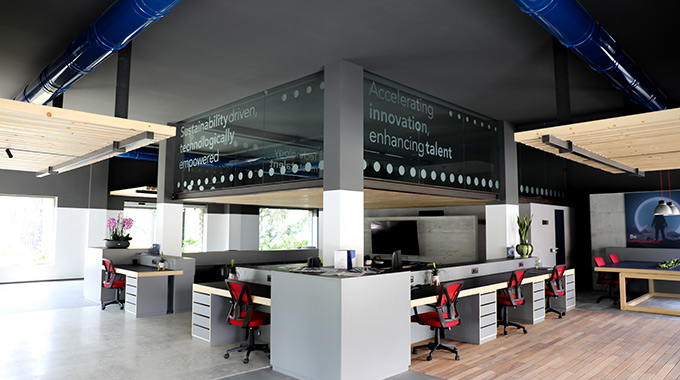 'At All4Labels, mentoring and developing talents is and has always been one of our primary goals, enabling people to make a difference and be part of our DNA for success,' adds Günther Weymans, COO of All4Labels. 'With the CoE we want to equip and stimulate specialists to conceptualize, create and prototype the best and most sustainable packaging solutions, to keep in mind the consumer's needs of the future.' 
Weymans emphasizes that the company pursues excellence in everything it does, with the CoE being one of the biggest arguments for his claim. 'All4Labels wants to succeed in being a pioneer in the industry, helping boost innovation within Industry 4.0,' he adds. 
Consistent with the All4Labels philosophy, every action at CoE will also be guided by respect for sustainability – one of the essential pillars of the company´s operating model. This includes considering different regional regulations on recycling, promoting dialogue, and sharing ideas with the entire value chain.
'We believe digitalization and innovation will unlock sustainability,' says Adrian Tippenhaeur. 'The new pressures to reduce the environmental impact of packaging, comply with regulations, and satisfy consumer preferences are going to require packaging converters to make new investments and undertake significant scale-up of their innovation capacity. With the CoE, we are focusing on offering new opportunities to support customers in revising their packaging portfolios.'
Tippenhauer believes that digital technologies and data will provide an important and transformative driver for the packaging industry. 'Enabling us to make our core business more efficient, from operations to sales management, unlocking opportunities in the way we collaborate with our customers and suppliers and how we design our packaging to be smarter and sustainable,' he concludes.
---
For further information please visit All4Labels website.