Polish label innovator Reganta impresses with significant investments, innovative equipment and ambitious expansion plans. 
Reganta is based in Łódź, the third-largest city in Poland and a former industrial center. The company currently employs a team of 75 and has significantly expanded its production capacity and flexibility to accommodate an enormous spike in market demand.  
Two new Mark Andy flexo presses, a Performance Series P7 and Evolution Series E5, have just arrived at Reganta, joining an already impressive line-up of a 17in (430mm) Performance Series P7 purchased in 2019, a 13in (330mm) Performance Series P5 model, a Performance Series P3 and a Scout.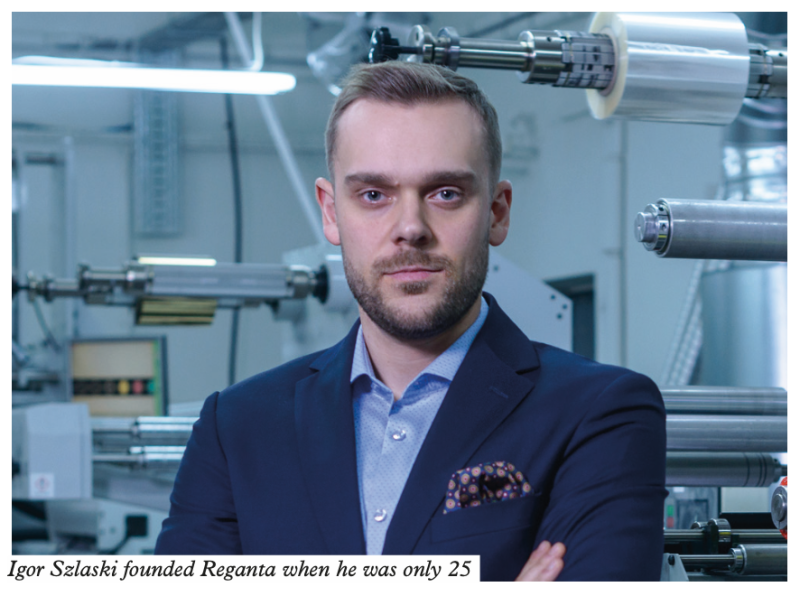 Reganta specializes in flexo-printed labels and packaging and has continually chosen international brands as its business partners. Mark Andy is one of the critical contributors to the company's success. Its narrow web flexo presses have been the production base at Reganta since the company's foundation. 
Reganta's current plans are ambitious and include creating 60 new full-time positions and a state-of-the-art label and packaging design studio to accelerate expansion beyond Poland's borders.
'We're one of the most innovative printing companies in Poland, supplying over 120 major local and international brands,' says Igor Szlaski, owner of Reganta, who founded the company when he was only 25. 'Having carefully watched the market trends, we now offer out-of-the-box technologies supported by some of the most modern equipment available on the market.' 
P5 success route
It is an impressive statement from a young entrepreneur who, eight years ago, started the company on his own, working tirelessly to get the business off the ground. 

'I graduated from the Warsaw School of Economics. I stayed in the capital to work in a typical big corporate environment. I quickly realized it wasn't really for me, so I decided to make a few changes, I resigned and moved back to my hometown Łódź to open the business there,' states Szlaski. 'This is how Reganta was founded. I started it completely from zero. I managed to employ one printer, Robert. I was helping with the production; I was selling our services, was responsible for accounts and invoicing – simply doing everything that needed to be done. My ambitious approach and Reganta's production potential impressed a few clients who placed the first orders almost instantly.'
The first machine on Reganta's production floor was the 8-color 13in Mark Andy Performance Series P5 press that put Szlaski's business on the Polish printing scene.
Despite its small size, the business attracted big, strategic customers, including Coca-Cola, which ordered a limited series of shrink sleeve labels to commemorate the anniversary of Solidarność, the Polish trade union which played a central role in the end of communist rule in the country.
'This was a real roller-coaster but extremely fun project to work on for a small business like us. The bottles with shrink sleeve labels printed at Reganta were held by famous politicians such as Barak Obama and the German chancellor,' says Szlaski, smiling at the recollection.
The company's growth was so dynamic that after just two years Reganta placed its second order with Mark Andy, this time opting for a Performance Series P3 press, also fitted with lamination and double die-cutting capabilities.
'Without Performance Series P5, we certainly would not be where we are today, thanks to its potential, versatility, and the ability to deliver a very diverse product range,' notes Marcin Janicki, general manager of Reganta. 'This machine has opened our doors to first customers from automotive, cosmetics, alcohol, household and food industries. The second machine, the older Performance Series P3, acted as its perfect extension of the equipment, significantly increasing our production capacity.'
Growth partners
The company soon gained more strategic clients such as Procter & Gamble and Lotos, and before long the P5 and P3 were unable to meet the growing demand for capacity. 
Szlaski found the solution with a wider 17-inch, 10-color Mark Andy Performance Series P7 with multi-layer label capability. The press is equipped with a web reversal system, automatic register and preregister, cylinder cooling, and QCDC die-cutting, two screen printing units, a cold foil stamping module and a laminator.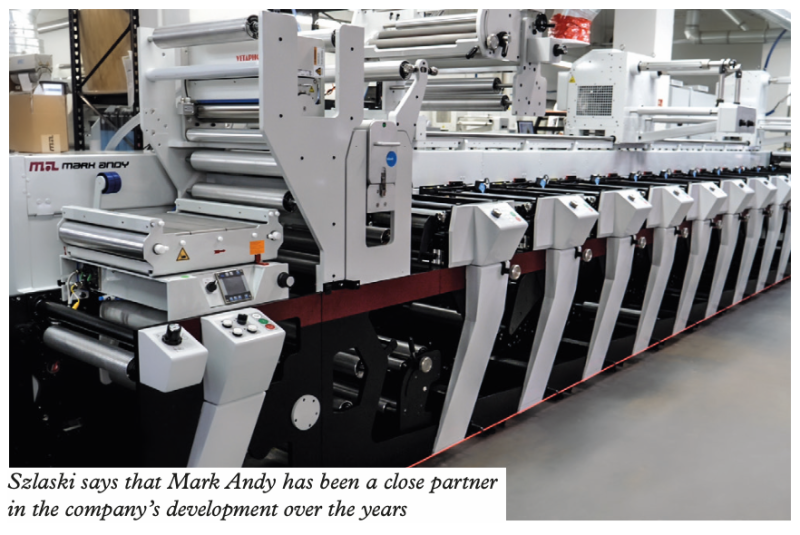 Thanks to the most recent investment in the Performance Series P7 and Evolution Series E5, now printing their first jobs, Reganta has increased its focus on producing value-added labels and shrink sleeves. The latter already constitutes to 30 percent of its production, with demand doubling year-on-year.
'The purchase of these new machines is another enormous step in the development of our company. We estimate that our productivity will increase between 50 and 60 percent thanks to this investment. Therefore, we are very interested in expanding our client portfolio even further,' says Szlaski. 
After just eight years of operation, Reganta is working with leading brands in the food, pharmaceutical, construction, household chemicals, automotive and logistics industries. 
'We are ready to start servicing new industries,' continues Szlaski. 'We are flexible and constantly adapt to market needs. We go beyond satisfying demand. We constantly develop new technologies to meet the future expectations of our clients. Thanks to our experience, creative approach and technological development, we create flexo labels and packaging from films and laminates which our clients are proud of.'
Szlaski says that the partnership with Mark Andy has played a key role in the company's success. 
'Reganta bought the first Performance Series machine as an inexperienced printing company from the then representative of Mark Andy in Poland,' explains Lena Chmielewska, marketing manager for Mark Andy Poland. Chmielewska points out that Reganta's development went hand in hand with the development of Mark Andy's Polish operation.
'We're proud to support Reganta at such an important time in the company's history and help to shape its future growth,' adds Tom Cavalco, executive vice president of Mark Andy. 
Sharing success with society
The Łódź region has a strong printing heritage which Reganta is committed to building on. 
Adam Pustelnik, vice mayor of Łódź, states: 'Reganta contributes to the historical power of Łódź – the creative and design sectors of the city were always well known.
'I encourage people to take a bigger interest in the printing industry in general and consider finding employment at Reganta. Traditionally, we think of production jobs as a typical blue-collar environment, but this is a misleading old myth. The modern production environment, such as the one set up by Reganta, is an advanced operation in terms of offering highly technical jobs.'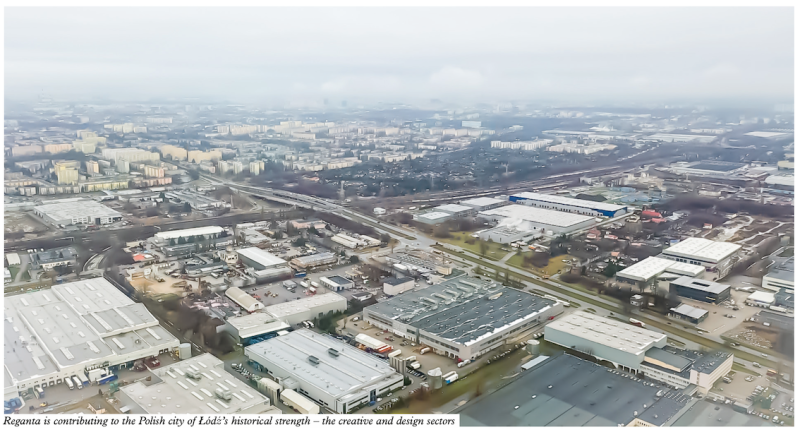 Szlaski is a big promoter of the print sector, especially amongst the younger generation. 'We are trying to convince the population that we are not just a printer but a very innovative business with highly modernized production lines,' he says. 'The modern printer is not what this job used to be years ago. The printer is no longer covered in ink but is a highly specialized operator of sophisticated, automated equipment.'
Reganta works closely with local schools, colleges and universities, offering a wide range of opportunities to learn what the printing market can provide in terms of a fulfilling career path for young people and students. 
Małgorzata Antczak, who runs the PR and marketing department in Reganta, adds that the company is closely involved with its community. 'As part of our social responsibility programs, we are supporting young talent in developing their careers by organizing partnerships and exchange opportunities for the future leaders of our market.'
The future certainly looks bright for Reganta. In the first quarter of 2022, the company plans to employ an additional 60 full-time workers as it continues to expand.
'People who want to achieve something should persistently pursue their dreams and not be afraid of risk or failures, because they are an integral part of the company's development and learning,' concludes Szlaski.
---
For further info: 
For more information about Reganta, go to: www.reganta.pl