Read later
US industry remains resilient in face of Covid-19
A comprehensive survey of TLMI converter members finds that the majority have seen business volumes and employee hires increase over the course of the pandemic. 
The US label industry has proven itself remarkably resilient in the face of the Covid19 pandemic according to a new report by the consultancy LPC carried out on behalf of TLMI.
The 2020/21 TLMI Market Watch report represents a comprehensive survey of TLMI member converters divided into four categories depending on annual sales. These range from the smaller companies with annual sales under 6m USD (22 percent of the sample), to the 6-15m USD sales category (33 percent of the sample), to 15-35m USD (25 percent) and the large converter and converter groups with over 35m USD annual sales (20 percent). 
The background to the report is the greatest US recession in nearly a century, as overall consumer spending in 2020 plummeted in the second and third quarters of the year in the face of lockdowns and stay-at-home mandates. 
But, in a similar story to Europe – revealed in the last edition of L&L – printed packaging demand surged in some end-use segments while others witnessed drastic contraction rates, pulling and pushing label converter fortunes with them.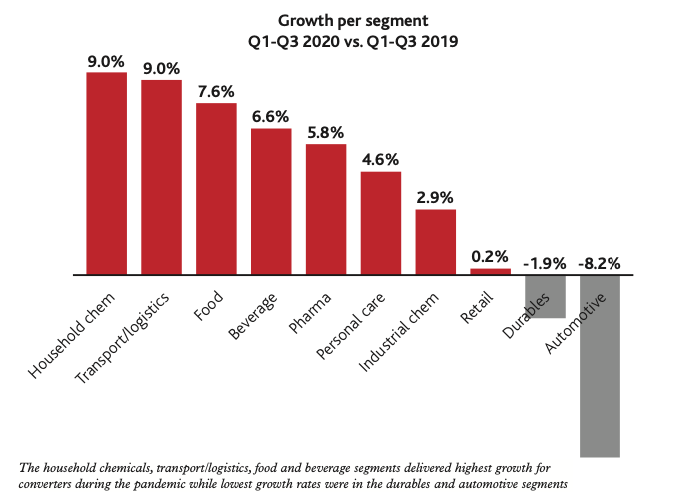 The headline figure is that sales revenues increased for 72 percent of the surveyed TLMI converting companies, while 19 percent reported sales declines. For those whose business volumes increased, 23 percent reported 15 percent sales growth for the first three quarters of 2020 compared to the same period a year earlier, while 13 percent reported sales up by more than 20 percent. 
The common growth denominator was supplying the buoyant food, beverage and household chemicals segments, while those at the lower end of the growth spectrum more often than not served the segments which experienced steep downturns – entertainment and hospitality, automotive and durables. Some converters reported as much as a 17 percent difference between the highest growth segment – household chemicals – and the lowest, automotive.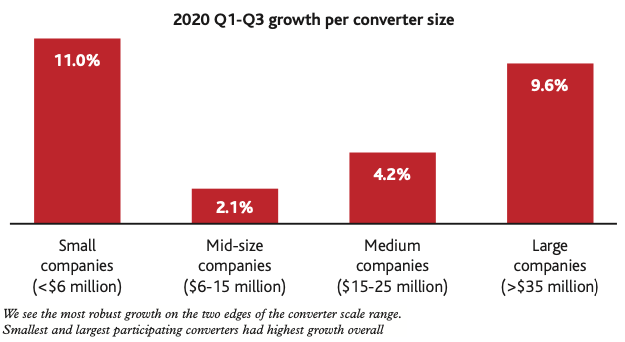 An interesting observation by authors Jennifer Dochstader and David Walsh is that converters with the highest growth rates fell mainly into two categories: the biggest (annual sales over 35m USD) or the smallest (sales under 6m USD). They speculate that this could be down to small and large companies being more 'generalist' – servicing multiple end user segments – compared to mid-sized converters who tend to specialize in fewer end user categories. This leaves the smaller and larger converters less vulnerable to the collapse of specific end use sectors. 
On average the companies that reported year-over-year growth serviced 4.5 end use sectors, while those that saw a decline in year-on-year revenues service an average of 2.4.
Given that the pandemic has created such a skewed economy, what are the prospects for US label converters as the economy slowly unwinds from Covid-19 restrictions? 
To take the hardest hit sector, automotive, the Automobile Manufacturers Association estimates it will take at least until 2024 before sales return to pre-pandemic levels. On the other hand 2019 production levels are likely to be reached this year as automobile companies rebuild inventory to compensate for 2020 factory shutdowns, suggesting a rebound for converters servicing this sector.
And while many consumers are still pushing back big purchases, once stores begin fully reopening across the US economists project that the demand for consumable durables will pick back up, and even surge in some segments due to pent up demand.
Employee impact
The pandemic very quickly divided workforces into three categories: work-from-home; 'essential' employees who continued to perform critical functions on the production floor; and those either furloughed or laid off.
The TLMI Market Watch survey shows that only 11 percent of converters were forced to lay off employees last year, while nearly half of participating companies said their employee numbers remained the same and 40 percent actually hired new employees to keep up with the surge in demand. 
In addition, almost 70 percent of the survey sample indicated they raised pay and/or awarded their employees bonuses in 2020. Large companies (over 35m USD) were twice as likely to give bonuses compared to medium-sized converters in the 6-35m USD annual sales category.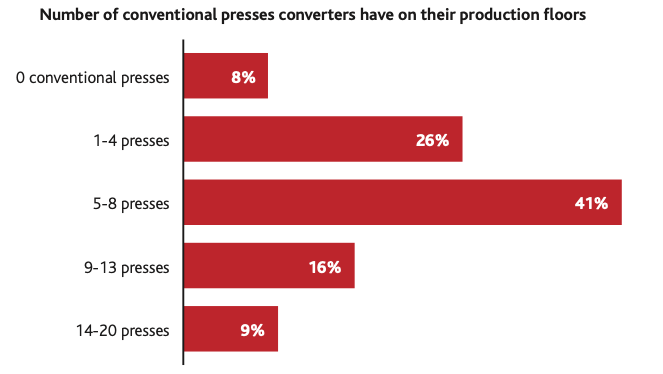 The survey found that most label industry employees are now reporting back to work rather than working from home, reflecting companies' now proven ability to keep their workforces safe on site.
Conventional and digital
The report makes interesting reading on the current installed press base in the US as well as converters' future buying intentions. 
A key finding is that eight percent of surveyed companies are digital-only facilities with no conventional presses. 
On the other side of the coin, one quarter of the survey sample do not have a digital press, while half the sample have only one or two digital machines (note that digital presses in the report are defined as units costing 450,000 USD or more, to differentiate from the 'benchtop' class of digital presses).
A clear trend is for the bigger converters and groups to have more digital press capacity, with companies over 35m USD having on average more than four digital presses across their operations. For the smallest companies (below 6m USD) that figure is on average 1.3. Mid-size and medium companies average between 2.4 and 2.6 digital presses. 
Digital print in 2020 accounted for one quarter of converters' aggregated revenues, which represents a considerable jump in the two years since the last Market Watch survey, when digital accounted for just 17 percent of revenues.
Despite the increasing penetration of digital print, however, conventional remains by far the most important press technology category. Indeed, the bigger the company, the smaller percentage digital represents in overall revenue generation. So for the largest converters digital represents 17 percent of revenue, which compares to over one third of revenue for the smallest converter group.
The pandemic certainly gave a boost to digital production with the sudden spurt of rush-driven ordering, and digital sales grew by an average 15 percent in the first three quarters of 2020. 

Conventional press production also received a boost for more than half of the survey participants. The 20 percent who indicated that conventional press business was down were mostly in the mid- to medium-size category, who mostly serve the durables, industrial chemicals and automotive sectors. 
Converters who saw high levels of growth during the pandemic have found their conventional press capacity under pressure due to order surges in medium to longer-run segments. This could well explain the fact that, for the first time in half a decade, more TLMI converters indicated they will buy a conventional press than a digital press in the coming year. This marks a first for the TLMI Market Watch report, which up to now has always put digital in the lead when it comes to purchasing intentions.
For the companies that indicated they will purchase a digital press in 2021, more than 40 percent opted for a toner-based press, with one quarter opting for inkjet and 12 percent for a hybrid (flexo + inkjet) press – a marked reduction compared to the 2018 survey. 
One of the final questions in the Market Watch Converter Survey asks converters what other packaging materials they convert alongside PS labels. 

Along with a predictable increase in shrink sleeves, an unexpected finding is a rise in folding carton conversion. At the same time, companies previously converting filmic products like wraparound non-shrink labels, lidding and sachets have moved into more traditional flexible packaging applications like stand-up pouches. 
Converter profitability
The US economy grew at a historically unprecedented pace in the third quarter of 2020 fueled by a 3 trillion USD pandemic relief package. GDP rebounded at a 33.4 percent annualized rate for the quarter as lockdown and shelter-in mandates eased and more businesses opened.


Against this background, sales for Q3 2020 increased for 79 percent of TLMI converter respondents compared with Q2 2020, with just 15 percent reporting a drop in sales from the previous quarter. Once again, it is medium-sized companies (15-35m USD) who were most likely to report a decline in sales over the survey period. In comparison, 90 percent of large converters reported sales growth for Q3 2020 over Q2. No large company reported a decline in sales growth over Q4 2020 compared with Q4 2019. 
Roll label report
Results from the TLMI's quarterly rollstock survey are included in the TLMI Market Watch report. The results largely reflect the findings of the converter survey, with the pandemic driving high growth rates across all primary labelstock categories – 8.8 percent for non-VIP papers, 5.9 percent for VIP papers and 14.2 percent for films. Within the films category white pressure sensitive film had the highest volume growth, up 28.2 percent for the first three quarters of 2020 compared with 2019. Of the paper labelstock categories, direct thermal had the most robust volume growth, up 17.6 percent over the same period.