Read later
Workforce development: industry training
In the United States, there are nearly 15,000 available jobs for flexo press operators, more than 21,000 jobs for digital pre-press operators, and more than 13,000 jobs for offset press operators, according to career resource site Zippia. Overall, that is approximately 50,000 printing industry jobs available in the US alone – globally, thousands more are waiting to be filled. 
The big issue is that there are not enough qualified employees to fill those roles.
Regardless of location, workforce development is one of the largest problems facing the printing industry. While no one has a silver bullet on solving the issue, each region has multiple efforts underway to recruit and train new, younger workers. From corporate efforts, education offerings and association initiatives, L&L looks at how several regions are attempting to solve their recruitment problems.
Europe
Before looking at country-specific efforts, L&L interviewed Finat, the European association for the self-adhesive label industry, to discuss the efforts they and their nearly 300 members are making in the region. While Finat has the Young Professionals Network, the YPN is intended to develop talent already in the industry. In terms of recruitment, Finat created the #Labelicious competition to engage young talent aged 18-25 and make them aware of the opportunities within labels. This competition was created to address a key problem in the industry in terms of young people. 'They cannot reach us very well, and we cannot reach them very well,' says Finat. 'On an aggregated industry level, there are currently no existing infrastructures and networks where young talent, education and the industry actors connect.'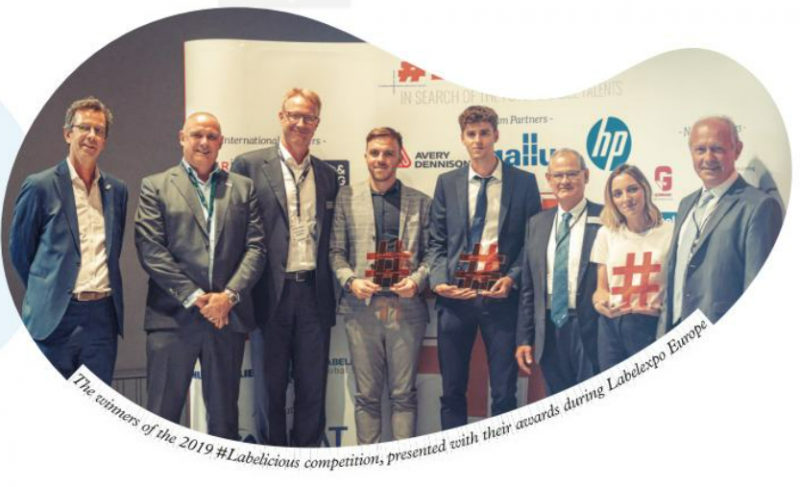 The goal of the competition was to increase awareness and to build stronger relationships with educational institutions in Europe. Finat utilized a targeted social media effort to reach their ideal demographic.
Finat's efforts reflect its members concerns. 'In our Finat Radar reports, the recruitment and retention of young talent is listed among the top three challenges for business leaders,' says Jules Lejeune, managing director of Finat. 'Some label printers are addressing this by recruiting and retraining printers from the declining commercial printing sector, others are collaborating with local schools and universities by integrating internships into graduate programs, or setting up dual learning programs whereby students spend part of their time at school, and the other part in the company.'
Finat members' efforts to recruit talent differ from country to country. 'In countries like Germany, for instance, the vocational education system of apprentice to assistant to master is strongly embedded in the country's tradition as a manufacturing industry,' says Lejeune. 'In other countries, the infrastructure is more dependent on private and sectoral initiatives. Finally, it should not be forgotten that the decline in commercial printing has also led to a decline in education facilities, as some printing education programs have been shut down.'
However, the biggest problem may not be training at all. 'The biggest challenge, I believe, is about awareness and image,' he continues. 'The younger generation entering the labor market aim to make a difference and aspects like purpose, an inspirational work environment and digitalization are of key importance. In this arena, our industry is competing with other, IT-driven industries that often did not even exist 20 years ago. Although the label industry has proven to be at the forefront of innovation and digitalization in the wider package printing space, its image is sometimes incorrectly associated with outdated, less sustainable manufacturing sectors.'
Former Finat president Chris Ellison adds: 'Education will only do so much. It is our responsibility as an industry to promote clearly and consistently to the outside world the longer term benefits of a career in labels and packaging – no one will do it for us as all industries and sectors are competing now for the same shrinking pool of great talent.'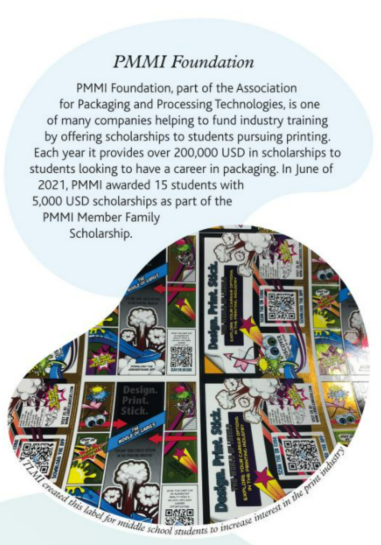 "It is our responsibility as an industry to promote clearly and consistently to the outside world the longer term benefits of a career in labels and packaging"
Germany
Germany is best known for its apprenticeship programs, which produce well-trained and ready-to-work employees. According to Inside Higher Ed, 'What makes the apprenticeship model so effective is a mix of classroom instruction at a high school, college or university with on-the-job training. That combination is invaluable in a rapidly changing industrial community where extremely specific skill sets are required.' 
Aside from apprenticeships, within Germany there are opportunities both at universities and from companies to gain an education in the print industry. In Stuttgart, Hochschule der Medien Stuttgart offers a bachelor of engineering in print media technologies. According to the university, this program is 'the first and only international undergraduate program in engineering dedicated to media'. It boasts a placement rate of 100 percent – showing that there is clearly a market for young, trained print professionals.
Individual companies also offer training options to grow and equip the print workforce. Heidelberg offers training in-house and online for sheet-fed offset (basics, performance, and specialty) and has an international training program for its new employees. This program offers young people training or dual study courses in Germany at one of Heidelberg's four locations within the country. The largest training site is in Wiesloch-Walldorf.
As of 2019, 'Heidelberg currently employs a total of around 340 trainees and students at its Wiesloch-Walldorf, Brandenburg, Amstetten, and Ludwigsburg sites,' says the company. 'On account of the company's demographics, almost all graduating trainees are being offered employment.'
England
Within the UK, some educators and companies are attempting to reproduce Germany's apprenticeship program. British Printing Industries Federation (BPIF) offers a dedicated print technician apprenticeship, with focuses on pre-press, press and post-press. The apprenticeship program is focused on training each apprentice for the occupation, rather than just ticking the box of the qualification.
Additionally, UK-based Peter Scott Printers has started an apprenticeship scheme in cooperation with North Lancs Training Group to train up the next generation of printing professionals in digital and litho printing, finishing, cutting, foil blocking and embossing.
According to North Lancs Training Group, 75 percent of apprentice employers say it has helped them cut recruitment costs and 89 percent of apprentice employers say the apprentices make their business more productive.
Joanne Hindley, commercial director of Peter Scott Printers, says: 'Starting an apprenticeship program made a lot of sense. This way we can train up a new member of staff with the precise skills we need. It's great for the apprentice too because they come away with a brand-new career path ahead of them.'
Scotland
Scottish trade association Print Scotland is also looking to apprenticeships as a lifeline for the approaching workforce succession gap. Scotland's printing sector employs 6,000 people, with participants including small-scale digital businesses and whisky label printers. Experts have warned that the industry will face a succession gap as soon as 2030. Print Scotland wants to see that gap closed by increasing modern apprenticeship opportunities for members – those in the manufacturing side of the print industry – and associate members, which supply the manufacturers.
Garry Richmond, Print Scotland director, says: 'With all the changes in technology, print has been seen as something of a sunset industry. But nothing could be further from the truth. Print is just another communication platform and a highly effective one, and we aim to help our members with apprentice recruitment, a cogent voice in the corridors of power, genuine cost saving benefits, professional guidance on compliance with legislation and much more.'
"There are currently no existing infrastructures and networks where young talent, education and the industry actors connect"
USA
TLMI, the North American association for the tag and label industry, sees the biggest workforce development issue as one of awareness – not just of the print industry as a whole, but specifically the label segment. TLMI offers a scholarship program for students going into the printing industry, but even those students lack awareness of what labels and packaging can offer.
Lauren Walsh, director of operations at TLMI, explains: 'One of the challenges we face with our scholarship program is we get a lot of graphics communication students, and they don't end up in the label industry. They go on to work in print, but not necessarily in labels.'
To increase label industry awareness from an early age, TLMI has developed a program to bring into middle schools and early high schools. They created a custom label – all of the time, labor, and materials for which were donated by TLMI members – that students will be able to scan with a smartphone and the QR code will bring them to a label careers landing page, which is still being developed. TLMI is creating a presentation to coincide with that label, as well as a virtual classroom option for remote learning.
'With this label and presentation we designed, we are looking to do community outreach into schools – that would be middle school or early high school age. The webpage we are creating we want to be a good resource for students, teachers, guidance counselors, or any educator trying to help kids figure out their careers,' says Walsh.
Walsh explains that there is a lack of awareness of how exciting labels can be and the different jobs and nuances within the industry. 'We took that into account when the workforce label was designed. It has all the bells and whistles and there is a bit of something for everyone,' she explains. TLMI is aware that this label education program alone will not solve the workforce development issue and is looking into diversifying how it uses its resources to impact the workforce effort.
Apprenticeships 
While apprenticeships are not as common in the US, Dallas-based Koenig & Bauer (US) and Texas State Technical College (TSTC) have tried to establish more printing apprenticeships. Koenig & Bauer (US) collaborated with its parent company's training and HR departments in Germany, along with TSTC, to establish a technician apprenticeship program and recruit qualified students. 
Ericka Luneau, Koenig & Bauer (US) human resource director, explains: 'When we speak to college students, we emphasize that we are offering a long-term fulfilling career, not simply a job. This is a huge unique opportunity that they might have never considered before.'
However, to qualify for the program, applicants must already have a two-year related technical degree. Considering a key issue in the industry is awareness, that excludes people who are looking to enter the industry with no prior knowledge. After qualifying, the 18-month program encompasses field training with mentors in the US, classes at the German Apprenticeship School located near Dresden, German language classes, work experience in its assembly hall at the factory, and specialized training in its training center.
Apprentices are paid a salary and given a housing and transportation allowance while living in Germany. They will live and train in Germany for a period up to one year with intermittent field training in the US. Upon completion of the program, an apprentice will resume a service technician position in the field in the US.
University programs
Perhaps one of the most well-established printing programs in the US is at Clemson University in South Carolina. According to Clemson, 'The Bachelor of Science degree in Graphic Communications prepares students for professional careers in printing, publishing, packaging graphics, digital media, content creation, and the greater communication industry.' Their courses cover all major printing process and include two internships. They require students choose a specialty area of study 'to develop in-depth knowledge and skills in specific areas of graphic communications'. In terms of its machinery, Clemson has pre-press and platemaking services as well as actual on-press testing. Additionally, Clemson has corrugated printing and narrow web flexo.
For those looking for a shorter program than the four-year degree at Clemson, technical colleges are a good option. Some technical schools offer pre-press, flexo, digital and offset litho printing facilities. However, for many of these schools the problem is not the lack of equipment, but the lack of students. Enrollment has been a struggle, and the pandemic brought enrollment numbers into an even steeper decline. Soon technical colleges and students looking for training may face a Catch-22 where they don't have anywhere to receive training because too few students want to pursue training for the facilities to stay open.
"It's important to realize you cannot just hand off equipment and software, you need to work with faculty and mentor the students to let them know they are going in the right path"
University and corporate collaboration
To support education facilities, many companies partner with universities. Esko has partnered with Indiana State University to support ISU's packaging engineering students. Esko gifted ISU millions of dollars' worth of package engineering software to be distributed over the next three years; the company has now supported ISU's program for two decades. This program has proved to be successful, as ISU can boast a 100 percent job placement rate for its students after graduation from the packaging engineering program.
Melissa Plemen, Esko senior director of inside sales and marketing, comments: 'As technological advances lead to changes within the sector, it's vitally important that the industry supports the education and training of young people as we drive to develop and inspire the packaging experts of the future. We strongly believe in investing in the future of our industry and have supported schools across the country in this way for a number of years now.'
Dawn Nye, manager of solutions and services marketing at Konica Minolta and winner of the 2020 Girlie Award presented by Girls who Print, is involved with many schools to help them develop a hands-on training program for students. She emphasizes the value of continued support throughout the training process.
Upon receiving her Girlie Award, Nye said: 'It's important to realize you cannot just hand off equipment and software, you need to work with faculty and mentor the students to let them know they are going in the right path. We need to keep rooting for them and cheering them on so they can be successful in this community.'
Awareness, opportunities and support
Ultimately no one country or region has solved the workforce development dilemma. Regardless of location, all people in print can work on education and advocating for a career in print. Converters can outsource training to local trade programs to keep those institutions open and give more students the opportunity to train with a formal print education. Companies can continue to offer scholarship programs for students and staff family members who are going to school for printing or packaging to support their education. With the awareness of the industry, the opportunity to pursue an education in print, and the support to succeed, the workforce gap could close one student at a time.