Read later
World class converters emerge in southwest China
Southwest China's geographical isolation has meant label converters remaining small and fragmented. Now, development of communications has created opportunities eagerly seized by a new generation of world-class converting companies. 

Southwest China includes Sichuan province, Chongqing Municipality, Yunnan Province, Guizhou Province and the Tibet Autonomous Region. Label converters in this area are generally characterized by the low level of consolidation and small scale, which is common for Chinese label printing enterprises. 
In addition, due to the geographical limitations of the location, the speed of development of label converters in this region is lower than that in east China, south China and other regions.
In recent years, with the development of increasingly efficient transportation and communication networks, many international top 500 enterprises have set up factories in southwest China, including in the electronics, automobile and aerospace industries. 
In addition, the development of local industries including food, wine, bottled water, pharma and others has driven demand for label products. In the future these combined trends will bring great opportunities for label converters in the region.
For this reason, L&L wanted to give the top ten label converters in southwest China the opportunity to be better known by their industry peers. We also express our sincere thanks to the support given by the Sichuan and Chongqing label association.
Tianxing Printing
Established in November 2010 with a production area of 12,000sqm, Tianxing Printing is a high-tech enterprise with an annual sales revenue of nearly 200 million RMB (USD 31m). 
In 2016, Tianxing was listed on China's National Equities Exchange and Quotations (NEEQ), entering the new technology division in May 2017. The company's business is mainly focused on the printing of anti-counterfeit labels, barcodes and packaging.
Tianxing Printing's battery of presses includes a Weigang ZJR-330 flexo press, Label Source satellite letterpress, intermittent offset press and a Rhyguan high-speed die-cutting machine.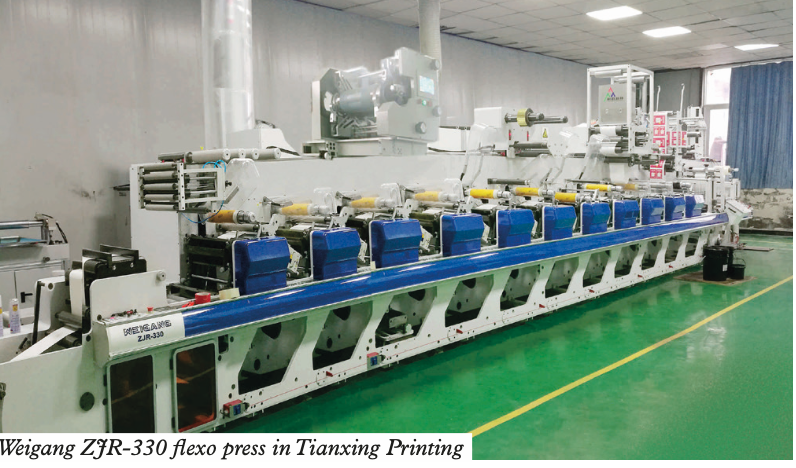 As well as decorative labels, the company prints a wide range of commercial work, including business forms and instruction leaflets. It is also a lead supplier of paper products for the Bank of China, China Construction Bank, Chengdu Shuangliu International Airport, Sichuan Guanghan Jinyan Distillery and others brand owners.
Tao Tian, general manager of Tianxing, says innovation is the key principle of the company's development. 'As a label converter, we need to cope with a hostile macro-environment. Firstly, increasingly fierce competition; secondly, shrinking profits as we face price increases from our downstream material suppliers and lower prices our from upstream brand customers. Finally, we need also to consider rising staff wages and rising costs of operating a company. Only with support of innovation, can the company break these shackles.'
Tianxing Printing has put this philosophy into practice, and today has more than 40 technology and design patents.
In line with the trend towards the Internet of Things, Tianxing Printing has developed additional functions on its product packaging including anti-counterfeiting, product tracking, mobile marketing and brand promotion using QR codes, invisible watermarks, digital watermarks, dot matrix technology and RFID labels. 
QR code labels are used for anti-counterfeit and track and trace applications, as well as 'one object one code' labels. Hundreds of millions of the company's QR code labels are being used by Foxconn, Bosch and other global Top 500 brands industries. In 2017, Tianxing established a dedicated smart label operation called Guiyang Tianxing and set up an office in Chongqing, marking a breakthrough in the intelligent packaging market in Southwest China.
Chengdu Megavision
Founded in 2005, Chengdu Megavision has a production area of 4,000sqm and 60 employees. The company produces roll and sheet labels for the food, wine, pharma, household chemical, industrial chemical, anti-counterfeit and electronics industries. Daily label output can reach up to three million pieces and annual capacity more than two billion labels. The company's long-term clients include a wide range of well-known enterprises including Red Star, Jiangxiaobai, Gemmy, China Resources Sanjiu and others.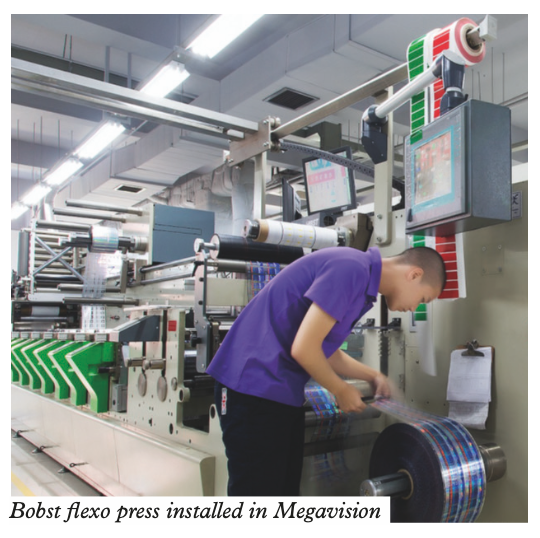 Chengdu Megavision's converting equipment includes three Bobst flexo presses, a digital press, intermittent offset label press and screen printing presses, as well as finishing equipment including high-speed hot stamping and die-cutting machines and automatic inspection systems. Today it is one of the best-equipped and most heavily automated enterprises in the label printing industry in southwest China.
Liu Jincheng, the founder and general manager, has a design background. 'A label printing company is not only the manufacturer and converter of label products, but also a key contact between brand owners and designers,' says Liu Jincheng. 'As a label converter, we need to give full play to our advantages in understanding printing materials, printing technologies and finishing processes to provide constructive opinions and suggestions for the brand owners' product design at an early stage. We can recommend appropriate materials and processes based on a consideration of the brand's image, impact and concept, so as to achieve a deeper strategic cooperation with brand owners.'
Megavision provides professional services from pre-press design, document processing and typesetting to printing production, assigning variable codes, post-press decoration and die-cutting. 
The company runs 3D simulation software which allows customers to preview the effect of their labels on actual products, which not only saves time and improves efficiency, but also reduces the waste of materials and time caused by repeated proofing.
Megavision has set up a specialized label laboratory equipped with professional testing instruments including a multi-functional computerized tensile testing machine, color densitometer, colorimeter, viscosity tester and sunlight resistance tester, providing standardized and professional tests on the performance and function of its label products.
Early on, Megavision invested in ERP management software and fully upgraded the whole system in 2013. Today the company has a standardized management system from customer order to design/pre-press, production scheduling, printing, to warehousing and delivery, along with full process monitoring, financial accounting and HR functions.
Megavision has trained a team of technicians to regularly introduce new materials, new processes and new technologies to provide inspiration for their customers' R&D and design teams.
Chongqing Zhiwei
Founded in 2003, Chongqing Zhiwei mainly produces PS and shrink sleeve labels for the pharma, electronics, food and wine industries.
Peng Donglin, the general manager, graduated from Shanghai Publishing and Printing College and used to work in the Third Chongqing Printing Factory, the so-called 'Printing King of Southwest China'. After three years, he was moved to the Huaxi Packaging Group, and was appointed successively general manager of the design and platemaking division and the paper container division.
In 2003, Peng Donglin finished working there after 16 years and started his own business. 'The growing national economy has brought many opportunities to the printing industry,' he says. 'A favorable economic environment and preferential policies have provided lots of supports for entrepreneurs. I thought it was time to start my own business and realize some of my dreams and ambitions.'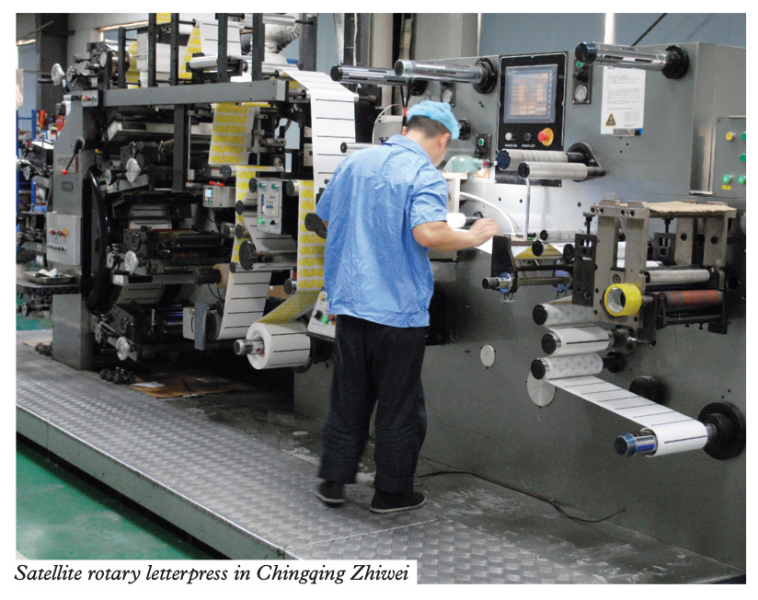 In the early days, Chongqing Zhiwei mainly produced paper cups and similar products, serving dairy customers such as Guangming, Wuhan Xiangmanlou and Hubei Angel, as well as companies such as Air China and Pepsi. At its peak, Chongqing Zhiwei once took over the paper cup business of 14 branches of Pepsi-Cola.
The exposure of the 'Melamine scandal' in 2008 had a significant impact on the whole dairy industry, and Chongqing Zhiwei's business was hit hard. The company quickly adjusted its business model and turned to labels.
'We had previously produced small-scale batches of labels along with our packaging products for brand customers. Since 2006, most central and western Chinese manufacturers started to move from manual labeling to high-speed automated machine labeling, opening up a good opportunity for Chongqing Zhiwei,' Peng explains.
Subsequently, the company invested heavily in narrow web converting equipment including intermittent letterpress, full rotary letterpress and Weigang in-line flexo press, as well as pre-press, CTP, finishing equipment and fully automatic quality inspection systems. 'This combination of different equipment, each with their advantages and weaknesses, allows us to select the appropriate printing technology according to the requirements of the job, based on customer requirements, materials, quantity and delivery time,' adds Peng.
For many years, Chongqing Zhiwei has adhered to a model of in-depth cooperation with customers. At present, 70-80 percent of orders come from existing customers. The company is involved at the development stage of brand owners' new packaging designs, helping them consider the impact of processes including labeling and product storage environment to achieve a win-win for the converter and its customers.
Chongqing Zhiwei is also equipped with a label traceability management system, tracking each label from incoming raw materials through the manufacturing process and finished product warehousing to customers' end use. 
This combination of services has led to Chongqing Zhiwei being rated as an 'Excellent Supplier' by many customers for consecutive years.
Today the company serves customers in industries as varied as pharmaceutical, sanitary products, electronics, food and wines. It has 50 employees and a plant area of 4,200sqm producing up to two billion labels a year.
Chongqing Zhiwei is now planning to use its in-line flexo presses to produce shrink sleeve labels to diversify its product structure and improve 'adhesion' with customers. In the future, the company will also focus on environmental protection and digital printing technology.
Gaoda Printing
Gaoda Printing was founded in 2013 and now has 37 employees covering a production area of 2,700 sqm.
Huang Youzhuan, general manager of the company, is a second generation printer. 'It was mainly influenced by my father to enter the label printing industry, but at that time, everyone in my family opposed me about this decision and thought printing was too tough. However, I was very optimistic about the potential of this industry. Labels are used everywhere in peoples' daily lives, and the future development space of this market will be infinite.'
Without funds, contacts or customers, Huang invested in the company's first printing equipment – a Weigang intermittent offset press – with a loan.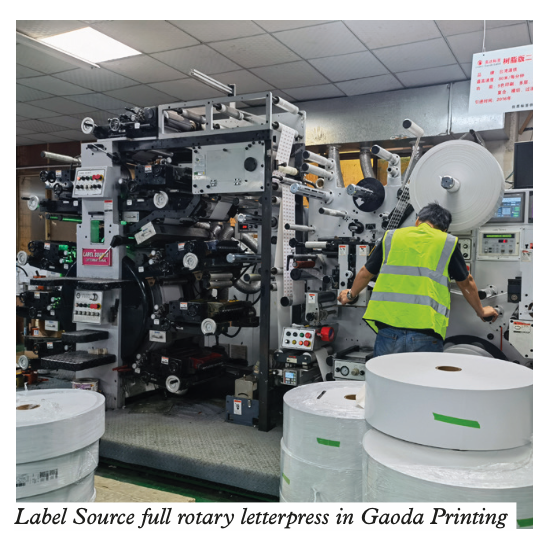 'We didn't have our own orders at the beginning and could only process orders from other label companies. Such OEM orders once accounted for about 90 percent of the company's total business,' Huang tells L&L.
With the development of the company and a gradual understanding of the consumer label market, Huang realized the necessity of connecting directly with brand customers to achieve long-term growth.
Gaoda began gradually reducing its trade label orders and studying in-depth local industries including liquor, beverages and pharma, gradually accumulating a number of high quality brand customers.
The company began investing in new production equipment including a Label Source full rotary letterpress, screen press, Weigang in-line flexo press, Luster and Zhongheng inspection systems and a Jianhong high-speed die-cutting machine.
Just eight years after its establishment, Gaoda has developed from one person and one press to an annual output value of nearly 30 million RMB (USD 4.7m), with five years of consecutive growth. 
Today its label products are widely used in the food, beverage, pharma and other markets, and the company has expanded into RFID labels, anti-counterfeiting and trackable labels for industrial label users with special requirements such as oil resistance, temperature resistance and lightfast.
Chengdu Zhiyue
Chengdu Zhiyue is a subsidiary of Chengdu First Packing group. First Packing group was established in 2015, producing labels and instruction manuals. After a major investment in new production machinery in 2017, Chengdu Zhiyue was officially established in 2018.
Zhiyue offers a wide range of PS products, including trackable labels, pharma labels, digital labels, die-cut products, film switches and also instruction manuals. 
Today the company is equipped with an Omet 12-color UV flexo press, Zonten intermittent offset press, another 10-color full rotary press, high-speed die-cutting machine, AVT Helios C quality control system, engraving machine, X-rite IGT color matching system and an XRF testing system.
Adhering to a strategy of digitization and automation, Zhiyue installed ERP and MES lean production management systems. More recently the company has adopted apps for remote and mobile working. For warehouse management, Zhiyue uses a high rack automatic storage and retrieval system (AS/RS) incorporating intelligent warehouse location management.
'Automation and intelligence are the inevitable trend of the future development of the label printing industry,' says Peng Dong, general manager of Zhiyue. 'As we progress, Chengdu Zhiyue will continue to deepen and strengthen its construction of intelligent systems.'
Kunming Heyu
Kunming Heyu was founded in 1999, with a production workshop covering 5,600sqm. The company is equipped with an HP Indigo 6900 digital press, Weigang ZJR-330 in-line flexo press and a dedicated coating machine.
Kunming Heyu supplies PS roll labels, packing tapes (with lettering) and other adhesive products. The company can typically produce up to 6 million pharma labels in a day, along with 10 million BOPP and PE tapes. The company has 63 employees, including 28 professional technicians.
To improve its R&D base, Kunming Heyu cooperates with professional print colleges, universities and scientific research institutions – for example the Kunming University of Science and Technology, Yunnan University, Yunnan School of Chemical Technology, Yunnan Press and Publication News, and the Yunnan Bureau of Quality and Technical Supervision.
Focused on the research and production of high-end adhesive products, Kunming Heyu's label output includes paper, PET, environmental protection labels, RFID labels, and other special label constructions. The company claims to rank first in term of market share in Yunnan Province.
One specialty of Kunming Heyu is anti-counterfeit pharma labels, and the company is credited with replacing the outsourcing of these products from other provinces. 
Guizhou Yumaxian
Founded in 2009, Guizhou Yumaxian has a production space of 3,300sqm and 39 employees. Starting from a single small label press, the company now owns an extensive battery of equipment including a Weigang 8-color in-line flexo press, 6/5/4-color intermittent offset presses, a screen press and comprehensive post-press facilities including fully-automatic inspection machines, an automatic laminating machine, Xinpengxing hot stamping machine, and high-speed slitter and die-cutting machines.
Yumaxian has positioned itself as a comprehensive service supplier integrating design with printing, slitting and inspection of PS labels.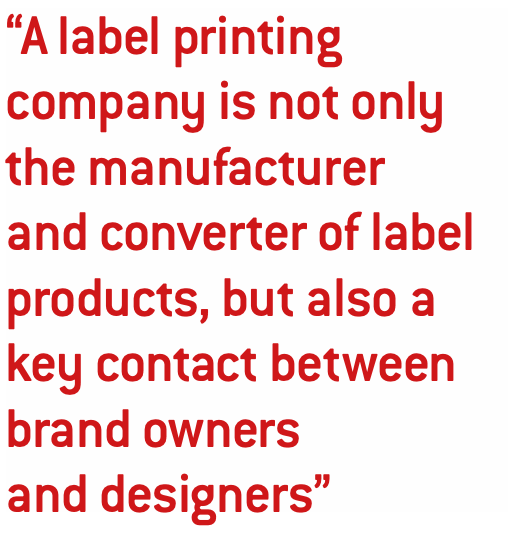 The company operates in the food, wine, pharma and household chemical sectors and prints on a wide range of materials including coated paper, PVC, PET labels, and frangible labels.
Guizhou Yumaxian has developed long-term cooperative relationships with a number of well-known Guizhou-based enterprises including Maotai Group, Yelanggu Wine group, Hanke Junfeng Wine group, Ethnic Liquor Group, Laogandie Food, Sifang Cereals and Oils, Guizhou Xinyuan Biological Technology, Guishanhong Food, Guizhou Communications Construction Group and Sinopharm Group's Guizhou division. The company's annual output is valued at over 20 million RMB (USD 3.2m).
In the face of the Covid-19 epidemic, production capacity control by the Chinese government and the rising cost of raw materials, Yumaxian actively communicates with material suppliers to collaboratively push forward the application of new materials and technologies, to reduce costs and achieve win-win growth with the end customer.
In response to the Chinese government's national environmental protection policy, the company outsourced CTP and flexographic platemaking to specialized suppliers in 2018; all its waste gas has been treated with activated carbon before discharging. In addition, the company's operators use sustainable machine cleaners, environment- friendly ink and reduce the use of multi-layer coated products.
Yunnan Guolian
Yunnan Guolian was founded in 2013. From the outset the company invested heavily in equipment, installing a 5-color intermittent offset press, a Taiwanese 6-color rotary press, two Taiwanese high-speed die-cutting and hot stamping machines, a screen printing press, Esko CTP platemaker and automatic offset plate punching machine, covering the whole workflow from pre-press and platemaking to print production and finishing.Yunnan Guolian's investment has also extended to digital equipment, installing a UV inkjet press in April 2018, and in July 2021 updated its existing production equipment with the first Weigang 12-color in-line flexo press in Yunnan Province.
In order to promote the introduction of new processes and materials, Yunnan Guolian set up its Design and Development department in January 2021, consisting of a general manager, marketing director, factory director, chief designer, printing workshop supervisor and die-cutting workshop supervisor. They cooperatively study and discuss each customer's design documents regarding the materials, technologies and process flow, then conclude a final production scheme. Such working practices have reduced both production costs and the cost of introducing new products, and this has been recognized by its customers.
'After years of cultivating this in-depth development, Yunnan Guolian has gradually gotten recognition from our customers and the wider market,' says general manager Zhang Guolian. She tells L&L that Sinopharm group, Hongxiang Yixintang, Duoshang Fruit Juice, Zhenming Jinlong Water, Mingcheng Group, Heqing Royal Liquor, Europe-Asian Dairy, Lesson Dairy and Zhadian Dairy have all become loyal customers and partners of the company.
UseEveryDay Printing
UseEveryDay Printing was founded in 2018, but the company has a history of 21 years in the label printing industry with the original name of Chengdu Qingyang Daily Printing, Now the company has its own plant in Xinhe Industrial Park, Pengzhou City, Sichuan Province, about 25 minutes' drive from the central urban area with very convenient transportation.
Yan Tianhui, general manager of UseEveryDay, says, 'Each label not only gives the user information, but also adds luster to the brand. That's why our company insists on carefully producing labels for customers, from raw materials, technology, design, creativity, transportation to after use at the consumer.'
The company is equipped with a Gidue 12-color flexo press, Haide 9-color flexo press, Zonten offset press, Weigang offset press, Reborn high-speed die-cutting machine, Rhyguan die-cutting machine, Luster inspection system and Daheng inspection system. 
UseEveryDay's main markets are food, condiments, pharma, beverage, water and wine industries.
'In 2021, the Covid-19 pandemic became normalized, which indeed brought numerous challenges to industrial development. The restriction of international logistics, the increasing price of upstream raw materials and the launch of updated environmental policies compel us to strive for innovation and change,' says Yan Tianhui. 'Take increasing costs, for example. Apart from a small number of brands willing to accept cost increases, generally these costs need to be absorbed within the factory by means of introducing new processes, exploring added value pathways and going after new business orders.'
UseEveryDay Printing has organized an efficient team, holding team meetings every week, and regularly organizing visits to professional exhibitions such as Labelexpo Asia to learn more about industrial updates. 
'In 2021, the annual output value of Chengdu Daily Printing is expected to be over 40 million RMB (USD 6.4m). Such achievements are inseparable from the hard work of everyone in the company,' he adds.
Chengdu Youpin
Chengdu Youpin was established in 2015. Luo Xiaobing, the general manager, started out in a quick print operation in 2004, then turned to the label printing industry.
In just seven years, the company has expanded from renting a workshop of only a few hundred square meters, to purchasing its own plant in 2020 and moving to a new plant in November 2021.
Youpin mainly produces PS labels, film stickers, shrink sleeve labels, variable QR code traceability labels and similar products. They are now developing multi-layer labels.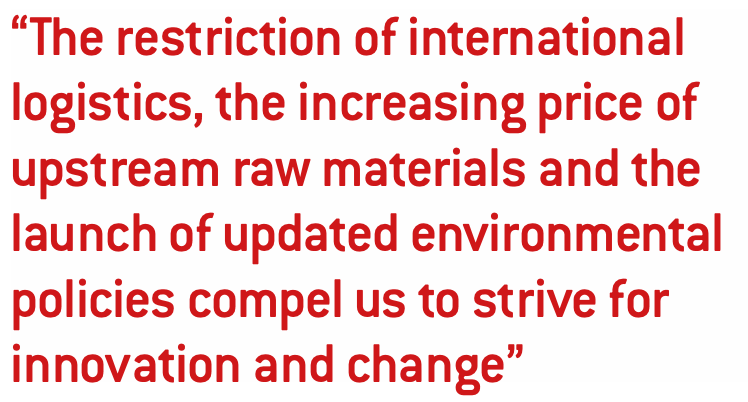 Their labels are used mainly in the household chemical, food, beverage and wine fields. Mineral water labels account for the largest proportion of the company's sales, which is related to the abundant water resources and related industrial chains in Sichuan Province.
Chengdu Youpin attaches great importance to equipment investment. Its press park includes an intermittent offset press, HP Indigo 4600 digital press, and Qianrun satellite full rotary letterpress introduced in 2017. Additionally, the company introduced an HP Indigo 6900 at the end of 2019 and then invested in a 13-color Gallus ECS 340 press in early 2020.
The company added supporting equipment at the same time, including a Reborn digital die-cutting machine, inkjet printing unit in-line with the flexo press, in-line inspection system, off-line inkjet printer, Kaiwei variable data inkjet printing system, Reborn high-speed die-cutting and hot stamping machine, automatic high-speed inspection-slitting machine and single-sheet QR code inspection system. In addition, the company set up a platemaking room to support its flexo and letterpress machines.
In 2021, the company's turnover increased by 23 percent year-on-year. At present, Youpin handles a large proportion of small and medium-sized orders, which is the main reason it invested in digital technology. In the future, it will continue to apply digital printing technology to develop more products and applications such as VIP labels and smart labels.
In 2022, Chengdu Youpin will focus heavily on flexible package printing. 'The growing demand for short orders in the flexible packaging market provides a wealth of opportunities for label manufacturers, presenting huge space for future development,' says Luo Xiaobing, general manager of Chengdu Youpin.
For the future, Luo insists on diversified development and reveals that he plans to invest in an advertising printing company in 2022.
---
More information
To see the machinery mentioned in this article in action, visit Labelexpo Asia in Shanghai December 7-10, 2022. www.labelexpo-asia.com