Automate Print to hold inaugural UK session
Event focuses on streamlining workflows and reducing overheads through innovative technology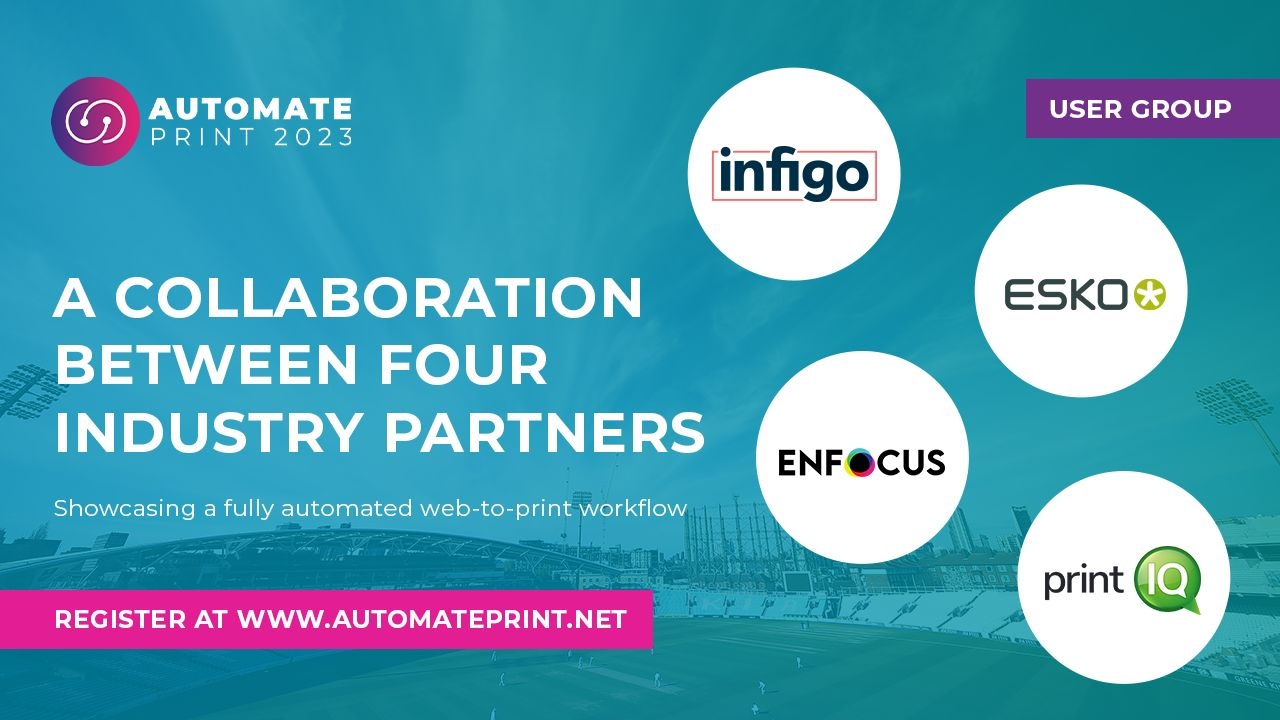 Print industry user group Automate Print, comprising leading print solution providers, is holding its inaugural UK session at the iconic Kia Oval cricket ground in London. The Automate Print collective, which includes Infigo, PrintIQ, Enfocus, and Esko, was established as a platform for print industry professionals to learn how to streamline their workflows, capitalize on personalization, and significantly reduce overheads using innovative technology.
The full-day event will feature interactive sessions, demonstrations, and an evening of networking over drinks and canapés on the rooftop terrace. This event follows the first highly successful Automate Print session held at Top Golf in Las Vegas in October 2022.
The day kicks off with an introduction to each partner and the part they play in the workflow, with demonstrations showing how an automated web-to-print workflow can be created when the platforms are fully integrated. Following this will be an interactive customer panel, Q&A sessions, and individual breakouts with the four partners. This approach allows attendees to understand how the platforms work together and also gives them the opportunity to delve into granular detail on the individual platforms.
The event will be hosted by personalization expert Richard Askam, the visionary behind CocaCola's groundbreaking 'Share a Coke' marketing campaign. 'Personalisation is critical to consider as the print industry continues to evolve. Most consumers expect the ability to personalize their product or packaging, with the same turnaround time or faster. Automating your web-to-print workflow to accommodate this is imperative,' Richard noted.
In essence, the event will enable users to learn more about automation and integration, discover how their solutions can be integrated further, learn from other customers, and spend one-on-one time with their solutions provider in a relaxed setting.
Don't miss this rare opportunity to talk to the decision-makers shaping the future of web-to-print. Discover how to fine-tune your automated workflow and discuss the future features you'd like to see on the platforms you use daily. Spaces are limited, so ensure you register now.
Greg Young, head of customer success at Infigo, said: 'I look forward to any opportunity to meet up with customers and partners but this is one I'm particularly excited about. To get all these experts and our users in the same room is an achievement in itself but to have the entire day for customers to ask whatever they want about the individual platforms is a highly unique opportunity. The fact that there is such a variety of sessions run by those at the forefront of developing and integrating the platforms and driving print automation, I think we are all going to learn a lot about the current and future opportunities around web-to-print and where the industry is going.'
George Folickman, sales director at Phoenix Software for Esko, said: 'The key to any successful technology company is a keen awareness of the underlying challenges their customers face. We can't wait to hear more from our clients and how we can help them thrive in challenging conditions. It's an honor to follow up our event in Las Vegas with our partners who all prioritize automation, open platforms, and connectivity - three drivers that we see as being a requirement for modern technology.'
Rachel Keenan, channel manager for DistributorX Solutions, the Enfocus distributor for the UK and Ireland, said: 'When you have these different platforms that can be integrated, it reduces the need for rekeying information, cuts down on unnecessary phone calls and emails with clients, reduces errors across the workflow and speeds up the overall turnaround of jobs. This is an incredible opportunity for users of all our products to get together, compare notes, share what's working for them and obviously ask us experts about how different software providers work together and specific points around each platform.'
Rob Thurston, sales manager for PrintIQ, said the day would provide invaluable information for printers across various sectors. 'The ability to be flexible with your offering, and your workflow, is imperative to growth. Not only does integrating these platforms help reduce overhead, streamline the workflow and provide a quicker turnaround than ever before, but it also gives you better oversight and control of how efficiently your business is running. With these different platforms, you can really drill down into the products, sectors and geographies that are proving to be most popular to take a more strategic approach and maximize opportunities.'
Stay up to date
Subscribe to the free Label News newsletter and receive the latest content every week. We'll never share your email address.