Etilab upgrades Xeikon 3030 press
Polish label converter Etilab has upgraded its Xeikon 3030 dry toner press for double speed and invested in DC350 finishing line and color control software to offer shorter lead times at the production facility in Żory.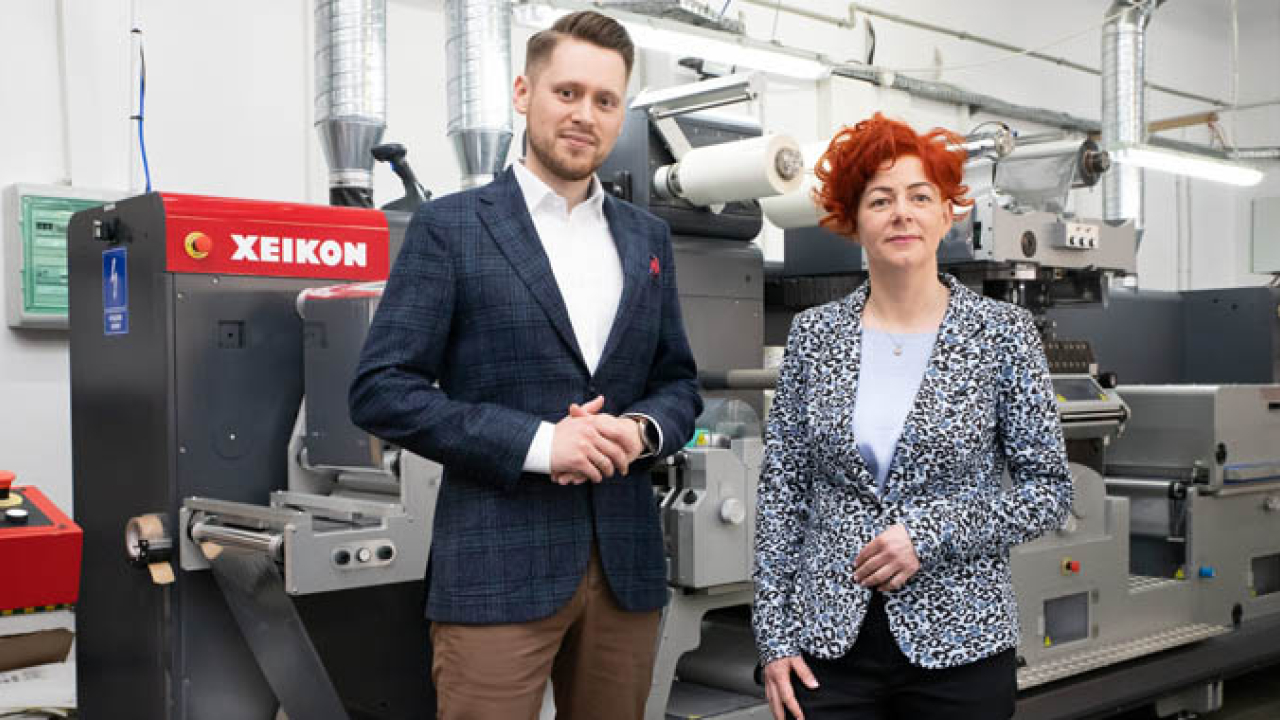 Etilab specializes in digital printing technology centered around a Xeikon 3300 label press. Established in 2003, it provides self-adhesive labels to customers ranging from small local companies to global corporations from the construction, FMCG, and cosmetics industries in Poland and Germany.   
Sylwia Dudek, president of the Management Board, Etilab, said: 'Being a small company, we can respond dynamically to our clients' needs and wishes. We invest in great solutions to improve quality and productivity, while maintaining comfort and safety at work. The first Xeikon press we bought four years ago helped us enter the market with technologically advanced labels, printed on metallized film. The additional digital white color further allowed us to achieve interesting tonal effects, such as gold or partly shimmering graphic elements.' 
The Xeikon 3300 digital press offers a resolution of 1200dpi using dry toner electrophotography to print in five colors – typically CMYK + white – however the colors are interchangeable so there is the option to print orange, green, or special colors. The press can print on standard raw materials without primer, and due to the full rotation image transfer, there is no limit on the repeat length. Companies that have purchased a basic model have the option to increase the speed or printing width at a later stage. Etilab took full advantage of this option to double the printing speed of its first Xeikon press. 
For food applications, Xeikon dry toners comply with the largest number of standards, including EU Reg. 1935/2004, Swiss Ordinance, and Nestlé Guidelines, and has FDA approval in the US. They are absent of odors, VOCs and solvent emissions and are lightfast. 
Michał Kuczkowski, sales manager at Xeikon, commented: 'Etilab provides its customers with products that are often small and contain tiny text elements, which can be tricky to print. Dry toner printing using the Xeikon 3300 is perfect for this purpose and also allows the use of structured raw materials, such as those that are popular in the wine and spirits segment.'  
As part of the expansion, Etilab has invested in the Xeikon Colour Services Pro 2.0 software suit. This Cloud-based tool delivers automatic color control by using a built-in spectrophotometer and generating reports after printing.   
The company has also added a new DC350 finishing and embellishing line. The DC350 at Etilab features a hot foil unit, with register and foil saver systems. The line is also equipped with a flatbed screen module, which can produce value-adding tactile effects including Braille. Setups and changeovers have been optimized with SmartSlit and SmartLoad functionalities which automatically position up to 16 slitting knives and load the die-cutting plates. 
'Our technical capabilities have increased significantly; and we now can offer state-of-the-art labels using new and interesting substrates such as silver foil, transparent foil, and structured wine materials. Thanks to the Xeikon printing press and its sophisticated software, we can also perform personalized printing – each label can be unique, and everything is done in a single run through the press,' said Dudek. 
Dudek appreciates raised varnish application of DC350 line which allows the converter to add warning triangles and Braille inline, as a single-pass production process. One of the main reasons for investing in this machine was to improve the efficiency of warning triangle application on labels, which in the past was done as a separate process using a special applicator which Dudek said was inefficient and costly, making it difficult to respond to the time pressures from customers.' 
She concluded: 'We want to expand in terms of our product range, as we are not yet using all the possibilities offered by the upgraded Xeikon and the new finishing line. The wine industry is our first stop. As far as production facilities are concerned, we will modernize, streamline, and improve existing solutions to boost production efficiency and allow for even better working conditions.' 
Stay up to date
Subscribe to the free Label News newsletter and receive the latest content every week. We'll never share your email address.