Konica Minolta launches AccurioLabel 230
Konica Minolta has launched AccurioLabel 230, the latest version in its digital toner press portfolio.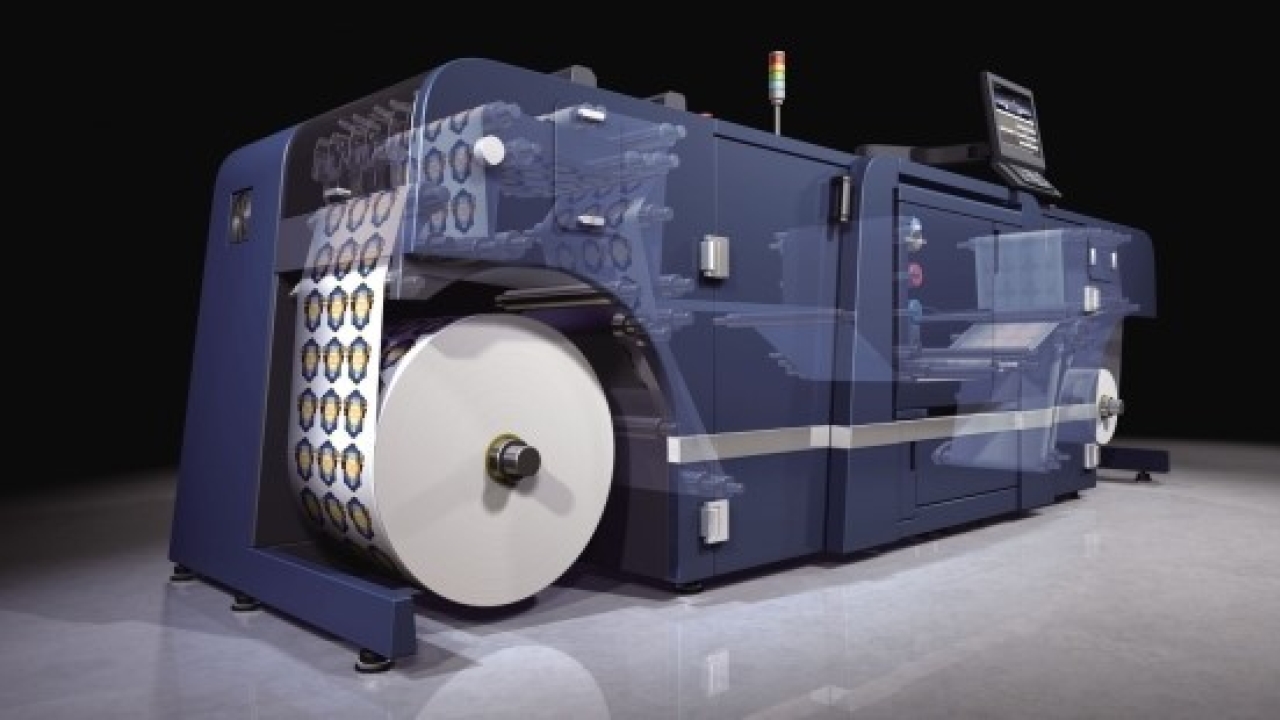 AccurioLabel 230 builds on the AccurioLabel 190 press and is claimed to bring numerous benefits for customers including productivity, flexibility and stability. It has been built on the established Konica Minolta AccurioPress engine. It is targeted at small- and mid-range segments and is suitable for label printers, print providers, brand owners, packaging companies and commercial printers.
Enhancements available with the 4-color Konica Minolta AccurioLabel 230 include:
Increased speed, at 23.4m/min and representing up to a 147 percent increase, with most coated/uncoated papers, PP and PET media now able to be printed at full speed;
Productivity, with continuous highest quality 1200 x 1200 dpi print runs of up to 1000 meters able to be achieved without the need for recalibration; the time taken between jobs has also been eliminated, increasing productivity further;
Overprinting, allowing printing of pre-printed media, for example overprinting of flexo white pre-printed on clear PP labels; and
More accurate print registration, with a built-in speed detector for media feeding also cutting paper wastage.
'The AccurioLabel 230 has been developed very much with customer interests in mind,' said Khaled Alakhwas, industrial printing product manager, Professional Printing Division, Konica Minolta Business Solutions Europe. 'Customers and prospects who are shifting to digital production have welcomed the launch and have been highly impressed by productivity, stability and new features that help shape their thinking for new profitable business applications.​ 
'As one example, it now takes around half the amount of time on the AccurioLabel 230 to print four 300m jobs. We know that smaller label converters have found that up to 60 percent of their existing jobs could be done digitally, so freeing up their conventional press for longer-run work.'
Edoardo Cotichini, industrial printing team manager, Konica Minolta Business Solutions Europe, said: 'Whereas the machine might look the same as its predecessor, there are big differences inside. This new model marks the next chapter of an incredible success story when you think how far we have come since entering the label market only four years ago.'
Shipments have already started for the new AccurioLabel 230 digital label press, which has been developed and manufactured in Europe with Danish firm Grafisk Maskinfabrik (GM).
AccurioLabel 230 will be officially shown in public for the first time at Labelexpo Europe 2019.
At the show, Konica Minolta will show a complete digital flow on its stand 8C12/C19.
At the heart of Konica Minolta's offering will be practical demonstrations of the AccurioLabel 230 toner press. Visitors will see the overall production of a label from pre-press to the finished product including embellishment and different kinds of finishing.
Practical ways of capitalizing on the fast-growing markets of digital embellishment and finishing applications using MGI technology to heighten the impact of a label will be a key feature on the stand by the presentation of Grafisk Maskinfabrik's DC330Mini and MGI's JetVarnish 3D Web Color+ systems that provide varnishing, foiling and in-line printing and finishing capabilities. Also, a new MGI product currently under wraps will be shown on the stand. 
Konica Minolta will showcaseadvances in software using augmented reality through its genARate application as well as a digital label module from Industrial Inkjet (IIJ). IIJ has developed its print engine further to include a range of standard press-adaptors for common flexo label presses.
Stay up to date
Subscribe to the free Label News newsletter and receive the latest content every week. We'll never share your email address.