Mark Andy hosts open house for students
Promoting education and career opportunities in the label and packaging industry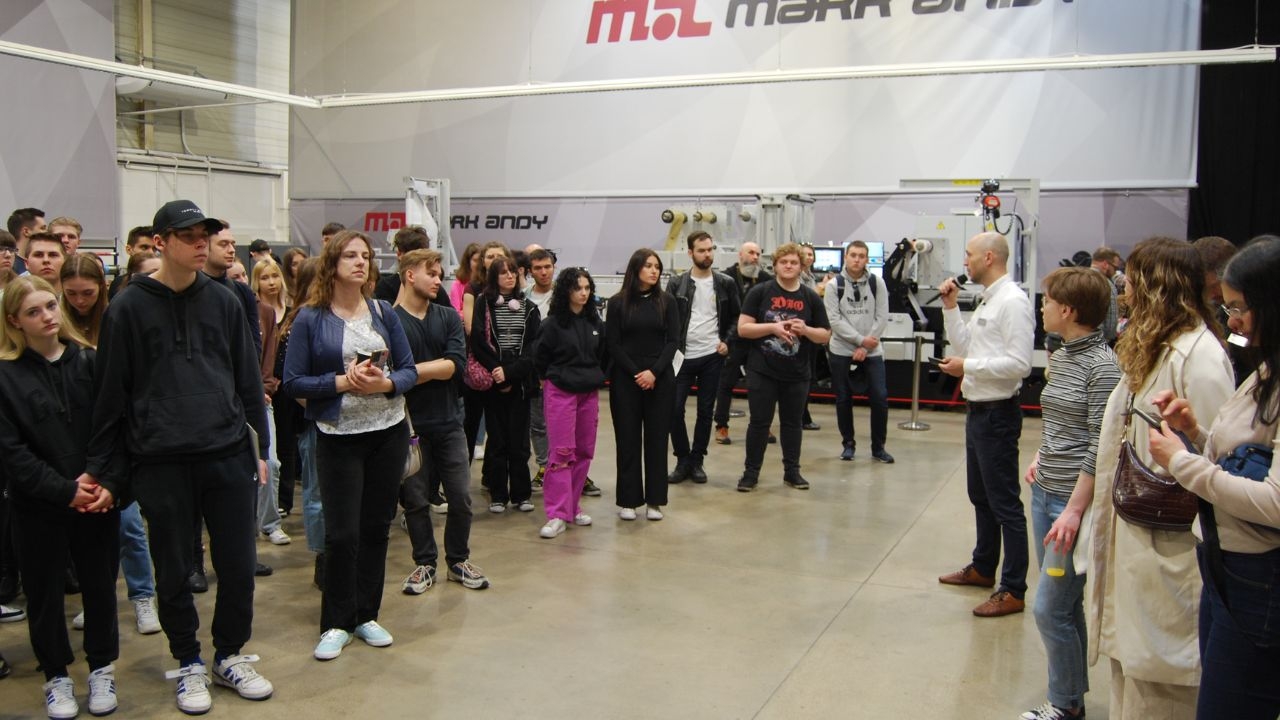 As part of its commitment to students at the Poland-based technical universities and technical schools, Mark Andy began a series of meetings at its Technology Center in Warsaw with an open house.
On April 21, more than 100 young people and their teachers, representing two technical universities (Warsaw and Lodz) and three technical colleges (Kalisz, Poznan and Zgierz), visited the company's European sales and service hub. They took part in three demo sessions, including one with an Evolution Series E5 flexo press and two with hybrid models, the toner-based Digital Pro 3 and the inkjet-based Digital Series HD. All three print techniques were shown doing live production, manufacturing different kinds of labels, including POD with participants' pictures taken during the open house. Mark Andy Poland personnel were on hand to answer the many questions raised about the presses and their technological aspects, as well as career possibilities in the label and packaging markets.
'This was the first time we had hosted such a large group of students at our open house,' says Lena Chmielewska-Bontron, European marketing manager Mark Andy. 'It was also the first visit of students from the technical colleges – previously we had only university students. We were delighted with such a big attendance as we've been committed to educational aspects for many years. As a manufacturer with more than 75 years of market experience, it's a key part of our mission and legacy to share our knowledge with the people willing to join our industry in the years to come. These events are also important because of the ongoing shortage of skilled employees in our industry. Considering everything, we're happy with the involvement of our guests in the technology and equipment we demonstrated. We answered lots of questions, and difficult ones too, so we're very encouraged with the success of the open house,' she added.
Before the press demos, Lukasz Chruslinski, European sales manager, gave a short opening speech. He underlined that printing, especially in the label and packaging markets, has huge potential and offers many opportunities for people seeking new jobs. He cited market research data and pointed out the technologies that have become increasingly popular in recent years, like RFID. 'As a manufacturer of printing presses, we're involved in RFID and the many projects it incorporates,' said Lukasz Chruslinski. 'This technology has been available for many years, but its popularity only started to grow recently because of the way it supports the entire supply chain, in terms of sales, warehousing and logistics'.
Lukasz underlined that many printers and converters have recently begun to modify their operational activities. 'They are changing from being a simple print house to a one-stop-shop, offering many other services, including data management, design, fulfillment and distribution. It's an important change in attitude especially in terms of more advanced projects like 'intelligent labels' and RFID tags. It's not enough to be a simple printer anymore, you must be a technology partner and advisor, with the printing press being a part of the entire manufacturing line. We're pleased to see so many cases of this in Poland because it relates to our customers, too,' he said.
The presses were demonstrated by Lukasz Chruslinski and Michal Mokrzycki – print specialists at Mark Andy. The toner-based Digital Pro 3 was first, and Lukasz explained how easy it is to enhance its capability with additional finishing and embellishment options, like a multi-purpose flexo unit and either rotary or semi-rotary die-cutting. Digital Pro 3 is positioned by Mark Andy as an entry-level press, devoted to short runs of up to 400m. However, as was mentioned, it is quite often used for printing longer runs as well.
The next demo was devoted to the Evolution Series E5 flexo press, which is servo-driven and was equipped with a hybrid curing system, incorporating different drying techniques. 'An easy-to-use cassette system enables a quick changeover from one drying technology to another,' he explained. 'It enables the use and drying of different kinds of inks, such as UV, LED and water-based.' With numerous other finishing and embellishment options, E5 is a very flexible, multi-purpose and highly efficient printing platform.
The third demo session was devoted to Digital Series HD, Mark Andy's flagship hybrid based on inkjet technology. 'It's our best-seller, and is extremely popular with our European customers,' said Lukasz. Digital Series HD is devoted to longer runs than the previously presented toner-based solution DPro 3 and owing to its extended color gamut (CMYK + OVG) it can reproduce approximately 96 percent of CMYK colors. With its capability of printing a highly pigmented white ink, it offers results comparable with screen printing. Like the other two presses, Digital Series HD can be upgraded with numerous finishing and embellishment options. 'Its modularity is highly appreciated by our customers,' said Lukasz, 'and many of them upgrade their original configuration as the demand from print buyers changes.'
After the demo sessions, the students had an opportunity for individual chats and discussions with Mark Andy representatives. They were very interested in the numerous print samples, including the labels printed on Digital Pro 3 with the pictures of open house participants, taken in real-time during the meeting.
'We'd like to thank all the students and their teachers for taking part and showing such a huge interest in our technology. We hope the press demos and discussions with our experts become a source of knowledge and inspiration for them. It's worth mentioning that several participants of the open house asked about the opportunity of an internship at Mark Andy, as well as help with the thesis they are preparing. All these signs are very positive and encourage us to initiate and support other educational opportunities,' concluded Lena Chmielewska-Bontron.
Stay up to date
Subscribe to the free Label News newsletter and receive the latest content every week. We'll never share your email address.