Looking back over the past 20-30 years, the great majority of all digital label presses installed to date have been either electrophotographic or inkjet.
More recently, the major conventional press manufacturers have moved to building new generation flexo printing and finishing machines, maybe incorporating screen as well, that have four, five or more inkjet units incorporated into one complete production line. Such machines are now classified under the term 'hybrid' presses. A new development for digital printing, but multiple process presses themselves are not new. 
The development and use of label presses that incorporate two or more (analogue) printing processes in-line with a range of finishing units that may include hot or cold foiling, embossing, varnishing, slitting and die-cutting has a long pedigree. Indeed, combination process machines that bring together rotary screen, rotary letterpress and/or UV flexo together with added-value finishing options, have been used for long runs of luxury brands for something like 30 years, especially for the production of labels for wines and spirits, cosmetics, and other high value goods.
However, many of these luxury markets for labels are now looking to move to shorter runs, more versions and variations, variable text or graphics, personalization and a much greater freedom of creativity. In addition, promotional programs are being extended and brands are looking to find better or newer ways of connecting with consumers, and through the use of e-commerce. 
Creative requirements
It is these changing run lengths and added-value, variable and creative requirements that have increasingly begun to challenge the analogue label press market. Flexo presses, and even combination analogue process presses with quick-change and automated set-up – both press and finishing – have been able to go some way to meeting brand demands, but have increasingly struggled to be cost-effective for shorter runs and the need for frequently changing variable content.
Digital presses on the other hand, can provide the shorter run and variable features that are now required but, up until fairly recently, could not provide the more complex in-line finishing options – generally undertaken off-line or near-line on a separate stand-alone finishing machine. Some finishing equipment vendors have admirably filled this gap – often with increasingly high specification machines – and will undoubtedly continue to do so. However, this does lead to double handling, double manning, and double set-up time and cost – and adds to the overall finished label production timescale and job cost. 
The challenge for the label – and increasingly flexible packaging and carton converter – is that as the digital label printing market continues its ongoing growth it will require an ever-greater range of in-line conversion and finishing techniques, such as foiling, embossing, laser die-cutting, metallic ink printing, reverse-side printing, laminating and coating, as well as more flexibility in the production process. This all requires increased press and finishing in-line automation. Such automation can be essential for digital label production because of the shorter run lengths common to digital print runs. Moving part-completed jobs between printing and finishing lines is more time consuming and more costly. 
Label converters undoubtedly dislike so-called 'touch points' in the manufacturing process where manual intervention is needed because it removes one of the key advantages of in-line manufacturing. In such cases, the higher cost of hybrid digital label presses with in-line, ever-more automated conversion capabilities is increasingly coming to be seen as representing a good investment in simplified and more cost-effective manufacturing. Quite simply, the added cost can be paid back via greater throughput and efficiency. 
This is where hybrid analogue/digital presses have increasingly started to come into play during the past three to five years. Even before that, and going back some twenty or so years, rotary letterpress and flexo machines were already starting to incorporate single- color (initially toner-based and then inkjet) digital printing units to providing the variable data, followed by the necessary finishing options. 
More recently there have been a number of companies providing mono inkjet units that fitted onto flexo presses so as to provide variable content, followed in the past few years by the incorporation into flexo presses of retrofitted CMYK or CMYK + White inkjet units from the likes of Colordyne, Industrial Inkjet, PPSI and IPT. These retrofit CMYK inkjet on flexo presses are today counted as hybrid installations.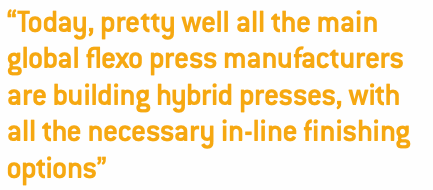 Another route to achieving high added-value finishing on digital presses has been for the leading inkjet press manufacturers to incorporate in-line finishing – initially flexo spot color, cold foiling, varnishing or laser die-cutting – into their own production lines.
Today however, pretty well all the main global flexo press manufacturers (Edale, Focus, Gallus, Mark Andy, MPS, Nilpeter, Omet, etc) are building hybrid presses, with all the necessary in-line finishing options. Many of these new hybrid machines are the result of partnerships with digital press or print head manufacturers. 
Latest market analysis indicates that there are now already well over 180 hybrid presses installed worldwide in the label industry, with a few now also being used for flexible packaging. Other, bigger web and sheet-fed press manufacturers have also developed (or are in the process of building) hybrid machines for flexibles and folding cartons. In the pipeline are increasing numbers of hybrid press orders and installations – probably adding another 50 or so machines to the installed base each year. The hybrid route is now undoubtedly well established, with many such hybrid machines becoming increasingly complex – even including the creation of bespoke hybrid presses for applications such as leaflet labels, multi-layer labels, peel and reveal labels, and more complex linerless labels. 
What seems to be happening today is that the top 10-12 percent of the press market that used to be combination process analogue presses, is now migrating partly to hybrids with a CMYK + digital function and all the necessary in-line analogue printing, embellishing and finishing units. This would currently give an annual market share for hybrid presses of, say, 6-8 percent of all new label presses. If hybrids replaced all the annual installations of combination process presses it would indicate sales of possibly up to 65-75 hybrid presses a year within the next five years. Probably no more than a 10-12 percent annual installed market share. 
Defining hybrid presses
There have been a number of suggested definitions for hybrid presses. The terms 'hybrid printing' and 'hybrid presses' are now common. However, the terminology – and what it includes or excludes – is still apt to change depending on the particular press manufacturer, end-use customer or the media. So how do we define what is a hybrid press?
It's probably easier to start by saying what it isn't. A 4-, 5- or 6-color flexo label press with a single monocolor digital inkjet head added in-line before finishing is generally not regarded as a hybrid press. However, some flexo press manufacturers with a CMYK (sometimes plus white) inkjet unit have added one flexo station that can be used for spot color, cold foil, black mark or varnishing, followed by die-cutting and rewinding units, and refer to this as a hybrid press. 
At the other end of the scale, some of the major press manufacturers regard a 'true' hybrid press as one that incorporates CMYK + White (sometimes also OGV) with a CMYK flexo press, all in-line, together with multiple finishing options such as hot or cold foiling , embossing and die-cutting. In this case, the 'true' hybrid system can be run as a stand-alone digital press, a stand-alone flexo press, or as a hybrid press combining the benefits of both, plus a range of different in-line converting and finishing options. 
In practice, and from study and analysis of more than 70 global hybrid label press installations to date, the most common format of what may be called a 'true' hybrid installation is one that takes a minimum of a CMYK + White digital inkjet unit and places one or two flexo (may also be rotary screen) stations in front of the inkjet unit (and possibly de-lamination) and places two or more flexo stations after the inkjet, then adding unwind, rewind and tension control capabilities, and incorporating stations for re-laminating, metallic ink printing, foil tinting, cold foiling or hot foiling, embossing, raised effect varnishing and die-cutting – all as specified by the converter customer.
Put all the possible options together and it can be said that a hybrid label press is one that has a minimum CMYK digital printing unit, combined with anything between two and seven color flexo stations (which may incorporate CMYK process) and perhaps a minimum of varnishing and die-cutting. In practice, it is the more complex finishing possibilities that have become particularly attractive to converters looking to add brand value.
Some of the analogue printing stations – depending on the press manufacturer and particular application – may alternatively be of rotary screen, offset or gravure, again depending on the application. Such complex printing and finishing can provide interesting and effective brand protection and anti-counterfeiting features on labels and packaging.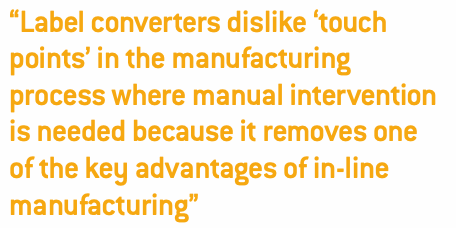 There is no doubt that hybrid label printing presses offering a variety of exciting printing and finishing opportunities are starting to become more widely accepted by the label converter. Flexible packaging and folding carton printers, as well as brand manufacturers, are also quickly catching on to the value of integrating digital printing into their wider format web-fed gravure and flexo presses, or in combination with sheet-fed offset presses. 
A key factor in these newer hybrid developments has the latest innovations in packaging inks that are now regarded as safe for indirect food contact applications for flexible substrates, folding carton and corrugated substrates. This is particularly important as, although printed packaging volumes are increasing, there has also been a significant shift to shorter runs and SKU proliferation. This can mean that a print run of 100,000 could actually be ten runs of 10,000 each.
The integration of UV flexo and UV inkjet works well. Inks for each process are chemically almost identical and can therefore print equally well on the same substrates. The same can apply to water-based flexo and water-based inkjet. Put together, flexo and inkjet technologies can today match quality, printing speeds and performance all in an in-line hybrid environment. This enables customized hybrid systems to be created that are 100 percent tailored to the printing operation's specific needs in one financial investment.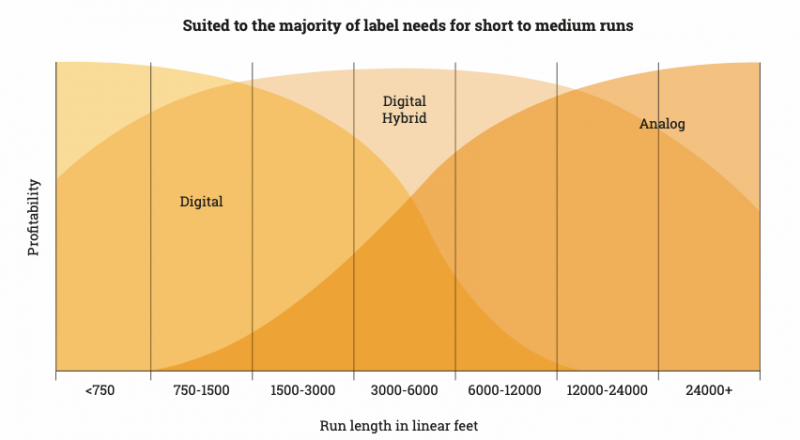 Depending on the particular requirement and effectively bespoke for each individual customer, web- or sheet-fed hybrid press lines may also be built to include turnbars, pre-coating, delamination, lamination, back-cutting, slitting and perforating as required. A diagram showing a possible typical hybrid web press construction can be seen in the image on this page. This is a relatively complex hybrid construction with flexo units before and after the digital printing, and including de-lamination and lamination, turnbar, pre-coating, cold foiling, metallic printing, adhesive printing/ coating, varnishing, cutting, perforating and slitting. 
Benefits of hybrid 
Analysis for article involved reviewing a great many hybrid press installations worldwide and looking at what converters had to say about their investment, the benefits obtained, and opportunities that the investment has provided – which appear to be almost endless. 
One of the key challenges is to make use of the potential that hybrid label and package printing presses now offer to take converters into product and market applications that are beyond anything that current analogue or digital presses on their own are able to provide. 
The traditional analogue printing processes have evolved over many years. Digital printing – whether toner or inkjet – is comparatively new. Added-value finishing systems continue to be introduced. Put all these together in one in-line hybrid press, linked to today's sophisticated automated set-up, changeover, computercontrolled and MIS integrated machines, and almost anything becomes possible.
What does the converter, and its customer, want to achieve? Variable text and graphics, multiple versions and variations, personalization, customization, raised effect and tactile finishing, serialization, embossing, metallic foiling (cold or hot), laser cutting and etching, punching, perforation, spot colors or varnishes, matt and gloss varnishing, slitting and so on. It is now possible to have all these possibilities in one cost-effective and profitable production system – whether for short or medium long runs. Indeed a hybrid system for almost any type of label need.
So what do the pioneer hybrid press investors say about their installations? Perhaps the most common of the stated benefits of investing in a hybrid machine are those relating to production or cost efficiency, to maximizing productivity, to versatility, to reductions in waste and set-up time. Typical comments include: 'Provides the best of both worlds'; 'A complete one-pass production tool'; 'Eliminates "touch points" where human intervention is needed'; 'Higher productivity'; 'Lower lead time'.
What seems certain from converter feedback is that a hybrid press installation immediately begins to provide key benefits in converters' day-to-day operations and will have a positive impact on their bottom line. 

In addition, many converters that have installed hybrid machines are using them as a means of creating new business and of adding value, taking full advantage of the many different hybrid printing and finishing possibilities. 
Some of the most common comments that press investors have set out to justify their decision making are: 'Combines advantages of flexo and advanced digital printing'; 'Flexibility to create and adapt designs more freely'; 'Flexo and digital together offer unlimited solutions'; 'New opportunities for product differentiation'; 'Suits market trend for shorter but more complex run lengths'.
Put together, the feedback from converters that are now successfully using hybrid machines already provides compelling reasons for adopting this, relatively new, production technology. 
---
The book is available for order online. More information can be also found in Label Academy section of our website.