The narrow web label industry has a long-standing genius for technological reinvention. Consider that the industry moved wholesale from letterpress and offset to flexo to digital and hybrid combinations of these processes along with screen, foiling and other value adding systems, all in the space of a couple of decades.
But the core product manufactured on these machines – pressure-sensitive labels – remained remarkably constant for most of this time. 
The reason is not hard to find – there was little motivation to change. The two decades from the mid-1970s were a period of sustained growth for PS labels as brand managers substituted PS for wet-glue, and the versatility of the PS laminate format continued to find new applications in areas as diverse as chemical drum labeling and brand security.
The dominant print and converting technology for PS labels was gear-driven narrow web in-line presses, with web tension systems designed to pull robust laminates through the printing, decoration and converting stages of the press. Handling unsupported film on this generation of presses presented a major challenge.
It was the development of a new generation of press technology based around servo motors on the print and web tension systems which allowed unsupported films to be handled. And about the same time, in the late 1990s, brands started to substitute PS and wet-glue with shrink sleeve labels. 
"Sleeve labels were the first major diversification project undertaken by the narrow web PS label industry"
Shrink sleeve labels quickly proved to be an excellent product for the agile narrow web converter, allowing market share to be taken from the wide web flexible packaging converters who dominated the volume market but could not compete at the short run end. And what was a short run for a wide web CI or gravure printer was a medium-run length for the narrow web printer, greatly increasing press uptime when printing shrink sleeve labels. So shrink sleeve labels were the first major diversification project undertaken by the narrow web PS label industry.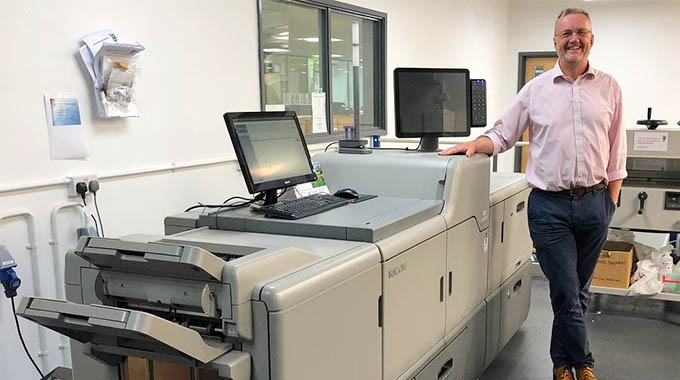 Flexible packaging 
Developments in brand expectations and technology have now opened up a new range of diversification opportunities for the narrow web label converter, this time in flexible packaging. 
On the marketing side, brands have been looking to extend the success they had with short run label production to new flexible packaging formats – and in particular, the highly versatile stand-up pouch. The ability to target different demographics with multiple SKUs without taking on additional warehousing and product obsolescence costs, along with mass customization and personalization, created a strong pull towards new production technologies.
As with the shrink sleeve market in the 1990s, virtually all flexible packaging volume was produced by highly efficient wide-web CI flexo and gravure presses, tuned for speed and throughput but slow to change over and with high levels of waste and expensive pre-press, making short run jobs uneconomic.
Flexo press manufacturers were at the same time developing presses able to handle a wide range of unsupported substrates and in wider press widths. A new category of 'mid-web' press was emerging, generally 26in (670mm) wide, and these presses were more efficient at producing the larger formats demanded by shrink sleeves and flexible packaging, greatly reducing waste compared to using narrower width presses on larger packaging formats. 
Digital was also now playing in the mid-web market after HP Indigo launched its 30in HP 20000 press in 2014.
There are big advantages in integrating flexible packaging and shrink sleeve label capabilities with existing PS label operations. Perhaps the biggest is to offer customers a 'one-stop shop', allowing the converter to color-manage different packaging formats on the brand's behalf and to act as one point of contact for managing everything from graphics to scheduling and logistics. Multiple types of labels and flexible packaging can be printed and delivered in one delivery, ready to pack.
For the brand, this means tighter control and less paperwork, only having to do accreditations once rather than on multiple print suppliers.
Knowledge base 
One of the reasons that shrink sleeves and flexible packaging remain a highly profitable niche for label converters is that the cost of entry, not just in terms of equipment, but more importantly, the skill sets, is relatively high.
At a minimum, the conventional press requirements for both shrink sleeves and flexible packaging demand heat management, automated register control and closed-loop soft tension control. Heat management mainly takes the form of chill drums, but press manufacturers are also looking to replace or augment mercury UV lamps with UV LED, which virtually eliminates the transfer of heat to the web. 
For successful shrink sleeve production, a wide range of skills need to be mastered. 
Ink selection, for example, is critically important, since inks and coatings must be resistant to 'cracking' when the film is shrunk, and also be able to resist the heat of the shrinking process.
The kind of pack the sleeves will be shrunk onto will determine other aspects of ink selection. If the container is metal or glass, this is considered a full barrier to ink migration. But for a plastics container the converter will need to consider the use of low migration inks
In terms of equipment, shrink sleeve converters will need to invest in seaming and doctoring equipment. They will also need to understand pre-distortion at the prepress/design stage (printing graphic elements, so they shrink to the correct size on the pack). Converters should also familiarize themselves with characteristics of the shrink tunnel on which the final label will be applied to the container, and ideally carry out testing on mock packs. Experienced shrink sleeve converters often invest in their own miniature conveyor belts and shrink tunnels to carry out their own tests before entering production.
Flexible skill set
Flexible packaging presents its own unique range of challenges revolving around the multi-layer construction of the materials and the fact that we are now dealing with primary packaging, not secondary packaging, as with labels. 
Converters will therefore need to acquire a comprehensive understanding of paper, foil and filmic substrates, their barrier properties and how they interact in multi-layer constructions.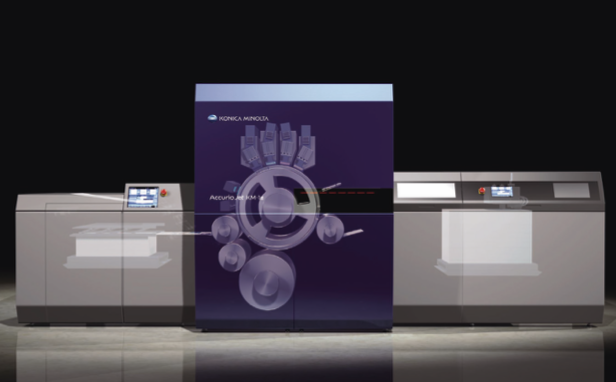 There are specialist requirements for inks and coatings Inks which have to withstand high sealing temperatures, and presses need to be specified with multiple drying/curing processes including hot air as well as UV and UV LED to handle the full range of coatings required. Ink migration issues will need to be considered, requiring low migration UV and UV LED inks to be selected where appropriate.
"'Challenger' brands are far less likely to have an established supply chain for their full range of marketing collateral needs"
Different pack sealing methods need to be understood, along with specific user requirements for the many different types of liquids, powders, gels, creams and solids that have to be packaged. A good understanding of form, fill and seal machine operations is essential.
It is also important to specify finishing equipment that can handle a variety of material thickness and tensions, and this will require a skilled finishing team as materials are often tricky to process and unstable compared to labels.
The sales team, who will be guiding clients through the specification process, will also need to be fully up to speed on all these issues. 
Often overlooked are the longer lead times and minimum order requirements when ordering materials. As the flexible packaging market is dominated by high volume printing, the supplier industry is set up accordingly, and converters will need warehousing capacity to house master rolls along with the appropriate slitting equipment.
Folding cartons
Another branch of packaging open to diversification by narrow web label converters is folding cartons. Narrow web presses can certainly be built to the specification to handle heavier stocks, and in-line flatbed die-cutters or rotary die systems allow converters to match the cut/ crease requirements set in the traditional sheet-fed offset market. 
Some typical applications of this machinery include UK-based Reelvision, which specializes in pharmaceutical, healthcare, personal care and FMCG cartons. The company recently invested in an 8-color, 540mm wide Edale FL-5 carton line, including an FDC 600 web-fed flatbed die-cutter. Reelvision was, in fact, a key partner for Edale back in 2007 when the press manufacturer set about developing a new generation of single-pass flexographic print and flatbed die-cutting technology specifically for the production of cartons, at that time called the Edale Gamma – which evolved to become the FL-5. 
Another FL-5 installation is at Morocco-based Imprimerie Ideale, in this case, a 510mm wide, 8-color machine equipped with a screen module and a rotary die station for in-line die-cutting, embossing and sheeting. CEO Youssef Ajana explains that the rotary die station is intended for longer run work, while the first machine with flatbed die-cutting is for short to medium runs. 
But there is no doubt that the folding carton market has proved a tough nut to crack for label converters, and it is an open question whether future developments in digital print and finishing will tempt them to look again at short run small format cartons. 
Such systems have been available for some time without sparking significant interest from label converters. As far back as Labelexpo Europe 2013, HP Indigo launched its HP 30000 digital carton press alongside partners Scodix and Highcon, demonstrating a fully digital workflow from print to embellishment and cut and crease.
More recently, Xeikon demonstrated short run variable in-line print + varnishing of folding cartons followed by off-line cut/creasing on a Bograma BSR 550 and folding/gluing on a Herzog+Heymann unit.
But Xeikon's Filip Weymans confirms that there has not been a serious uptake by label converters, who have shown far more interest in stand-up pouch and paper cup applications as a means of diversification. In the case of the HP 30000, buyers have tended to be bigger multi-site converters who might also have separate label operations. 
The 'commercial' space
The launch by the Tarsus Group (organizer of Labelexpo) of the Brand Print series of shows poses an interesting question for label converters – could the commercial print sector be a new frontier of opportunity?
Brand Print focuses on print for the retail market – typically POS/POD, indoor and outdoor self-adhesive graphics, printed shelf display units, and so on.
Would any of these markets be of interest to the narrow web label converter – and what kinds of investment would it entail? 
To answer that question we need to examine the seismic shift taking place in the brand/retail landscape. Here a new generation of 'challenger' brands is taking on the established global players and carving out new niches, especially amongst younger, more social media savvy and lifestyle-conscious consumers. 
'Challenger' brands are far less likely to have an established supply chain for their full range of marketing collateral needs. These might include in-store display units, signage, indoor and outdoor graphics, and even stand graphics and brochures to take to trade shows. The main technology used to print these products in the commercial print sector is Wide Format inkjet.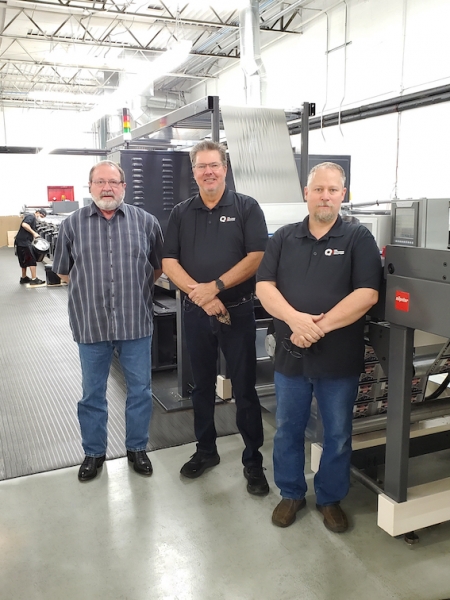 Wide format printers can be anything from 18in to 100in wide (45-254cm), with anything larger known as Grande or Ultra-Wide. It is the former systems we are interested in.
For some years, we have seen an increasing take-up of wide format printers by label converters, and suppliers such as Roland DG have been promoting these machines at Labelexpo for many years. 
An excellent example of a narrow web label converter really pursuing this route is UK trade printer Baker Labels. MD Steve Baker already knows a thing or two about diversification, having shifted the company from digital-only to incorporate flexography then setting up a 'commercial' Print Bureau as a complementary operation and most recently, a division supplying digitally printed flexible packaging.
"The development of a new generation of press technology based around servo motors on the print and web tension systems allowed unsupported films to be handled"
The Print Bureau's machine line-up includes a Roland Versa UV inkjet and Roland Soljet ProIII wide format printer with Matrix laminator and Graphtec cutting plotter. To this, Baker has added two Ricoh Pro C5100 color laser printers and a Ricoh Pro C7200x Graphic Arts Edition press.
The ProC7200x is an interesting machine, crossing over into both the commercial and packaging spaces. It is a 4-color toner-based press with an additional station offering optional special colors and white, clear, invisible red, neon pink and yellow toners. An in-line finisher allows the press to create booklets from duplex print work.
Explains Steve Baker, 'While our main focus is on the roll label market, the quality that can be achieved on these presses helps to complement our offerings. Ultra-short runs, proofing and mock-ups with embellishment effects can be produced in a cost-effective way without using up the main presses.'