Is the label industry ready for a carbon neutral world?
When the pandemic passes, focus on sustainability will only increase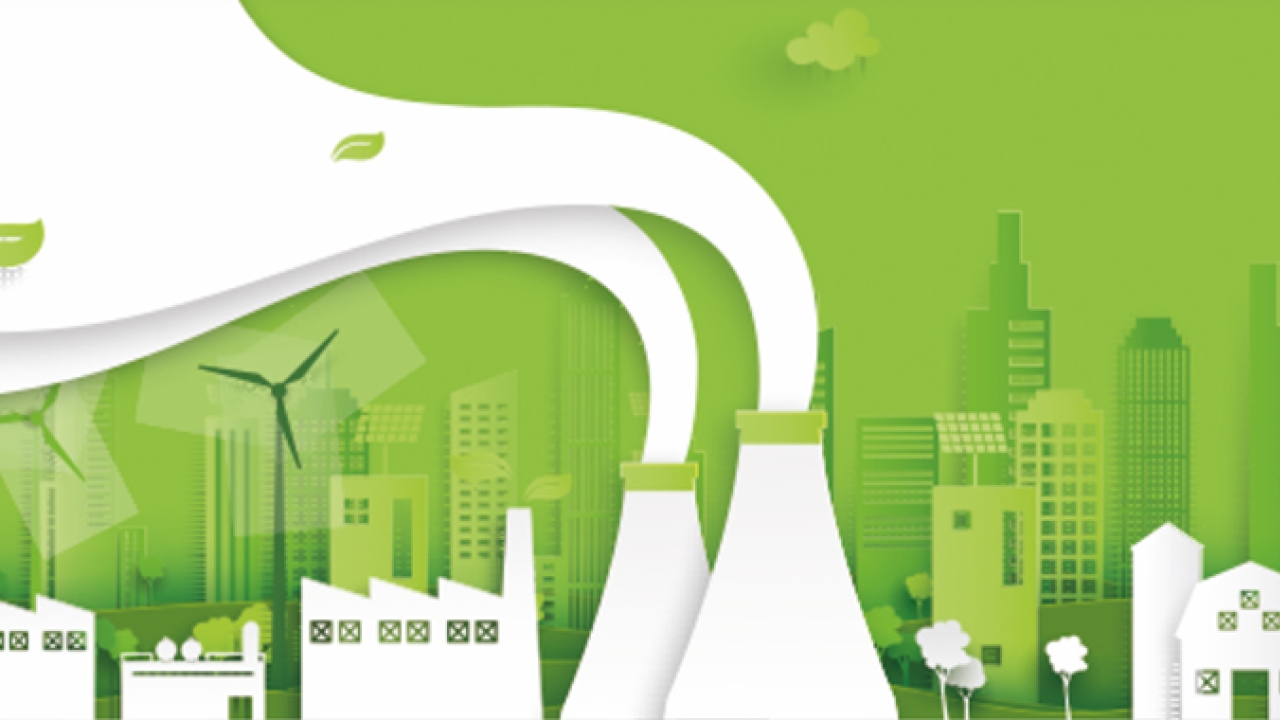 2020 was a defining year for the world, with the Covid pandemic having a major impact on governments, populations, manufacturing and retail. While much of the label industry has fared better than some manufacturing sectors, it has nevertheless brought about a fair amount of upheaval, rescheduling, sourcing and probably rethinking on the way the industry operates.
"The label industry is surely one of the more resourceful industries when it comes to adapting to, and pioneering, change"
With Covid vaccines now being rolled out in many countries, and stringent lockdowns still being implemented, there is hope that things will start to improve and stabilize later this year – perhaps as early as the summer. Governments worldwide will then start to revert to other national and international issues that they believe need attention and have been somewhat on the sidelines for the past year.
Issues such as climate change and the environment, for example. It has been noticeable that with considerably less air travel, and fewer miles driven by diesel and petrol vehicles, that carbon emissions have been reducing in much of the world – initially in the first lockdown by 17 percent, but now nearer five percent when compared with the year before – and that air quality has started to become cleaner and less polluted. 
This change and the potential to reduce emissions even further has been noted by the leading climate change organizations, associations and by governments, all of which are already starting to increase pressure for clean air progress to be continued and even enhanced.
November this year sees last year's postponed 26th climate change conference (COP26), a global United Nations summit event, take place in Glasgow. The stated objective of COP26 is 'to build a truly Global Coalition for Carbon Neutrality by the middle of this century'. The summit, according to UK Prime Minister, Boris Johnson, will be part of a 'defining year of climate action'.
Further enhancing moves for action the new American President, Joe Biden, in one of his first actions, committed the USA to rejoining the Paris Climate Accord Agreement, a legally binding international treaty on climate change. It was adopted by 196 Parties at COP 21 in Paris, on 12 December 2015 and entered into force on 4 November 2016. The goal of this agreement was to limit global warming and achieve a climate neutral world by mid-century. Some countries are already aiming, or acting, to bring this date forward.
Label industry impact
So how might all of this impact the label industry? The use of fossil fuels to power factories, buildings and transportation that all release substances, such as carbon dioxide, into the atmosphere – called the greenhouse effect – and warm up the Earth, will undoubtedly be further targeted. The aim being to decarbonize the energy sector. Continued moves to speed up the use of electric vehicles and the need to provide charging facilities at places of work, as well as possible alternative ways of powering and heating homes, buildings and even label plants using solar, wind and heat pump energy solutions, can be expected in the not-too-distant future.
Further actions and legislation against waste and the way it is disposed of, often also adding to harmful global emissions, can be expected as a result of the COP26 summit, with world leaders again endorsing the need to make climate change a priority. For change to be effective, much of it will need to be led by governments, trade bodies and industries. Big brands and businesses are increasingly supporting and adopting the ever-growing climate change goals, all eager to communicate their commitment to sustainability in response to consumer demands to reduce their carbon footprint.
Fortunately for the label industry, the leading label associations around the world have been active for some time in looking at waste, sustainability, recycling, environmental issues and relevant legislation, and do much to inform, support and encourage their members in climate change and environmental developments.
Finat, for example, have created a portal for the label industry on sustainability, recycling, and legislation that provides an overview of all relevant information included in their bi-weekly Finat e-newsletters, as well as other relevant information on Finat initiatives and projects, including recycling, life-cycle assessment and food safety.
The Finat Sustainability, Recycling and Regulatory Affairs Committees actively work to inform members, initiate new projects and to represent the common interest of members towards decision-makers at a European level in the areas of legislation, recycling and sustainability. 
On the initiative of Finat, the two leading trade associations for the label community, TLMI and Finat, additionally joined forces in a project to produce a harmonized Life-Cycle Analysis (LCA) Guidance Document and sector approach. 
"Let's make sure the world of labels is at the forefront of this new sustainable future"
A further area of activity by Finat is on food safety, a topic that is under ever-increasing scrutiny, with a number of the national label associations having produced in-depth guidance for their members.  
Similarly, TLMI provides resources for its members, including an environmental management system designed specifically for the label industry, together with committees where collaboration on environmental topics can enable understanding.  
TLMI also collaborates with like-minded associations in creating a holistic approach to resource minimization and recycling solutions, and actively participates with other organizations such as the Association of Plastic Recyclers (APR) and the Sustainable Packaging Coalition.
TLMI and the Flexographic Technical Association (FTA) also support Sustainable Green Printer (SPG) certification from third-party organization, the Sustainable Green Printing Partnership. Certification elevates a printer into an elite group of top sustainable printers that are committed to exceeding sustainability targets by reducing waste, conserving energy, sourcing sustainable materials, creating a safe workplace, continuous improvement, and lowering their carbon footprint. 
Worldwide, there are increasing numbers of global corporations, retailers, NGOs, universities, packaging and label converters, raw material and processed material suppliers that are to some degree joining forces to leverage their collective expertise to overcome sustainability challenges. 
There are also a number of generic environmental management systems (EMS) available on the market today. These systems and databases integrate procedures and processes for training of personnel in environmental management, and the monitoring, summarizing, and reporting of specialized environmental performance information to internal and external stakeholders of a manufacturing operation.
Looking at some of the more recent specific label industry initiatives, Avery Dennison has significantly improved scores awarded by the Carbon Disclosure Project (CDP) by publishing a policy on climate that acknowledges the imminent threat posed by climate change and the company's strategy to move toward a lower carbon future, aligned with the Paris agreement and the recommendations of climate scientists. 
The company ended 2020 with continued progress against their 2025 sustainability goals and re-committing to its role as one of the sustainability leaders within the global value chain. 
UPM Raflatac is also strongly committed to sustainability and is working towards labeling a smarter future beyond fossil fuels, with a focus on reducing the use of raw materials and using recycled and renewable materials in its products.
In December last year, MCC Label announced that it had joined companies from around the world in the creation of a new consortium, CELAB: Toward a Circular Economy for Labels. CELAB is an initiative founded by companies in the self-adhesive label industry to create greater circularity for its products by enhancing and promoting recycling solutions around the world.
In forming CELAB, MCC Label joined other leading companies in the self-adhesive label industry to facilitate this collaboration at a global level, foster regional initiatives and find and encourage the universal adoption of industry best practices.
With increased recycling capability gradually emerging from suppliers, producers, waste management, chemical recyclers and others, there is undoubtedly a tremendous opportunity to facilitate collaboration with partners up and down the label industry's value chain.
Sustainability initiatives 
Look through the pages of each issue of Labels & Labeling – or the magazine's online archives, together with the vast library of Label Academy book content and master class presentations now available on subscription – and there will be numerous examples of recycling, carbon solutions, sustainability, waste management, energy reduction and climate change initiatives that are available for study. 
The label industry is surely one of the more resourceful industries when it comes to adapting to, and pioneering, change. Yet more needs to be done to meet further environmental and climate change policies that will undoubtedly come over the next one, two, three or more years.
In particular, it should be considered that buildings account for around 40 percent of the world's energy use and a third of carbon emissions, and can therefore become one of the most cost-effective carbon reduction opportunities. We can surely expected governments to focus more on this area after COP26. What more can the label industry do?
Despite the problems of the Covid pandemic, there are now a considerable number of people worldwide – particularly the younger generations – that consider climate change and carbon reduction to be the most important of the challenges that the world is facing today. Their voices are increasingly being heard. 
Climate change action is certain to be significantly increased to achieve the goals of the original Paris Agreement and actions that come out of COP26 in November this year. The years since the COP21 Agreement came into force have already sparked a range of low-carbon solutions and new markets. More and more countries, regions, cities and companies are establishing carbon neutrality targets.
The label industry needs to be ready for what is still to come. It is going in the right directions, but there are undoubtedly challenges still ahead. Let's make sure the world of labels is at the forefront of this new sustainable, carbon reduction and carbon neutral future.
---
For more Mike Fairley columns, go to: www.labelsandlabeling.com/contributors/michael-fairley
Stay up to date
Subscribe to the free Label News newsletter and receive the latest content every week. We'll never share your email address.