Web inspection, cleaning and control
In the process of producing labels by any printing process, it is important to know that the quality being produced is first of all consistent and second does not develop any printing faults during the press run. This is particularly vital in applications where 100 percent inspection is necessary such as pharmaceutical or security segments. Brand owners of high value, prestigious products are understandably concerned that every label or package with their name on is perfect. From the printer's point of view, it will need to know that the quality of the printed result throughout the print run does not vary and meets agreed standards.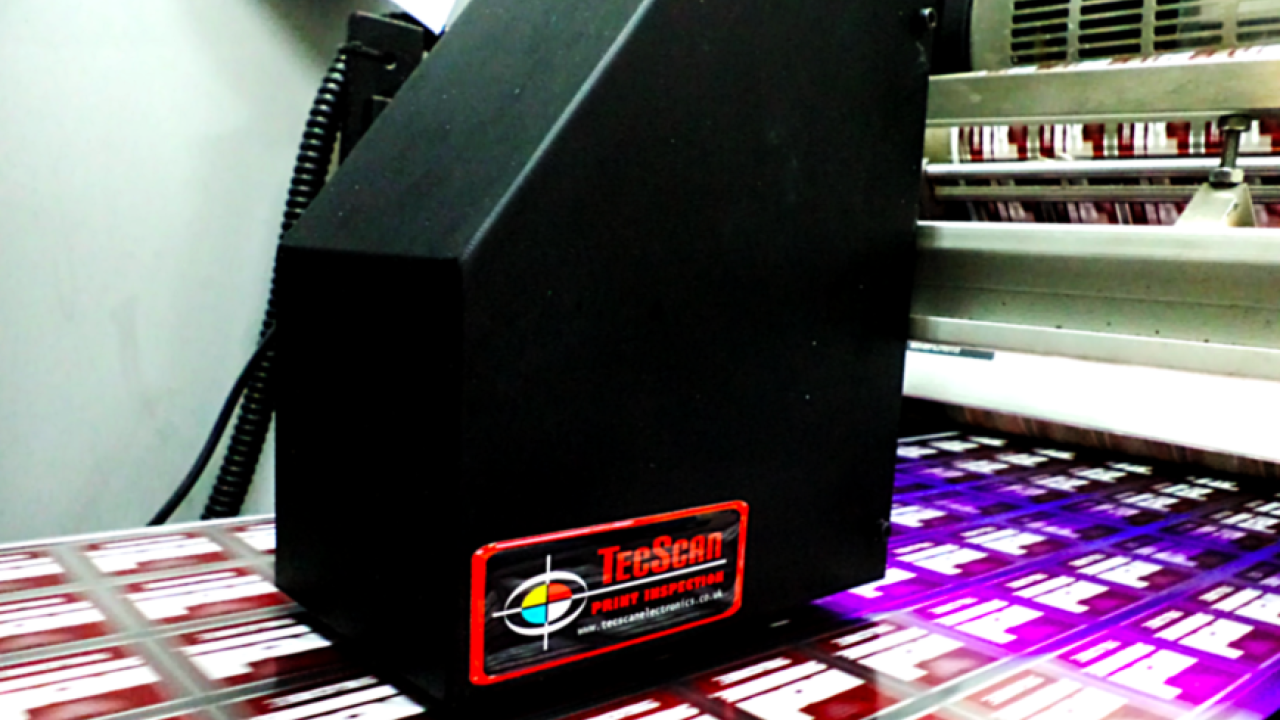 To ensure that the print quality is not compromised by dust and dirt emanating from the reel of paper or film, it is important that the substrate is kept clean as it enters the press. Equally, the print quality must controlled throughout the press run and factors such as tension and web guidance are monitored and kept within acceptable production limits.
Web inspection
Monitoring print quality these days is normally carried out in-line on the press, although systems are available to inspect print output off-line. In these modern times we take color printing for granted, but back in the mid 1980s in-line color inspection was in its infancy, as was the wider use of color.
However, one company took the brave step to research and manufacture the first color inspection system manufactured in the UK and Europe: Tecscan, based in Wales. It was first shown at the drupa show in 1982. The company still exists more than 35 years later and tends to major on bespoke systems for special applications.
Label converters are today being squeezed between two seemingly opposing forces: increasing pressure from brand owners regarding value chain optimization and sustainability on the one hand; and increasing competition, high production overheads, and high employee turnover on the other.
To deliver improved economics, converters need to reduce waste and pollution and optimize their label production processes, shifting the market from the overall practice of web viewing inspection towards 100 percent inspection technologies. At the same time, they need to implement quality standardization methods on print jobs and applications in order to meet the brand owners' expectations for quality and repetitiveness across their SKU portfolio – a challenge that requires a more comprehensive approach to their quality assurance practices.
The first consideration when choosing an inspection system must be: what are the inspection goals?
• Option 1 – Basic inspection for quality assurance
Some converters need only very basic inspection – the ability to detect large and obvious defects (typically between 0.3 sq mm and 1 sq mm defect size), to prevent customer rejections. This can be handled well enough by a relatively low-cost system, typically a 100 percent inspection system installed on a rewinder or similar finishing equipment. But this kind of low-cost product does come with a disadvantage that can have a hefty price tag: problems can only be detected after the job is printed, often requiring large amounts of printed material being thrown away. In extreme cases the entire job has to be discarded and completely reprinted.
• Option 2 – Upstream inspection for process control
A more advanced system provides upstream quality control to reduce waste. These automatic 100 percent inspection systems are typically installed directly on the press and can vary in price according to their overall quality, robustness and the number of options and features.
With an on-press inspection system, converters are able to detect print defects in real time, which means that they can apply corrective actions immediately – allowing them to save printed waste that would be rejected when the job is complete. Typical defects include equipment malfunctions such as inconsistent pressure, a broken doctor blade, worn-out plates or even the use of the wrong plates.
Having a system installed solely on the press may not be enough. Converters still need the ability to replace specific defective labels on the roll or to remove certain portions in specific lanes – an operation that in most cases can only be done on finishing equipment.
This can potentially be solved by placing a second inspection system downstream on the rewinder, an arrangement that can save waste and allow the roll to be properly prepared for the customer. But this approach could double the capital equipment cost, without really optimizing the inspection workflow stages. In this scenario, the rewinder may stop at every single defect identified by the inspection system, even if many of these defects have already been reviewed on the press and dismissed by the operator.
• Option 3 – Smart factory inspection for accelerated business growth
A more comprehensive solution is to implement an end-to-end automated inspection workflow, also known as smart factory inspection. This has been adopted by many leading converters, especially those serving tier-one brands, and are now starting to gain more traction among smaller companies who are looking to strengthen their competitive edge and win larger accounts.
One element of smart factory inspection relates to automating the inspection process between the press and the finishing equipment. These are typically more high-end 100 percent inspection systems that are positioned on the press, offering greater speed and resolution. They automatically link to the entire downstream workflow in a way that allows the operator to print the roll under real-time inspection, edit the roll based on a pre-defined quality threshold, and only then run it through the rewinder to remove irrelevant defects from the job. Beyond reducing waste and assuring quality products, saving time is the main advantage of this automated workflow. This is because the rewinder will not stop at every single defect, but only at the relevant defects defined by the operator during the editing stage.
Currently, only a few vendors, among them AVT, offer this automated configuration. System stability varies greatly, based on the vendor's R&D capabilities, the length of time the system has been on the market, and the vendor's ability to successfully service and support advanced workflow configurations. This ability depends primarily on the vendor's overall market experience in advanced inspection systems and workflows for the high-end label market.
Automating inspection between the press and finishing equipment is only part of the story. When looking into next generation developments for smart factory inspection, market-leading converters are constantly seeking to expand their automation capabilities to other workflow stages. The goal is to fully automate the entire production process from pre-press to finishing. Which brings us to the second element.
This kind of end-to-end automation is uniquely available with AVT automatic 100 percent inspection systems, thanks to the company's co-development synergies with Esko and X-Rite as a part of the Danaher Product Identification Group.
For example, AutoSet is an automated job set-up module that allows each job to be quickly uploaded from pre-press directly to the press – essentially a 'plug and inspect' process. This unique feature reduces dependency on the operator's skills, eliminates human error and saves valuable job set-up times.
Another example is the ability to create a digital link between X-Rite's ColorCert color quality control system and AVT's Spectralab in-line color measurement device. This automated process automatically sets up a job for in-line color measurement and generates a color scorecard reporting on color quality performance after printing.
The main advantage of automation driven systems of this type is the ability of converters to set cross-plant quality standards and ensure that, regardless of the print equipment, the operator's skills, or the complexity of the print application, brand owners' quality demands are met 100 percent of the time for all jobs, without exception.
Converters are continuously challenged with increasing competition, high production overheads, manpower turnover and brand owners' ever-tougher quality requirements. The need to reduce material waste, optimize production efficiencies and reduce overall printing costs are driving label and narrow web converters to embrace new and advanced methods for automating their production workflow and quality control processes across their manufacturing lines.
Web guiding, cleaning and static control
With the demand for a high-quality finish in labeling applications ever increasing, converters are under pressure to deliver materials of an exceptionally high standard
to give brands an edge in a hugely competitive marketplace. Quality control is essential to achieving this, through pairing robust web inspection systems with reliable web cleaning and static control technology.
With speed of delivery also in high demand and converters working to increasingly tight deadlines, the generation of static is an ever greater risk, and the attraction of dust, dirt and other assorted particles being drawn to a fast-moving web is all the greater.
• Static control
One of the most well-established methods for eliminating static charges is the use of ionization technology, which employs high voltage AC or 'pulsed' DC to produce ionized air to create a high-energy 'cloud' of positive and negative ions to neutralize surface charges.
Static control bars, such as those found in Meech's Hyperion range, have marked a transition from AC systems to 24v integrated power supplies, providing more efficient ionization. More resilient to contamination build-up than previous systems and easier to clean, they also have an improved shockless design which makes them safer for operators to handle.
Because no two converting lines are quite the same, finding the right static control products, and the optimum position in which to install them, can be a challenge – especially when space is limited. Here the range of options in Meech's Hyperion range means there is something for everyone, and in situations where static control solutions need to be installed in particularly tight spaces, Meech manufactures the most compact pulsed DC bar available on the market, the Hyperion 924IPS Short-Range Pulsed DC Ionizing Bar. At just 22mm wide and 32mm high, this bar is ideally suited for installation on converting lines where space is at a premium and where a static control system needs to be fitted into a very small area without any compromise to production flows.
Beyond the Hyperion 924IPS, Meech also offers a range of mid and long range ionizing systems. Long range ionizing systems achieve highly efficient static control in general applications, whereas for short range applications, plug and play bars are better suited. Recently developed mid-range systems incorporate powerful ionization and up to 50 percent greater maximum working distance than traditional mid-range bars.
• Web cleaning
For the best results, web inspection and static control systems should also be used in tandem with a suitable web cleaning system. Web cleaning technologies can be divided into two broad categories – contact and non-contact. Deciding on the most practical system depends on the web materials being processed, the application, the flexibility required by the converting line and the speed of the web.
Contact cleaners, as the name suggests, make contact with the web and break the boundary layer. Some such systems incorporate twin elastomer rollers, which are in full contact with the entire width of the web and physically lift debris from the web's surface. They are generally better suited to slower moving webs and more robust materials. Non-contact systems, such as Meech's CyClean, use blow-and-vacuum technology either side of the web, stripping the boundary layer of contaminants which are captured and subsequently removed.
Backing up a comprehensive web inspection system with appropriate static control and a web cleaning system can ensure consistent quality, reducing the need for maintenance and ensuring high levels of health and safety are observed.
• Web guidance
BST eltromat has developed new options for automatically positioning its CLS Pro 600 digital sensor with an FVG POS 100 sensor positioning device, making it even easier to set up web guiding systems. Machine operators have a number of options. They can either manually enter the position data for the digital line and contrast sensor via the ekr 500 digital Unit Touch controller, or take over the position data via bus protocol directly from a higher-level PLC, in which this data is stored in recipes, for example.
'All of the options streamline the process of setting up the web guiding system even more. This further increases the availability of production machines. If the position data of the lines or contrasts to be scanned are automatically transmitted from other systems or stored orders, the set-up times in the web guiding system can be reduced by up to 40 percent. At the same time, this eliminates input errors. The result is higher operational reliability, which yields less waste,' says Ingo Ellerbrock, head of product management at BST eltromat, stating the main benefits for integrating the three key components of the web guiding system. The term Industry 4.0 stands for digitalization and networking production processes with the goal of significantly increasing efficiency. 'The automatic setup of the web guiding system via our linked components is the basis of effective production process improvement.'
The FVG POS 100 was developed by BST eltromat to control the edges and centers on wide web materials. The sensor positioning device is mainly used where web widths are changed frequently, web guiding controllers  are installed in locations that are hard to access within machines, or where a high degree of automation is required.
At Labelexpo Europe 2019, BST eltromat demonstrated the convenience of automatically setting up a web guiding system with an exhibit where example job data was scanned via QR codes. They contained both position data for the sensor and recipe data. After scanning, the CLS Pro 600 digital line and contrast sensor automatically moved to the specified positions thanks to the sensor positioning device and set itself up automatically. Visitors were able to see the efficiency and safety of the web guiding system set-up process. The ekr 500 digital Unit Touch controller with the Commander is operated intuitively via a touch screen. Using it, operators can easily switch between different views such as web width status messages, and the web position offset setting in a new way. The self-explanatory representations on the display always offer only those options that make sense in the individual situations.
In this article we have examined some of the techniques that can be used to ensure that the quality output from a label converter meets the expectations of the quality assessment department of the brand owner. The converter benefits by reducing the amount of waste created by defects arising during the press run and even more important eliminates the necessity to reprint jobs which unavoidably would reduce or eliminate the profit margin. Investment in any or all of these technologies would give peace of mind to the converter by ensuring output is of the highest quality.
Stay up to date
Subscribe to the free Label News newsletter and receive the latest content every week. We'll never share your email address.