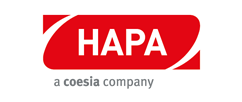 Headquarters
Chriesbaumstrasse 4, Volketswil, 8604, Switzerland
Sector(s)

Flexible packaging
Folding cartons
Labels
About
Hapa AG, a global operation based near Zurich, Switzerland, delivers just in time and on demand, in-house printing solutions for pharmaceutical, medical, and FMCG industries. As a source of "complete package" solutions, the company provides world class life-cycle services, technical training, print mat engraving services, and tailor-made inks.
Hapa integrates Swiss printing performance to improve lean and agile production, cutting material and process waste, and reducing packaging-material inventory by up to 80%. Ideal for micro runs and special promotions, the UV flexographic and UV DOD, and Hybrid technologies print on all pre-printed or blank packaging substrates, from foils, plastics, and blister-packs to single components. No printing experience is necessary to operate Hapa systems.
Founded 1933 and headquartered near Zurich, Switzerland, Hapa employs 190 people worldwide, operating in Switzerland, the US, UK, Germany, India, Mexico, Brazil, and Japan. The company is part of Coesia, a group of innovation-based industrial solutions companies operating globally, headquartered in Bologna, Italy.