Labelexpo Americas: UV LED lights the way
According to research from Yole referenced by Keate Despain, vice president of marketing at Phoseon Technology, the market today for UV technology is worth around US$700 million and is set to rise to US$2 billion over the next five years.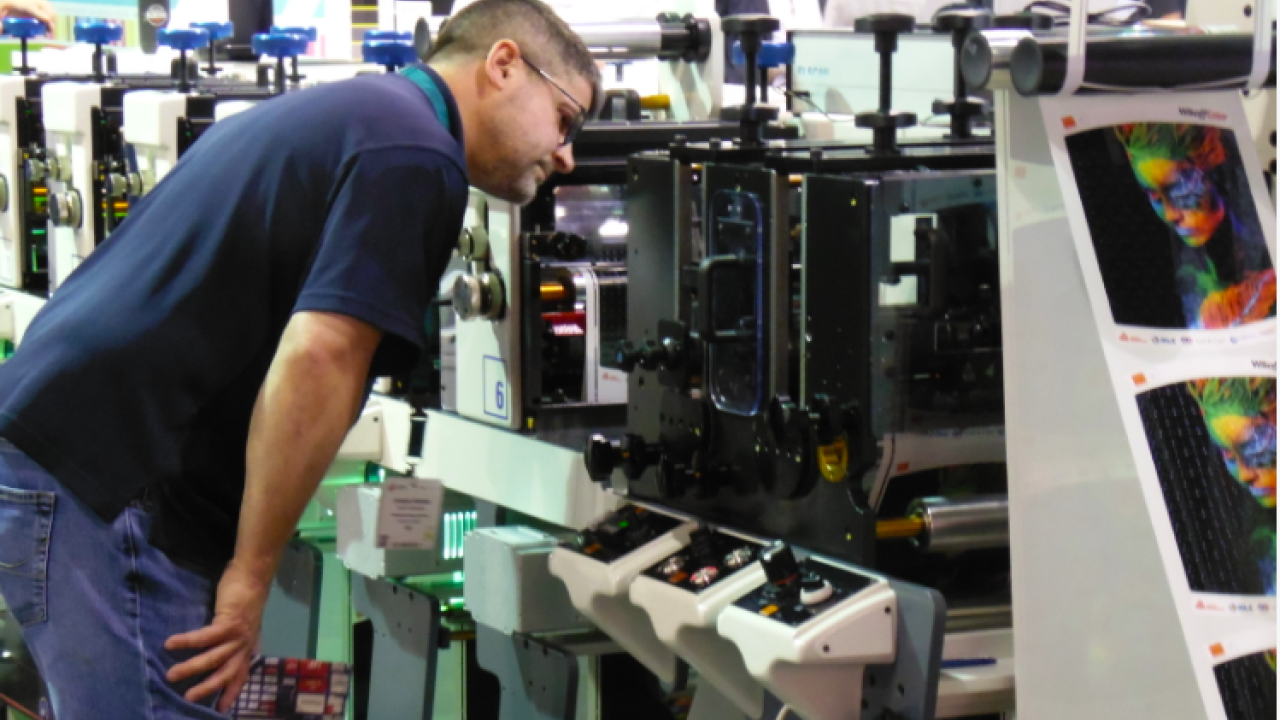 Initiatives such as the UVFoodSafe industry group are doing their bit to facilitate this, while ink and curing specialists continue to enhance their UV offering with new technologies to provide a wider scope of application and increase adoption.
These could be seen first-hand at Labelexpo Americas 2018. Actega North America's next generation UV ink system, ActExact, is designed to offer a wider color gamut, improved press speeds and allow for crisper print details. Magnum Inks & Coatings has a new UV white ink for narrow web applications. Strong adhesion and flexibility make it suitable for shrink sleeve applications as well. 
Flint Group's ink portfolio for short runs of food compliant flexible packaging includes new UV curable and water borne inks. Zeller + Gmelin's portfolio includes the 30, 32, 36 and 37 Series UV flexo inks for labels, packaging, cartons, shrink sleeves and low migration applications. Siegwerk's Sicura Flex Orbis ink series is another new generation of UV flexo ink, especially developed for pressure-sensitive paper and film labels as well as unsupported films and shrink sleeve applications. This series offers high color strength and low viscosity for improved print performance at higher speeds. It is a monochromatic base ink series, providing a wider expanded color gamut.
Alongside these new formulations, GEW has developed the E4C arc lamp, offering the highest power available from the GEW range. E4C features optically tuned reflectors to maximize curing power but which are water-cooled to support the highest UV power whilst limiting heat transfer to the substrate. It features a compact E2C profile to fit the widest range of machines. Further, GEW's mUVm is a system that has been calibrated to monitor UV output with high accuracy, enabling the operator to ensure that undercured product does not reach the customer. 
LED gains 
A far bigger driver for growth of the UV market however will be the rise of LED technology. Despain, again referencing statistics from Yole, notes that UV LED is growing at almost six times that of mercury-based technologies. Today, it's worth $200 million of the US$700 million market but will reach US$1 billion by 2023.
Robert Rae, technology development manager at GEW, identifies a lower investment cost and greater availability of suitable products as changing the conversation when it comes to LED. 'With LED inks now widely available and the cost of LEDs reducing at quite a rate, there are more and more LEDs in the market and the upward investment trend is accelerating.'
Despain said: 'There's a huge market transition as we see a move away from mercury technology to UV LED. Inkjet is our single biggest market while the narrow web flexo market has been slow to adopt UV LED. That is changing and we are looking to push the flexo industry forward.'
To this end, Phoseon Technology has developed FireJet FJ605, a self-contained and air-cooled UV LED curing lamp for flexo applications. It is suitable for those that require speeds up to 1000ft/min (300m/min) in print widths of 600mm or 675mm, as well as advanced digital interface capabilities for tight process control, such as low-migration processes for food packaging.
Phoseon has also developed FireEdge FE100, a UV LED curing lamp for digital inkjet pinning. It has no internal fan and is cooled passively through natural convection. TargetSure is another new technology from Phoseon and detects if UV output is within the expected defined range and immediately notifies the user of UV output degradation and inconsistencies.
Excelitas Technologies' new OmniCure AC8-HD UV LED curing system features patented control technology for addressing individual UV LED modules to enable tight irradiation across the UV emitting length, as well as between heads. With three standard cure widths – 6in (150mm), 9in (225mm) and 12in (300mm) – these units can be adjoined to customize and achieve countless curing sizes without compromise of uniformity.
The Cobra Cure FX series from ProPhotonix is another configurable platform that is customizable to user-specific UV curing applications. This platform includes compact, fan-cooled UV curing lamps at a range of power levels up to 16W/sq cm and delivers intensity and edge to edge uniformity. UV LED lamps can be configured for pinning or full curing applications.
Ushio America's new i150 III Series uses the company's proprietary Master Peak Technology to achieve 17.4 W/sq cm with a working distance of 5mm and is available at 395, 365, 385 and 405nm wavelengths. The i150 III series includes functions such as variable control output that ranges from 14-100 percent and features a user replaceable LED board.
Dual-cure
To maximize uptake of LED, a number of dual-cure technologies exist for printers to ease the transition from traditional technologies.
Flint's EkoCure XS is an ink for shrink sleeves with unique rheology and curing properties resulting in enhanced on-press performance, whether a conventional UV or UV LED press running at high speed. Wikoff Color's Photoflex LED is capable of running at speeds in excess of 750 ft/min on paper, paperboard and films. This durable set of process and mixing colors cures using 395nm LED lamp systems or traditional UV lamps.
Eckart America has new inks for label and folding carton applications, optimized as dual-cure systems. Silver foil-effect inks Ultrastar UV LED Select, Ultrashine UV LED Select and Topstar UV LED Select are alternatives to cold foil, hot foil stamping and metallized substrates in flexo, sheet-fed offset and offset, respectively. 
Converters may also choose GEW's ArcLED system that allows use of a conventional UV mercury arc lamp or LED array on the same print unit, with Rae noting that both arc and LED technologies have benefits and negatives. 'Arc lamps perform better for curing hotmelt varnishes, for instance, achieving good gloss levels. LED varnishes are prone to yellowing. However, arc lamps are less controllable for a number of reasons. LED technology is digitally controllable and runs cool. They offer performance benefits in curing white ink, screen inks and laminates.' 
Another option is Fujifilm's Illumina UV LED retrofit curing system. This allows traditional UV and water-based flexo presses to be converted to UV LED curing. The compact design of the Illumina unit ensures it will fit easily onto most UV flexo presses of any width and will also mount directly onto any water-based flexo press without the need to add an extra roller. The Illumina Coldcure system generates almost no heat with the UV dosage below 140 degrees F, the temperature at which shrink films begins to shrink. 
The UV LED curing lamp system is designed to operate with the Fujifilm 300 Series flexo ink system. Combined, Illumina and 300 Series inks are claimed to bring the benefits of low energy UV LED curing to traditional flexo presses through a fast and simple conversion process. The 300 Series ink range, featuring line and process colors, are compatible with all plates designed to work with UV-based inks.
Stay up to date
Subscribe to the free Label News newsletter and receive the latest content every week. We'll never share your email address.