Andy Thomas-Emans column - Labelexpo Arena showcases automated future
Labelexpo Europe 2023 will feature the first Automation Arena in five years, allowing visitors to see a real-time exchange of machine data with an MIS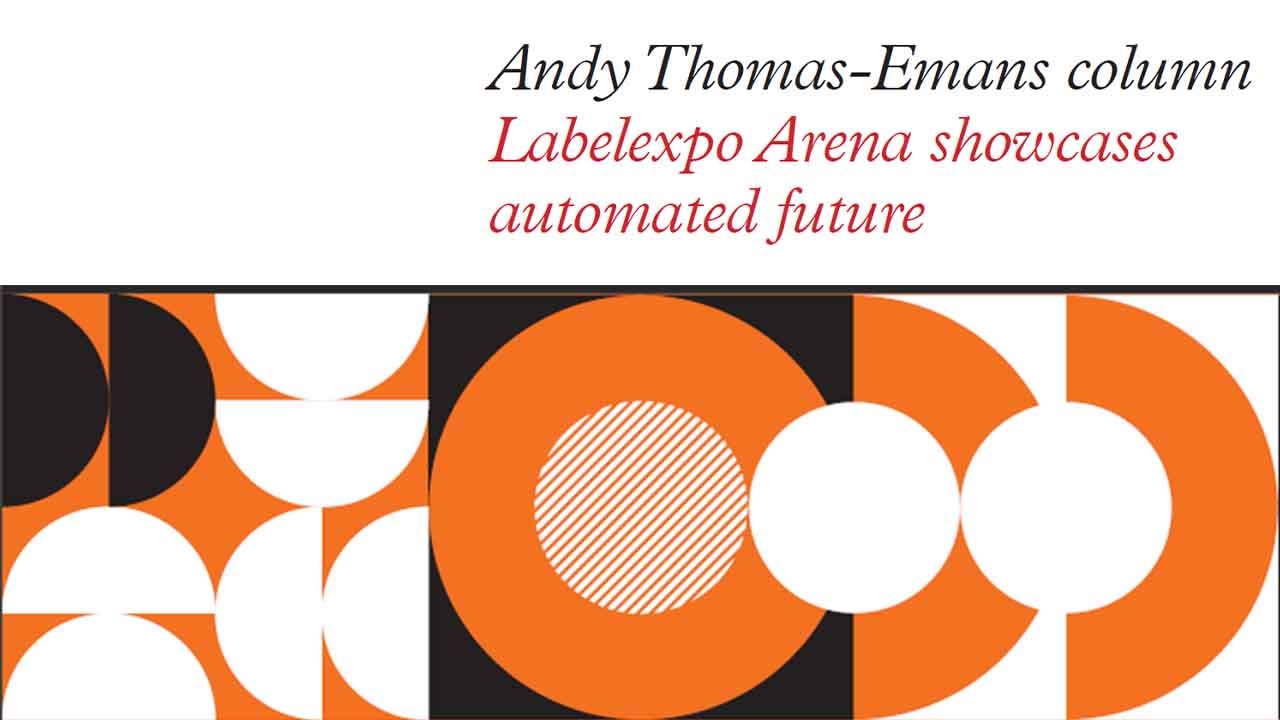 The Automation Arena is set to return to Labelexpo Europe
this year, showcasing the tremendous leap forward in
capabilities since the last automation feature at Labelexpo
Americas back in 2018.
The 2018 automation arena concentrated on what I would
call 'linear' automation – setting up machinery remotely from
a centralized workstation.
As was demonstrated at the time, there is a lot of information that can be transferred to presses and converting equipment via JDF/JMF to reduce or eliminate manual intervention during machine setup.
On the flexo side, we demonstrated that we can now automate mechanical processes including printing pressure adjustment, cross- and machine-direction registration and tension control depending on the substrate to be printed. These parameters can be saved for when that same job is run again, representing a kind of machine learning.
At that time there was a roadblock to a more complete
integration of flexo presses into factory management/MIS
systems. Most flexo press manufacturers used closed, or
proprietary press operating systems, meaning a certain amount of double keying had to take place for parameters like run length and job description, with the consequent loss of efficiency and potential to introduce mistakes.
MPS, however, did demonstrate MPS Talk to Me (now MPS
Connect), which at the last automation arena was already
able to communicate directly with a Cerm MIS and other
industry‑standard MIS workflows to upload job information.
On the digital press side, automated setup and integration into MIS systems have been available for some time, since Digital Front End (DFE) systems were either directly provided by companies like Esko, or were easily able to integrate with them.
The 2018 automation arena also demonstrated how the set-up of finishing systems could be automated from a central data point, and not only for PS labels but also for shrink sleeve processing.
The Automation Arena at Labelexpo Europe 2023 will focus
on closing the data loop. This means not only being able to set up machines remotely but also being able to retrieve real-time production data from the press and converting machine and returning that data via the Cloud to an MIS, where it is processed and made available for distribution.
Machine monitoring technology has been developing quickly. During the Covid-19 pandemic, when it was impossible to send out engineering teams to maintain machinery, there was a lot of progress in remote diagnostics systems able to monitor press or converting machine performance and upload that data via a secure Cloud-based portal to remotely located engineering teams.
This allowed predictive maintenance and fault-finding programs to be run, increasingly making use of AI and machine learning algorithms to monitor machinery 24/7 and alert engineers to developing problems.

These remote diagnostic systems have now morphed into
more user-friendly machine data collection systems, targeted at delivering real-time actionable data to the operations manager as much as remote engineering teams.
The information can be filtered and sent to different destinations – for example, the factory/operations manager, press team and managing director can be given different subsets of the data most relevant to their own tasks.
The goal is to improve press utilization and efficiency, to help operation managers make immediate process adjustments, and management to make strategic data-driven decisions, all resulting in waste reduction and higher efficiency.
The Automation Arena at Labelexpo Europe 2023 will showcase real-time machine data collection, analysis and distribution, centered around a Xeikon digital press, a Grafotronics converting line, Esko automated pre-press and Cerm MIS.
The inclusion of the MIS element is an important one.
All printing press and converting machinery manufacturers
are working on their own machine data collection systems and setting up their own Cloud-based portals where factory managers and press teams can see their own machine data on a personalized dashboard.
But there is a danger that these portals become 'closed', without the ability to share machine data in a standardized format with MIS/ERP systems – or at least making it very difficult to do so.
As label converters run machines from different manufacturers, would they then have to set up different Cloud portals for each machine, or for each group of machines?
It is useful to start these debates now, while these Cloud portals are still under development.
The Automation Arena will be a great place to see how data can be seamlessly exchanged between manufacturers' machines and an MIS - and what additional functionality can be achieved.
The Automation Arena will also look at implementing as
much of a 'lights out' operation as possible – including on the converting machine.
Stay up to date
Subscribe to the free Label News newsletter and receive the latest content every week. We'll never share your email address.