Watermarking clouds
Digimarc presses forward with ambitious plans to help brands combat counterfeiting and give consumers complete visibility of their purchases.
US-based Digimarc Corporation is a leading provider of enterprise software and services, which includes digital identifiers such as serialized QR codes designed to address counterfeiting, product authenticity and supply chain traceability. Digimarc products are created for multiple industries such as apparel, consumer packaged goods, health and beauty and automotive.
L&L readers might be familiar with the watermarking technology developed by Digimarc to track and increase recycling accuracy. It was ultimately chosen as the most effective way of improving post-consumer recycling through more effective material sorting by the collaborative HolyGrail project, established under the auspices of the Ellen MacArthur Foundation.
Unlocking visibility 
Digimarc's ambition reaches further than solving problems of recyclable waste. The company cemented its drive to develop the next generation of digital identification and detection‑based technology in November 2021 with the acquisition of London-based cloud company Evrythng.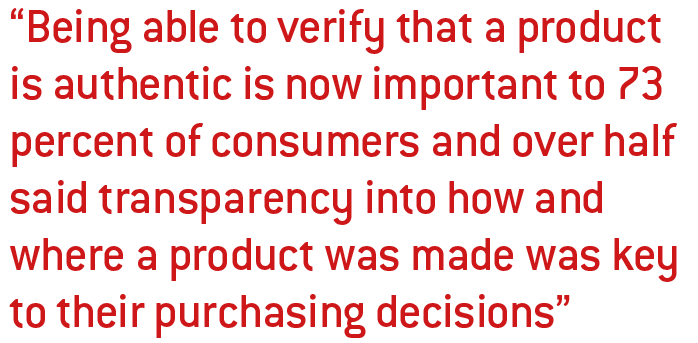 'This acquisition allowed us to provide a complete solution set to our customers,' says Riley McCormack, CEO of Digimarc. 'The best determinant of a technology product's value is how much of the customer's problem it can solve. By combining Digimarc's 
unique and advanced means of identification with the advanced supplier business intelligence using any means of identification, we are now uniquely positioned to unlock additional solutions for our customers and enhance their Digimarc journey.'
'Not only are our products and technology competencies directly complementary and naturally connected, but our company values and cultures are deeply aligned, with a focus on executing as a team, committing to audacious goals, and genuine innovation with exceptional talent,' adds Niall Murphy, CEO and co-founder of Evrythng.
Evrythng pioneered Product Cloud category technology, linking every product to its Active Digital Identity on the web and joining data across the value chain for visibility, validation, real-time intelligence and connection with people.
Combining Digimarc's unique means of identification with the Evrythng Product Cloud makes it possible to gather and apply traceability data from across the product lifecycle, unlocking end-to-end visibility and authenticity through item-level, real-time intelligence, and analytics. This technological combination unlocked the full potential of data, from enabling more sustainable, transparent and secure supply chains to empowering consumers to verify the authenticity of products and recyclability of their packaging.
How worried are consumers?
Consumers' desire for authentic products isn't limited to luxury goods. They expect the products they buy for themselves and their families to be the real deal. A new report by Digimarc carried out across 4,000 consumers by an independent research firm Censuswide explores what brand integrity and values mean to consumers and shows that they are more critical than ever before.  
'Being able to verify that a product is authentic is now important to 73 percent of consumers and over half (59 percent) said transparency into how and where a product was made was key to their purchasing decisions,' says Ken Sickles, chief product officer at Digimarc. 'Furthermore, with 45 percent of consumers concerned about which country a product has come from and 38 percent advising that they consider the number of miles it has traveled, brands cannot escape the high demand to better demonstrate and communicate their integrity and values to consumers.'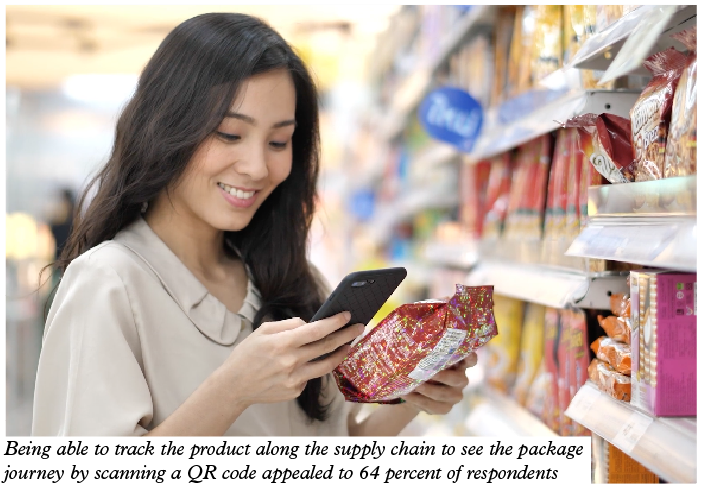 The findings highlight how brands must do more to protect their integrity and limit their exposure to the damaging impact counterfeit products can have on consumers, as well as their own reputation. Still, a third (36 percent) cite difficulties in getting critical information on claims from the brands they shop with about their products' authenticity, origin, ingredients or sustainability. 
Being able to track the product along the supply chain, see the package journey and scanning a QR code to prove it also appealed, with 64 percent saying they'd happily scan a QR code if it gave them the information quickly and easily, and 52 percent of millennials saying they've used QR codes more over the last two years. 
'The challenge brands face from counterfeiters is multifaceted with sales online, the altering of packaging and product labels, as well as infringement of intellectual property,' comments Sickles. 'The need to address counterfeiting is no longer just about protecting brand reputation. It is also about protecting consumers' health and safety and must be addressed. 
'As this research highlights, consumers also have a vested interest in ensuring the products they purchase are authentic, with nearly half of respondents saying it would help them feel reassured they are purchasing an authentic product if they had a way to check the manufacturer's claims. It's hugely positive, therefore, to see that nearly two-thirds (64 percent) of respondents would happily scan a QR code if it gave them the information quickly and easily. Adopting this technology will enable brands to unite with their consumers, keeping their products real and protecting their reputation.'
Authentication simplified
To answer those worries, Digimarc went a step further and, in May 2022, added its watermarking technology to the newly developed Brand Integrity Solution, which gives brands and their customers more sophisticated and flexible ways to verify the authenticity of products.
The company's data-driven approach involves assigning each product a serialized digital identity that can be tracked in the cloud and accessed through various on-package digital triggers, including the secure and covert digital watermark. 

'As counterfeiters have become more sophisticated and supply chains more diffuse, companies are recognizing that traditional brand protection approaches largely reactive and reliant on trained inspectors and specialized equipment are both ineffective and inefficient,' notes Sickles. 'We created a unique digital solution that leverages the ubiquity of smartphones and other digital devices to make product authentication much more streamlined and less prone to human error.'
Moreover, Digimarc's support of dual-factor authentication, such as scanning QR codes and digital watermarks on a single package, provides a strong defense against bad actors accustomed to easily circumventing lesser brand protection measures.
'Digitizing products with QR codes is a great starting point,' adds Sickles. 'But, when coupled with a robust product cloud and covert digital watermarks, brands can gain even greater visibility into their products and offer their consumers the chance to do the same.'
Companies lack actionable intelligence about several product attributes without a singular source for product data. The Digimarc Brand Integrity Solution aims to protect their reputations by giving every product a digital presence connected to a cloud-based record of its journey and interactions. This can prove a product's authenticity, uncover counterfeits and their origin, and provide insight into a product's supply chain so that brands can anticipate issues and act fast.
Theory in production
In June 2022, Digimarc partnered with Sealed Air, a company established to solve critical packaging challenges. Its automated packaging systems help promote a safer, more resilient, and less wasteful global food supply chain, enable e-commerce, and protect goods transported worldwide. 
The partnership is projected to bring product digitization to markets like food proteins, eCommerce fulfillment, industrials and consumer goods at scale through smart packaging. Product digitization will allow brands to maximize the value of every package to deliver on consumer demands for authenticity, sustainability and personalized consumer experiences. Product digitization will also drive operational improvements by illuminating a product's supply chain journey.
'Brand owners understand that physical products are powerful, direct-to-consumer communication channels. Digimarc's new joint offering with Sealed Air makes the brand-consumer connection easier than ever,' claims Curt Schacker, global head of digital printing and packaging at Digimarc. 'Smart packaging also allows for smart supply chains, enabling operational efficiencies not available with the status quo. We chose to partner with Sealed Air because of the company's leadership in printing variable, serialized flexible packaging at mass scale, a cornerstone of any smart packaging initiative.' 
'The work we are doing with Sealed Air enables consumers to confirm product authenticity, access product origin and provenance information, and verify critical sustainability information that today's consumers crave in the quest for brand integrity and circularity,' adds Schacker.
'By combining Digimarc's leading product digitization platform and watermarking technology with our new digital printing and packaging solution, prismiq, and our proven packaging expertise, we are expediting our digital packaging efforts to deliver a complete, end-to-end solution for brands and consumers,' confirms Carrie Giaimo, vice president of digital business development at Sealed Air. 
Smart packaging allows every product to be 'born digital' at the time of manufacture. By giving every product item a unique digital identity in the product cloud, brands can fully benefit from product digitization. It ensures a product's authenticity, improves circularity, powers a smarter supply chain, and opens an owned-media channel for direct-to-consumer engagement and the delivery of contextualized experiences. At the same time, brands receive invaluable, real-time data intelligence to drive future sales, marketing, and other critical business strategies.
---
Click here for more information about Digimarc's Brand Integrity Solution.
Stay up to date
Subscribe to the free Label News newsletter and receive the latest content every week. We'll never share your email address.