Syscon rides high on Thai market growth
Thailand-based Syscon is leveraging narrow web flexo and digital along with wide web gravure to provide integrated customer solutions for labels and flexible packaging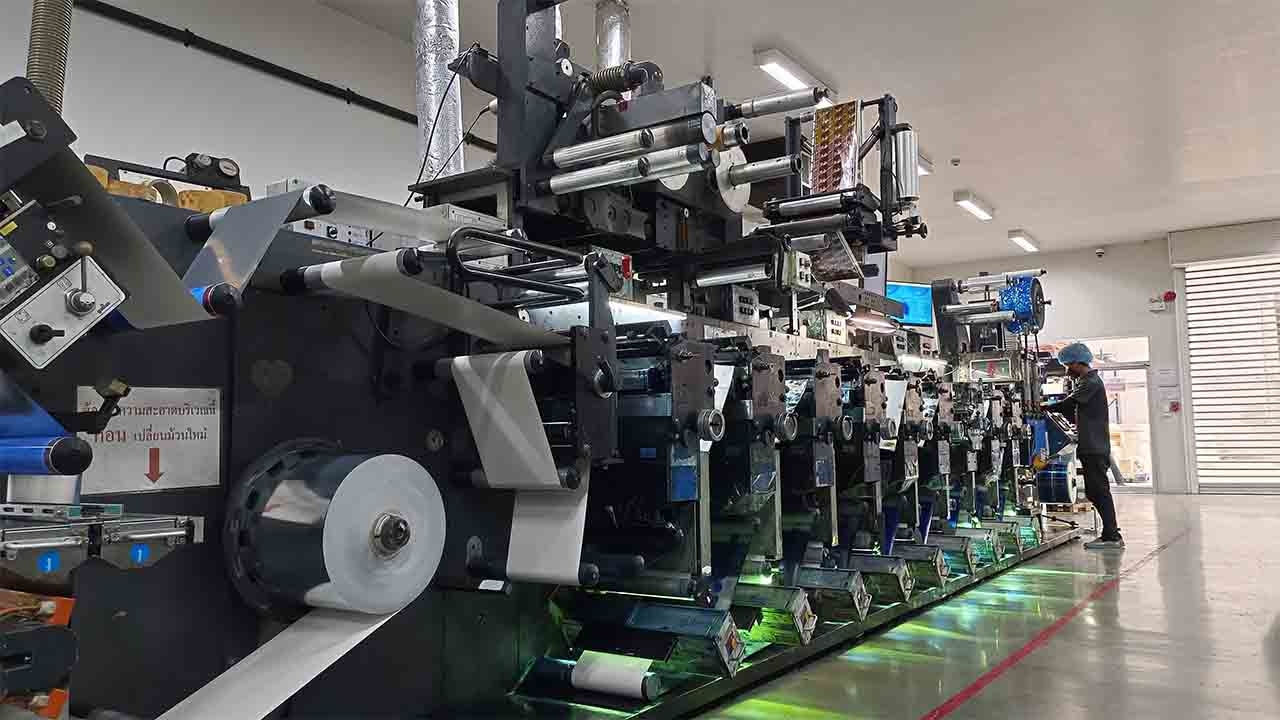 Syscon Labels & Packaging Company is located in Samutprakarn, Thailand, and the company's current head, Nipat Jongcharoensiri, is a typical second- generation printer. His father is a veteran printing entrepreneur, running a flexible packaging printing business with about 300 people.
Regarding his experience in the printing industry, Jongcharoensiri tells L&L, 'Since I can remember, the printing workshop was one of my childhood playgrounds. The unique smell of paper and ink, and the regular sound of the printing equipment, all fill my memories.'
After successfully completing his studies, Jongcharoensiri did not immediately join his father's printing factory but took a year out to gain some wider experience. 'Because I am so familiar with printing, I really wanted to go out and see other industries and experience the work and life of a standard employee after graduation.'
It was this experience that prompted him to choose to return to the family business and carry on the company that his father founded. Working outside the company for a year gave Jongcharoensiri a different understanding of the printing industry, particularly the opportunities for improvement and innovation. How should converters use existing technology to improve production efficiency and reduce production costs? Which area of printed packaging has greater development potential?
After working in his father's company for eight years, Jongcharoensiri finally decided to focus on the label printing industry. So he spun this off the original company's business, invested in land in Samutprakan, on the eastern side of Bangkok, and set up a completely new company and factory, now called Syscon Labels and Packaging Company. This new factory officially started production in 2017, and currently, the workshop area has reached 2,600sqm, with 60 employees.
Under Jongcharoensiri's leadership, Syscon's business volume only decreased by 8 percent in the first year of the Covid epidemic in 2020, and achieved steady growth in the following two years, with increases of 12 percent and 25 percent, respectively. He estimates that business volume will increase by 40 percent in 2023, and the annual output value will reach 120 million Thai baht, (USD 3.37m). So, how did Syscon do it?

Continuously improving efficiency
From its inception, Syscon made innovation its primary focus. The production lines are equipped with a Nilpeter FA line, a Gallus press, and an HP Indigo 6600 digital printing press. Syscon was early users of HP Indigo 6000 series in Thailand.
The company prints self-adhesive labels, shrink and stretch sleeve labels, heat transfer labels, and in-mold labels, which are mainly used in personal care, food, engine oil and home care markets. Currently, paper labels and film labels each account for half of the company's product mix.
Shrink sleeve labels were previously produced using gravure. 'Compared with gravure technology, inline flexographic printing allows for printing shorter runs, is a more flexible production process and is more environmentally friendly,' says Jongcharoensiri.
He also carefully analyzed the customer base. 'Among the customers Syscon serves now, about 70 percent are international brands, and the rest are local brands. In our interaction with them, we found that international brand customers pay more attention to the quality of label products. They are more inclined to choose international brand materials, such as Avery Dennison and UPM Raflatac. Local customers care more about the price of the product, followed by product quality, so we recommend some local materials suppliers to them, striving to provide them with more market-competitive products and services within their budget.'
During the three years of the Covid pandemic, the entire industry was forced to slow down, and Syscon took full advantage of this time to optimize its internal production processes and materials procurement. To some extent, these moves alleviated the pressure on profits caused by the rise in the price of raw materials.
For example, the inline flexographic equipment used by Syscon had operated on an average production speed of 40 to 60m/ min. Through optimizing the equipment, the company has increased production speed by 10 percent every six months, with the goal of reaching 90m/min.
Syscon also increased investment in automation. For example, in 2022, the company invested in an inline inspection system from Luster, which offers 100 percent defect detection function.
'Our first meeting was in 2017 and the cooperation between the two sides since then has always been constructive, with
no communication barriers,' says Jongcharoensiri 'In addition to trusting their product quality, what impressed me the most is their quick response to any problems. I remember once, the company's equipment parts failed, and Luster sent replacement parts by courier within two days. They also provide online remote troubleshooting services, enabling us to diagnose problems in real-time.'
Expanding into flexible packaging
Jongcharoensiri is no stranger to the flexible packaging industry, which was the main business of his father's company. The innovation of Syscon was to use digital printing technology to produce flexible packaging, including multi-layer pouches, spout pouches and poly bags.
'Flexible packaging is known for its lightweight, portability
and convenience for transportation, and has become valuable in numerous sectors,' says Jongcharoensiri. 'Particularly in Thailand, where the tourism industry makes up a large portion of the overall economy, flexible packaging has been adopted as the preferred packaging option for many products. Souvenirs, such as dried durian snacks and mangoes, are popular items tourists frequently purchase as gifts for their families, further propelling the demand for flexible packaging. Given these circumstances, the market potential for flexible packaging in Thailand is immense.'
Jongcharoensiri found that customers were seeking an integrated offering of labels and flexible packaging solutions. 'After comparative analysis, we also found that labels and flexible packaging have many similarities in the print production process, including printing, slitting, rewinding and surface treatment, all of which strengthened our determination to develop the flexible packaging side of the business.'
With the increase in the company's flexible packaging business and the demand from users for better prices for these products, in 2019 Syscon invested in a Taiwanese-built Manworldly gravure press and a Jiangyin Huitong automatic pouch making line, specifically for the production and processing of flexible packaging products.
'We choose between gravure or digital printing of flexible packaging products according to the size of the order,' says Jongcharoensiri. 'For large-volume products, the production efficiency of gravure printing is higher, and the cost is lower; for short-run products, the advantages of digital printing are more evident.'
Currently, flexible packaging products account for 30 percent of the products produced by Syscon. Considering the rising consumer demand in the Thai market, the company will focus on wide web gravure equipment in the future to improve its production capacity and service capabilities in this area.
Future development
Jongcharoensiri believes the key factors for success in this market come down to quality, delivery time, service and cost. This perspective makes the company very careful about each investment in hardware and software.
As a new-generation print manager, he gauges the company's order situation and calculates existing production capacity. If the total order volume exceeds 60-70 percent of total capacity, it signals a need to invest in new production equipment.
He also emphasizes the importance of building a reserve of company talent. Currently, there is no dedicated training institution for narrow web flexographic printing in the Thai market, so internal training within the factory is needed.
As the impact of the pandemic gradually recedes, material supply is stabilizing, and factory delivery times are also stabilizing.
Jongcharoensiri believes there are two key trends that need to be focused on in the future. One is environmental protection, as brands and markets seek more eco-friendly labels and flexible packaging solutions. As consumer focus on the environment increases, national and governmental regulations in this area will become more stringent. The second is value-added features and embellishments, which can help brand products differentiate visually from competitors. For example, unique QR code applications have not only become a trend but have brought significant benefits to users and brands in multiple dimensions.
Jongcharoensiri is keen on learning and acquiring new knowledge. He has participated in several international professional exhibitions and seminars and has visited several international label printing exhibitions in Europe. He says, 'Market and customer needs are constantly changing. For label printing companies, it is necessary to step out, pay attention to new industry trends, understand the latest industry materials, technologies and solutions, and constantly enhance internal strength to maintain the ability to provide high-quality solutions for customers.'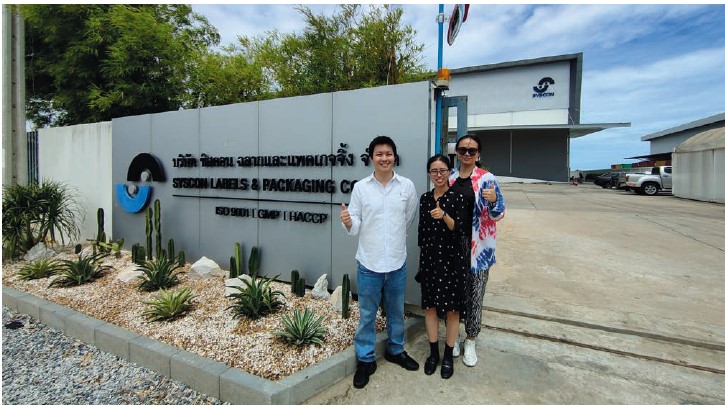 With many Chinese label companies - including both suppliers and label printers - setting up factories in Southeast Asia, Jongcharoensiri feels both the pressure and the challenge. However, competition indicates the existence of a market, and he hopes that everyone can compete creatively to jointly promote its development. He has spent four months studying Chinese in Beijing, China, indicating a deep commitment to understanding and integrating into the global landscape of the industry.
Syscon, under the guidance of Jongcharoensiri, is well-positioned to continue making strides in the flexible packaging industry. With a clear focus on quality, customer service, innovative technologies and sustainable practices, Syscon is demonstrating the potential to become a key player in the region. At the same time, Jongcharoensiri's openness to learning, and his proactive approach toward staying updated on industry trends, reflect a leadership style that is adaptive, forward-thinking and inclusive. With such strong foundations, Syscon appears to be on a promising path for the future.
To discover more about the integration of labels and flexible packaging, visit Labelexpo Europe 2023. 
Stay up to date
Subscribe to the free Label News newsletter and receive the latest content every week. We'll never share your email address.