By bridging digital and physical existence, atma.io can change the way we look at consumer goods by introducing transparency into supply chains. 
In March 2020, Avery Dennison acquired Smartrac, a Dutch innovator in the development of RFID inlays with manufacturing sites in Germany, Malaysia, China and the United States. 
Mitch Butier, Avery Dennison's chairman, president and CEO, made a bold statement at the time: 'Smartrac's Transponder Division represents an excellent strategic fit for us, accelerating our strategy to expand our intelligent labels platform across a variety of end markets and customers within the industrial and retail segments, and extending our reach to new channels.'

His forward-thinking sentiments were echoed by Francisco Melo, vice president and general manager of Avery Dennison Smartrac: 'We believe in a future where every physical item will have a unique digital identity and digital life, which will transform the visibility of products throughout the supply chain, all the way to the consumer, helping to improve efficiencies, increase sustainability, and enhance the consumer experience. The capabilities of Smartrac will enable us to continue delivering on this vision across multiple verticals.'
Fast forward 12 months. Avery Dennison launches a mysteriously named connected product cloud, atma.io. Atma is the Sanskrit word for soul; it was chosen to metaphorically manifest a vision where each physical product has a unique 'soul' in the form of a digital ID that stays consistent throughout a product's lifecycle. The .io, meanwhile, is a popular domain used by technology companies to represent a fresh approach. From raw materials to a commercially available product, atma.io set off to provide transparency throughout the value chain, laying the product's soul bare for all stakeholders to see. 
'The journey Avery Dennison has been on is quite a remarkable one,' notes Max Winograd, vice president of connected products at Avery Dennison Smartrac and co-founder of the atma.io platform. 'We are now seeing the next chapter of Avery Dennison's digital transformation come to life with the birth of atma.io. We have been building this digital venture with a start-up spirit but inside of a Fortune 500 company. If you think of a start-up, it is all about making fast decisions, taking risks and moving quickly. We have been able to do that standing on the shoulders of the giant to leverage the value of its global scale and support.' 
'Facing a clear need for item-level visibility and the gap in the market, Avery Dennison saw a unique opportunity to set up a new digital venture to pioneer an industry-leading end-to-end connected product cloud,' adds Melo. 'A platform that connects physical and digital worlds by assigning unique digital IDs to everyday items. With atma.io, Avery Dennison is now able to bridge both worlds by coupling our progressive family of digital triggers and labeling technologies with the power of data.'
Interactive coalition
To summarize, atma.io is a connected product cloud: an end-to-end platform with a wide range of use cases across different markets, capable of creating, assigning and managing unique digital identities for every physical item in the world. It offers a smart one-stop-shop, providing the label and digital trigger backed by a software platform that unlocks the power of data for increased transparency. 
Designed to be open, easily integrated, and system-agnostic, atma.io solves the 'market pain' of supply chains using different digital triggers – such as QR codes, UHF RFID or NFC – for different purposes and enabling all item-level data to be connected in a single platform.
'Supply chains are complicated and not least because of different technologies that don't "talk" to each other,' explains Melo. 'What we call digital triggers – the label or tag that provides unique product information such as UHF RFID, NFC, or even QR codes – are typically managed by different systems. atma.io brings them together to connect all item-level events and product data in one end-to-end platform.'
This enables consumers to check anything from product provenance to authenticity. For example, they can access details about care and content instructions for apparel items, obtain expiry and recall information for perishable products, and enjoy unique consumer experiences based on the specific context of each product interaction. 
'It is simply empowering consumers to make more informed choices about the products they enjoy. But equally, it's empowering for brands that want to demonstrate transparency to their customers, investors and regulators, and launch new revenue models based on the use or re-use of their products,' says Melo.
The new platform is applicable across every vertical sector imaginable, ranging from authentication, consumer engagement, circularity, traceability, inventory accuracy, expiry date management, real-time item-level monitoring, and so on. It is already hard at work, currently managing over 10 billion unique items, with at least 50 new connected products added to the platform every second. 
Global sportswear brand adidas is utilizing the cloud-based platform for circularity and unique consumer-product interactions. 
'adidas integrated atma.io's connected product cloud into our Infinite Play initiative to scale our ability to buy back products and give them a second life,' comments David Quass, global director for brand sustainability at adidas. 'The program has been the first of many use cases we look to enable with atma.io and Avery Dennison to achieve our connected product vision and our sustainability goals.'
According to Melo, the sportswear giant is in the process of ensuring that every single one of the 1.2 billion products it produces each year will have a digital identity: 'It will mean that, via its Infinite Play initiative, it will buy back products from consumers and re-sell them, providing them with a second life. In fact, adidas is not alone in using atma.io at launch — we have several other apparel companies in the world exploring how to use it to improve their businesses.'
Besides being chosen for multiple scaled implementations by global brands and retailers, atma.io is also being deployed for food supply chain traceability. The system is open to third-party sensory technologies for monitoring a product (for attributes such as temperature, humidity and weight), combined with a product's item-level track-and-trace history to map the end-to-end status of its condition and receive real-time alerts for anything outside of acceptable parameters.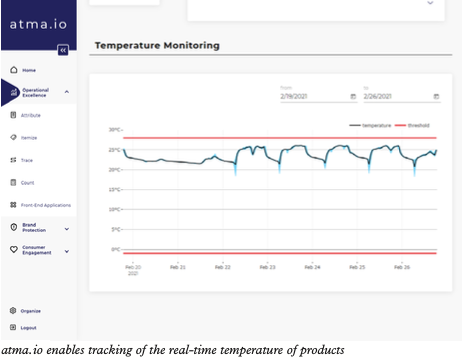 'We developed a platform to enable tracking of the real-time temperature of products. By implementing that, in for example the pharmaceutical environment, we can now track blood bags going through the blood donation process, or track Covid-19 vaccine vials,' Winograd expands. 'We developed a technology to work closely with some unique sensor data at the item level and then connect that data so that, as a consumer, I know that before I take my medicine, I can see that the product is safe, that it was transported at the right temperature every step of the way. As a healthcare provider, I can track my inventory, not just at the existence level, but down to the condition level.
'This functionality can be easily translated onto other markets, such as food supplier chains, adding tremendous value to product recalls and even predicting product recalls. Knowing that a product was out of the temperature range at some point on its journey allows it to be removed from sale and mitigates a significant amount of risk.'
Open platform 
Melo explains that future development will rely on working with the entire industry: 'We recognize that Avery Dennison does not have all the answers to every unique circumstance and use case, which is why the platform is open to customers, third-party developers, partners and even competitors to build their modules within atma.io via our new app store. This will unlock every connected product use case imaginable, and developers and partners can now build on top of atma.io's platform and unlock new channels for growth.'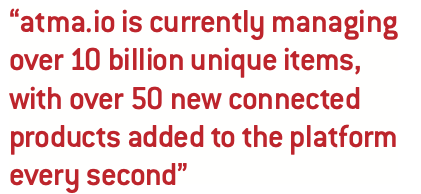 The product cloud offers a wide-ranging portfolio of modules to unlock specific use cases and help achieve business objectives like consumer engagement, operational excellence, brand protection and sustainability. 
'atma.io is a best-in-class example of how innovation-driven tech partnerships can accelerate the digital transformation of thought-leading brands for a more sustainable and consumer-centric future,' confirms Chris Dieringer, general manager of retail and consumer goods at Microsoft. 'Customers will benefit from atma.io's industry-leading capabilities and cutting-edge scalability enabled by Microsoft Azure.'
Elaborating on the future of this technology, Winograd explains: 'With tens of trillions of events being captured, we can find out so much more about our planet, about the companies that we purchase products from in just about every single industry, so that we can be more efficient, more sustainable and more trusted.'
Melo concurs: 'Having atma.io allows us to evolve our solutions to the future. We can make connected products and be the interface between brands and consumers. The future of atma.io will be one where it will become an essential part of everything we do within Avery Dennison.'