One of Finat's six strategic pillars, sustainability, dominated day three of the association's ELF
Maja Desgrées-Du Loȗ, policy officer at the European Commission, began the sustainability day at the Finat ELF with an update on the latest plans for revising the Packaging and Packaging Waste Directive in the context of circular economy initiatives. She explained her views on the future role of packaging in the circular economy model and the European Green Deal in a 24-page document that lays out a radical project to make the EU climate neutral by 2050. 
'The new Circular Economy Action Plan focuses on seven key product value chains, among which are packaging and plastics. It calls to ensure that by 2030, all packaging in the European market becomes reusable or recyclable in an economically viable way,' said Desgrées-Du Loȗ. 'To achieve this, we need to update current essential requirements for packaging and set out conditions that all packaging must meet to gain access to the European market. We also consider other measures on waste prevention, to reduce overpackaging, drive design for recycling and reuse, reduce the complexity of packaging materials, and to introduce EU-wide labeling that facilitates the correct separation of packaging waste.' 
The recent revision has provided new packaging recycling targets of 60 percent by 2025, increasing to 70 percent by 2030, and obligated all European Union member states to adopt waste prevention and reuse measures. The European Commission has identified high and persistently growing waste with excessive levels of avoidable packaging and a proportional increase in single-use packaging as critical issues.
'We have also identified several barriers to packaging circularity such as an increased use of packaging design features that inhibit recycling, an increase in compostable plastic packaging that causes contamination, as well as inconsistent and confusing labeling,' added Desgrées-Du Loȗ. 'Our objectives are tackling the negative impact from packaging on the environment by driving the design for reuse and recyclability, and providing clear and enforceable EU level requirements on the packaging.'
Redirecting liner and matrix waste
Finat is part of the European arm of CELAB, the first global consortium specific to recycling in the self-adhesive labeling industry. Its vision is to create a self-adhesive label that's increasingly circular by offering new technologies and providing education that encourages liner and matric recycling.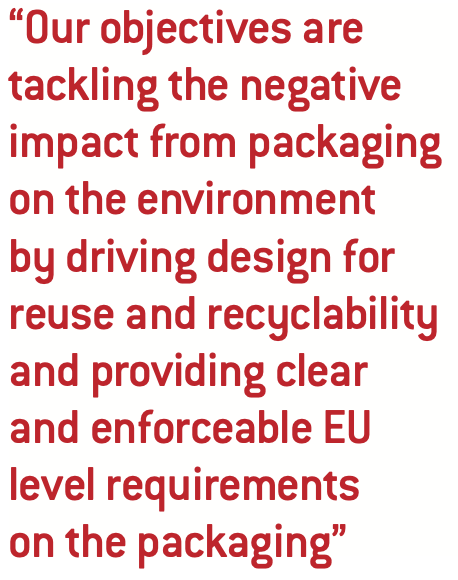 'There are 27 companies that now belong to CELAB Europe, with new members joining each month. Every business from the label industry supply chain is invited to collaborate in this project,' said Ophélie Gourdoux, project manager of CELAB Europe and founder of Cairn Consulting. 'Our members are raw material producers, labelstock producers, external value chain partners, label users, label converters and Finat, acting as the legal entity for the initiative.'
CELAB's strategic objectives are to establish a representative self-adhesive label value chain organization, develop cost-effective solutions, and utilize the value chain to build scale by finding synergies between different stakeholders to advance recycling. 
'Europe is responsible for one-third of the materials generated globally, with around 430 tones being mainly paper-based liner. We estimate reaching around 90 tones in terms of a matrix, with only 70 percent being paper-based. CELAB's study has estimated that only 34 percent of the liner is currently recycled,' added Gourdoux, 'meaning this percentage of the material is kept in the economy. We strive to increase this figure to 75 percent by 2025. We work across different workstreams, creating the information and building a network of collecting and recycling technologies to make this possible. 
'We believe that CELAB can bring something different, something additional, by having dedicated teams of people to lead the project, by having the advantage of scale, both globally and on a European level. We enable all stakeholders to collaborate, share knowledge and create synergies to deliver the circular economy for labels in Europe by 2025. We'll provide education and communicate clearly that these materials are recyclable, how and who can collect them, as well as who the recyclers are and where they can be found.'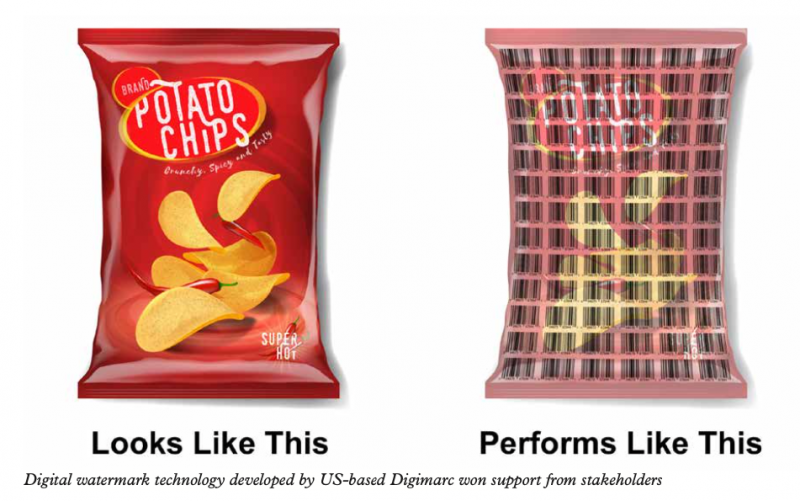 Increasing sorting and recycling effectiveness
An Vossen of AIM, the European Brands Association, and manager at Plarebel, a non-profit organization which is the reference in Belgium for information, advice and guidance on all aspects of circular plastics, circular design and effective recycling, updated the forum audience with recent activities in pioneering waste sorting projects.
HolyGrail 1.0, established in 2016 under the New Plastics Economy program of the Ellen MacArthur Foundation, brought together 29 corporations led by P&G. The initiative investigated new ways to improve post-consumer recycling through more effective sorting of materials.
'During the HolyGrail 1.0 project, we were looking at digital watermarks and digital tracers. Based on the results of this pioneering project, we concluded that digital watermarks were the most promising technology,' said Vossen. 'At the end of this project, we were presented with a proof of concept by having a small-scale test sorting line.'
Digital watermark technology developed by US-based Digimarc won support from stakeholders and was ultimately chosen among innovations to improve post-consumer recycling. This technology provides imperceptible codes, the size of a postage stamp, covering the surface of consumer goods packaging. In addition, they can carry a wide range of information such as manufacturer, SKU, whether it's come into contact with food, type of plastic used, and composition for multilayer objects.
Once the packaging enters a waste-sorting facility, the digital watermark can be detected and decoded by a standard high-resolution camera on the sorting line, which then, based on the transferred attributes, can sort the packaging into corresponding streams. This results in better and more accurate sorting streams and high-quality recyclates, benefiting the complete packaging value chain.
In September 2020, under the patronage of AIM, over 85 organizations from the packaging value chain joined together to initiate the next phase of the project – HolyGrail 2.0. The leadership team, which includes Procter & Gamble, Nestlé, PepsiCo and Danone, focused on the ambitious goal of assessing whether a pioneering digital watermark technology can enable better sorting and higher-quality recycling rates for packaging in the EU.
'The next phase of this project is to take the proof of concept into a fully commercial setting. It's a significant step if we will want to build on this technology in the future. The watermark technology opens new possibilities currently not feasible with existing systems. We started the HolyGrail 2.0 with just over 85 companies and now we've grown to a big consortium with over 130 members throughout the value chain, all working together for a common goal,' added Vossen.

Digital watermark technology also presents significant potential beyond recycling and can play an essential role throughout the packaging value chain. For example, it can be utilized for a faster check-out process, consumer engagement, and for displaying additional nutritional value on smart devices or instructions of use.
In the first stage, the project has developed a detection unit prototype. This add-on module can be combined with conventional infra-red sorting facilities to improve packaging sorting quality significantly. 
'In the second phase, we will program the prototype to make sure it's working according to the specifications of sorting facilities and recyclers. This testing will take place in Copenhagen, Denmark. Finally, in the last phase, we want to put the digital watermarked packaging on the market in Germany and France to proceed with commercial trials at the existing sorting and recycling plants,' concluded Vossen.  
Brand intelligence and circular ambitions
The day's host, Noel Mitchell, followed the HolyGrail presentation with a brand owner panel discussion gathering packaging experts including Arno Melchior, global packaging director at Reckitt, Gian de Belder, technical director of packaging sustainability at Procter & Gamble, and Keenan Thompson, global director of innovation at ABInBev. They discussed sustainability and concluded that it is essential to understand the whole supply chain and who holds the key to acceleration to achieve true circularity.
'We have to remember that we are in the hands of consumers. They are making the purchasing decision, and we need to help them make this choice,' commented Thompson. 'We can do that through packaging: the more scientific features that are applied to the packaging, including environmental responsibility, the easier it will be for a consumer to make a fully informed purchasing decision.' 
'In my opinion, the acceleration key is with the brand owner. The brand owner decides about the final look of the product and the label,' added Melchior. 'Consumers ask for more sustainable packaging, but often they don't know what sustainable packaging is. So ultimately, the real decision is with brand owners. We decide if the bottle is PET, PP or glass, if we use a self-adhesive label or shrink sleeve. This is our decision.'
'As Finat, we need to educate our members on the optimum design of labeling and labeling systems. On the other hand, we must also educate the recycling community on available technologies. Finally, we must work as an entire supply chain to better understand all the critical points. Over the last couple of years, I've seen a good working relationship, but I think we must do more and find out how to overcome all the critical challenges that we're facing,' concluded Mitchell.  
---
For more information about all Finat's sustainability initiatives, go to www.finat.com/sustainability