Graphimecc opens the curtain
Graphimecc's expertise in serialization, quality certification and high-tech converting is helping brands secure their global supply chains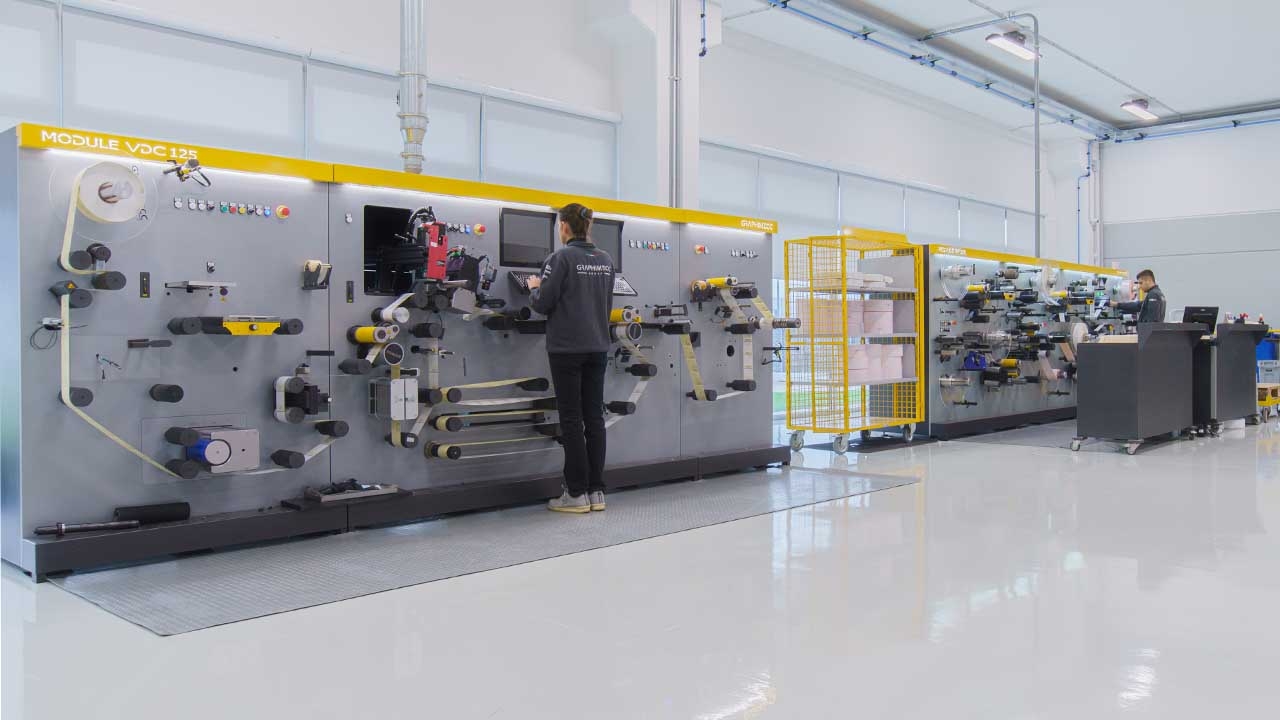 Graphimecc is full of surprises for those – like this writer –
who previously saw the company mainly as a manufacturer
of high-quality finishing machines.
The first surprise: while Graphimecc does manufacture label
finishing machines, it does not regard itself as a competitor to other manufacturers in that field, as it focuses on certification of production output quality, not the converting process itself.
Surprise number two is to walk into a truly lights-out smart
label coding factory, where jobs arrive remotely and are run by fully automated production lines specializing in high-security serial numbering, RFID/NFC encoding, validation and delivery, often involving complex inline material constructions running multiple webs and inserts.
The third surprise is the machine manufacturing and assembly hall. Instead of the kind of serial production of standard modules one usually sees, here there are a small number of bespoke machines under construction for specific customer requirements, and not only for labels but also for tags and sheet products like folding cartons.
Perhaps the final surprise is the ratio of engineers to production personnel. Graphimecc employs 24 software and electromechanical engineers out of a staff of 50, and these are graduates of companies like Ferrari with an average age in the mid-20s.
So how does this all fit together?
Government contracts
Graphimecc was founded in 1985 by Vittorio Avona. Andrea
Ranzato Vianello joined him in 1999 with the aim to develop a company focused on systems to secure and track high-value items, securing patents on what is today regarded as the bi-directional print certification process. Ranzato Vianello remains at the company as owner/CEO, with his sons Ivan and Marco now actively involved in the business.
In 2000, Italy's National Printing House commissioned
Graphimecc to design a system for the serialization of
pharmaceuticals in Italy, known as the pharmaceutical tax seal (BOF). The system was specified to create 100 percent certified printed output with zero error for encoding, traceability and anticounterfeiting.
From there, Graphimecc's core business primarily grew through supplying complete systems to the high-security printers who work with government agencies.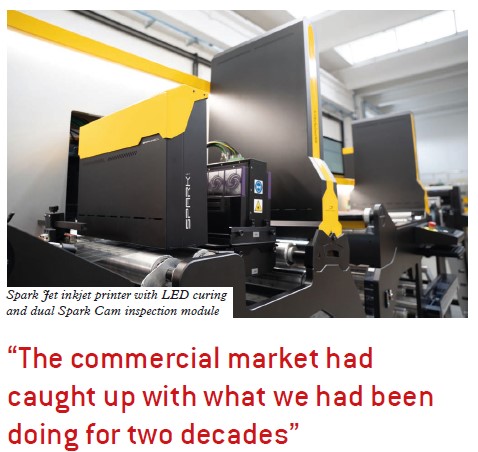 They deliver advanced technologies for ID documentation and fiscal recovery using secure data encoding combined with overt, covert and forensic security features.
Graphimecc's customers include the European Central Bank and Banca Italia.
Pivot to brands
A few years ago, Graphimecc looked at how it might apply these core technologies to brand protection and supply chain security.
'We saw that the market had shifted to a requirement for
traceability and sustainability and we started to have those
discussions,' says Dr Vlad Sljapic, group chief commercial officer at Graphimecc. 'Now the whole world was talking about QR codes and traceability and we recognized that the commercial market had caught up with what we had been doing for two decades.'
This led to Graphimecc forming partnerships with leading
suppliers and converters in the brand protection and track and trace field, including Avery Dennison, Checkpoint, Beontag, All4Labels, Eurostampa, MCC, Reynders and Schreiner Group. Graphimecc also reached out to work directly with some brands, including Audi, Gucci, Merck and Zara.
Projects ranged across healthcare, fashion and textile, industrial, logistics, automotive and wine and spirits sectors.
'We see a requirement in the branded goods market today for zero fault certification,' says Ranzato Vianello. 'You simply cannot track and trace your products if there are faults in your system to begin with.'
Sljapic adds that it is crucial to understand the distinction
between inspection and certification: 'Inspection is to understand if something is good or bad. Certification is a machine manufacturer's guarantee that there are no errors in the final products, regardless of the operator's actions. Most people offer an inspection report, which is to understand there is an error, but not what you do to take out that error. We design the machines that automatically
eliminate errors and guarantee that they have done a good job of it, even if the operator stops paying attention.'
The EU's Digital Product Passport (EU DPP) scheme forms an important part of Graphimecc's strategy in the branded goods sector.
EU DPP will be the EU's official method of sharing key information on a product's sustainability and circularity between all relevant parties across the supply chain.
Responding to the challenge, Graphimecc has developed direct connections with key track and trace platforms like Avery Dennison's atma.io, a Cloud-based product identification system that assigns unique digital IDs to everyday items, connecting them to the Internet of Things.
This provides businesses with unparalleled supply chain transparency, by tracking, storing and managing all the
events associated with individual products from source to consumer, to product disposal or reuse.
'Our automated systems can obtain the unique IDs directly from an external data source, and apply them in an encoding and certification operation, allowing converters
to easily expand their service offer portfolio to brands and offer traceability as a value add,' says Sljapic.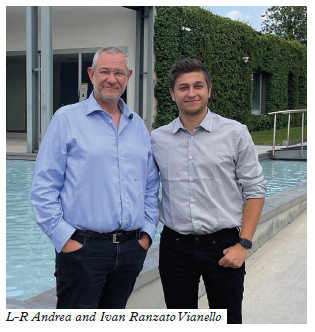 Bespoke machinery
Graphimecc's machine systems need to be understood in terms of this overall focus on secure encoding and certification.
The company's converting machines are designed to deliver secure variable data printing, print quality control and
certification of the finished product, as well as RFID encoding, converting and validation where required.
More complex bespoke systems, such as RFID booklet construction and inserting, can also be provided.
Modular components include the Spark Jet inkjet module – capable of jetting tactile varnish and Braille up to 270 microns thickness - the Spark RFID encoding module, Spark CAM inspection module, and defect management and removal.
'We design the machine as part of a process from the ground up to deliver a certain product,' says Sljapic. 'Certification is an important part of this. We build everything for the machine, and everything works on one integrated, closed-loop and fully-automated system.'
An example of how this fits together is Graphimecc's Zero W pharma label inspection and certification platform.
Unlike standard pharma inspection systems, the Zero W is not bi-directional. When a defect is spotted, at operating
speeds of up to 150m/min, instead of reversing the web to inspect the splice point, create the replacement labels and
re-inspect, in the Graphimecc system the faulty label is instantaneously reprinted - individually or in a full sequence - and passed through the dual inspection camera system in a single direction and without reducing the linear speed.
Every circuit board of the Graphimecc system has been designed from the ground up by the company to increase data and production throughput, resulting in three to 10 times higher productivity in comparison to standard bi-directional systems.
'Buying off-the-shelf systems and OEM integrating them was not an option - otherwise you have to downgrade your own tech to make it work with other peoples' kit,' says Ranzato Vianello.
'Now we have the ability to correct the error on the fly and certify it with a second camera working on the same PC without having to go back and forward.'
The sister machine is for turnkey RFID label and tag production. The Graphimecc Zero RFID W platform operates at speeds up to 120m/min, with electrostatic and
mechanical stress safeguarding and on-the-fly QA.
It combines tag insertion and personalization into a single production step and UHF, HF and HF NFC tag types. Like the Zero W pharma, the system is fully automated and designed for use by non-specialist operators.
'To take out human error is key,' explains Sljapic. 'We can fully automate, including adding robotics, or leave the operator in at some level. Whether the operator is experienced or non-experienced does not
matter.'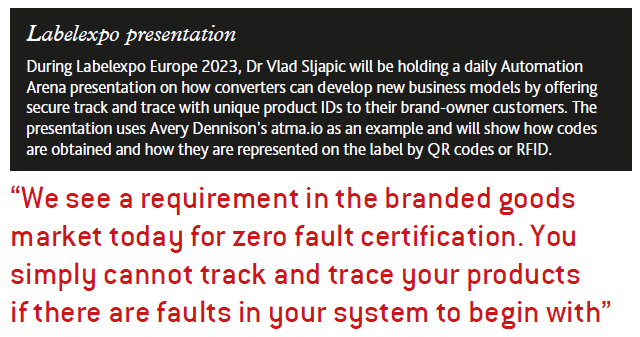 Contract manufacturing
One part of Graphimecc's Verona HQ is dedicated to a fully automated 'lights out' contract encoding and certification facility. 
Graphimecc uses GM Enterprise MAS (Modular Automation System) to generate jobs and launch them into production
remotely with just-in-time supervision of job status.
'With this facility, we can support companies that want to set up new operations or enter new markets which require secure encoding, and they do not have to take risk of choosing the right or wrong technology too early,' says Ranzato Vianello. 'You work with our encoding lab and you can resell the output as your own service to your customers until you decide what you really need.'
One job running during L&L's visit was the production of personalized labels for hang tags. 'We receive the data at 9 pm and the labels are ready for next-day delivery,' explains Ranzato Vianello.
One huge benefit of running this operation is to create feedback for the software and systems being developed in
Graphimecc's Encoding Lab.
'We have created an accelerator internally to anticipate problems and future challenges,' says Vianello. 'This is supported by the feedback from our internal manufacturing facility, and our research is applied there directly.'
Graphimecc is a great example of a company where the sum equals a lot more than the individual parts. Expertise
at the highest levels of product security, combined with in-house software engineering, bespoke machine design and
automated contract manufacturing delivers a unique resource for label converters, brand owners and the converting machinery manufacturers with whom Graphimecc collaborates.
Stay up to date
Subscribe to the free Label News newsletter and receive the latest content every week. We'll never share your email address.