UVbiz installs Bobst M6 press
Indore-based UVbiz, the packaging division of food company MB Industries, has installed one of the first few Bobst M6 label presses in
India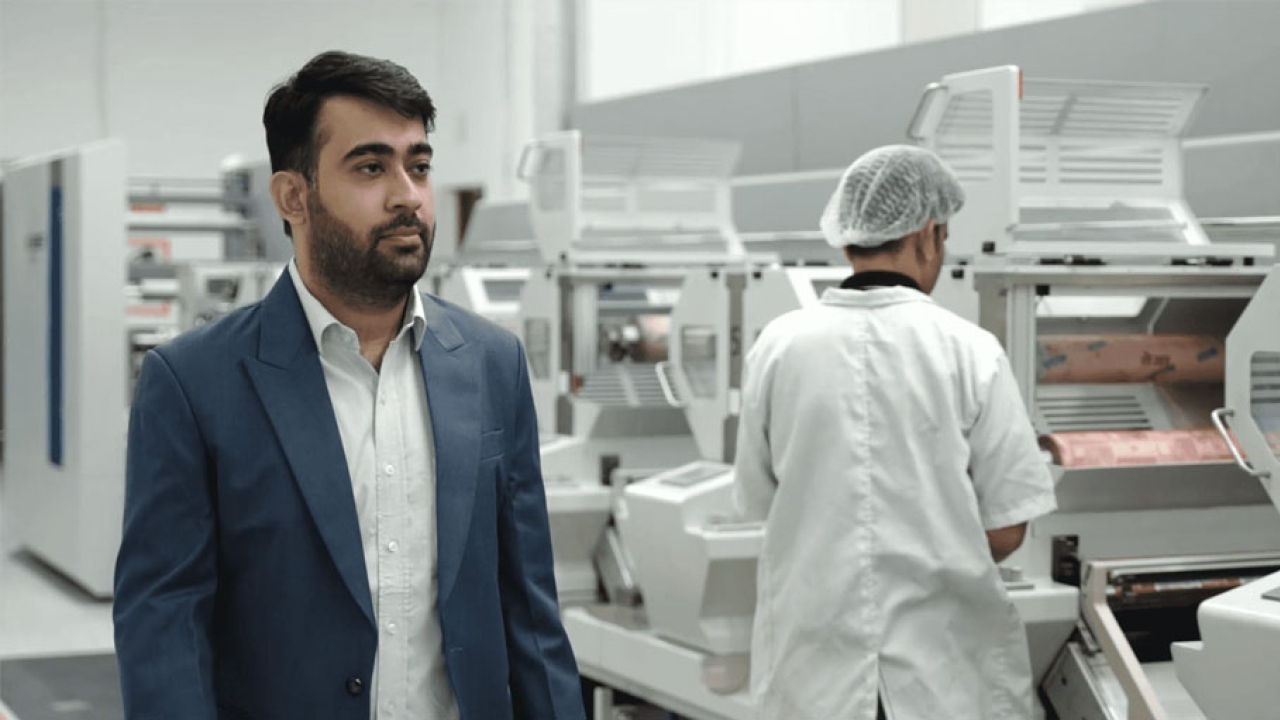 MB Industries diversified into the packaging business in 2018  and started operations in 2019. Through previous experience, the company had found a niche in short-run flexible packaging.
The company provides flexible packaging, in-mold labels, shrink sleeves, wet glue, and wraparound labels for the beverage, confectionery, home and personal care, pet care, agro products and frozen food segments.
The company's technology infrastructure includes Bobst M6 flexo press, Brotech inspection system, DuPont Cyrel fast plate processors and Esko CDI Spark flexo imager.  'We felt that other available technologies were not doing enough [for short runs] and lots of start-ups were cropping up at that
time. Luckily, Bobst was also, at the time, publicizing the idea of going for short-run flexible packaging technology. So, we decided to go for it,' says Rohit Badlani, managing director of UVbiz.
Badlani says that the Indian market lags in decorative shrink sleeves.
'Since we are in more of gravure driven area, printing has mainly taken place through gravure but there is scope for
machines like Bobst to create décor and innovative sleeving options for customers.' 
Bobst has been a supportive partner for UVBiz since it is not primarily from the packaging industry.
'Bobst has been one of those fantastic partners, which has been with us from day one from the first trial job, to executing in India and going through the process of multiple jobs every day. It has been fantastic. It is always a message away from us, whenever we are stuck in materials,
understanding of the business, Bobst is right there,' Badlani added.
Badlani says a key reason for choosing a Bobst M6 press was its flexibility. Initially, the press was purchased to produce short-run flexible packaging, but later the company realized that it could print both labels and shrink sleeves.
'The flexibility of having multiple substrates on the same system was the main idea that drew us towards it,' notes
Badlani. 'When you enter a new industry, it is important to have a backup plan where if one thing doesn't work, the other should. That gave us the confidence to go with a
big investment for Bobst.'
According to Badani, India is seeing interest in using new materials for shrink sleeves, particularly PET. UVbiz is now
attracting interest in shrink sleeves from the 'big players' because of the company's investment in Bobst M6.

'We partner with them for all kinds of new product development and new decorative materials in the market. Bobst brings that brand value to our organization for which people want to partner with us.'
Impressive automation
Badlani is impressed with the 10-second changeover of the Bobst machine.
'We do it every day, 20 times a day. Most brands are just blown away by the idea of it. They visit just to see it. It has been a fantastic journey. We have had multiple brand owners pitching in their ideas and getting them executed quickly. We have had brand owners coming in at 9 am and
returning with printed sleeves by 4 pm. That is the speed we go by.'
UVbiz is impressed by the OneECG feature of the Bobst press.
Badlani says that customer awareness for ECG (Extended Color Gamut) in shrink sleeves is very low in the market. But it is slowly being discussed in forums.
'Brand owners are discussing it and it is not far when they will start asking for it. We have understood the idea. People have been attempting OneECG for quite some time, but we have been doing it successfully for the last two years. We don't have any other ink in our facility apart from the seven
fixed colors. We will continue to follow this system whatever new machine we buy with Bobst and till we print.'
Badlani concludes that Bobst has been extremely supportive.
'Bobst has been connected with us in a manner that it takes direct feedback from my machine operators to find out more
about challenging jobs and ask for feedback on the machine for improvements.'
He continues: "It has been a fantastic three-year journey. We will be a loyal Bobst customer for many decades to come.'
Stay up to date
Subscribe to the free Label News newsletter and receive the latest content every week. We'll never share your email address.