Founded in 2002, Label King, a label converter based in San Diego, California, has recently installed a Domino N610i digital press, the company's first foray into the digital space.
The installation of the digital press comes after a roughly two-year process in which the company built a climate-controlled, 1,000 sq ft space, in addition to its 8,300 sq ft facility, to house the machine.
'Right now, it's really an ideal spot to have our digital press,' says Robert Parker, founder and CEO of Label King. 'We see it as showcase for our capabilities as a converter. A custom-built, climate-controlled, newly constructed area with beautiful flooring. Everything dialed in and bumped up to first class. It was very important to us to jump into the digital world correctly.'
Within the company's facility is an extensive fleet of equipment that includes a 10in Mark Andy 2200, a 13in Mark Andy P5, three Rotoflex rewinders, an array of tabletop equipment, and a Rotoflex DF3 that was installed in early 2022.
'The Rotoflex runs parallel to the Mark Andy P5,' says Parker. 'One of the reasons we got Rotoflex is that we know how to run the P5, and the tooling and print cylinders it uses are very similar, so the operators who are trained on one can easily be moved over to the other. And we can run two-color jobs on it with a little downtime as well, which is very important to us.'
Right now, Label King has both the N610i and the Rotoflex DF3 running, but behind the successful installation was two-year process in which the company had to work through the limitations of Californian real estate and conduct extensive research into which press would work best for the company.
Finding the right press
'We looked at the major digital press manufacturers in the industry and came to the conclusion that this was the size, the footprint, that we needed,' says Parker.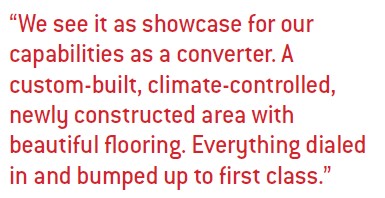 Constructing the additional space required to house the digital press of the company's choosing, however, took longer than anticipated as real estate in San Diego is limited.
'With the 8,300 sq ft, there was no feasible way we could install a digital press in a climate-controlled area unless we were to portion off inside some of the space we already had, but that just didn't work for us,' says Parker. 'So, we had to build a bump out to our building and get the proper permits to build, which all-in-all took about year.'
As the construction was being figured out, the team at Label King was also deciding which digital press was going to be its first. With the help of Turi Fiske, digital lead at Label King, and production manager, David Sommay, Parker began to run some tests with a handful of digital press manufacturers across the country.
'We started off really wide, looking at many of the major manufacturers. Sending them files, a few samples of the work we've been doing, and asking them to recreate them,' says Parker. 'Once we got the samples back, Turi wrote the names of the manufacturers on the back so we could run a blind test to really figure out which press could reproduce the work we were already producing.'
The reasoning behind the test was not only to work out which presses could color match and closely reproduce the work of Label King's clients; it was also to eliminate any biases.
'I'm glad we did it that way, because I think everyone has some biases about what they think is going to work best for them or you sometimes hear about other people's good or bad experiences, which is something we didn't want,' says Fiske. 'We wanted what was best for us, what worked best with our job mix, independent of what others have said because everyone's business is different.'
After the list of manufacturers began to narrow, the team continued looking into what best worked for Label King, that being support post-installation.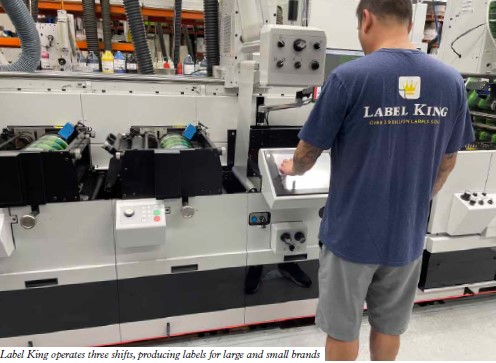 'We need to make sure that we do the best thing for us, and the most important thing you have to understand when buying a digital press is what happens after you get the digital press,' says Parker.
For Label King, whether it's for its customers or for the company itself, support is crucial. The company wanted a manufacturer that produces many of its own parts and has support staff that would be attentive when or if a problem arose.
Another aspect that was necessary in the company's purchase, especially with the press being the company's first digital system, was ease of use.
'In a three-to-four-month period, we visited the three companies that had, so far, ticked all the boxes,' says Parker. 'We brought them files of our own and asked them to recreate them, on the spot, to see how easy it was to plug it and spit things out.'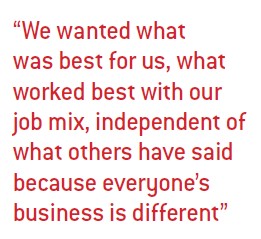 According to Parker, Domino was the last stop on the trip, but the decision of which press was going to be Label King's first was made just a bit easier after the demonstration.
'They just made it seem really easy,' recalls Parker. 'They didn't ask about materials or anything, they just seemed very confident in the work they were doing. The colors were vibrant, the speed was what we were looking for, and the support and relationships that were crucial to us were there.'
Now, sitting at Label King's San Diego facility, is the Domino N610i that impressed Parker and the rest of the team, which the company is now using to drive towards one of its 2022 goals: efficiency.
Focus on efficiency
One of the long-standing trends across the label industry is short runs. And when comparing digital and flexo printing, this is where digital shines.
For Label King, as some of its current clients begin shifting to shorter runs and as the company itself begins to start breaking into new markets, installing a digital press finally made sense.
'Our goal as a company, for the year 2022, is to be more efficient in all aspects of our business and the digital press is one of the main drivers of that goal,' says Parker. 'Throughput is already starting to increase as we're shifting multiple copy jobs that we ran on flexo and putting them on digital.'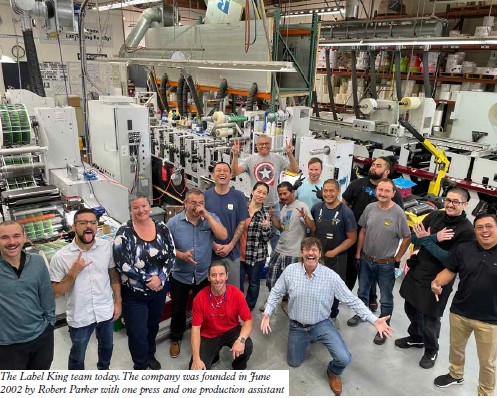 Parker comments that this efficiency is already allowing Label King to produce its customers products much quicker and has also helped to eliminate waste.
Along with Parker, Fiske has been driving the company's push into the digital space, revamping the Label King website, and beginning to assist with the integration of 
Siteline from Label Traxx and Cloudflow from Hybrid Software to enhance its front-end systems and proofing process.
'I understand that we're in the business of manufacturing and are making physical products, but automation and online ordering is such a commodity that everyone is so used to that it was honestly crazy that it hasn't existed in the space for so long,' says Fiske.
Fiske comments that along with the integration of the digital press, with smaller runs and copy changes, having a system that shrinks much of the upfront administrative work made sense.
'One of my own personal goals is to reduce the amount of 8.5x11 pieces of paper we have lying around,' says Fiske. 'We have a few small processes that can be smoothed out to make people's lives a bit easier, because we're a small team, so we want to be able to maximize the manpower that we do have and eliminate as much of that clerical work so people can do the parts of their job they actually do like.'
Though the ultimate goal to become a fully digital company has not come into fruition just yet, it is closer than ever, according to Parker.
'Turi has made us feel like more of a modern company,' says Parker. 'We're on the precipice of something big, and once we're fully integrated, we'll be the modern company we're aiming to be.'