Generational success backed by solid relationships
JMB Labels' investment in an MPS flexo press and the relationship with Rotocon has widened its scope and increased its profitability. Piotr Wnuk reports
JMB Labels is one of South Africa's leading and fastest‐growing label converters. Launched from humble beginnings in 1987, JMB Labels today occupies a 1,500 sqm office and factory site in Amalgam, Johannesburg.
It is currently managed and owned by brothers Ahmed and Aslam Monia, who, just like the two generations before them, attribute the company's success to forming long‐standing partnerships with customers who value a label converter that consistently provides a personal touch and high‐quality products in quick delivery times.
Principles of success
'Our customers tend to be either family‐orientated organizations or run by hands‐on owners who want to deal with someone who can update them on what's happening with their job – not within a few hours or the next day, but when they call,' says Aslam Monia. 'I always ensure that I have access to our production schedule wherever I may be so that I can tell them exactly when the job was started, how far along it is in the printing and finishing process or if it has been completed and when they can expect delivery.'
The company runs a just‐in‐time delivery system to accommodate those who don't want to hold much stock. Although the standard turnaround time is one to two weeks, there have been many occasions when the company has assisted customers with a next‐day order.
'We will do whatever it takes to assist our customers, and they know we will deliver on our promise,' adds Aslam Monia.
The company applies the same principles to its relationships with equipment and consumables suppliers to achieve the common goal of producing top‐quality labels. Aslam Monia recalls that his relationship with Michael Aengenvoort started long before he established Rotocon in 2008 and that he has appreciated witnessing how Michael's morals, values, hardworking ethic, passion and pride have been passed on to sons Patrick and Pascal Aengenvoort, just like they were for him and Ahmed from their father, Yousuf Monia.
Aslam Monia says: 'There is a 24‐hour call line between me and Patrick, Rotocon's Johannesburg‐based director. Some of our best conversations take place after hours, and we've developed such a great understanding that I even bought our third MPS press via WhatsApp in 2019 after Patrick shared the deal details and price of the EFS 430 model from Labelexpo Europe. This press is supported by a complementary Ecoline RSI 430 slitting, inspection and rewinding system from Rotocon to ensure top‐quality finishing requirements.'

The Monia brothers have admired the MPS press technology for the last two decades. In 2001 they saw the first press in action at Labelexpo Europe and appreciated how the technology made printing much more effortless.
'The fact that the company was built by a core group of friends and that co‐founder Eric Hoendervangers came to visit our facility in Johannesburg when he was in South Africa – although we weren't ready to buy a press yet – and started building a relationship left a lasting impression,' Aslam Monia states. 'We are firm believers in dreaming and setting our targets and goals, and so far, we've reached all of them, including owning three MPS presses.'
In 2013, JMB Labels installed an MPS EC UV flexo multi‐substrate press, handling material thicknesses from 12‐450 micron A 410‐mm web width makes it ideal for producing self‐adhesive and shrink sleeves at speeds of up to 200 m/min.
The Monia brothers considered several presses that could meet their needs. However, in the end, it was more than just technology that won the MPS flexo press the deciding vote.
'We were blown away by the press's state‐of‐the‐art features and the people who make it all happen,' says Aslam Monia. 'One year after the initial installation, we entered new markets, attracted new customers, including FMCG companies, and achieved a 30 percent increase in sales. We're still very much focused on doing business with independent companies instead of multi‐corporations. That's because we're able to offer them that personal touch. It's a strong component
of our operation. We've built strong relationships with our customers over the years, and as they've grown, so have we.'
The brothers were so impressed with the new press's capabilities and how it streamlined the core business that they made a second investment in 2015 in the first MPS EB 370 flexo press in the African market and a Rotocontrol RSC 560 slitter rewinder with a film package kit. 'The RSC 560 has performed so well that the production team hasn't needed to use the slip differential function when running filmic material,' Aslam Monia reveals. 'Additionally, the small servicing issues have been dealt with very efficiently by Rotocon's technicians and remotely by the German‐based team when required.'
In 2020, the MPS EC 410 was upgraded with an Atom 430 mercury lamp 160W ink curing system from UV Ray. The cassette design simplifies lamp maintenance and replacement and enables technicians to work on power packs rather than having to return them as trade‐in units. Additionally, each reflector model is designed with a quick shutter, infrared filter and smaller diameter lamps to increase UV output power and reduce working temperatures. Just a few months ago, Rotocon's technicians and Domino specialist installed a Domino K600i digital print bar into the MPS EB 370 press to transform it into a value‐added hybrid press that can print variable data, including text, sequential numbers, barcodes and 2D codes at a native resolution of 600 DPI and operating speeds of up to 150m/min.
'Although there hasn't been a need to transition to a digital print shop because our run lengths are typically 10,000 meters and over, we've always referred to the EB as our digital press. This is because our operator can perform job changeovers so quickly that we can average 10 to 12 jobs daily with proper planning,' enthuses Aslam Monia.
Employees form the backbone of the business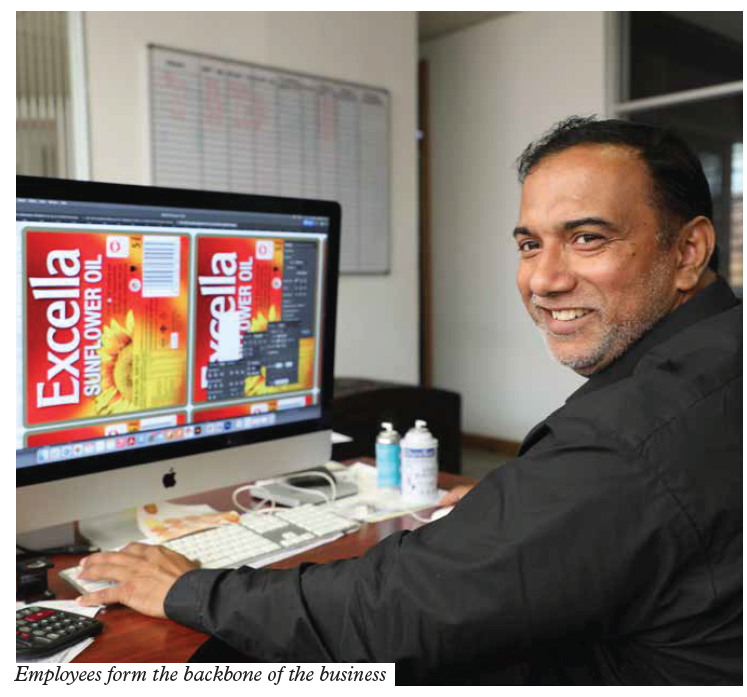 JMB Labels production manager Farhad Evans adds that the Wink SmartGap adjustable anvil system installed on the die station also ensures precise, double‐sided adaptation of the magnetic cylinder gap (according to the micron settings) for various facestocks and liners. 'The advantages of SmartGap are mainly rooted in its high stability, which allows problem‐free cutting through at high production speeds and eliminates waste,' he says.
The SmartGap adjustable anvil system is also installed on the EFS 430 model. Its Wink magnetic cylinders are interchangeable with the EC 410 model without making any adjustments.

'We also use Kocher & Beck flexible dies because of their excellent quality. Some of these dies are more than 15 years old. One, for example, has already cut over 30 million dishwashing liquid labels,' adds Evans. 'This press has improved our production process at all levels. Compared to conventional printing cylinders, make‐ready times are shorter with the use of printing sleeves. The short web path facilitates cost saving on material and reduces wastage.'
However, most important for the Monia brothers and their team is the print quality of the MPS, which is constant throughout the run. This has given them the confidence to target more companies seeking high‐end labels and packaging for their products. JMB Labels also boasts a Rotocontrol RSC 440 slitter rewinder to handle its diverse finishing requirements. 'Back then, the machine was marketed for its printing speed of 320 m/min,' Aslam Monia says. 'We showed Michael Aengenvoort and his team that we could rewind and inspect at 320 m/min and that it wasn't merely a marketing ploy.'
Training paramount
To ensure that production staff can consistently get the most out of the available technology, Evans conducts monthly refresher training courses for mounters, press operators and assistants and rewinders. He also focuses on the importance of consumables, such as how to take care of aniloxes, change doctor blades and maintain ink quality. Furthermore, all the staff treat the equipment with respect and look after it very well because that is how the management team treats them.
'Employees form the backbone of the business,' says Aslam Monia. 'We are nothing without them. Most of our operators have been with the company for over 20 years, and our policy has always been to look after them well and provide them with skills to use their discretion in prepress, converting and finishing processes to ensure that each job meets our quality standards. With each MPS press investment, the operator went to The Netherlands for the acceptance test and training. For some, it was their first flight and international travel experience and an example of how they are valued as team members.'
This approach reflects the brothers' belief in creating a company where everyone works in a pleasant environment, the staff can talk to one another and have a flexible attitude to ensure that they can deliver excellent customer service.
'Our investments in people and partnerships with state‐of‐the‐ art consumable and machinery suppliers have enabled organic growth alongside our customers. We look forward to seeing where filmic substrate developments globally will open new flexible packaging converting opportunities for us in the future,' concludes Aslam Monia.
Stay up to date
Subscribe to the free Label News newsletter and receive the latest content every week. We'll never share your email address.