Pre-press revamp boosts Gaez
The Spanish converter has improved quality and efficiency with a SPGPrints and Toray Dantex digital water-washable pre-press workflow. Adrian Tippetts reports.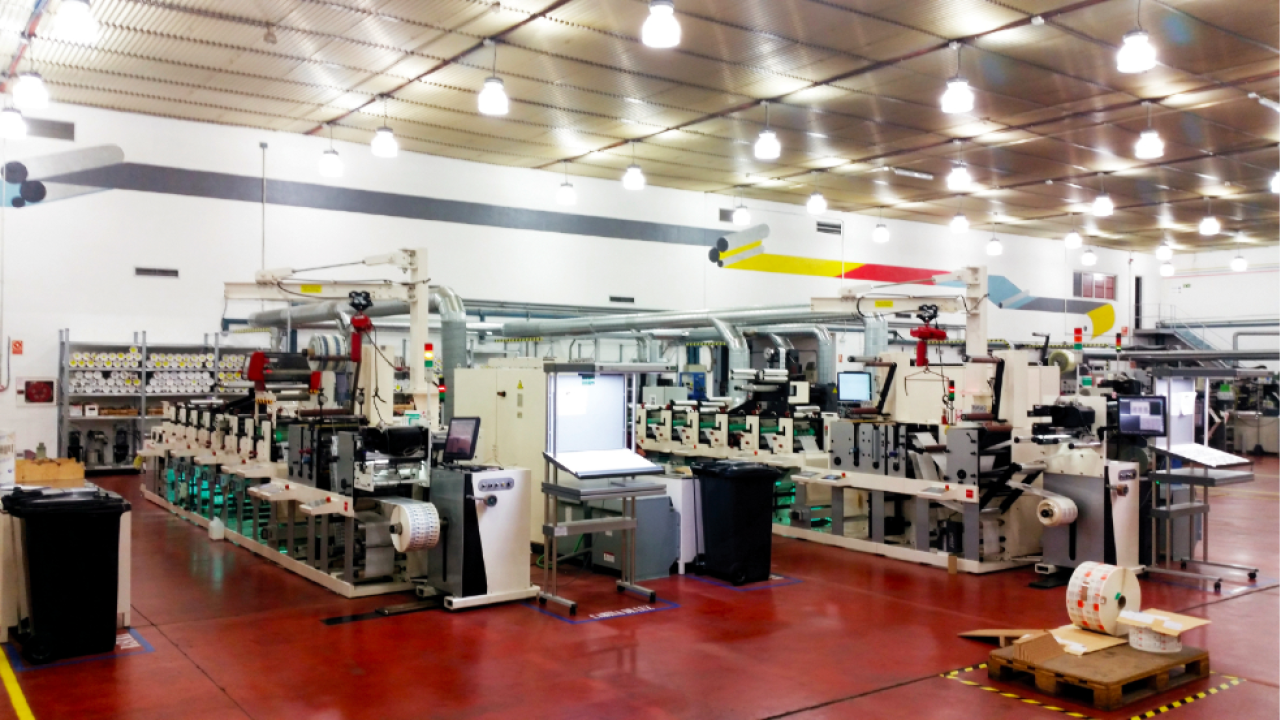 Based in Arganda del Rey, near Madrid, Gaez is a self-adhesive label and folding carton converter serving the Iberian cosmetics industry, which accounts for 90 percent of its 11.6m euro turnover. The remaining business comprises pharma and high-value retail packaging niches.
The folding carton business is an offset operation, while in label printing the dominant processes are flexo and rotary screen, complemented by digital and letterpress presses. 
For luxury brands, which make up a large proportion of Gaez's customer base, complexity and fine detail in label design are the key to building strong brands in a crowded market where an appealing pack must communicate the promise of beauty and the right image in a split second. 
Certainly, throughout its 61-year history, Gaez has never been shy to make pioneering investments in technology that sets its clientele apart. Both Gaez's 8-color Nilpeter FB3300S flexo presses allow lamination in-register, making the company one of the few capable of producing booklet labels in a single pass. In 2007, Gaez installed an HP Indigo press, opening up the market for short production runs. 
The company was the first in Iberia to incorporate rotary screen printing into its processes, when in the early 1990s it installed the RSI units from Stork (now SPGPrints) on its presses. 
A quarter century on, the process, capable of applying thick layers of ink and varnish at high speed, remains important for applying distinguishing features such as rich opaque colors, metallic finishes, sensually appealing coatings and Braille dots.
'In our line of work, creativity means combining several colors, delicate linework and added-value finishes including tactile effects such as the velvet touch and raised varnishes,' says Ricard Balart, managing director of Gaez. 'Both our Nilpeter presses feature three rotary screen printing units, and almost all our jobs include at least two screen passes.'
Replicating multiple colors, fine line detail and smooth tonal changes mean tight tolerances in registration and ink transfer. Achieving the desired results efficiently requires control of the process throughout the workflow. But while the presses had long been equipped to assure quality targets at high speed, with integrated AVT 100 percent inspection systems, Gaez still relied on conventional platemaking using film and solvent washing.
Gaez had a reputation for delivering quality, but it came at a cost in resources and waste. Balart explains: 'We have always met the customers' expectations, but at great internal expense. We would spend lots of time setting up a job, only to discover when we started printing that the results were substandard because the plates were not imaged properly. We had to stop production, clean the press, make new plates and prepare the machine again. On occasions, we even had to outsource the production. It meant hours of lost machine time, scrapped material, energy costs and excessive manual work. We were wasting resources and losing profitability, mainly because of an outdated analog pre-press method.'
Continuous improvement 
To eliminate waste from the workflow, Gaez implemented a 'kaizen' continuous improvement program, looking at all the elements that contributed to set-up times. These studies confirmed that the root cause of waste was its existing platemaking process. At that time, Gaez imaged its plates and screens by UV exposure and film. Relying on the path of light offered limited control and accuracy, making the smallest dots nearly unachievable. Solvent use meant high emission levels, waste disposal costs and – over time – degradation of plate quality, restricting reuse for the increasing number of repeat runs Gaez countered. The complete pre-press workflow took four hours – with severe consequences for productivity if a plate had to be remade because the quality was not achieved. 
As Balart explains, the market's increased service and quality demands necessitated a faster, simpler, more flexible and precise imaging workflow.
'In the past, you had a million units for one package design, and you could take two shifts to produce one order, non-stop,' he says. 'That gave you a whole day to get the plates and tools ready for the next job. Now, we do about 20 jobs a day: the run lengths are shorter and the number of SKUs has shot up. 
'Consumers are driving this – they want products to be relevant to their needs and tastes, and brands are selling worldwide. This puts pressure on brand owners and their suppliers to diversify their brands. There is an abundance of choice in personal care products for specific hair or skin types and shine effects. In addition, labels are needed for different regions and languages – including in oriental scripts that require greater accuracy. With all these changes, the days of "one product, one label" are gone: you can easily end up with up to seven sets of plates per order. It demands a system that is more flexible, repeatable and compatible with faster response times.'
The company sought an overhaul of the pre-press workflow, with digitalized, solventless CtP imaging and processing systems that offered stable production, and greater automation. These investments had to meet Gaez's ambitions to curb waste and emissions, increase machine uptime and deliver higher, consistent quality. 
After considering a number of imaging systems, Balart and his technical director, Jesús Labarzana, selected SPGPrints' variLex 7133 imaging system together with Hybrid Packz workflow software, a PDF editor for labels and packaging. These were complemented, initially, by a thermal processor, which was ultimately superseded by a water-washable system.
Labarzana comments: 'We opted for SPGPrints' variLex CtP laser exposer because it had the versatility to image both flexo plates and screens at leading resolutions of 5080dpi, in the most sustainable way. Furthermore, the variLex could be upgraded with UV LED capability and it provided more freedom in choosing our preferred software. This was important as we felt that Hybrid's solutions were more innovative and updatable than alternatives on the market.'
Files sent by the clients in Adobe Creative Cloud are opened to be later adjusted and treated in Packz native PDF editor, and managed through Cloudflow Hybrid systems. The parameters and rastering of the separations are prepared with SPGPrints' bestImage program. With the files prepared, plate imaging can begin. 
With the variLex imager's multiple diodes, plates and screens are imaged in minutes. For flexo, an infrared laser ablates the black mask of the plate, which is mounted on a rotating vacuum drum. UV exposure follows immediately after ablation. Neither film nor external exposure system are needed, saving manual input and space, and dramatically enhancing quality. Steep shoulders and flat top dots are made possible by the laser's precision. 
Rotary screen imaging is also a highly automated affair. The nickel RotaPlate screens used by Gaez – also supplied by SPGPrints – are mounted on a magnetic drum and the emulsion is subjected to direct UV laser exposure. They are then removed, sprayed with water to remove residue, and are ready for the press. Sharp edges and clear text as small as 2-point size are achievable. 
The flexo plates, once they are imaged, are then placed in a separate processor for washing away the black mask and residue, and drying. Initially, Gaez installed a thermal processor, using thermal plates. Though this avoided the use of cleaning solvents that degraded plate quality, and reduced processing time to about 50 minutes, the precision detail still eluded the production team.
Water-washable plates 
Coincidentally, while Gaez installed the thermal imaging system, Balart and Labarzana were closely following developments in water-washable plates. In late 2017, in a bid to solve the print quality problems, their Nilpeter distributor introduced them to Ignacio Ramírez, business development manager of Dugopa, which represents Toray Dantex in Spain. 
Remírez sent Balart samples of a new water-washable plate, the Toray Dantex Rapidoflex M2, along with a new processor from Dugopa, for testing. With the processor, the Rapidoflex M2 plate is washed at 25-27 deg C in clear water without using additives and dried, all within 15 minutes. No filtration is needed, so any water can be sent to drainage, and there is no risk of waste products contaminating the plate. 
Other key features included halftone resolutions from 0.5 to 99 percent at 200 LPI and a robust polymer structure with high resistance to friction, giving the plate durability to provide consistent results, especially for repeat jobs that Gaez increasingly contends with.
'Rapidoflex M2 plates are processed only with tap water at room temperature, so they do not undergo any dimensional deformation. This gives the plate stability in the fine points, in the texts and in the printing generally,' says Ramírez. 
Washing and drying times were cut further, reducing the whole pre-press workflow to one hour. The time to print had now been shortened by 75 percent – but although quality was generally satisfactory, Gaez had yet higher ambitions.
'Our objective was to get results as close as possible to offset,' Labarzana says. 'We challenged our machine and plate suppliers to work together to see what improvements could be made.'
Optimizing quality required one final step at the end of 2018 – to upgrade the variLex processor with UV LED exposure capability, replacing the conventional UV lamps. UV LED exposure gives the plate better stability because the same energy intensity can be assured. Parallel beams of UV light, from an in-line UV LED ring, hit the monomer as it rotates. It is a single source of light, as opposed to a bank of tubular lamps that are used in conventional UV exposure. As a result, the monomer only receives light from directly above: there is no possibility of contamination from any adjacent lamps. This means predictable, constant quality is achieved across the plate surface, and steeper dot shoulders are possible, reducing dot gain. 
UV LED exposure requires a relatively lower level of energy than conventional exposure, saving costs and making it easier to achieve precision when printing fine detail. 
As a result of the improvements, Gaez is exploiting the full tonal range potential of the Rapidoflex M2 plate, so that fine detail, especially needed for perfume labels are finally attainable.
Ricard Balart concludes: 'The SPGPrints variLex imaging system and Toray Dantex Rapidoflex M2 water-washable plate give us a sustainable workflow for delivering industry-leading quality standards, repeatedly, with significantly reduced set-up times, manual input and risk of error.'
Stay up to date
Subscribe to the free Label News newsletter and receive the latest content every week. We'll never share your email address.