Following a string of cross-group purchases, UK-based ProPrint has invested over 1 million GBP to continue its linerless and digital success. 
ProPrint Group was established in 2015 by combining two successful print companies: CopyPoll, an established board print and packaging business, and Promo Labels, a newer, rapidly growing label company.
The goal was to widen the printed packaging range and optimize service levels. The group's production facilities now include nine UV presses covering litho, flexo and digital printing. 
Over the last year, the ProPrint Group team has grown significantly and expanded the services offered to customers across the UK. The new 33,000 sq ft office and warehouse has become a customer service hub and provided additional stock materials storage. ProPrint Group now occupies a total of 78,000 sq ft across three sites.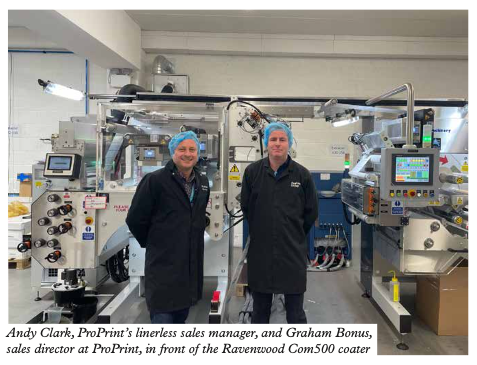 The most recent arrival on ProPrint's production floor is a bespoke Digicon Series 3 automated finishing line from A B Graphic, which will provide an additional range of label finishing options. It complements the company's Screen digital press installed in December 2021, increasing the overall capacity for high-quality embellished labels.
'The Digicon 3 is modular, giving us the flexibility to tailor the machine to complement our existing infrastructure. Therefore, we can optimize efficiency and open more capacity for the choice of finishes customers want in the short lead times we offer,' says James Denny, co-founder and director of ProPrint Group.
The group has also recently installed a new Ravenwood Com500 Coater, followed by an advanced 10-color Edale FL3 flexo press, bringing total investment to over 1 million GBP, significantly boosting the company's linerless labeling capacity.
'The linerless market is on the rise,' adds Denny. 'Appetite is increasing from companies that are becoming more aware of the sustainability and automation linerless provides. With the known shortage of board within the industry, linerless presents companies with a more cost-effective and time-efficient option with less wastage. Since starting printing linerless labels in May 2019, we have taken on customers over a variety of sectors such as meat, fish and poultry (MFP) as well as fresh produce and confectionery.'
Circle of linerless
Denny says linerless labels are already a big hit within the MFP sectors. Many companies have transitioned from standard sleeves to linerless alternatives. Just during the Covid pandemic, ProPrint Group's Linerless Labels division saw growth of 43 percent.
The Ravenwood Com500 Coater installed at ProPrint's Wellingborough factory alongside the Edale press has a projected print run of 500,000 linerless labels per day. Designed and manufactured in the UK, the Com500 is the only machine dedicated to running Ravenwood linerless labels.
'The addition of Ravenwood linerless technology offers a cost-effective and sustainable option for a fresh approach in driving business operations forward,' adds Denny.
'We are excited to be working with Ravenwood and looking forward to following Ravenwood's strict code of ethics for producing faultless linerless labels as we become official members of the "Circle of Linerless",' comments Graham Bonus, ProPrint's sales director. 
'We have worked hard over recent years to forge a successful business, built on exceptional service and trust by our customers in the fresh food sector. To now be able to supply Ravenwood approved linerless labels is something we believe will open up new opportunities for delivering high speed, sustainable and cost-effective solutions to new and existing customers,' adds Bonus.
ProPrint is the latest printer to join Ravenwood's growing network, offering an exclusive service to both the UK and Ireland. 
'We're delighted to have ProPrint on board with our linerless technology. The ProPrint team is very standards-driven, constantly striving to be the best in the market with their range of non-plastic, environmentally friendly packaging solutions,' says Ravenwood's managing director Paul Beamish.
It all started with a pack
ProPrint's Linerless sales manager, Andy Clark, who has worked in print for almost 20 years, successfully introduced many new linerless users to the market. He now works closely with the team at Ravenwood Packaging, seamlessly linking print and application processes. This ensures customers can apply linerless products with the utmost efficiency. 
Iceland, a UK frozen food retailer, is one of the first customers to adopt an entirely new linerless technology, Fruit Lid, developed by Ravenwood for trialing plastic-free packaging across its range of conference pears.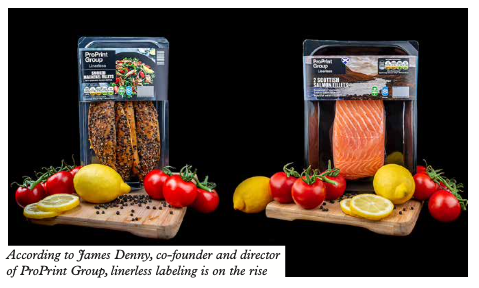 The retailer aims to eliminate plastic from its own-branded foods by 2023 and become carbon neutral by 2042, and continues to invest in technology and initiatives to reduce its carbon footprint. Its Plastic Free by 2023 pledge has already saved 850 tones of plastic by replacing black plastic trays with cardboard across street food ranges.
For the pears trial, Iceland has opted for a food-grade cardboard tray combined with a Fruit Lid linerless concept designed by Ravenwood to achieve entirely plastic-free and recyclable packaging. Previously, Iceland's pears were hand filled into plastic poly bags and plastic punnets.
'This is an exciting and innovative new pack format that delivers more plastic-free packaging for our customers,' comments Stuart Lendrum, head of packaging at Iceland. 'The hard work and commitment of everyone involved has delivered this step forward in moving away from plastic with solutions that work for shoppers and the supply chain.'
Ravenwood supplied a Nobac 5000L linerless applicator for applying the Fruit Lid labels to the packs while ProPrint Group produces the labels. If the pear trial succeeds, further machines will be purchased. 
'We have worked very hard, alongside ProPrint Group on getting the design and specification spot on for Iceland's pear fruit application,' adds Ravenwood's Beamish. 'Not only has Iceland adopted our linerless technology, but in meeting its needs and requirements, we have launched a completely new type of label. We look forward to working with Iceland again in the future.'
Pro-produce from ProPrint
ProPrint Group also collaborated with Primafruit and high-end supermarket chain Waitrose & Partners to trial the Pro-Produce pack linerless packaging for Fresh Gold Kiwis. 
The Pro-Produce Pack uses Ravenwood's linerless labeling technology to apply a paper lid to a cartonboard nested tray. Packing speeds are higher than other potential carton-board technologies, with the Waitrose Gold Kiwis packed at speeds of 45ppm. The packing process also offers in-line date coding, making the pack an efficient and practical option for pack houses.
The linerless packaging format is available using a range of tray sizes. Customers can tailor lids using shapes and apertures to suit the product. The Ravenwood applicator can connect to weigh price labeler for catch weight, fixed weight or average weight labeling.
Waitrose & Partners launched an eight-week trial and if successful, the Pro-Produce pack could roll out further within the Waitrose fruit range. For Gold Kiwis alone, the linerless packaging format can save up to 1.2 tones of plastic.
'We are delighted to be testing this new technology on our Gold Kiwi product range. The trial is designed to help us understand the packaging function within our supply chain as well as the customer appetite for 100 percent curbside recyclable card packaging where the fruit is not fully visible at the time of purchase,' says Lisa Ellen Ireland, branch manager at Waitrose & Partners. 'The data will give us a clear understanding of the supply chain adaptations required if rolling out more widely, as well as insight on how receptive our customers are to this type of packaging solution.'
The reality is that tons of plastic film and punnets go to landfills due to lack of consumer knowledge or inadequate flexible film recycling infrastructure. The Pro-Produce pack linerless solution could help close the packaging loop. It is composed entirely of the renewably sourced board and paper. The lid and tray are both fully recyclable in line with OPRL. 
There are significant changes for plastic use within fresh produce, including the new UK Plastic tax, effective April 2022. The law applies to plastic packaging manufactured in or imported into the UK that does not contain at least 30 percent recycled plastic. France has already banned plastic packaging on a range of fruit and vegetables. Spain is due to implement its plastic ban in 2023.
Paper labeling and carton-board options can potentially offer alternative recyclable options. Most importantly, consumers can quickly identify the pack as recyclable straightaway and conveniently recycle right at the curbside.
---
For further info: 
For more information go to: www.proprintgroup.co.uk