David Richards is managing director of UK converter Amberley Labels. The company was founded in Dorset in the early 1980s and became part of the Coveris Group in 2019. A digital print specialist, it serves high-end brands mainly in the cosmetics sector. Interview by James Quirk.
L&L: Amberley Labels was acquired by Coveris in 2019. How has the business changed since then, and what have been the advantages of being part of a multinational converting group?
DR: At the time of the acquisition, it was recognized that Coveris and Amberley Labels operate in quite different business sectors. They focus on fast-moving consumer goods, while Amberley Labels is in a completely different sector. Dennis Paterson, president of the Paper business unit at Coveris, allowed Amberley Labels to be Amberley Labels. Fast-forward to today and we still have our identity, people recognize what we do and what we have done for many years. Our primary focus is cosmetics labels – we are one of the leading suppliers to a world-leading cosmetics and fragrance brand – and this brings a high quality standard that we have to work towards. Dennis and the team saw that the business was running well and left us to it. What we haven't lost is that small family business mentality. Our customers still get that. We've been allowed to trade as we are and act as we are – a local supplier.
A huge advantage of being part of Coveris Group has been the support of Dennis and the team. For example, there has been a massive improvement in health and safety, because part of the Coveris stance is 'safety first'. That's the first thing we think about, so we put some real investment here in the site. We're over five years without a lost-time incident – two and a half years either side of the acquisition – so it is a safe place to work.
The extra support in human resources and marketing has been a great advantage too. The rebrand of the Amberley brand is fantastic – I absolutely love it. What comes from the acquisition is the resources that can be thrown at supporting such a well-known brand, and actually take it to another level. The perception from the branding is fantastic, and I do believe we match it.
In the context of the recent strikes and paper shortages, the differences between being a privately owned business today, to being part of Coveris, is huge. Our buying power and importance to the likes of UPM Raflatac and other suppliers means that of course we do get priority. So that has been a huge benefit.
Coveris Group has a very clear plan that comes directly from our CEO Jakob Mosser – and it's about safety, and people, and the ethics and sustainability of the business. We communicate that well to every member of staff no matter what their role.
And of course it's not just our site in Blandford, Dorset, anymore, with the addition of Coveris' site in Boston, Lincolnshire, to the Amberley brand. We work across the two sites and the integration has been fantastic. We were three salespeople and now we are up to eleven. It's a complement to the business and helps us be a one-stop shop to our customers. It's a great strategy. The Amberley name, since the acquisition, has got bigger and bigger and more people know about us, for sure.
L&L: Amberley has long been known as a digital pioneer, installing the UK's first HP Indigo ws4000 press in 2003. What percentage of your work is produced digitally, and what are the specific advantages that the technology has brought?
DR: Eighty percent is digital, on three HP Indigo presses, and the remainder is flexo, printed on the Edale press. That figure did rise to around 90 percent during the pandemic because most of our business was going through the HP Indigos. On our Edale press we mainly print peel and read, or coupon labels, of three and five pages. This is mostly for lipsticks and make-up, so during the lockdown no one was out there buying these products because it was all retail. There was less demand. But today we are back to our 80/20 split.
As for the advantages: it's not just that it's digital technology, but that it's HP Indigo technology. Firstly, because of the market we are in – high-end cosmetics labeling – the quality has to be as close as possible to litho. The in-line priming means we can literally use any substrate we want, so there are no restrictions. The technology has worked well because many of our customers have multiple product lines. One of our most famous pieces was for Neal's Yard Remedies. There are hundreds of products and color schemes, so all that color-matching, all those varieties, how else would you want to do it? They also required a very flat-looking matte design. You're not going to get that from inkjet. The HP Indigo works perfectly from that point of view.
It gives the customers the ability to drop certain product lines and change as they see fit. We're getting back to weekly visits from customers doing sign-off. They love it. They're in our new customer viewing room, they literally see their job running, they make a change and ten minutes later, they see the change. It's a way to move quickly through the approval process. And if new customers and new brands want to get to market quickly, there's no faster way. It has been fantastic for us.
L&L: You added a Kurz DM-Jetliner in 2021 – the first in the UK. What has been your experience with the system and what benefits has it brought?
DR: As soon as I saw the Kurz system running in Israel – at an HP Indigo event – I said: that's Amberley. I knew straight away that I wanted it. One of the main reasons for going with this technology was because Kurz was backing it. That was the first thing. You know that they do things well. The machine is well-built and there is real focus when there's any support needed. They were fantastic during the installation. The quality of foil is second to none in the market.
From day one, the support they have offered in helping us to get what we want out of the system has been fantastic. To have hundreds or thousands of different foil colors on one label, normally you'd have to use silver substrates and tint them to achieve that. So that sold it to me quite quickly. They've been brilliantly supportive.
You can have it as an off-line process, but we do so much embellishment and we have A B Graphic Digicons which you'd love to run very fast, but obviously with hot foil that's not the case. The difference it has made for us is that you are starting up your HP Indigo and after printing the roll goes onto a Digicon Lite and just gets finished. Whereas before, that would have to then come off and go onto a flatbed. We literally have one silver foil and a few other colors, but we are creating all our own colors now, so we don't need hundreds of different foils. That has sustainability benefits. We're not buying lots of copper and brass blocks anymore because we don't need them. There are no plates.
It has made a real change to the way we think. We can say to customers: you can have any color you want, anywhere on the label, and you can have it on clear.
L&L: Flexo remains an important part of your business. What work do you produce on your flexo press?
DR: On our Edale FL-3 press the vast majority of work is peel and read labels for cosmetics. And we make some special constructions where we're printing full-color on the adhesive side.
But mainly it is peel and read labels all day long. What has changed is that so many people are trying to cram so much more information onto labels, and often in multiple languages. Something we are involved in at the moment is the Cosmetics Supervision and Administration Regulation in China. They are going to add more text to peel and read labels, but it's in Mandarin. My operators don't speak Mandarin and a small change to a symbol might change the meaning of the word completely. That gives you an example of how it's not just a simple peel and read – some of it is getting much more complicated and the demand to meet the quality is growing and the expectations are higher.
L&L: What area of technology are you likely to invest in next?
DR: Pre-acquisition, we would have been looking at a hybrid press. But the Amberley site in Boston has installed an MPS Symjet press with the Domino inkjet unit, so now that we have that in the group, it's fantastic. And they also invested in the Pantec Rhino foiling system, so when you combine that with the Kurz DM-Jetliner at Amberley Blandford, we've got everything covered from multiple hot foil to digital cold foil.
The technology between the two sites is complementary in that respect. That's where the decisions on Capex for the future are: a joint discussion. For example, we might pick up a project tomorrow where silkscreen is dominant, and we don't have silkscreen on site here. But Amberley Boston has silkscreen. We don't have RFID inlays; Amberley Boston does. Digital foil – Amberley Boston doesn't have it; Amberley Blandford does. It's a dream come true, really. From a salesperson's point of view, you have no reason to say no.
Being so heavily in the digital arena, every new technology I think about has a digital link to it. I don't think about investment in conventional technology unless it is for special finishing equipment. That might be something like the ability to produce pouches or sleeves, and be able to finish them onsite. But of course, within the group we have businesses that do that kind of work already. We have a plant that does in-mold labeling and shrink and stretch. Other sites can do folding carton and flexibles. It's such a huge group, so it's about understanding where the technology can be brought in to maybe fill that gap between the big users of some of these products.
For example, if our Films and Flexibles divisions are printing hundreds of millions of labels for a soft drink company and tomorrow they want to do a special run, a bit like we did a few years ago – we did Share-a-Coke but we also did 'Bru's your clan' for Irn-Bru, then there is not an easy way to only run a few hundred thousand or a few million specials with variable data, competition info etc. So the drive from my side would be to focus on those areas where the technology can support the initial start-up and link in with either existing larger-use customers within the group, or get customers into the Amberley portfolio by offering more of a digital experience where previously they were used to wide format, litho or gravure printing.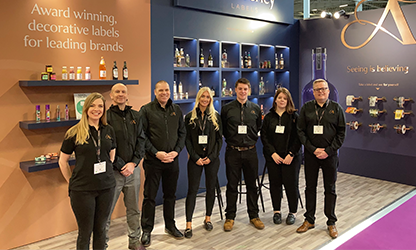 L&L: When you talk about the digital experience, does that extend to the workflow processes in the company and customer ordering, for example? How will that evolve with increased digitalization and automation?
DR: Yes, absolutely. It was fortunate timing, but just a couple of months into the pandemic we installed Siteline from Label Traxx. It allows customers to not only place orders from their iPhone or iPad, wherever they are in the world, but also to upload files and create new products. That then goes through the Automation Engine workflow and – with some intervention – into our digital presses. They are seeing a web visual of our own MIS. Some of our customers are wowed by it, some think: yes of course we going to be able to order our labels online. But we've gone to the next level with Siteline. They can see all their products, all their specifications.
L&L: In a recent Q&A with Cristian Reyes of Mexican converter Mayapack, he said he sees this as an alternative to setting up an operation abroad because you can take orders through the Cloud and supply labels abroad as if they were being printed locally.
DR: I completely agree. Many consumers who upload their photos to Photobox or Vistaprint for personalized t-shirts or mouse mats, for example, have no idea that they are being printed somewhere in Europe and shipped on a special service within a day or two. I can have a customer in Australia and if they have access to Siteline, they can place the order in the same way I place an order for material from a major raw material supplier – I don't care where it comes from. It can be produced anywhere in the world, as long as I get it quickly and it is made to the same quality.
L&L: What has been the impact of the recent supply chain disruption?
DR: There has been an impact, no question. It has been the most stressful time that I've ever known in the label industry. As much as you communicate to customers, there are still people who don't fully understand what is going on. They might think that it only affects self-adhesive labeling but the impact is on a much bigger scale. I have heard of other printers finding it hard to source material and even losing orders. But for us, fortunately, we haven't not shipped a single order. One of the positives is that we are mostly a film user. But it hasn't been easy. The team here has done a fantastic job but there have been sleepless nights. You would place an order and feel comfortable about it, and then the day before you're told it's not coming for another three months.
L&L: How is your production split between end user sectors?
DR: Cosmetics and toiletries make up a large percentage of our business. Another category is household paints – we do a lot of work for Farrow & Ball and its parent company – and we are a big supplier to the artist paints market. This is because there are multiple product lines and requirement for perfect color match, which the HP Indigos have worked really well for.
L&L: How did the lack of trade shows during the pandemic affect how you researched and sourced new equipment, and are you looking forward to their return?
DR: They are hugely useful. I think it's something I have been brought up with in the industry. If you're going to buy a press or you have interest in particular equipment, then Labelexpo is where you go. During the pandemic, many suppliers were offering virtual tours and demos. But looking down a camera and really trying to understand if that's good for me – it's difficult. The guys who are sitting next to me in the call want to get their hands inside a machine, get to know the kit and speak directly to an operator about it. Seeing something at a show gives you a much better idea about it. If you go to a stand such as A B Graphic, for example, you think there must be something good here because it's absolutely full of people and the buzz is there. You can get an idea of who is doing what and who is moving forward.
I would pretty much plan our processes around Labelexpo Europe, so every other year makes good sense to me: I have a year to really think about it, plan the business, place the order. But it has changed slightly for us because as part of the Coveris Group we are going to purchase with a group plan, or an Amberley brand plan. We would only make a purchase once all of us are ready and we know what is required for a particular site. But we have really missed the shows. I miss the networking and meeting people.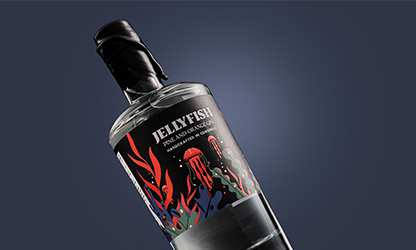 L&L: How do you think the label industry will evolve over the next decade?
DR: If we look at automation, I think there is untapped potential in personalization. We have customers who still haven't made the most of it. People love having a product with their name on it, we all do. I think the time will come where – a bit like Label Traxx's Siteline – you almost have web shop fronts arranged for all your customers, through which they are selling their products but actually it is us in the background, producing the personalized labels for the products. But there are campaigns you see where you buy a personalized product and it's just a label stuck over another label, or generic names that have been printed. It's not the same. I don't fall for it. But I would buy something personalized, for sure.
I always used to think we would become 100 percent digital one day. But I just can't see it. I still see flexo in the market because there are some things it can do amazingly well compared to digital. When you are talking about high-speed long runs, flexo is still the leader for sure.
Everyone talks about label printers having to diversify. I think there will be so many more of us that are doing pouches, sachets or folding carton. Many brands talk about moving away from labels and into direct printing onto containers. It's going to happen more and more. Companies who buy massive amounts of product because they are pre-printed – they're stuck with those bottles. These options will slowly open up to them because they'll be able to buy less quantity, they'll be able to get it quicker, and therefore direct printing onto containers will become more popular.
There's a little business book I loved reading years ago called 'Who Moved My Cheese?' It's a great story. Two pairs of mice are in a massive warehouse with lots of cheese. Two of the mice just continue to eat the cheese that's around them, and the other two take it in turns and go out to search for more cheese further away. And the ones who live are the ones who keep searching from day one. The industry has to have a 'Who Moved My Cheese' moment.
The digital arena is still so young. There is still so much more to do. I love being impressed by presentations from HP Indigo: look, now there's a way to print a spot color for a customer and actually send a Delta E report to them straight off the press, linked to the ticket. We tell the customer we're tracking their color, and in two years' time I'll be able to guarantee that color will look exactly the same. And that's why we continue to evolve. But for me, it's all still in the digital arena.
L&L: What are your main hobbies outside work?
DR: I have three children, who are all grown up now, and we have season tickets at Reading Football Club which I really enjoy. My wife and I love to travel. We're only 15 minutes away from Heathrow airport, so on a Friday night sometimes we just make the decision and jump on a flight for a weekend break in Europe. And I enjoy going to nice restaurants.