Riber has rightfully earned its status as one of the leading label converters in Italy. It produces some 7.5 million labels a day – for a long list of 250 customers spread all over the country – using nearly 5 million sqm of paper each year. The company operates two shifts and employs a team of 20 on its five production lines.
Today, Riber prints a wide range of adhesive labels with up to 12 colors on an extensive list of substrates – paper, special papers and plastic films – for virtually any type of application. Its labels can mainly be found on food products, but also household chemicals, wine bottles and medication boxes. It also produces anti-counterfeiting labels, Braille labels, and is an official distributor of specialty labels for forging and steel mills, where they are required to withstand high temperatures.
Riber Etichette was founded in 1992 in Brescia, in the Lombardy region, by two young friends and entrepreneurs, Michele Bersi and Paolo Rigato. With a background in the print sector, they decided to invest their experience in building a new business by committing to the highest quality of labels and focusing mainly on the local market.
The company became a popular supplier of food labels in the region, and they quickly accounted for some 60 percent of total production. Riber worked with famous local salami producers, butchers, farms, and various food businesses where the application of labels required very particular choices. Bersi and Rigato applied their experience in ensuring each material met the appropriate standard, but also the optimal printing definition and labeling speed.
We started production on our new Synchroline right from Lombardi's factory floor. It was a lifesaver
'Based in a small workshop, we started our label production on a 4-color Gallus Q33 letterpress. Due to our consistently and quickly expanding list of customers, we invested in a 6-color Omet press to keep up with growing demand,' recalls Bersi.
Riber's reputation quickly spread across Italy and contributed to the further expansion of the business. In 2009, the company moved to a larger facility, adding another printing machine to its pressroom to expand production capacity.
Only three years later the company has once again outgrown its headquarters and moved to even bigger facilities, simultaneously diversifying into screen printing and working with multiple colors on new Nilpeter offset and Omet 420 presses.
Game changer 
The real game changer for Riber came in 2016 when the company invested in a Lombardi Synchroline 430, 10+2 color press.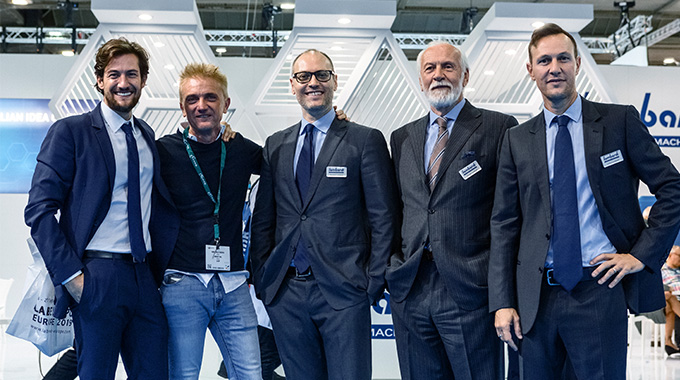 'We knew Lombardi by name, but we saw the company for the first time at Labelexpo Europe 2015,' recalls Paolo Rigato. 'We wanted to learn more about the new Synchroline with all the technical innovations aimed at productivity. We consider this machine the flagship press in all respects for a company like ours, which has always chosen the best technology, not only in the press, but also in quality control to ensure 100 percent reliability.'
The new press instantly increased the level of quality and performance, and brought additional revenue. The Synchroline enabled the converter to print on paper and polypropylene at significantly higher speeds, often exceeding 90m/min (300ft/ min). It also helped to minimize changeover time to a few minutes, thanks to a patented mechanical system that allowed print cylinder replacement without requiring changes to the supports.
Riber also reduced waste levels with the Synchroline's quick start-up procedure, which supports its ongoing efforts to be an environmentally conscious company. It also uses FSC-certified paper and is associated with UPM Raflatac's RafCycle program for the recovery of waste products.
Soon after the installation, the Lombardi Synchroline 430 won four awards at Best in Flexo 2016, organized by the European branch of the Flexographic Technical Association (FTA). Alongside Lombardi, Riber was also recognized for its work and finished second in combined use of hybrid printing with screen printing and cold foil and scooped the third prize in the narrow web category. 
'The Best in Flexo award was very important for Lombardi, not only because our machine has been recognized by the FTA, but also because one of our customers has been awarded twice for the quality of the production achieved using our press,' says Nicola Lombardi, marketing manager at Lombardi Converting Machinery.
This recognition further accelerated Riber's growth and resulted in yet more investment. Shortly after celebrating its 25th anniversary, the company moved its headquarters once again. Its new, state-of-the-art production facility in Montirone near Brescia has been developed with Industry 4.0 in mind and houses production lines across 1,600 sqm (over 17,000 sq ft) with ample room for further growth.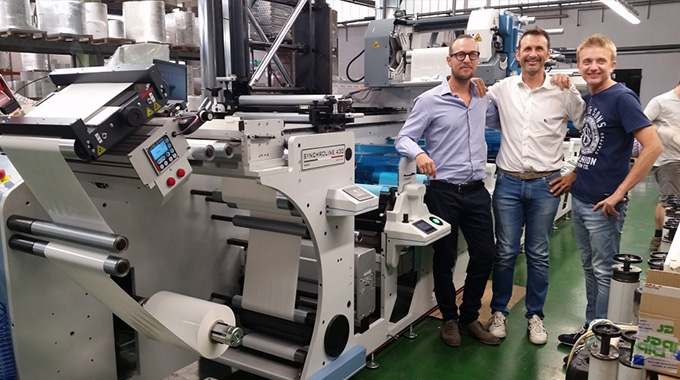 This move to a new facility has also resulted in capital investment in new equipment. This time the decision was easy: the company founders turned again to Lombardi, based nearby, ordering one of its biggest machines: a Synchroline 430 equipped with 12 colors and two rotary screen-printing units.
The pandemic hits 
As anticipation for the Synchroline's arrival grew, Covid-19 began spreading quickly across Europe. Lombardy was one of the first European epicenters of the pandemic and was hit with enormous disruption.
'We were all shocked and had to act quickly in order to survive the first wave of the virus,' recalls Nicola Lombardi. 'We knew that supplying our industry would be more important than ever, as the majority of label printers are an essential part of the supply chain. Despite being walking-distance from each other, we used virtual meetings and video calls to discuss the details of the new press and customize it to Riber's expectations.'
As the pandemic spread across Europe, Riber's founders quickly implemented a business continuity plan and adjusted to social distancing rules to continue playing an important role as an essential supplier. 
'Our new machine was almost ready, but due to the lockdown rules imposed by the Italian government we were not able to physically install it at our production facility,' says Bersi. 'After a few discussions with the Lombardi family, we decided to start the production on our new Synchroline right from their factory floor. It was a lifesaver. We work for different companies in agriculture, food, detergents and pharmaceuticals, which have been allowed to continue their production. Thanks to the helping hand from Lombardi, we had the opportunity to increase the supply of our just-in-time labels.'
'The pandemic gave us the opportunity to reinforce our work within internal groups, protecting ourselves from the virus,' adds Rigato. 'We continued production and were also using our new press at Lombardi's headquarters. We strictly followed all the rules and adjusted our internal procedures to ensure everyone's safety. Our team of 20 did amazingly well under these circumstances and was imperative to our existence during and beyond the lockdown.'
We knew that supplying our industry would be more important than ever, as the majority of label printers are an essential part of the supply chain
As soon as lockdown restrictions were lifted, Riber received its new press and immediately started production. 'In a time of crisis, such as Covid-19, we need to unite and help each other as much as possible. We were happy to create this amazing synergy with Riber,' says Nicola Lombardi. 'It is a pleasure to be associated with a company with such a fresh outlook, ambition and the constant drive to expand its brand. For us, this Synchroline order will always be special for several reasons. It happened at a very difficult time, but also marked the first equipment purchase since Covid-19 spread around the world. It showed us that the industry can survive the crisis. We can now restart our economy and think about a bright future.' 
As the world faces a second wave of the pandemic, the label industry is ready and better-prepared to play a crucial role in supply chains around the world. The last few months were not easy for any business, but Riber's resilience is now combining with ambitious future plans.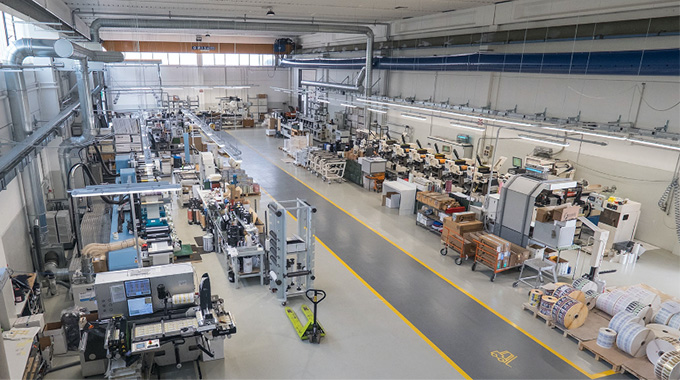 'Thanks to the new Synchroline press, we will be able to extend our activities and further increase our production capacity. This time we also have a very ambitious plan. We want to expand our brand and our production to other European countries. We are hoping that the use of social networks and the virtual events we are taking part in mark the rebirth of our industry, will help us to increase our penetration into the main European market,' concludes Paolo Rigato.